Welcome to your SwitchArcade Roundup for October 2nd, 2018. Your Mega Maniac Phil is here with a brand-new Roundup filled with impressions, new releases and new discounts. I'm particularly excited today because one of my favorite franchises gets a wholly new numbered entry instead of yet another legacy collection. Yes, Mega Man 11 is available today on the Switch, and I plan to have impressions of it tomorrow. For the time being, there are impressions of a different type of game for this edition of the SwitchArcade Roundup–Valthirian Arc: Hero School Story, also available today.
As usual with the SwitchArcade Roundup, let's start off with the Game of the Day.
Game of the Day
Bastion ($14.99)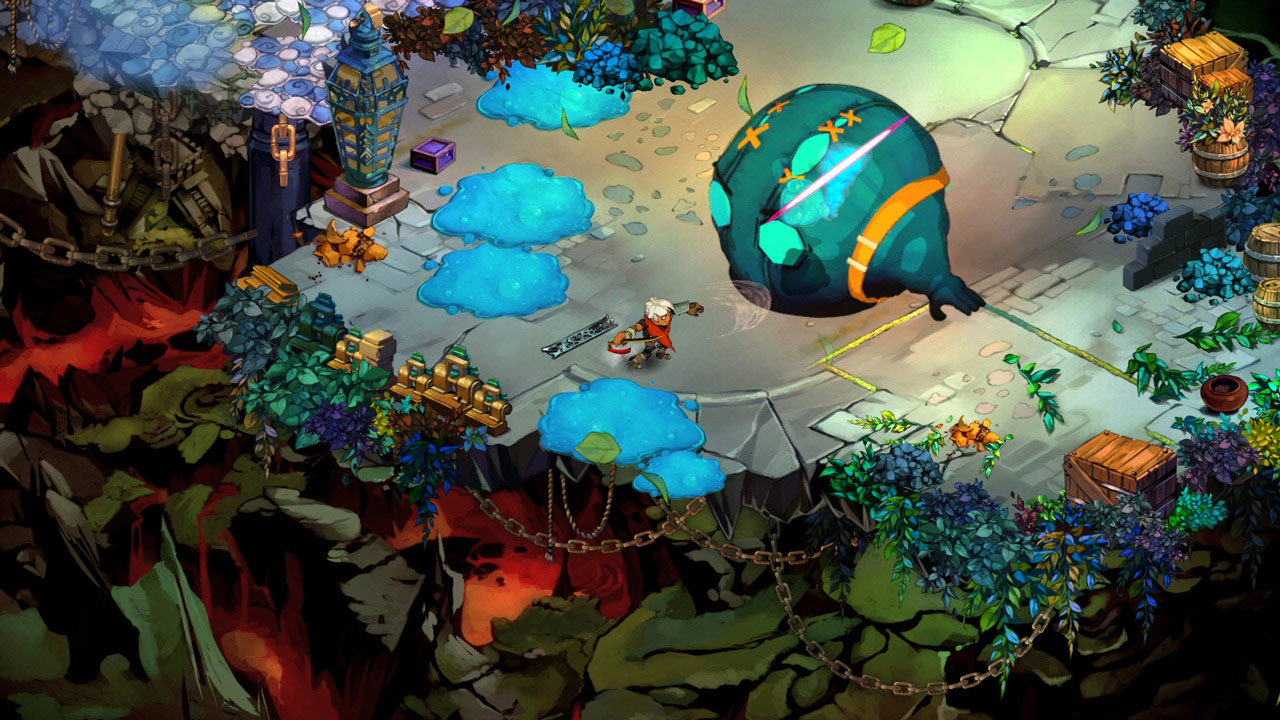 Today's Game of the Day is a game known for its quality on the seemingly dozens upon dozens of platforms it's already been released on. Heck, we've even covered it on mobile here at TouchArcade. That said, for the first time, Bastion arrives on a Nintendo system, so a whole new slew of gamers can see what the fuss is all about with this nearly eight-year-old game. …Well, that's assuming that many Nintendo system owners have never owned or played any other platform, and that's a mighty large assumption!
Bastion plays similarly and just as well as other platforms, such as its big console brothers on PlayStation and Xbox. It's an action-RPG which has levels and dungeons that are comprised of floating platforms that reveal themselves in chunks and pieces as you progress through them. Enemies litter levels, and they're ripe for taking out and giving our hero, "The Kid", valuable experience, allowing him to equip more and more potion concoctions to himself as he gains levels.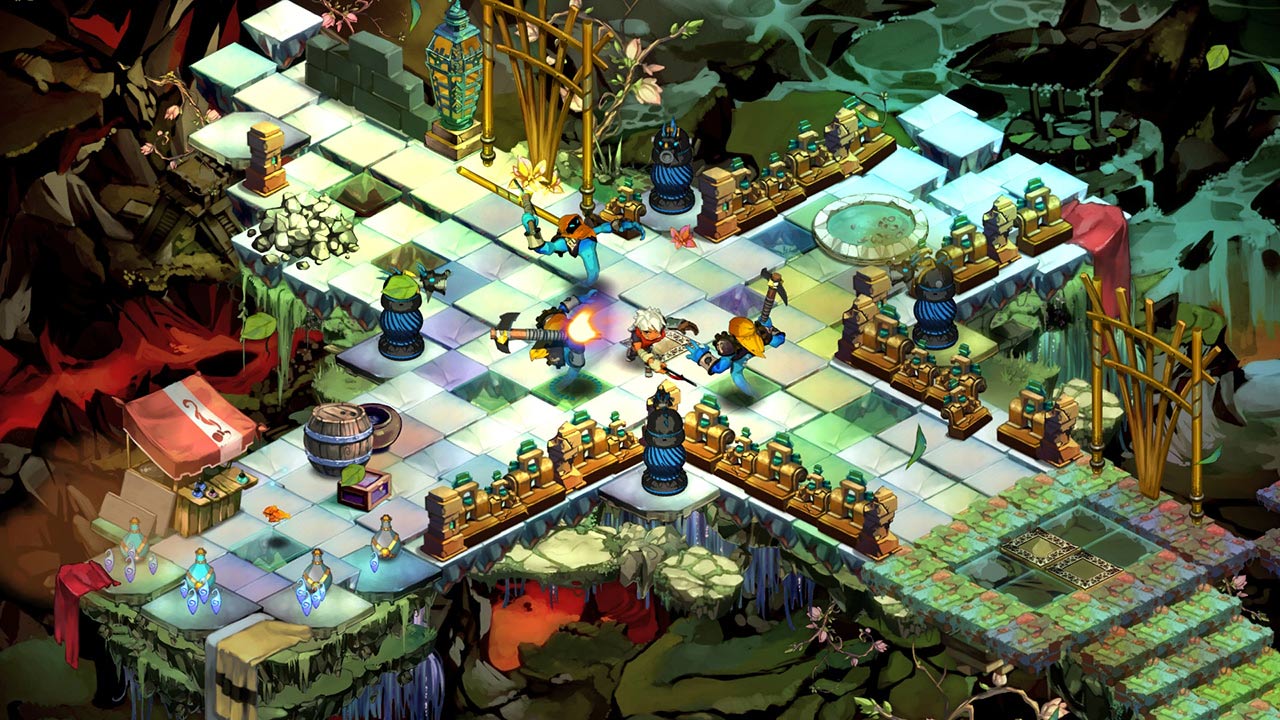 You unlock a multitude of weapons for your character in Bastion, and the majority of these are powerful firearms like multi-shot pistols, in-your-face shotguns, massively destructive missiles, long-range sniper rifles, killer salvos, and much more. Each new weapon has a proving ground that unlocks on the overworld map once it's collected. These offer time and skill-based challenges that not only improve your proficiency with each weapon, but they also allow you to earn rewards in the form of common and rare materials to upgrade your weapons and abilities.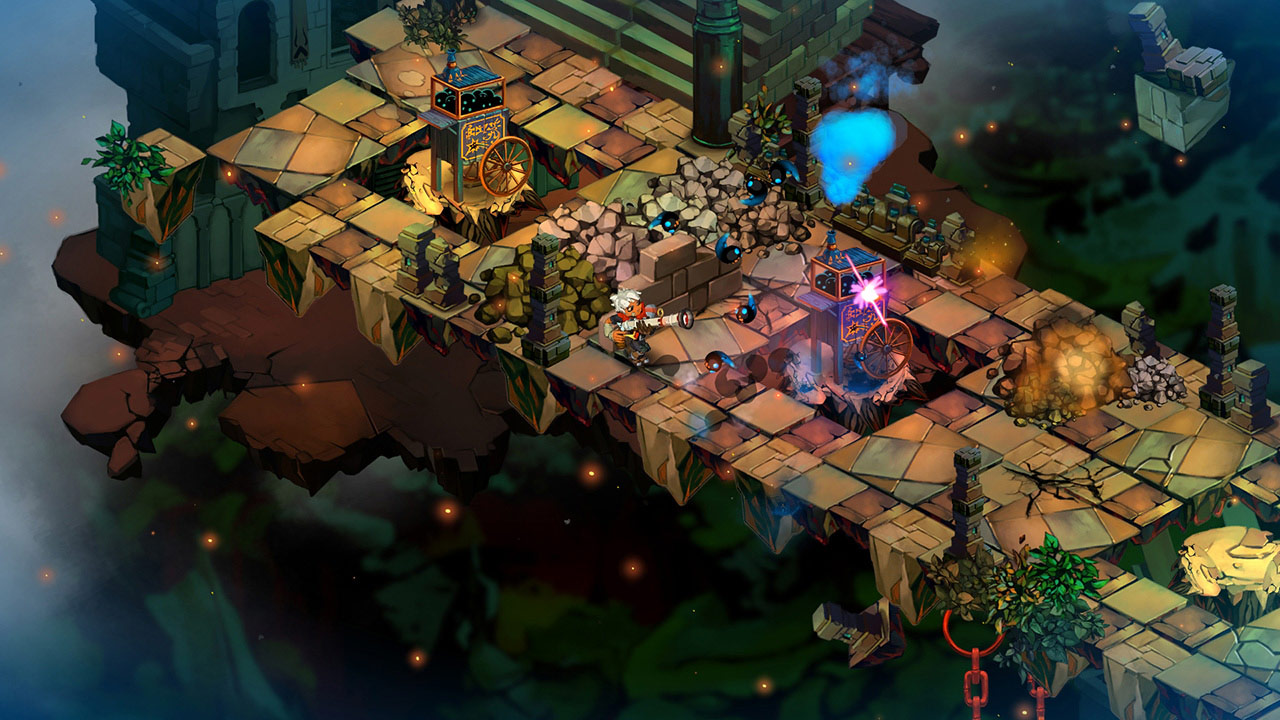 Bastion is still very much the same game it was years ago on a number of systems the game has released on since it debuted in 2011. The story–told by an always-present narrator that dynamically changes dialog with regards to how well or how poorly you play–is still deep and thoughtful, the gameplay is still as engaging as ever, the music and sound still poignant as it ever was, and really, Bastion is Bastion.
Like I said, it's a known quality by now. You're getting nothing new with the Switch version, save the ability to play it "anywhere and everywhere", a combination of words that is no stranger to the SwitchArcade Roundups. Yep, that includes on a TV, on the go, or anywhere else. Bastion is still fantastic, and now it's just as fantastic on the Switch.
Valthirian Arc: Hero School Story ($14.99) Impressions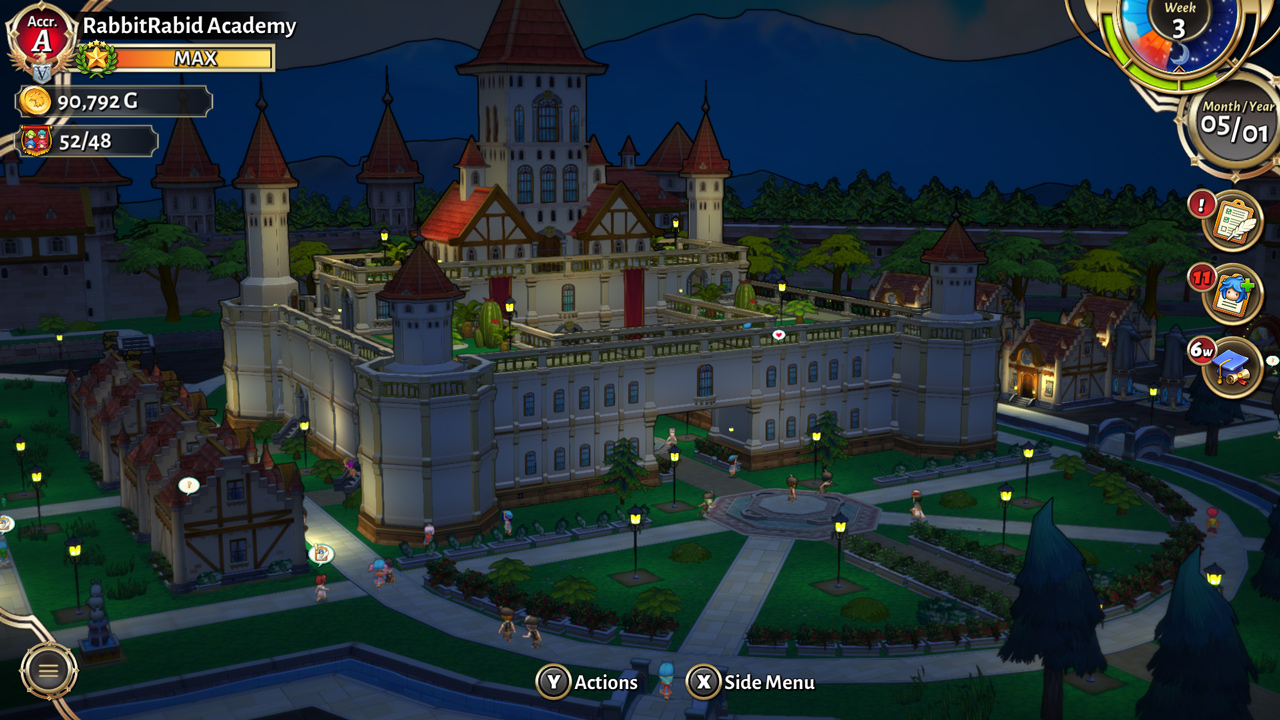 Valthirian Arc: Hero School Story has your omniscient, omnipresent self overseeing the week-to-week happenings of an academy for up-and-coming heroes. You create buildings on specific plots of land, you create classrooms, libraries and cafeterias within the actual academy building, you recruit new students, and you do all this while trying to graduate at least one student per semester (by having them reach level 10).
This all sounds more luxurious than it is, as Valthirian Arc isn't as deep a simulation game from the outset. You're incredibly limited in what you can do, where you can build, what options are open to you, and so forth. The little freedom I had while running my academy made me still feel like I was a dog on a very tight leash. Any time I wished to have some more customization for my academy, the game would yank me back to its reality.
When you're not tending to your academy, you're participating in quests. There are two types in Valthirian Arc–quests that you directly control and quests you send students away for that serve as errands. The better leveled your characters are for a given errand, the greater likelihood that your students will succeed. Funnily enough (well, NOW it is, but at the time it wasn't so much), early on in the game I made it so all eight students of mine were split up between two teams of four, and I sent them all on errands.
The irksome part of this is that there is no way to speed up time in Valthirian Arc without participating in a mission, as that's how weeks go by the fastest. I had to wait for the in-game timer to pass the four week waiting period for my student teams to return. That was about 15 minutes that I actually shifted my attention to my 3DS to play a different game because I literally could not do anything else within the game. Let that be a lesson to any prospective players of Valthirian Arc out there that you probably don't want to send all your students out for errands at once without a backup plan. Maybe that's just common sense, but I was never common, nor did I ever have sense.
The quests that you get to have control of your students play out in real-time, action-RPG battles. However, Kingdom Hearts this is not, and if you're looking for something with more depth than simple button mashing when it concerns combat, you better look elsewhere than Valthirian Arc. There are two main buttons used in battle, and one is the button that you'll be pressing 95% of the time, the attack button. The other uses up a chunk of your energy gauge to unleash a special move dependent on your currently controlled character's class.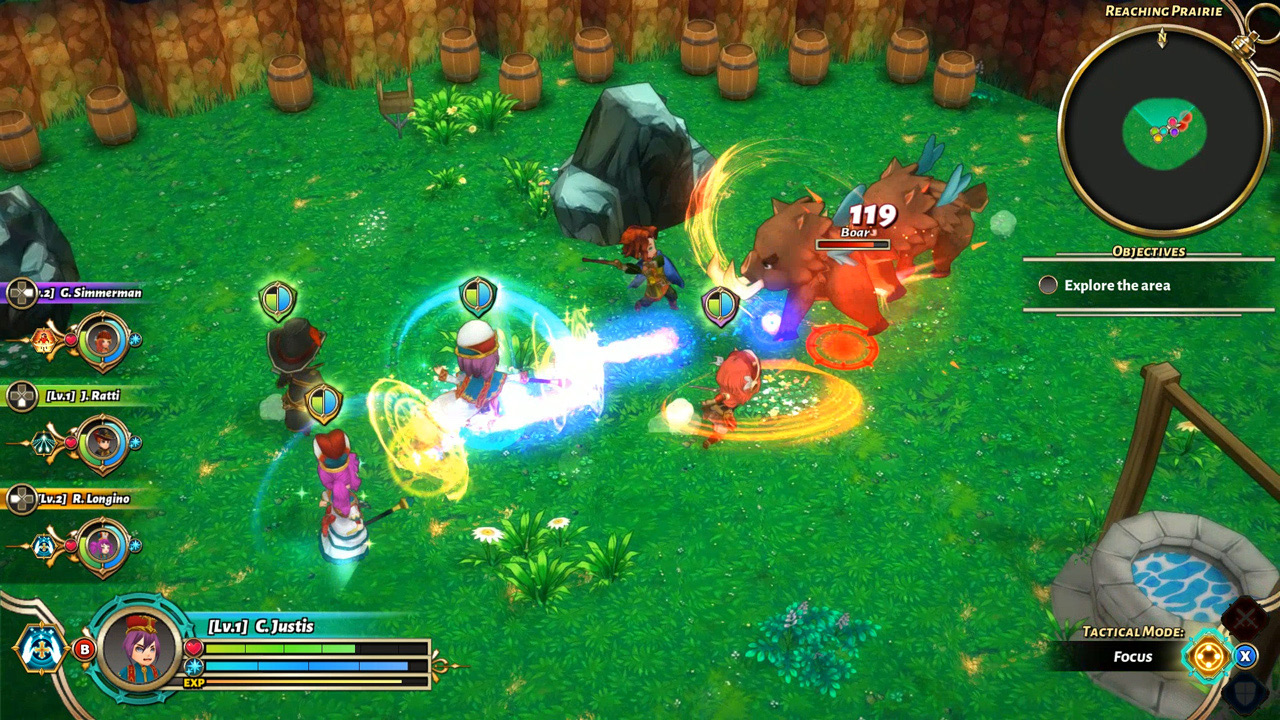 This leads to a carefully planned out segue by yours truly that students at your school level up with regular experience points from defeating enemies and completing quests. When you reach a certain point in Valthirian Arc, you get the ability to change the class of your students. Starting off you have three to choose from: Knight, Magi, and Scout, and they unlock in that order. To promote a given student to a new class, they must be at level 10 or higher. The further along you get within the game, you can promote a student even more. For instance, a Knight can choose to become a Paladin, complete with shiny new armor.
Despite not having deep sim-like qualities to running my own academy of wishful heroes and possessing limited combat capabilities within the game itself, Valthirian Arc: Hero School Story managed to keep me engaged. There's something about leveling up my students to be stronger and more competent in battle, leveling up my academy so I can utilize higher quality buildings, gathering loot of all kinds, and just mowing over boars and wolves in battle.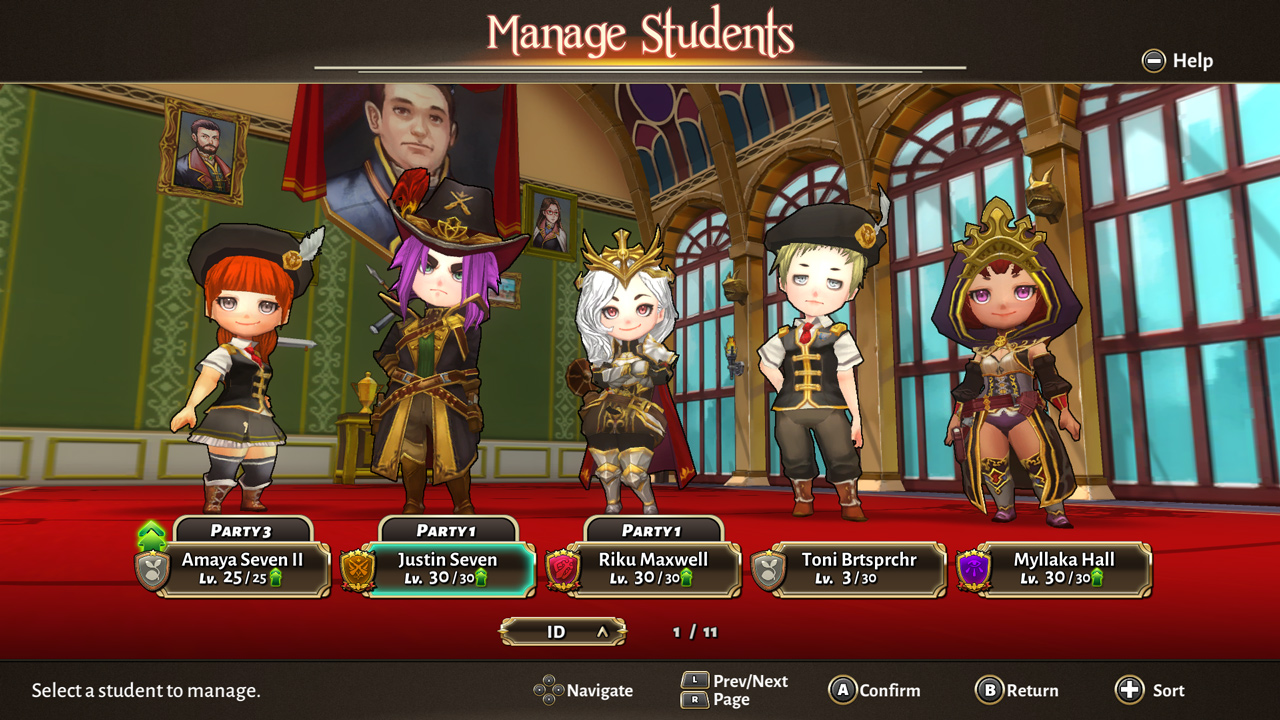 It's important to note, however, that this was just my experience with the game within the first few hours or so. As you can see from one of the screenshots included, one's academy can grow to impressive size, and these are just my early impressions–things could change as I play on. That said, the early going of Valthirian Arc is quite slow and plodding. If you can overcome that and reach a point where the game picks up, you might find an academy-building offering that delights and excites.
Valthirian Arc: Hero School Story launches today on the Nintendo Switch in North America for $14.99.
New Releases
Mega Man 11 ($29.99)
After eight excruciating years without a numbered Mega Man game–heck, even radio silence from Capcom's titanium titan in gaming, the Blue Bomber is back with Mega Man 11. Not just resting on its laurels–though the standard eight Robot Master formula is very much the same–Mega Man 11 possesses an all-new Double Gear system which allows players to power up their shots and slow time down at the risk of overheating Mega Man's internal systems if they rely on it for too long at a given time. Containing an expanded story, lots of replay value in the various difficulties and challenges to complete, and a colorful cast of characters and levels, Mega Man 11 brings the Blue Bomber back to the forefront of gaming in a big way.
Batman: The Enemy Within ($39.99)
With the unfortunate news surrounding Telltale Games's fate last week (the studio being closed and all employees laid off without much to speak of), Switch owners can pour one out for the studio with all of the episodes of Batman: The Enemy Within. This blockbuster adventure takes both Batman and his alter ego Bruce Wayne through scenarios and situations unprecedented as the Riddler and the Joker return to Gotham City. Your choices, your puzzle-solving skills and your clever detective work will all factor into how Batman: The Enemy Within unfolds.
Marble It Up! ($19.99)
On many occasions I have been known to lose my marbles. It comes with the territory of being me. In this marble-rolling game you guide a marble through an obstacle course of twists, turns, and hazards–attempting not to fall off the course as you make your way to the goal. See? Because falling off the course means you just lost your marbles. Booyah! This game description has come full circle–like a sphere… which is the shape of a marble! Oh, I did it again!
Marble It Up! has many levels to it, plenty of marble skins to unlock, leaderboards, and the backing of some of the makers of Marble Blast Gold and Marble Blast Ultra behind it. You can be rest assured you're going to get an enjoyable marble game out of this one.
Valthirian Arc: Hero School Story ($14.99)
If my early impressions of Valthirian Arc: Hero School Story weren't enough for you, then I don't know what else I can do for you. I'm but one–albeit strikingly handsome–person here! While my impressions only focused on the rather slow first hours with the game, take a look at this trailer which shows off some footage of what your academy of heroes can look like through continued play.
Monster Loves You! ($9.99)
Monster Loves You! is a text-based game where your choices determine your reputation among both humans and monster-kind. Gain the fear of humans and the respect of monsters by performing actions like eating poor (but tasty) children lost in the woods, or opt to be a kind, gentle monster by generously guiding them home. What kind of monster will YOU be?
Sales
New Games on Sale
A handful of Team17-published games kick off this new week of discounts. Meanwhile, other titles like Mecha Storm and Devious Dungeon feature their own sales as well.
Knights of Pen and Paper +1 Deluxier Edition ($11.99 from $14.99 until October 8)
Mecha Storm ($13.99 from $19.99 until October 9)
Mugsters ($8.99 from $14.99 until October 13)
Overcooked Special Edition ($9.99 from $19.99 until October 13)
Raging Justice ($7.49 from $14.99 until October 13)
The Escapists 2 ($11.99 from $19.99 until October 13)
Worms W.M.D. ($17.99 from $29.99 until October 13)
Devious Dungeon ($5.99 from $7.99 until October 14)
InkSplosion ($3.74 from $4.99 until October 14)
Johnny Turbo's Arcade: Wizard Fire ($7.19 from $7.99 until October 16)
Space Ribbon ($9.89 from $14.99 until October 19)
Sales Ending Tomorrow, Wednesday, October 3rd
Heads up, everybody! It's your last chance to get Plague Road for less than a $1 until, y'know, it's inevitably on sale for that price yet again in a week or two. I can't fault the publisher/developer for perpetually putting Plague Road on sale, as it continues to reach the best-sellers list on the eShop when it does.
Dead Synchronicity: Tomorrow Comes Today ($9.74 from $14.99 until October 3)
DragonFangZ – The Rose & Dungeon of Time ($19.99 from $24.99 until October 3)
Ginger: Beyond the Crystal ($12.99 from $19.99 until October 3)
Heart&Slash ($10.49 from $14.99 until October 3)
Mecho Tales ($0.79 from $0.99 until October 3)
Nightmare Boy ($6.99 from $9.99 until October 3)
Plague Road ($0.99 from $15 until October 3)
The Bridge ($2.49 from $9.99 until October 3)
Xenoraid ($5.69 from $9.99 until October 3)
That rounds up this Roundup! Stay tuned tomorrow for impressions of Mega Man 11 and more as the SwitchArcade Roundup brings another batch of Switch content to you right here on TouchArcade. Until then, keep your Joy-Cons charged and your Switches loaded with great games!