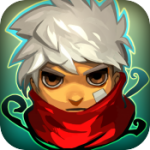 Supergiant Games' Bastion ($4.99) is truly a game whose reputation precedes it. When the indie game released in July of last year, it quickly became a hit with its fascinating story, catchy music and well-done action RPG gameplay. Fast-forward a year later and iOS gamers are finally able to check out the land of Caelondia. Suffice to say, Bastion makes a near-perfect transition to iOS and should be experienced by just about everyone.
Bastion follows the narrated story of the Kid, one of a few survivors of The Calamity, a world-altering event that destroys the land and has turned once docile enemies against everyone. After the Kid reaches the Bastion, the area of the world designated as the survival zone (should anything go wrong), he embarks on a journey to find survivors, recharge the Bastion, and hopefully bring clarity back to a shattered world.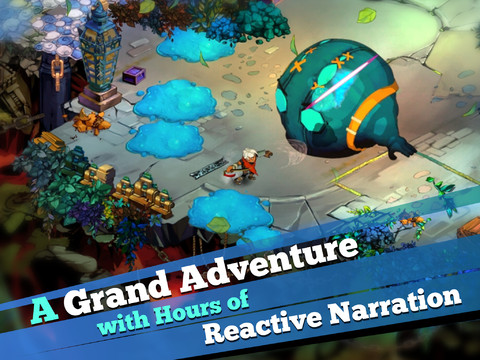 For gamers entering the world of Bastion for the first time, you're in for a treat. Supergiant Games has created a masterpiece of gaming narrative that extends to the game's visuals, story, narration, music, and gameplay. The Kid's tale, narrated by a strange voice from the moment the game starts, adds so much personality and context to every action. The experience lends itself well to the story, which starts off with you in the middle of a disaster and charges you with a path towards resolution while simultaneously feeding you snippets of backstory. Without spoiling much, be advised the game is full of twists and turns and the narrative hints dropped while you're on missions as to what'll happen next is superb.
Bastion's soundtrack, meanwhile, consistently steals the show with an eclectic mix of soft reflective tunes and fast-paced melodies that constantly set the mood. The visuals serve as the last piece of the puzzle, offering a beautiful glimpse into the world of Bastion with soft colors mixed with palette shifts whenever the game's tenor changes. Finally, everything is wrapped in an action-RPG shell featuring tons of weapons, upgrades, and choices offering a good deal of customization as far as how you want to use the Kid in battle. In sum, Bastion simply nails every facet of the game, with little to complain about and everything to praise.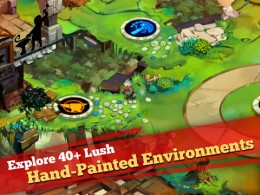 If you're a veteran of Bastion and are curious of the differences between the console and iOS versions, I'll refer you to the awesome FAQ put up by Supergiant Games that describes all the differences. For those looking for a quick summation, Bastion for iOS incorporates the Stranger's Dream DLC package, has a new aspect ratio (4:3 vice 16:9) and features visuals for the retina-enabled iPad. While these are all nice additions to the title, the real change lies with its completely redone controls that focus on a more touch-centric experience.
Unlike other versions, Bastion defaults to a tap-to-move control scheme somewhat similar to Orc: Vengeance. Unlike Orc, however, Bastion's controls are far smoother and much more responsive when it comes to moving the Kid. The controls also condense most of the virtual buttons down to two: a combination block/manual shot button and a secret move button. Normal attacks are automatically initiated (and targeted) and dodging is as simple as double-tapping in the direction you want to move.
I'm a huge fan of this modified control scheme. It does a great job utilizing the iPad's screen space while keeping most of it clear of buttons to let you experience the action more organically. I also think removing the virtual control pad and condensing the buttons allows you to concentrate more on aiming and moving in the middle of the action. Admittedly, there is a certain amount of precision lost in regards to moving and aiming when allowing the game to make some of the decisions for you. However, if you're coming into Bastion for the first time on iOS, I doubt you'll have much of an issue with the controls. For returning console veterans, however, a 'Classic' control scheme is available that incorporates a virtual pad as well as more traditional buttons.
The classic control scheme works as well as virtual buttons typically work on iOS games, which is to say that it is adequate, but not necessarily preferred. This is why I give Supergiant Games a lot of credit in creating and fine-tuning an iOS specific scheme that I feel does the game a lot more credit on this platform. However, I recognize that not everyone will be as pleased with the controls as I am, and it's simply an issue that players need to be aware of.
Minor control issues notwithstanding, Bastion for iPad is just as good, if not better than its console brethren. Every element that made the game so amazing and fascinating returns and the subtle refinements to various features in making the jump to iOS simply add to the experience. In the console realm, Bastion has been nearly universally regaled and recommended and there is no reason not to do the same on iOS.