Depending on the year, SEGA's booth can either be full of a variety of delights or just a showcase for the latest Yakuza game. Fortunately, we got the former type this year. Oh, the new project from the Yakuza team, Judge Eyes, certainly got its share of attention, but with Atlus now more or less completely in the SEGA fold, almost equal attention was given to Catherine: Full Body and Persona Q2.  SEGA's mobile offerings were largely relegated to video trailers, with the most important of the bunch being the upcoming Yakuza Online.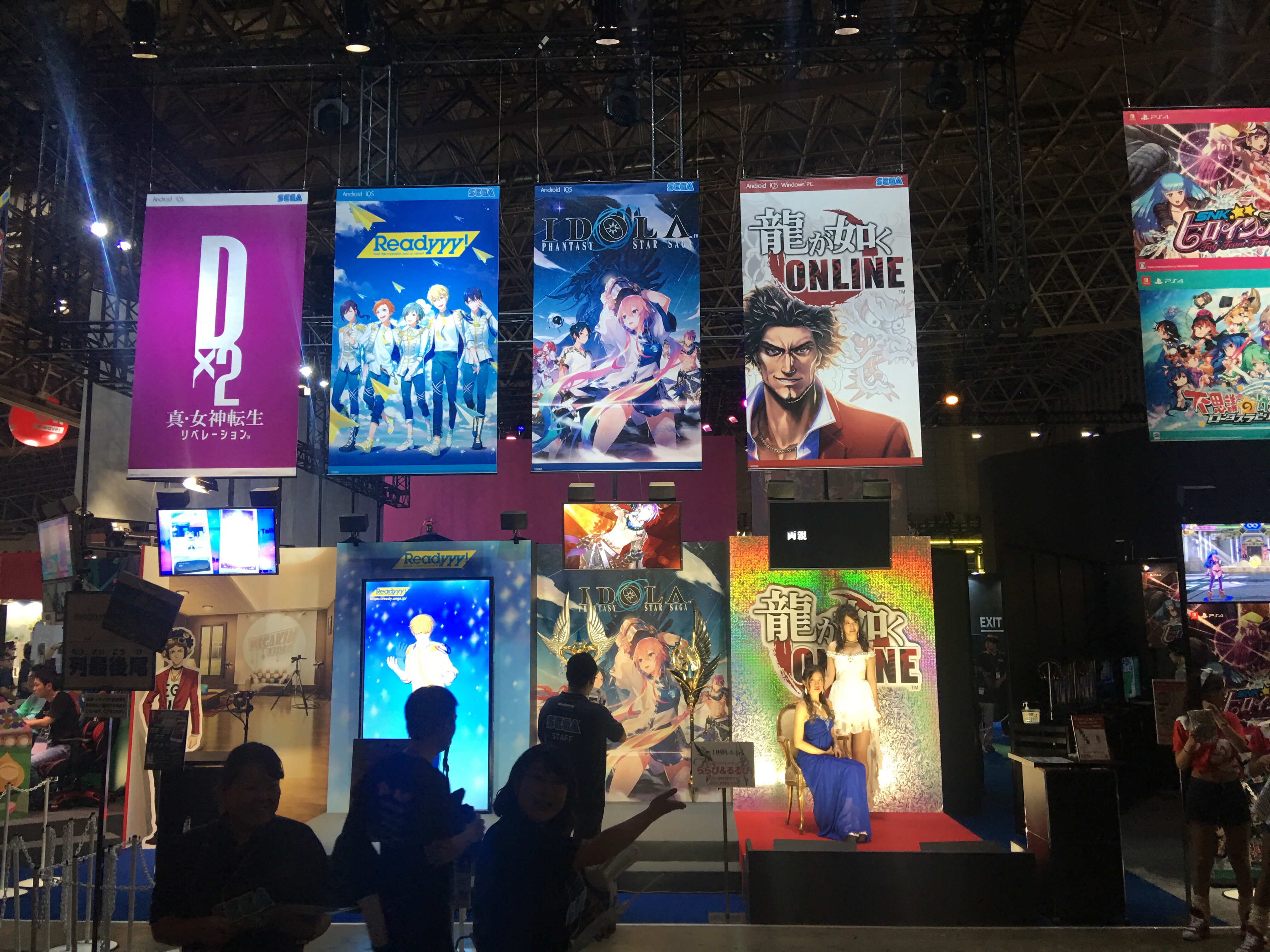 Yakuza Online will introduce players to the character who is meant to be taking over the series from mainstay Kazuma Kiryu. His name is Kasuga Ichiban, and like Kiryu, he's one of those oh-so-common pure-hearted yakuza who went to prison for a crime he didn't commit. When he gets out, he is shocked and, yes, appalled at what has happened in his absence. Yes, they're pretty much recycling Kiryu's back-story here. Well, it's probably not too important at this point. The Tokyo Game Show trailer gave us a hint of what kind of gameplay we can look forward to in Yakuza Online, and it's… probably not what fans are hoping for. We'll have to see if this one gets brought over in the West, but with the series finally gaining traction with recent installments, there's a pretty good chance.
Other mobile offerings at SEGA's booth included the already-launched Shin Megami Tensei Liberation DX2, the somewhat-regrettable Phantasy Star anniversary project Idola, and the sure-to-stay-in-Japan Readyyy!. Sure, none of this is as exciting as SEGA's projects on other platforms, but it speaks to the confidence SEGA has in Yakuza Online that it was allowed to be the principle representation of the popular series at the Tokyo Game Show. Let's hope the game somehow lives up to that. As usual, there weren't any of SEGA West's projects at TGS, which makes up a major part of the company's mobile strategy. But you can always download the newly-added SEGA Forever version of Streets of Rage 2 (Free) and pretend that was part of the show, if you would like.