After two companies have been merged for a while, it gets a bit harder to tell which games are coming from which "side", so to speak. Of course, it's a little silly to think of a merged company as still having distinct expressions of its predecessor companies, but I dare say that with Bandai Namco, it's not tough to spot which is which. It was especially so at the Tokyo Game Show, where the company had a bunch of mobile games to show. Most of the line-up consisted of licensed fare such as Kamen Rider and Dragon Ball, but the mobile game with the biggest presence was decidedly Namco's.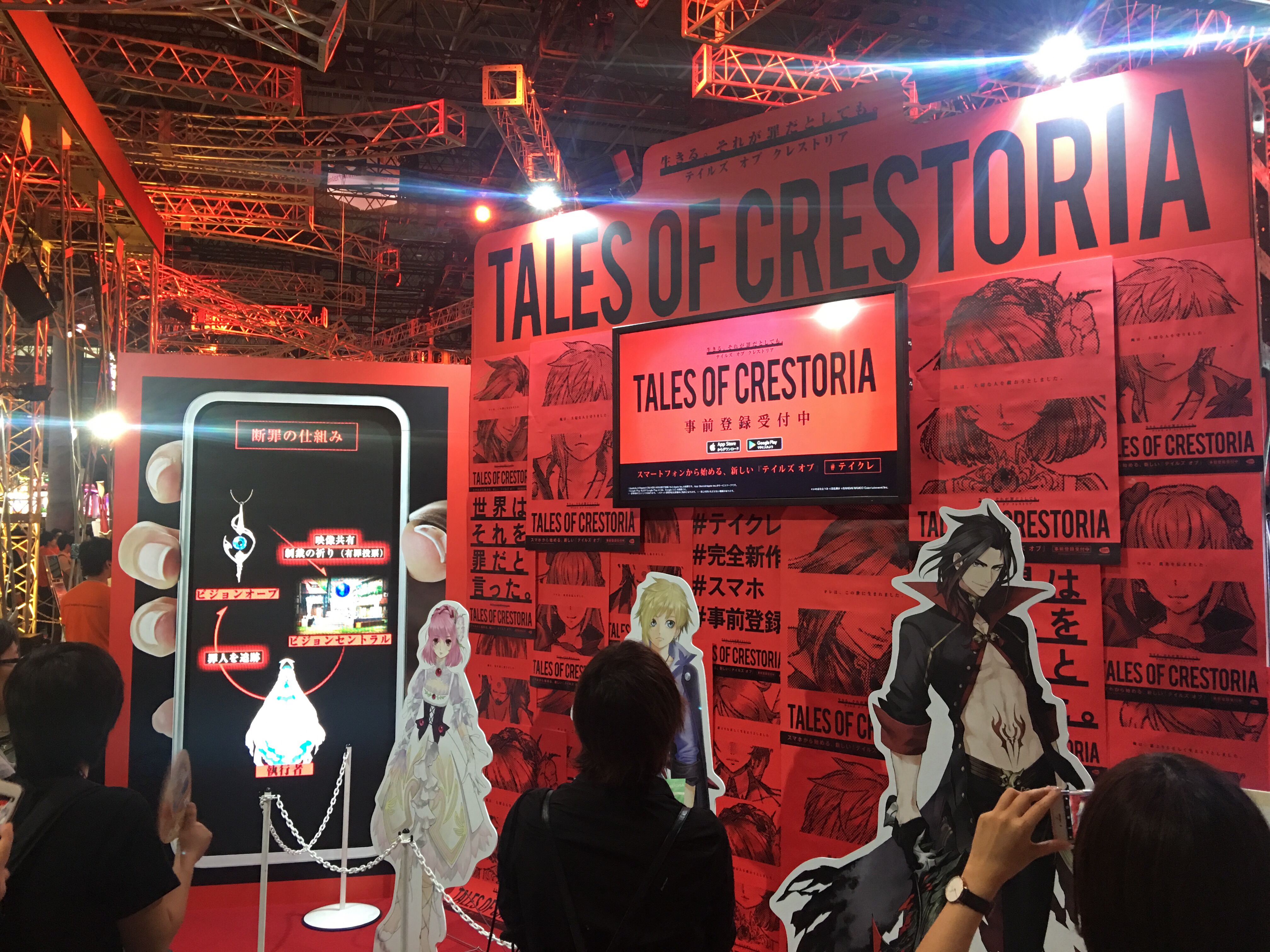 Indeed, showgoers could get their first taste of Tales of Crestoria's art before even entering the venue. Posters were set up on the path towards the entrance of the Tokyo Game Show's site, a prime location that ensures a lot of eyeballs. At Bandi Namco's booth itself, Tales of Crestoria was given its own special themed… well, cubby is probably the best word for it. The game wasn't available to play, but artwork, character details, and some explanations of the gameplay systems could be found. As you'd expect from a Tales game, it's got something of a wild and woolly premise that sees our main characters on the run from the law. No word on if this one is coming out in the West or not, but this does seem to be a slightly larger effort than previous mobile Tales games.
As for the rest of the games on display, I'd say there isn't a whole lot of hope of most of them leaving Japan. Everything from Gundam Wars to Black Clover seems like a potential licensing nightmare with very little to potentially gain for navigating such waters. If nothing else, it's a stark reminder of how compartmentalized the Japanese App Store compared to many others. A major publisher like Bandai Namco can have a couple of dozen mobile games to show, and if we're lucky we may see three or four of them brought over.  We'll keep our ears to the ground for news about Tales of Crestoria and let you know when new info comes to light.