Welcome to your SwitchArcade Roundup for September 18th, 2018. Phil here with a reminder that today is the last day to get some free Mario Kart 8 Deluxe, Splatoon 2, ARMS, Mario Tennis Aces, or "whatever other online game you might have been playing" online gaming sessions in, because the Nintendo Switch Online service begins tonight. Of course, free-to-play games like Fortnite, Paladins, and the upcoming Arena of Valor will all be unaffected by the service and still are able to be played online without a subscription. If you fear commitment, you can always do a seven-day trial for Nintendo Switch Online when the service starts. I know that's how I'm going to try this service out and see how everything works (or maybe in this case, doesn't work, but let's be optimistic here!).
With that out of the way, we can get started with today's SwitchArcade Roundup! We begin traditionally with the Game of the Day, and that tradition very much continues on this fine Tuesday.
Game of the Day
Retro City Rampage DX ($14.99)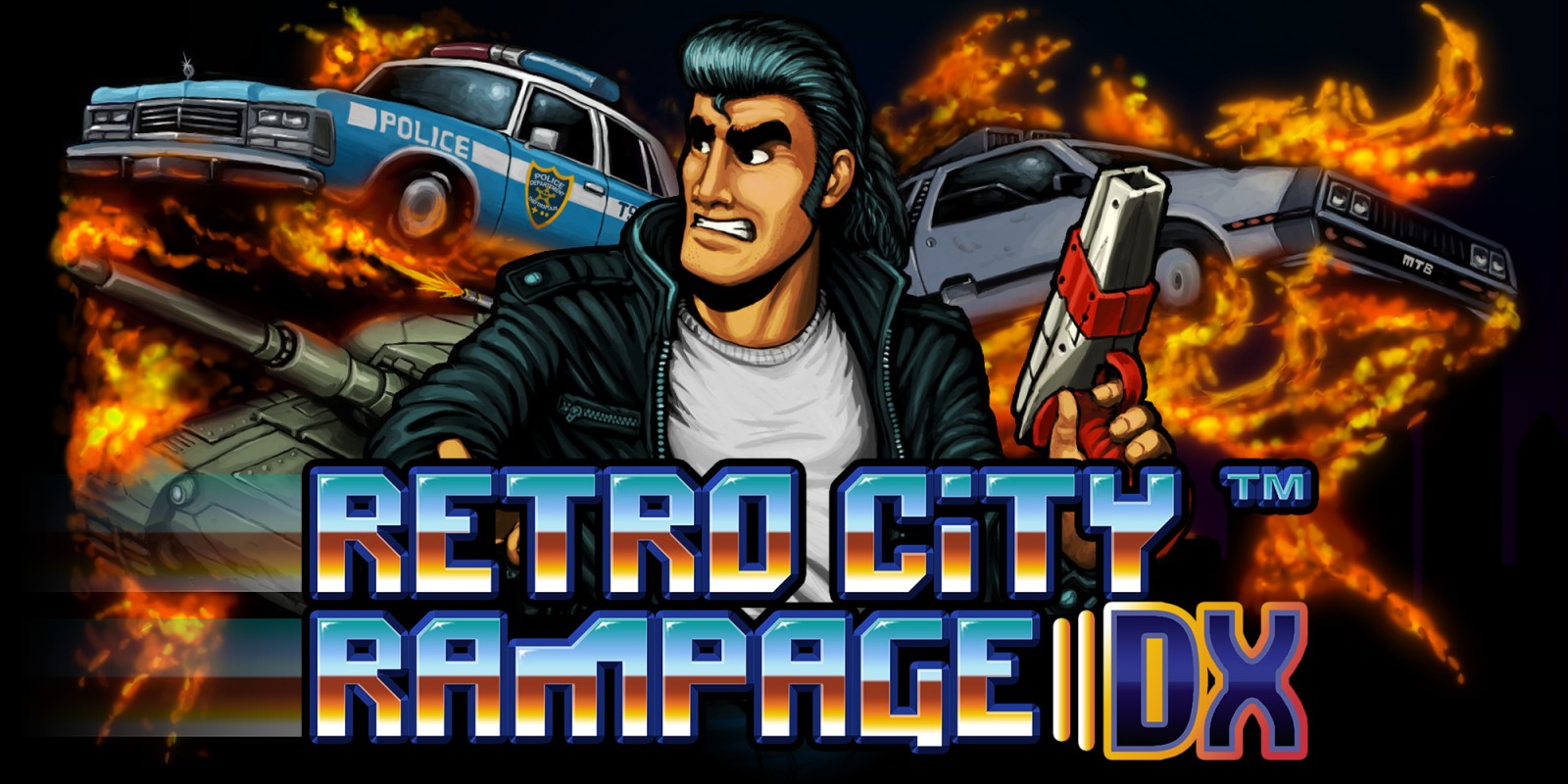 What do you get when you take the old school Grand Theft Auto games (I'm talking pre-GTA III here), and combine it with a multitude of '80s video game and pop culture references? You get Retro City Rampage DX, a hilarious take on the top-down, open world, mission-based structure found in the Grand Theft Auto series, given an irreverent video game-themed twist.
Whether you're infiltrating a base in true Metal Gear style, chucking newspapers at mailboxes as if you were playing Paperboy, or exploring the high school halls of something way too reminiscent of Saved by the Bell (Zack Morris IS trash, by the way), Retro City Rampage DX is overloaded with references to both the decade and the games of the time it was inspired by.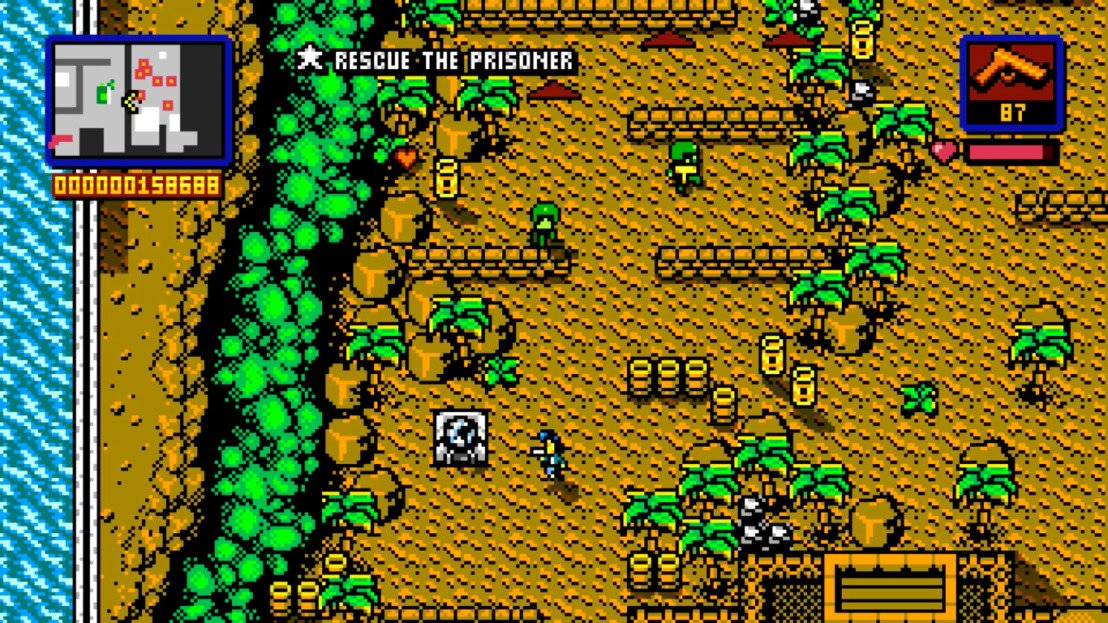 Of course, all the references in the world would mean nothing without some quality gaming to be found, and thankfully, Retro City Rampage DX has this in spades. Aiming and shooting are easy and satisfying to do, driving handles remarkably well, and plowing through pedestrians (hey, I only did it because it was a mission and I didn't want to fail it!) as well as blasting caps into enemies with a robust arsenal of weaponry are good times.
Retro City Rampage DX takes about five or so hours to beat, with a lot of optional content to play through–whether it's finding packages, completing side-missions, successfully beating Rampage missions where the goal is to cause as much death and destruction as possible within a time limit, or exploring the relatively large Retro City. Retro City Rampage is a fun little time-waster worthy of playing, especially while you wait for its 16-bit sequel, Shakedown: Hawaii, to come out… whenever the heck that might be!
News
Nintendo reveals new Fortnite Nintendo Switch bundle
I'm drowning in all of these bundles for the Nintendo Switch! Thank goodness I came prepared by wearing my SCUBA gear. Regardless, early next month yet another new Switch software/hardware bundle will launch. The Nintendo Switch Fortnite bundle includes various in-game items as well as 1,000 V-Bucks, that players can use to buy all those dances and things that… y'know Fortnite players do. I dunno. I'm out of my element here. I thought a "Fortnite" was something used in Shakespeare. At any rate, the Nintendo Switch Fortnite bundle will cost $299 when it releases this October 5th.
It's a bundle royale! A #NintendoSwitch #Fortnite bundle including special in-game items and 1,000 V-Bucks will make the jump into stores on 10/05. https://t.co/5049PRWbjr pic.twitter.com/qoraUQA5DO

— Nintendo of America (@NintendoAmerica) September 18, 2018
SEGA doubles down on retro gaming on the Switch with SEGA Genesis Classics
If SEGA releasing its SEGA Ages line of updated classic games isn't enough for you retro gamers out there, then you'll be pleased to know that SEGA is releasing the formerly PS4/Xbox One/PC-only SEGA Genesis Classics on the Switch. This collection of 30 SEGA Genesis games (or as it's called elsewhere, the SEGA Mega Drive) is due out some time this winter and will be available in both physical and digital form.
Sukeban Games's N1RV Ann-A is announced for the Switch
VA11 HALL-A was set in a bar and was labeled as a "cyberpunk bartender action game". Now, its sequel, N1RV Ann-A, set in an entirely different city but also in a bar, has been announced for the Nintendo Switch… or would that be N1N 10-D0 SW-1TCH? (Ouch. That hurts to read!) Regardless, while the game is a-ways out–2020 to be exact–it's nice to get a confirmation of a sequel to the much celebrated and critically acclaimed VA11 HALL-A. For now, check out this announcement trailer for N1RV Ann-A.
Rack 'em up on the Switch with This Is Pool
From the makers of Hustle Kings and one of the SwitchArcade Roundup's Games of the Day, we have This Is Pool. Want to know what the game is? Simply take a look at the title! This. Is. Pool. VooFoo Studios, the developer behind the game, sees its upcoming game as "the most authentic cue sports simulation ever created." For billiards aficionados and casual pool players alike, there seems to be a lot to be enamored by with VooFoo's latest. This Is Pool hopes to not scratch when it arrives on the Switch in 2019.
Other Headlines
PilotWings-inspired Pilot Sports is flying onto the Switch on October 4th
New Releases
Undertale ($14.99)
The comedic, humorous, world-renowned indie RPG Undertale is finally on a Nintendo platform. Play it on the go, play it in your home, play it on the TV, play it on the toilet, play it–well, you get the general gist here. Whether you decide to play through the game normally; go for a pacifist run through the game, never defeating a single foe; or play through it like a full-blown psychopath and eliminate everything in sight, Undertale has a play style for you. And if this innovative take on the classic RPG formula isn't enough for you, then the fantastic humor within the game definitely will be.
Capcom Beat 'Em Up Bundle ($19.99)
Take a bunch of classic beat 'em ups developed by Capcom in the 16-bit era of gaming, combine them with local and online multiplayer for each game as well as difficulty options, and release two games that were never before available on a gaming console, and you have the Capcom Beat 'Em Up Bundle. The games that are a part of this collection include: Armored Warriors*, Battle Circuit*, Captain Commando, Final Fight, The King of Dragons, Knights of the Round, and Warriors of Fate. (*Denotes the two previously arcade-exclusive beat 'em ups.)
Scribblenauts Mega Pack ($39.99)
Speaking of bundles–two Scribblenauts games for the price of one? Why, that's a much more appetizing offer than Scribblenauts Showdown, which probably left a bitter taste in many Switch owners' mouths. Scribblenauts Mega Pack features both Scribblenauts Unlimited and Scribblenauts Unmasked. One was a Wii U launch title, while the other fuses the worlds of Scribblenauts with the DC universe and seemingly all of its superheroes and supervillains. Scribblenauts Mega Pack is indeed a package for all kids, many adults, and most wordsmiths alike!
Labyrinth of Refrain: Coven of Dusk ($49.99)
From the makers of the Disgaea series, Labyrinth of Refrain: Coven of Dusk is a DRPG where players delve into dungeons, dealing damage to devious demons, dastardly monsters and the like. (Almost had a perfect chain of alliteration going there.) You move through the titular labyrinth with your party in a first-person view, using your skills to access new areas within, battle monsters, acquire treasure, and encounter climactic bosses. There are currently five DLC packs available for Labyrinth of Refrain: Cover of Dusk at the time of this writing, and they range from $0.49 to $1.49 each.
Speed Brawl ($19.99)
Dubbed as a "2D combat-racer", Speed Brawl is all about battling enemies with six different characters to choose from, and doing so while performing amazing aerial acrobatics and rushing through the levels at an increasingly faster pace. You can use upgrades to build up each character to make them fit your own play style. With 50+ events to compete in, allowing co-operative play locally or online through the whole every single one of them, I foresee some of you "racing" to pick up Speed Brawl.
Legendary Fishing ($29.99)
If you're yearning for a realistic fishing simulation experience for the Switch, then you're still going to be looking, as Ubisoft's Legendary Fishing casts its line out for a more arcade-style experience. Whether you're playing with traditional analog controls or casting out with motion controls, there are 80 missions for players to get "hooked" on, a myriad of locales and gear to unlock, and fishing with friends to be found. For fishing fans looking for an arcade experience, Legendary Fishing seems like it'll be the "reel" deal. (Seriously, what is with me and puns?)
Other New Releases
Sales
New Games on Sale
Of the trio of games on sale starting today, Hand of Fate 2 is the highlight. As the not-quite-the-highlight of the day, Johnny Turbo's Arcade: Gate of Doom is now $0.80 off, so I know all of you who were waiting to pull the proverbial trigger on the game as you waited for a sale can now pounce on it immediately!
Hand of Fate 2 ($23.99 from $29.99 until September 25)
Shape of the World ($11.99 from $14.99 until September 25)
Johnny Turbo's Arcade: Gate of Doom ($7.19 from $7.99 until October 2)
Sales Ending Tomorrow, Wednesday, September 19th
The entire lineup of classic NEOGEO releases on sale officially have their discounts expire tomorrow. Now might be your tip-off to buy some of these games if you've been eyeing them for a while.
ACA NEOGEO Alpha Mission 2 ($4.79 from $7.99 until September 19)
ACA NEOGEO Art of Fighting ($4.79 from $7.99 until September 19)
ACA NEOGEO Burning Fight ($4.79 from $7.99 until September 19)
ACA NEOGEO Fatal Fury 2 ($4.79 from $7.99 until September 19)
ACA NEOGEO King of the Monsters ($4.79 from $7.99 until September 19)
ACA NEOGEO Metal Slug ($4.79 from $7.99 until September 19)
ACA NEOGEO Puzzled ($4.79 from $7.99 until September 19)
ACA NEOGEO Samurai Shodown ($4.79 from $7.99 until September 19)
ACA NEOGEO Super Sidekicks ($4.79 from $7.99 until September 19)
ACA NEOGEO The King of Fighters '94 ($4.79 from $7.99 until September 19)
Baseball Riot ($3.34 from $4.99 until September 19)
Final Light, The Prison ($6.29 from $6.99 until September 19)
STAY ($9.59 from $11.99 until September 19)
Tower of Babel ($5.49 from $9.99 until September 19)
As the sun sets on another SwitchArcade Roundup, I always end these roundups with this sage advice: "Stay frosty!"
…
…No, that's not it. It's something to do with charging your phones and keeping your switchblades from slicing your fingers off or something.
Oh, wait! I know! Keep your Joy-Cons charged and your Switches loaded with great games! See you tomorrow, everybody!