Welcome to your SwitchArcade Roundup for September 10th, 2018. Your fellow Switch enthusiast, Phil is here, and I have a new week of roundups for you. This week starts off nicely with a trio of role-playing game goodness in the news, followed by our lone new release of the day, and some talk of some new and expiring game discounts. Before that, though, I have the Game of the Day to share and some impressions on All-Star Fruit Racing. "Orange" you glad for that?
Game of the Day
Captain Toad: Treasure Tracker ($39.99) – Demo available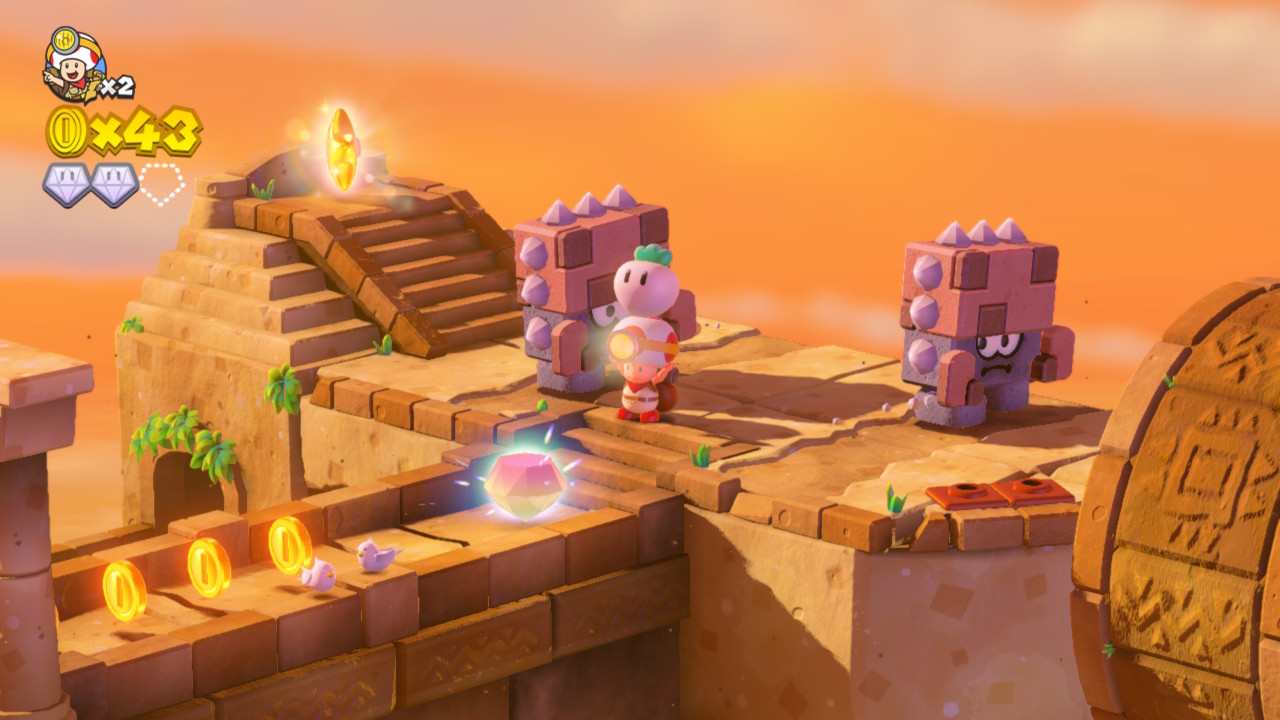 Are you ready for adventure? Captain Toad and Toadette certainly are! The original Captain Toad: Treasure Tracker was a Wii U game, and like many games on that failed system, Treasure Tracker has arrived on the Nintendo Switch. And, like many games coming from the Wii U to the Switch, it received a second chance to shine and far better sales in the transition.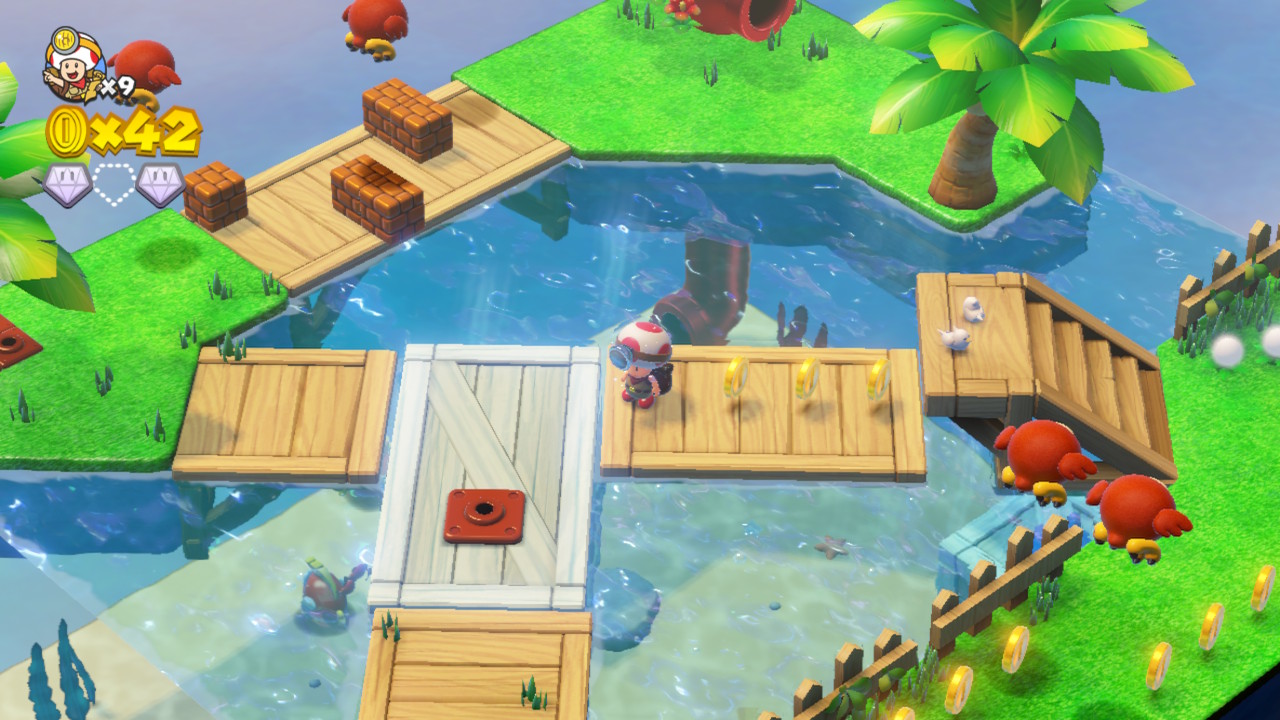 Captain Toad: Treasure Tracker presents players with miniature diorama-like levels. Each one requires you to nab the Power Star located in it. This is performed by navigating the environment, moving the camera around for a fresh perspective on the level, avoiding enemies, interacting with the world, and solving simple puzzles. Neither Captain Toad or Toadette can jump, so navigating these levels can be quite the challenge if your mental muscles are not up to snuff.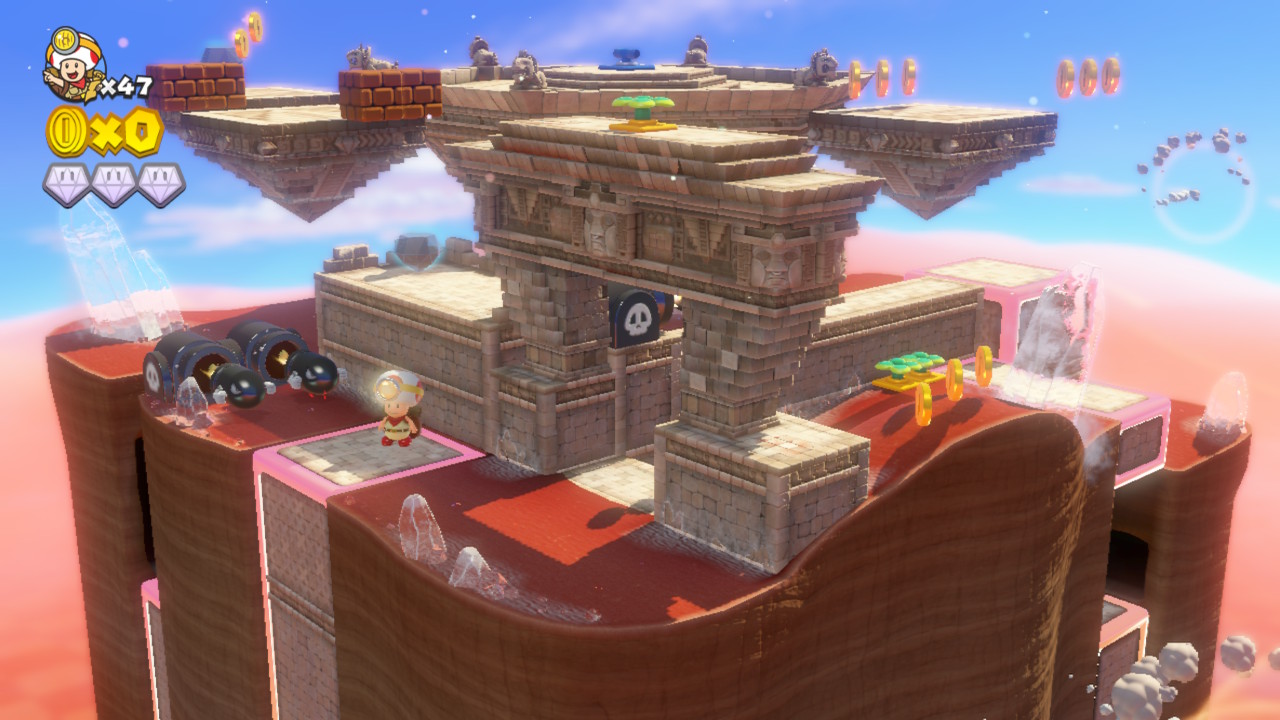 The variety on display in Captain Toad: Treasure Tracker's 80+ levels is astounding, and that's regardless of if you're trying to collect all three diamonds and complete the bonus objective in each level or not. Whether you're running on the top of and later on the inside of a snowy locomotive or exploring the high rises of New Donk City in one of the brand-new Switch and 3DS version exclusive Super Mario Odyssey inspired levels, Captain Toad: Treasure Tracker delivers delightful levels and an overall wonderful game.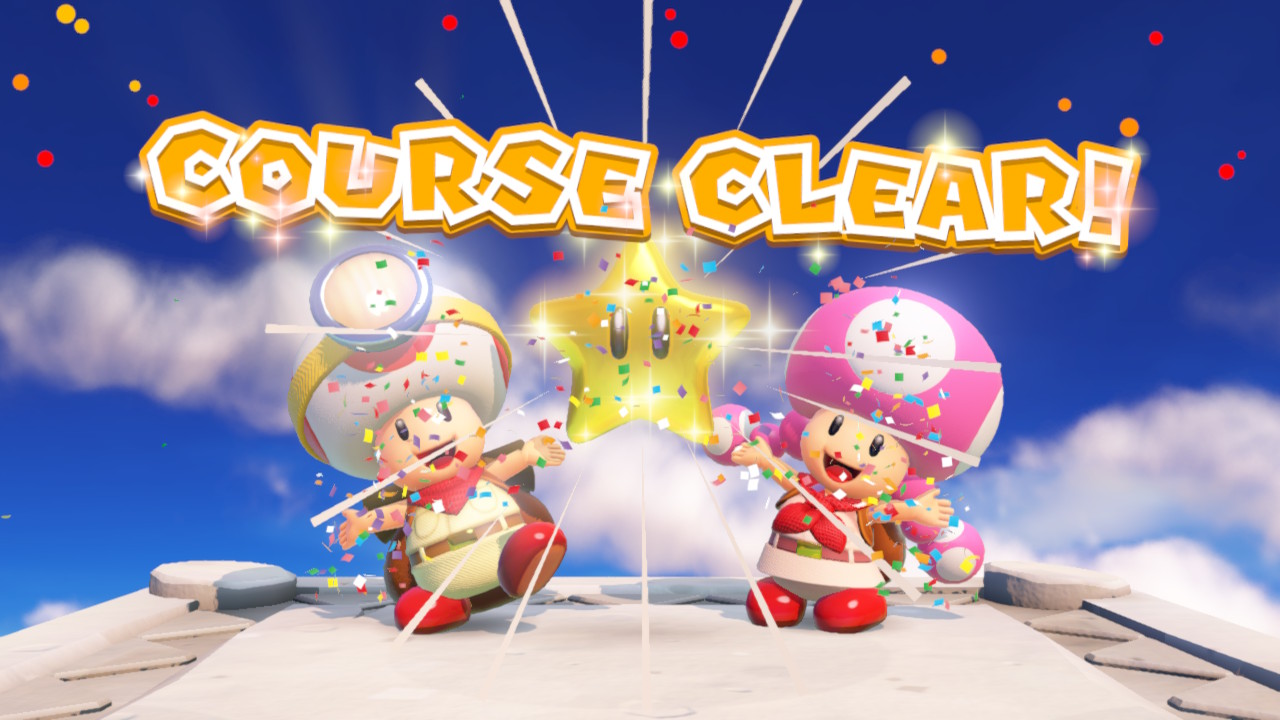 All-Star Fruit Racing Impressions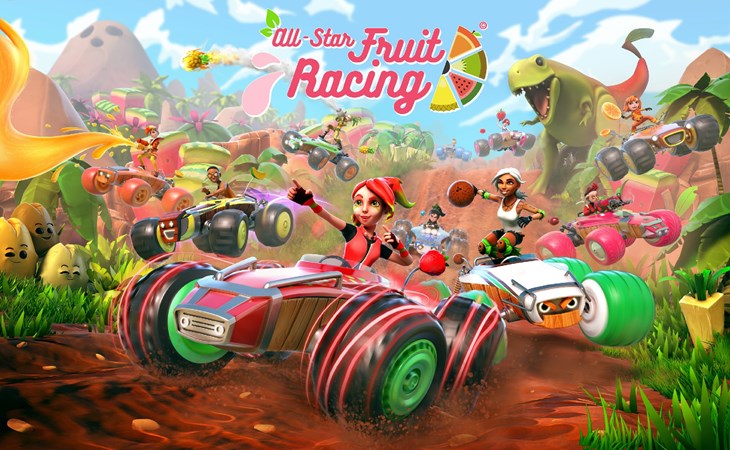 When releasing a kart racer on a Nintendo system, you are easily susceptible to comparisons with the king of the genre, Nintendo's own Mario Kart series. It's hard not to draw comparisons between All-Star Fruit Racing and the Switch's own Mario Kart 8 Deluxe, but at the same time, it's not the fairest contest to have. After all, we're talking about a budget kart racer compared to one of the most illustrious kart racing games ever made.
At its core, All-Star Fruit Racing is your typical kart racer. You race against seven other players with the goal of reaching the finish line in first place, all the while using items to interrupt the progress of your opponents or using items to better your own position in the race. The item system in All-Star Fruit Racing is rather interesting.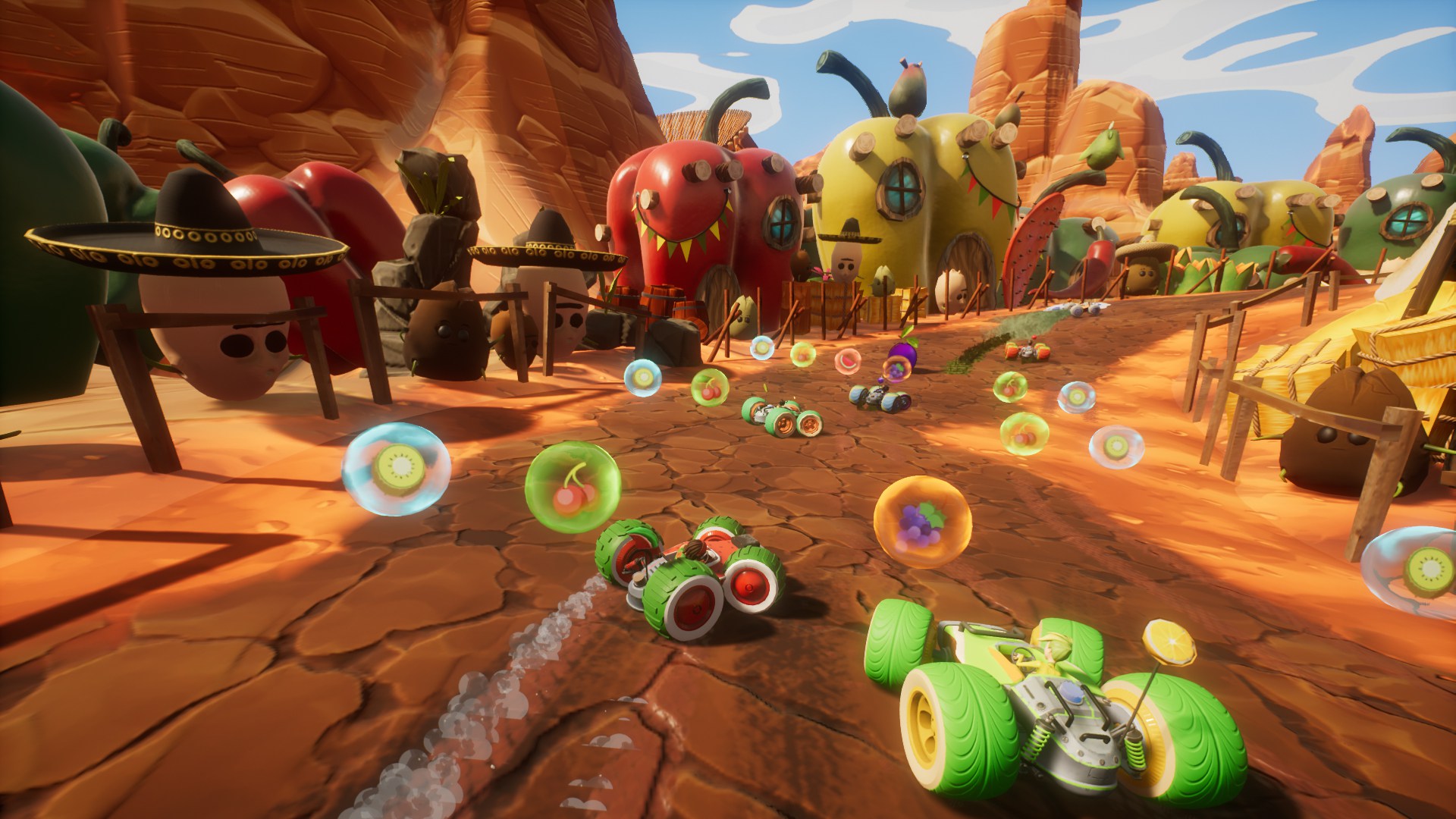 While there is the option for a typical Mario Kart item system, where players race through item boxes and get a random item, All-Star Fruit Racing's main system of acquiring items for use mid-race features the collecting of different item juices. There are four types in all, each assigned to a compass direction. There is even the option to combine multiple colors at once to create a hybrid item, or also filling all four juice types completely to unleash your racer's special ability. The item system takes some getting used to and memorization to figure out which juice combinations create what item. In the heat of the moment, it can be quite convoluted in practice.
All-Star Fruit Racing's main mode is Career, where you compete in a series of races, one after the other, with the goal of earning the most points across all races compared to the competition. Not only do you compete in traditional races, but there are also elimination-style events where after each countdown the player in last place is eliminated until there is but one player left. Additionally, some races limit what items you can receive, sometimes making which ones you get completely random or making it a race where the only items you can get are your character's special weapon.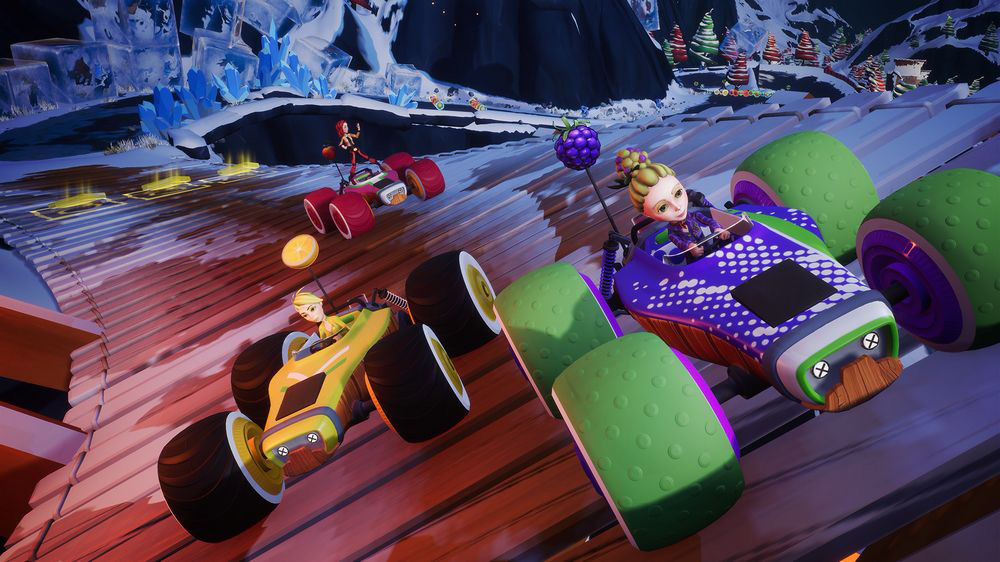 One problem with Career mode is that some races are just way too long for their own good due to the fact that they have too many laps to them. All of the races that are five laps could easily be shortened to three and still be worthwhile. It's a great contrast compared to the races in the game that are just from point A to point B, which at most last two minutes each.
All-Star Fruit Racing definitely disappoints when it comes to its technical side. The game is quite unpolished and has some persistent technical problems. Between loading times between races (and heck, just to start the darn game) that can last nearly a minute, to sound cues that awkwardly cut off, to the fuzziness of tracks and severe pop-in of minor environmental objects, All-Star Fruit Racing's presentation left me with a bad case of sour grapes. It's a pity, because the actual game itself is rather enjoyable–it's simply let down by these obnoxious and aggravating technical issues.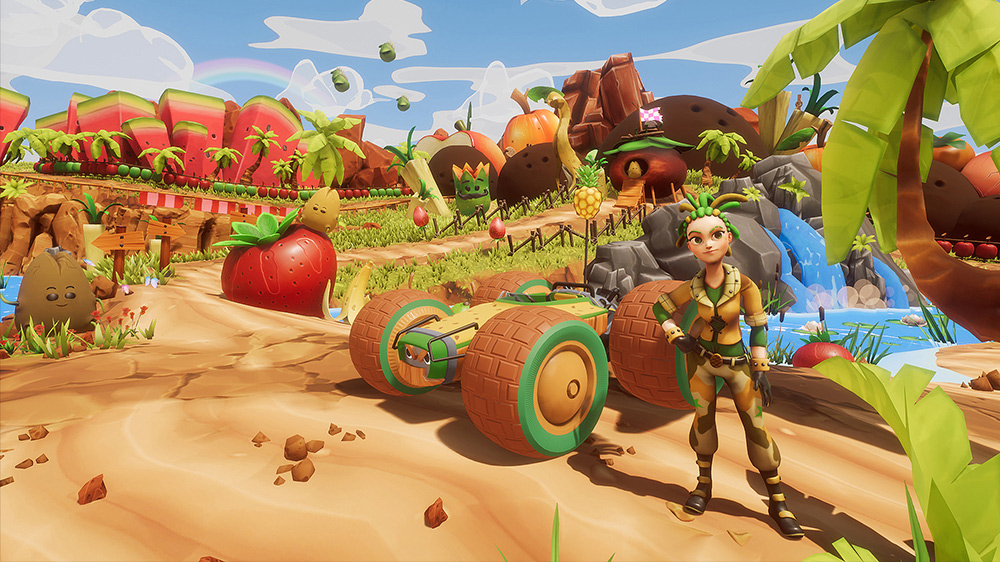 Outside of performance issues, All-Star Fruit Racing has local and newly added online multiplayer. The latter I did not get the opportunity to try out due to the empty servers, but local multiplayer worked just fine. Throw in all of the characters and kart parts that can be unlocked from performing specific in-game goals, and you have a kart racer that has a fair amount of content to it.
News
Special hardware edition for Pokemon: Let's Go, Pikachu and Pokemon: Let's Go, Eevee announced; new trailer for the game is available as well
It's an embarrassment of riches today for those anticipating Pokemon: Let's Go, Pikachu and Let's Go, Eevee. Not only is a brand-new trailer showing off new moves and the remade version of Celadon City available for your viewing pleasure, but the announcement of a special edition Pokemon: Let's Go, Pikachu and Let's Go, Eevee Nintendo Switch console has appeared, too. The hardware bundle is priced at $399.99, and includes the Poke Ball Plus peripheral and either Pokemon: Let's Go, Pikachu or Pokemon: Let's Go, Eevee pre-installed on the console. The special edition Pokemon: Let's Go bundle launches on November 16th.
Final Fantasy Crystal Chronicles Remastered Edition sets a course for adventure on the Switch
Final Fantasy Crystal Chronicles originally released on the GameCube in 2003, marking the return of the Final Fantasy series to a Nintendo home console since Final Fantasy III's release in 1994. Crystal Chronicles utilized the Game Boy Advance link cable to link up to four GBAs to the GameCube for its multiplayer. Of course, this arrangement was quite costly and inconvenient to do, so a limited number of people were able to fully experience the four-player multiplayer.
Courtesy of Gematsu, no longer will this be the case, as Final Fantasy Crystal Chronicles Remastered Edition is set to release on the Switch in 2019, offering online multiplayer for four players. In addition to this, characters will receive voice overs (previously only the narration before each dungeon was voiced), additional areas to dungeons, and other new features to be announced.
Tales of Vesperia: Definitive Edition given a final release date
Bandai Namco had a vague winter release period for its Tales of Vesperia: Definitive Edition when the game was previously announced. Now, a final release date has been confirmed–January 11th, 2019. Also, a special edition of the game is planned as well. The original Tales of Vesperia released in the West exclusively on the Xbox 360, though Japan received a PlayStation 3 version, too. This will be the first time in a while that the Tales of… franchise arrives on a Nintendo home console. The last entry to do so was Tales of Graces on the Wii in Japan in 2009. You have to rewind the clock back to 2008 for when the series last appeared on a Nintendo home console in the West with Tales of Symphonia: Dawn of the New World.
Need a little #MondayMotivation? This should brighten up your day: Tales of Vesperia: Definitive Edition launches on January 11th 2019 on PS4, XB1, PC Digital and Switch! Here's a glimpse of a very special edition you'll be able to lay your paws on. Stay tuned for more! pic.twitter.com/4unsmhtaII

— Tales of… (@TalesofU) September 10, 2018
New Releases
Dust: An Elysian Tail ($14.99)
There has been no shortage of Metroidvania games on the Switch as of late. It seems no matter what direction you turn, you're bound to stumble upon one. Dust: An Elysian Tail may be a Metroidvania game, but it's hardly "just another" Metroid-style game. With jaw-dropping hand-drawn visuals, beautifully animated characters, a multitude of characters to meet and quests to complete, swaths of enemies to take on at once, and a fully voiced story, Dust: An Elysian Tail is a highly acclaimed game, and it's now available to play anywhere at your leisure on the Nintendo Switch.
Sales
New Games on Sale
The latest in the 3D Sonic the Hedgehog games, and the first on the Switch, Sonic Forces, is on sale for a relatively worthwhile price. As someone who enjoyed his time with the PlayStation 4 version (even going all the way to get the Platinum trophy on it), Sonic Forces seems like a great deal for its current digital price.
Elsewhere, a trio of Two Tribes games are on sale until September 24th: both Toki Tori games and RIVE: Ultimate Edition. Of the three, I highly recommend Toki Tori and Toki Tori 2+, especially the latter, which was previously a Game of the Day. Speaking of the Game of the Day, Air Mail, too, was one, and it's back on sale.
Sonic Forces ($23.99 from $39.99 until September 17)
Air Mail ($11.99 from $14.99 until September 24)
RIVE: Ultimate Edition ($8.24 from $14.99 until September 24)
Toki Tori ($2.74 from $4.99 until September 24)
Toki Tori 2+: Nintendo Switch Edition ($8.24 from $14.99 until September 24)
Sales Ending Tomorrow, Tuesday, September 11th
Battle Chef Brigade ($11.99 from $19.99 until September 11)
Human: Fall Flat ($7.49 from $14.99 until September 11)
Nine Parchments ($7.99 from $19.99 until September 11)
Stay tuned for more from the SwitchArcade Roundup all this week. We always like to hear what you think about this column and the day's news, so hit us up with a comment below or tweet at us. Until later, keep your Joy-Cons charged and your Switches loaded with great games!