Welcome to the SwitchArcade Roundup for July 31st, 2018! Let's close out the month of July in style with your daily dose of news, impressions, new releases, and sales just like we always do here at the Roundup. This time around I have impressions to share regarding the first Mega Man X Legacy Collection, but before diving into those, let's take a look at our Game of the Day.
Game of the Day
FAST RMX ($19.99)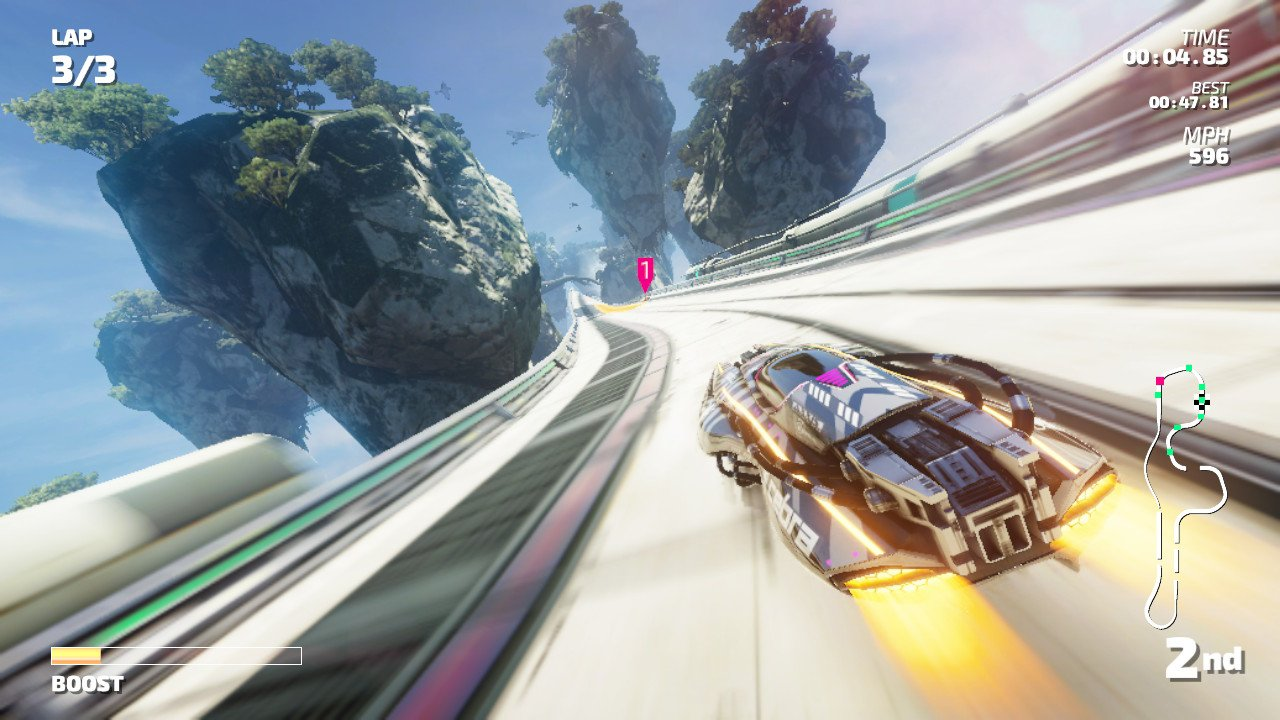 We're starting off in a futuristic direction for the SwitchArcade Roundup today. For years, Nintendo fans have loudly clamored for some more F-Zero, but their vocal support of a new entry in the series has fallen on deaf ears (or in Internet text form, blind eyes). While only vaguely similar to Nintendo's futuristic racing franchise, FAST RMX from the mighty tech wizards at Shin'en manages to develop  a blisteringly quick and exciting racer that might just scratch that racing itch that F-Zero fans have missed.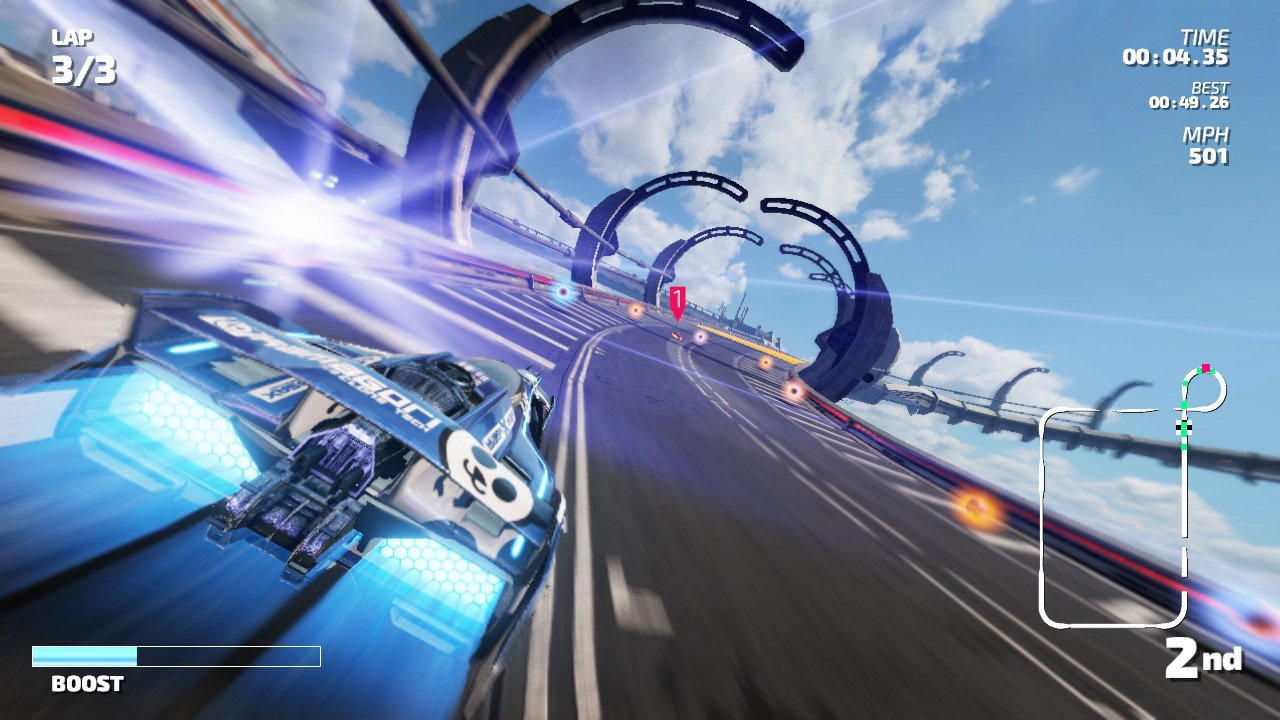 FAST RMX is pure racing without the use of weapons. It's all about using your mastery of your racing skill to reach the finish before your competitors. The central mechanic in the game, other than obviously racing, is switching between orange and blue on your vehicle's shield in order to interact with things like boost pads and jumps. If you have a blue shield on your vehicle while you're crossing a blue stretch of track, you'll gain a boost. Likewise, if you do so with a blue shield on an orange stretch of track, you'll lose speed and energy in the process. Fluid and smart switching between the colors of your shield make a big difference in crossing the finish line in first place and trailing somewhere in the middle (or even the back) of the racing pack.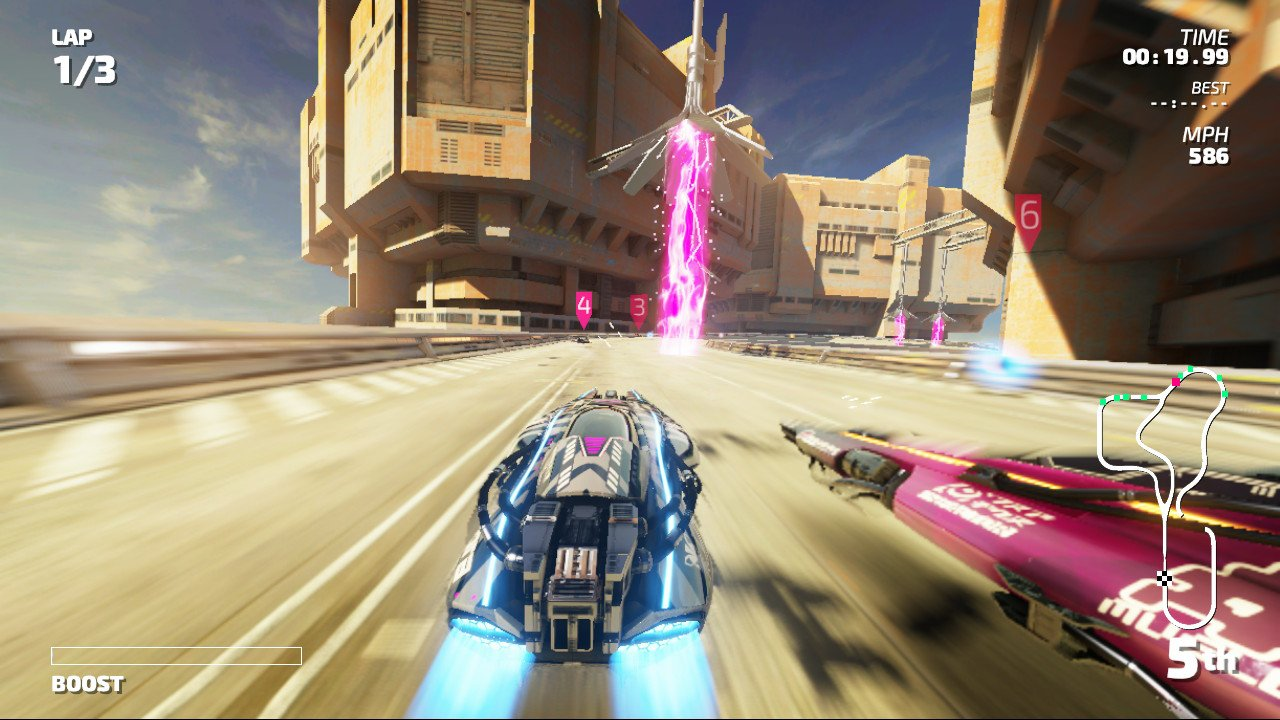 The main mode for single player sessions is Championship. This is comprised  of 12 cups of three races apiece. At launch, there were "only" 30 tracks, but with the inclusion of free DLC (which also added a Time Attack mode and two new vehicles), there are now 36 races total, an amazing amount. In addition to Championship mode, there is a Hero mode, which is more like an F-Zero experience. This mode is complete with your energy gauge being your health bar, and crashing your vehicle means a disqualification from the race instead of simply being placed back on the track like nothing happened.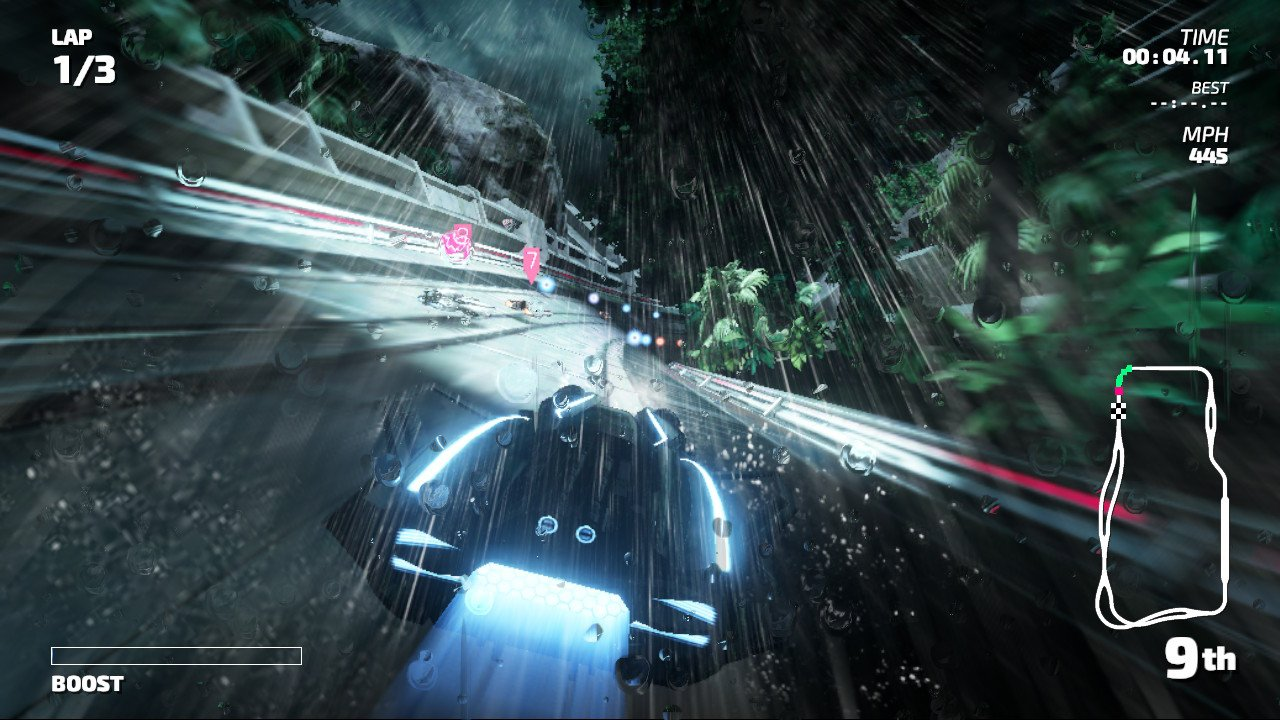 FAST RMX's controls are as smooth as the sublime frame-rate and speed of the game. I mean, it's right there in the title–FAST–and that's exactly what you get with Shin'en's first Switch game. While online play isn't too packed with players nowadays and the developer included some nasty comeback-AI (a.k.a. rubber-band AI), FAST RMX is a splendid racing game that–at least for me–made the current absence and ongoing hiatus of Nintendo's F-Zero series much less painful to experience.
Mega Man X Legacy Collection 1 Impressions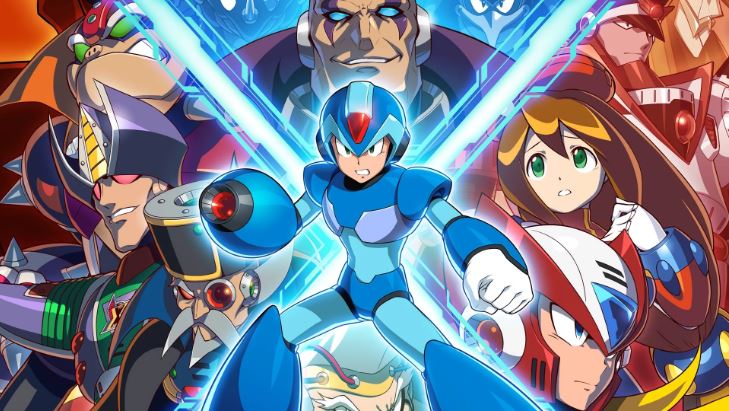 One of my favorite game series growing up was Mega Man X. I was one of those weirdos who preferred the faster, more mobile X series over the classic Mega Man series, despite the former having some true stinkers of sequels in its lineup of games. Thankfully, Mega Man X Legacy Collection 1 features none of those in its four-game package. Instead, it collects the best adventures that X and Zero have starred in doing all their Maverick-hunting awesomeness in one neat and tidy package. Well… almost.
While I'll get to the particular caveat with this collection in a bit, I am amazed by the amount of bonus content featured in this game. There is a music player, art gallery, collectible gallery in the form of toys, figures, and trading cards, original commercials and trailers for all of the series' games, and even a brand-new X Challenge mode that pits Mega Man X against two similarly themed Maverick bosses in a single battle. The combinations are a love letter to a Mega Man X fan such as myself.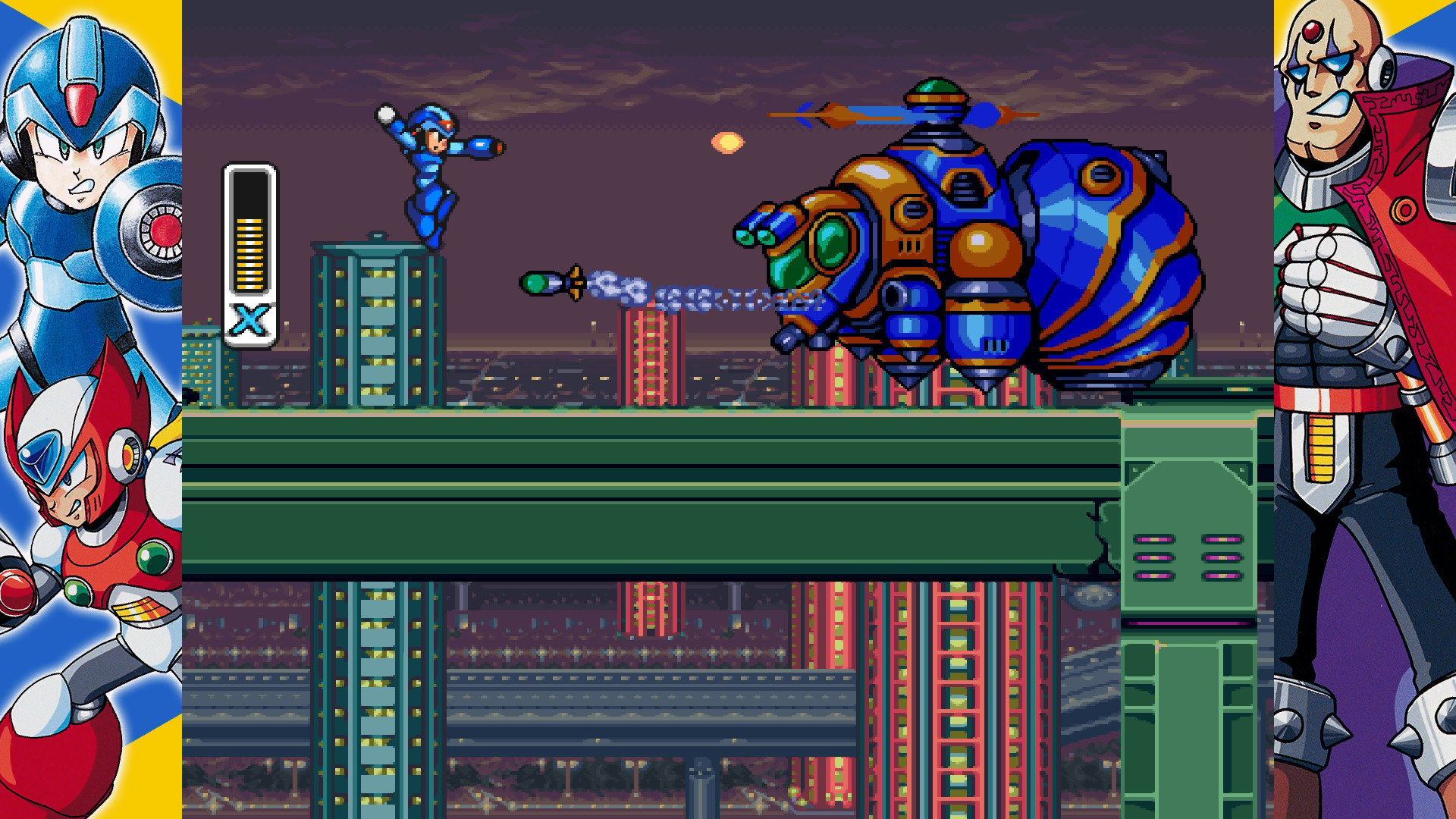 The only missing features in Mega Man X Legacy Collection 1 compared to the past Capcom collections are the inability to have save states or, like in the recently released Switch version of Mega Man Legacy Collection, a rewind function. This means that you have to play these somewhat difficult games the tried and true way with no save scumming, no "oops! I made a mistake, so I have to rewind time to just before I messed up" actions that you might want to take, or anything of that sort. It's purely playing the games how they were originally meant to be played, to the detriment of accessibility for beginning players who might find themselves frustrated to the point of just quitting the games completely.
Mega Man X remains my favorite of the X franchise, followed closely by X4 and then X2. Mega Man X3 suffers from an exhausting and overwhelming amount of collectibles to find and different endings to the game that make it difficult to keep track of. Nevertheless, even with this gripe of Mega Man X3, there isn't a bad entry in the bunch here.
What is a bad, however, is something that affects the overall quality of the Mega Man X Legacy Collection, and it's a doozy. It's noticeable input lag, where pressing a button results in a delay of a few in-game frames. This can severely mess with your timing of jumps and shots, and can make the first three X games harder than they were when they first released. (X4 does not have input lag problems, thankfully, assuming because it's not a Super Nintendo game originally.)
The first three Mega Man X games are still playable and hardly broken, but keep the input lag in mind. For beginners, it will make these games painful to play, and I say that as a veteran of these games who still had some issues occasionally (but still managed to successfully complete them). However, if you do get bothered by input lag of any kind, it might be a good idea to keep your Wii U or New Nintendo 3DS, so you can download the first three Mega Man X games on those instead of dealing with the control issues present in X1–X3 on this Switch collection. Overall, it's great to have these games released in the present for a new generation to hopefully enjoy.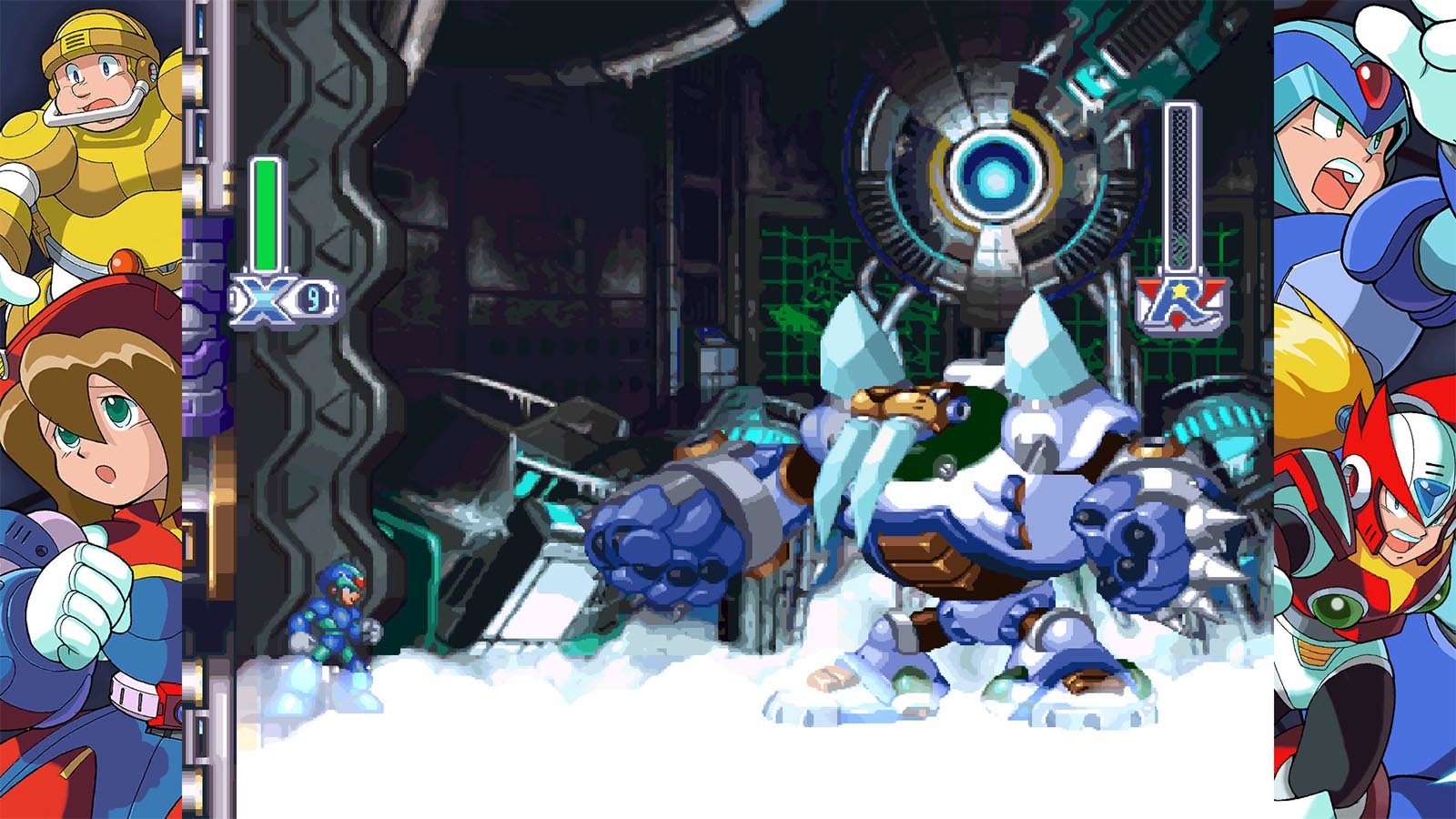 News
A new physical version of Rocket League, Rocket League: Ultimate Edition speeds onto the Nintendo Switch late next month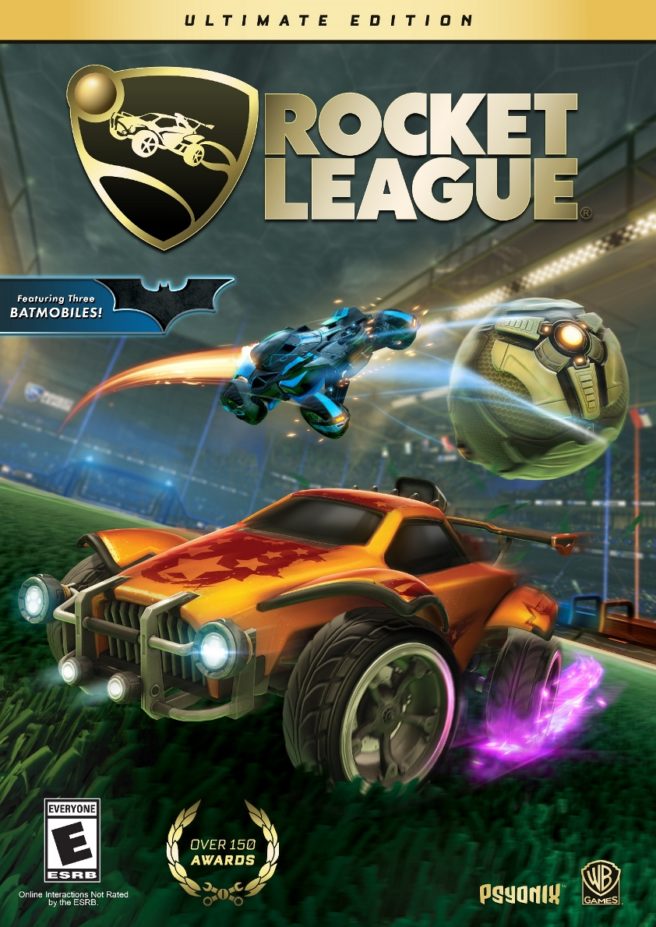 Pysonix previously released a physical version of Rocket League already on the Nintendo Switch. Now, with a new publishing partner in Warner Bros. Games, the developer is releasing a brand-new physical version of the game, containing the main game, Rocket League Collector's Edition's content, and multiple DLC packs released after the previous physical game's release (and all on the same game card, so no separate downloads here). Oh, and did you know that Rocket League: Ultimate Edition features THREE Batmobiles? It does. It says so right on the cover. Apparently, WB Games thinks that is a selling point to someone who may not have yet been pushed over the edge on purchasing this collection when Rocket League: Ultimate Edition releases on August 28th here in North America–and August 31st in Europe and Oceania.
LEGO Harry Potter Collection appears on Taiwanese rating site
The original hint that LEGO Harry Potter Collection might be releasing for the Switch was discovered in an Argos UK Catalog listing. That was just over this weekend. Now, the Taiwanese video game rating site (suitably titled gamerating.org/tw) has another listing for this hypothetical collection, which further leads me to believe that where there's proverbial smoke, there's a proverbial fire. LEGO Harry Potter Collection for the Switch seems to be a thing, but we'll have to wait for an official word and announcement from WB Games. In the meantime, check out the trailer of the collection for the PlayStation 4.
Digimon Survive celebrates the Digimon anime's 20th anniversary with a localization announcement trailer
2019 marks the 20th anniversary of the original Digimon anime series. With that in mind, Bandai Namco has announced the localization for the West of Digimon Survive, a game I previously introduced in a recent SwitchArcade Roundup. Digimon Survive is a turn-based strategy RPG that features a mixture of 2D and 3D gameplay. Fittingly enough, Digimon Survive will release just in time for next year's 20th anniversary in 2019.
Salt and Sanctuary's physical release arriving with a collection of worthwhile tangible additions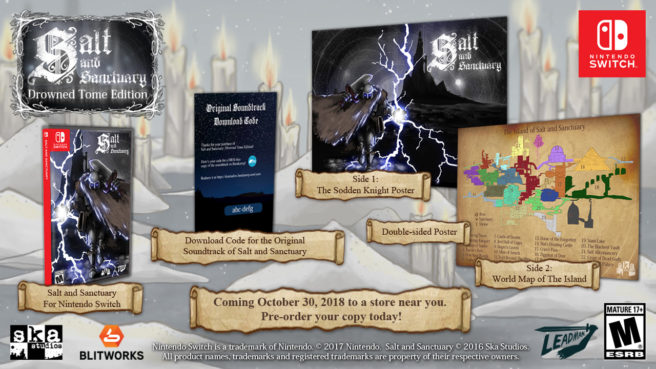 After a Switch announcement for Salt and Sanctuary out of nowhere last week (releasing in just two days digitally, to be specific), now the duo of Ska Studios and Leadman Games have announced a physical edition of Salt and Sanctuary, due out October 30th. Considering the dark, brooding, and brutal aesthetic of the game, the physical version releasing just around Halloween is some delightful planning! Salt and Sanctuary's physical release includes the obvious game on a cartridge, a Bandcamp download code for the game's soundtrack, a double-sided post with artwork on one side and a beautiful world map on the other, and a 20-page manual. Perhaps you'll see some early impressions of Salt and Sanctuary tomorrow on a certain series of columns called the SwitchArcade Roundup…! (Okay, that tease was a little too on the nose, even for me.)
Other Headlines & Game Announcements
South Park: The Fractured But Whole brings the crunch with this new DLC trailer
Razed is raising some good old-fashioned, fast, frenetic fun this October
Toge Productions announces Rage in Peace for the Nintendo Switch, no specified release date given
New Releases
Code of Princess EX ($39.99)
The original Code of Princess released on the Nintendo 3DS early in the system's life. Now, Nicalis has brought the game, containing a combination of hack-and-slash beat-'em-up goodness and role-playing systems, to the Switch with new updates. Not only is everything in HD now, but the original's ghastly frame-rate has also been improved to make for a more enjoyable experience. Code of Princess EX is filled to the top with content, local and online multiplayer, a rich story, and an amazing amount of characters to play as.
Titan Quest ($39.99)
Titan Quest is quite the interesting Diablo-esque game, coming from the co-creator of Age of Empires and the writer of the movie Braveheart. "They may take our Switch's storage space, but they will never take our FREEEEEEEDOOOOOOOOOM!!!" Spread across the ancient lands of Greece, Egypt, and Asia, Titan Quest will task players to slay mythical monsters and legendary beasts of all varieties, customize their characters with insanely impressive detail, and even have the option to go it alone or online with up to six players.
Flashback ($19.99)
If you were old enough to play Flashback when it originally released, I can make you feel old. It's the 25th anniversary of the game, and Microids has brought this action-adventure classic back to the forefront in gaming with this Nintendo Switch release. With new bells and whistles like additional graphic filters, remastered sound and music, a "rewind" option built into the game, and helpful tutorials to make the game more accessible for all, Flashback has returned and is better than ever.
Other New Releases
Sales
New Games on Sale
Castle of Heart ($13.49 from $14.99 until August 7)
Disco Dodgeball – REMIX ($10.49 from $14.99 until August 7)
Aces of the Luftwaffe – Squadron ($9.99 from $14.99 until August 9)
Putty Pals ($5.99 from $9.99 until August 9)
Rogue Aces ($6.49 from $12.99 until August 13)
Death Road to Canada ($11.99 from $14.99 until August 14)
Tumblestone ($4.34 from $14.99 until August 20)
Sales Ending on Wednesday, August 1st
Bouncy Bob ($0.99 from $4.99 until August 1)
Fear Effect: Sedina ($11.99 from $19.99 until August 1)
Resident Evil Revelations ($13.99 from $19.99 until August 1)
Resident Evil Revelations 2 ($13.99 from $19.99 until August 1)
The Way Remastered ($10.49 from $14.99 until August 1)
Wizard of Legend ($14.39 from $15.99 until August 1)
All righty! We're all caught up on everything notable and Switch-related news, release, and sales-wise! Any particular bit of news today catch your eye? Any of my thoughts on Mega Man X Legacy Collection 1 inspire or discourage you to pick up the game? Feel free to drop me a comment below or tweet at us! While you wait for the next SwitchArcade Roundup, keep your Joy-Cons charged and your Switches entertained with great games!