Welcome to your daily SwitchArcade Roundup! Your fellow Switch friend Phil is here to guide you through the massive amount of Switch news, games, and content that you might not be able to keep up with otherwise. This is my first time rounding up the news on a Thursday, where the eShop routinely gets its avalanche of games and sales. Yes, this will separate the men from the boys, but I will do my best to cover everything. Of course, before we get into the newest news, releases, and sales of the day, let's take a look at our Game of the Day.
Game of the Day
Heroki ($9.99, Preload price: $6.99)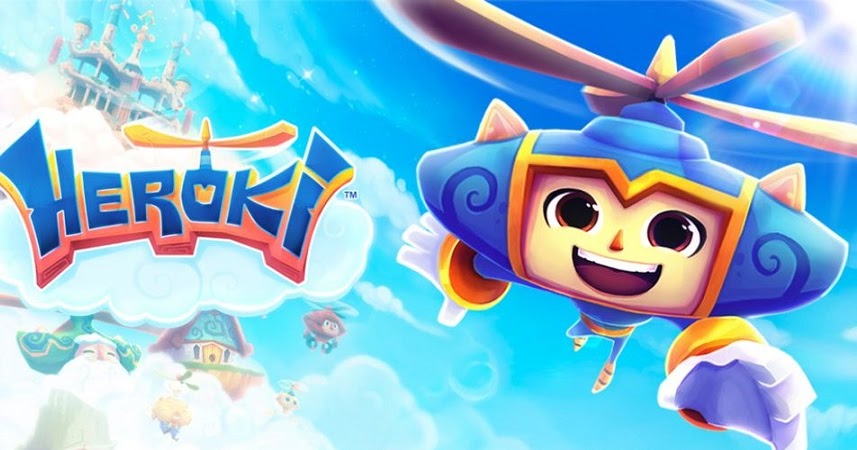 Today, I'm doing something a little bit differently. Today's Game of the Day is for a title releasing tomorrow on the Switch eShop. I was able to check this game early enough to give my full thoughts and recommendation on it. (So, maybe you can take advantage of the preload price before the game launches at midnight. Wink, wink.) It's Heroki from Picomy. Now, if Heroki rings any bells, it's because it saw a release on mobile devices three years ago. In fact, my SwitchArcade mentor and predecessor Carter Dotson even reviewed it in 2015. Now, the game is on the Switch with actual analog controls, offering better precision and gorgeous HD visuals.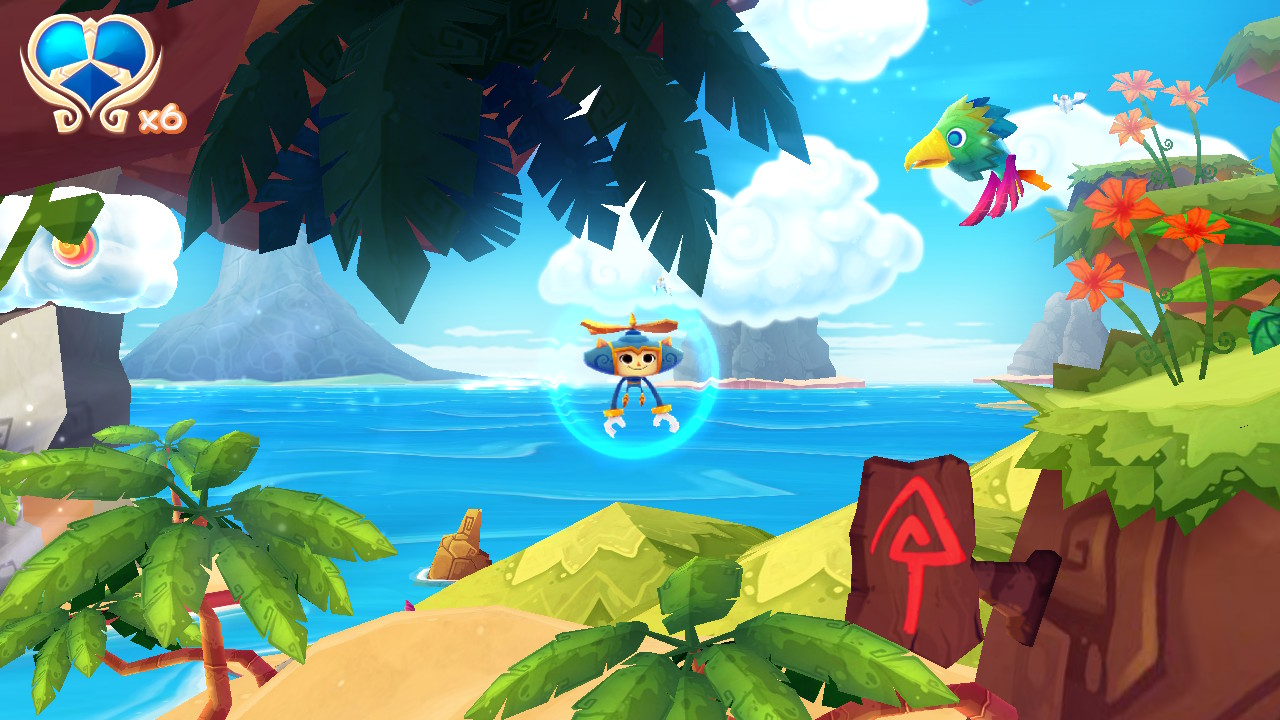 Heroki is a side-scroller that takes our eponymous protagonist through 24 labyrinthine levels where the goal is to just get from the start of the level to its end. Along the way, you open up locked doors by pushing buttons, inserting keys into holes, and flying around levels, as that's what you'll be doing most of the time with Heroki's flight abilities. Enemies patrol levels, but thankfully Heroki isn't defenseless. While he can't attack directly until late in the game, there are bountiful batches of boxes (ooh, I love the alliteration I did there) that Heroki can carry, aim, and throw at enemies, somewhat similar to Yoshi's egg throwing mechanic in the Yoshi's Island series.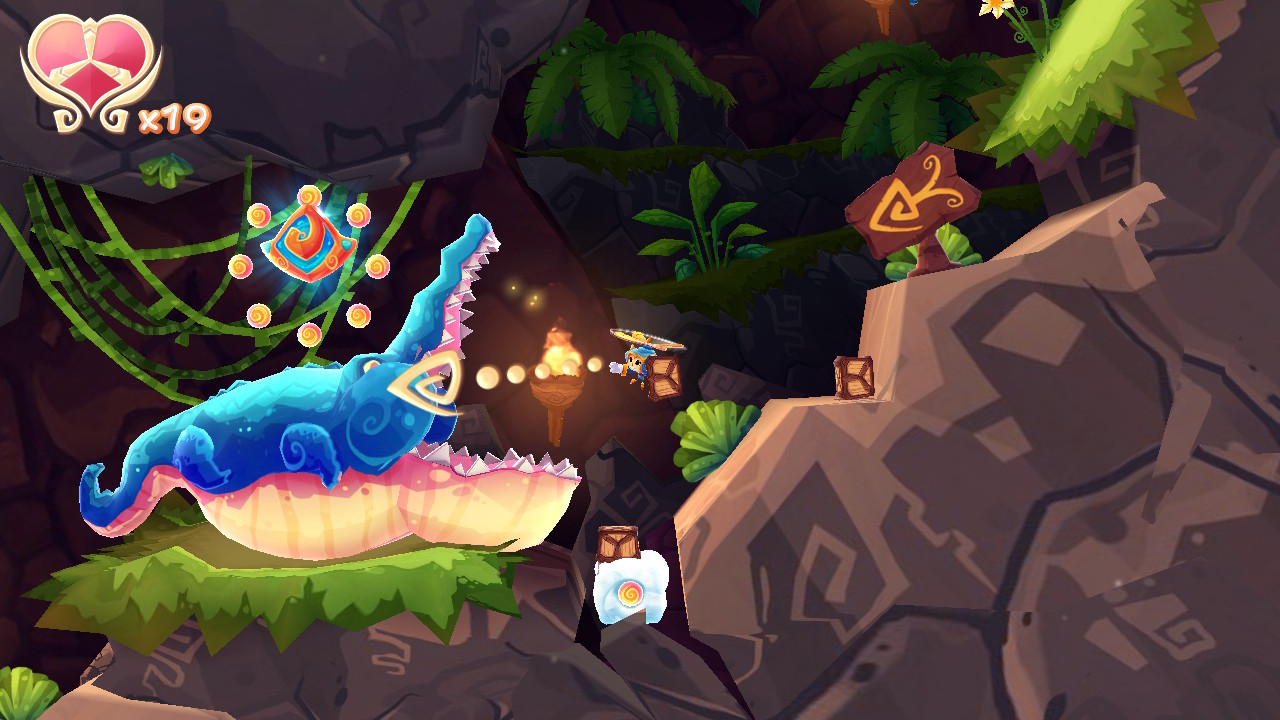 One of my biggest qualms with Heroki didn't personally affect me, but it did Carter in his 2015 review. The game blocks off progress at the end of each of the game's three worlds if you don't have enough of a particular collectable found in levels. If you're just rushing to complete levels without doing any kind of exploration–which I wouldn't recommend as discovering hidden rooms, collectables, and the like is highly rewarding–you most likely won't have the required amount of collectables needed to continue. This means you'll have to return to past levels, which can be both disheartening and deflating.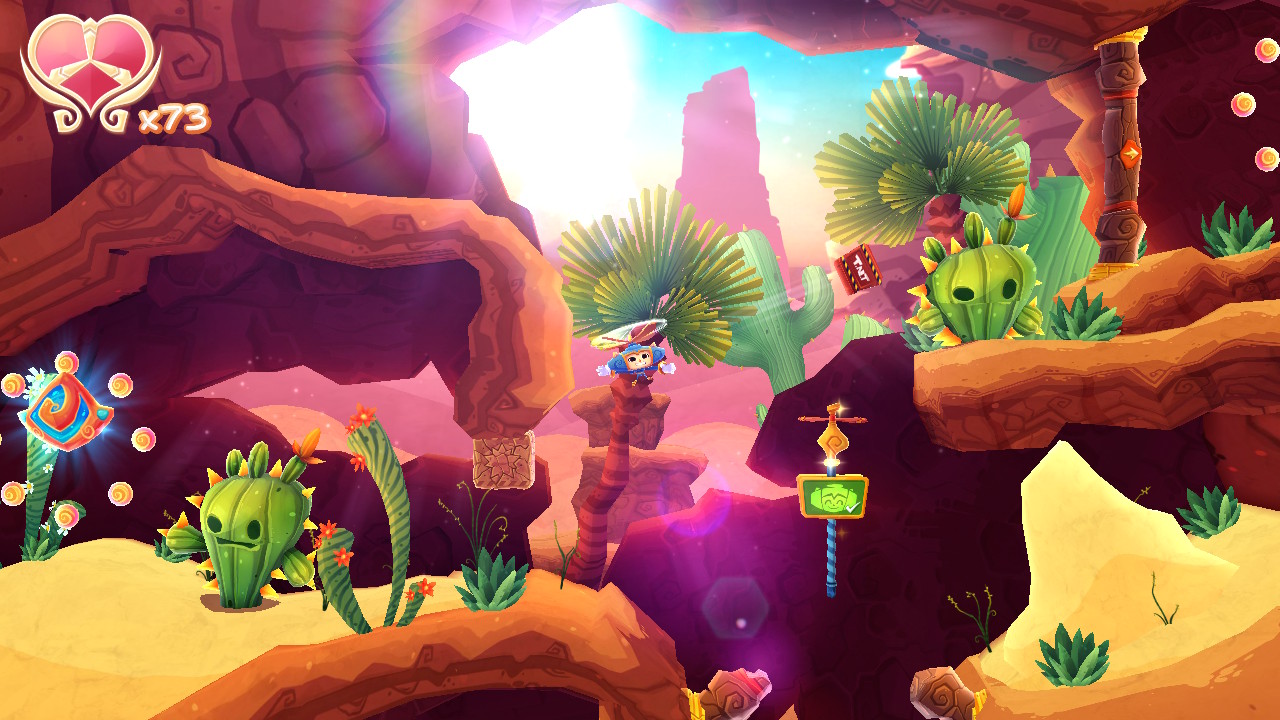 Otherwise, Heroki is a highly charming, vivid, colorful, enjoyable flight-based adventure that I wholeheartedly recommend to preload now so you can get the game for a cheaper price. Even then, I think its standard price tag makes Heroki more than worthwhile to pick up for Switch owners, especially now that you need not play the game with somewhat imprecise touch controls for movement.
 Captain Toad: Treasure Tracker Impressions
I originally played the Wii U version several years ago when Captain Toad: Treasure Tracker initially released, and I was ready for adventure then, and I'm ready for adventure now that the game is on the Switch. The Nintendo Switch port adds some new content into the charming, adorable, delightful package, but it also brings with it some weaknesses that weren't in the Wii U original.
As a quick primer on the game, Captain Toad: Treasure Tracker sees Captain Toad off on a trek to rescue Toadette, his treasure-tracking companion, from a colossal bird named Wingo. Levels are like dioramas and perfect for bite-size gaming sessions. You move Captain Toad around to avoid obstacles and enemies, solve miniature puzzles, collect optional gems (three in each level), and reach the level's goal, a Power Star, to complete it. Of course, your view is often obscured by obstacles, architecture, geometry, and the environment, so camera movement is necessary in addition to moving Captain Toad. This grants you access to the best camera angles to see hidden nooks, crannies, and secrets in the levels. It's rewarding to discover paths or secrets you couldn't originally see when looking at the level with the default camera perspective. Just finagling the camera some can do wonders to discover new goodies and fresh perspectives that were once out of view.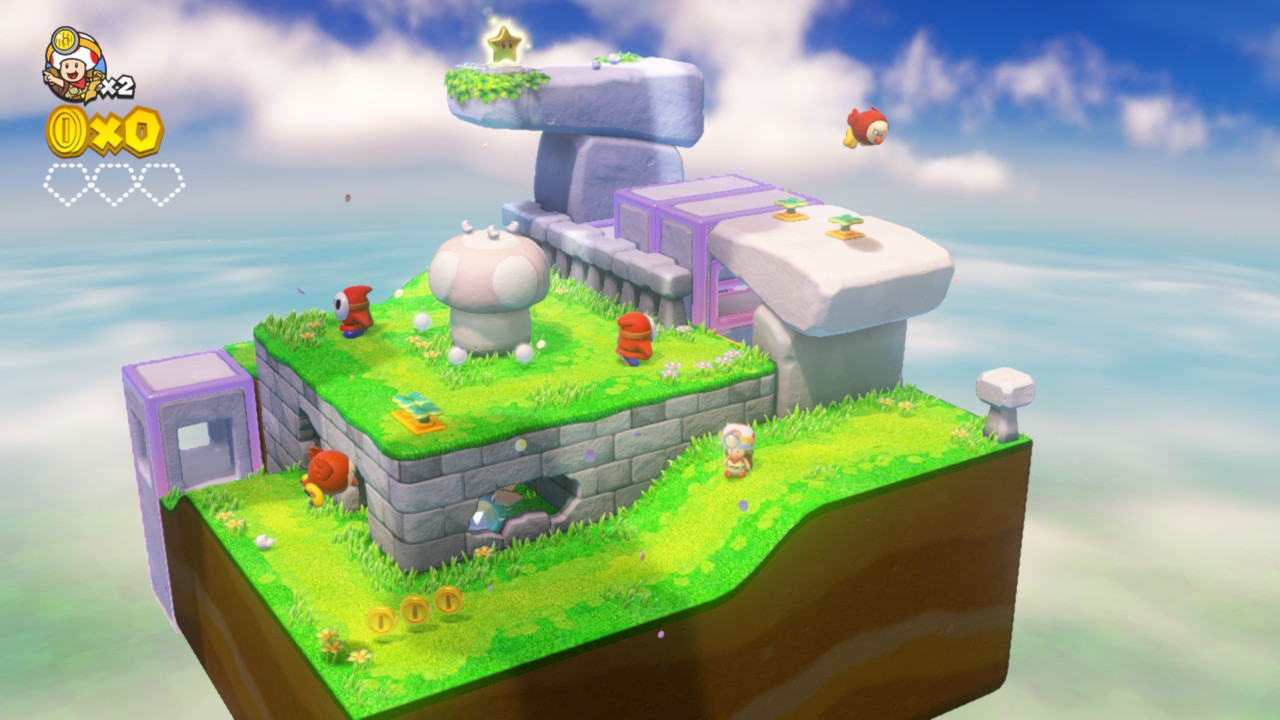 Sometimes you're tasked with manipulating the environment–literally turning a switch to rotate entire pieces of level. This is where one of the negatives of Treasure Tracker's Switch port is introduced. In docked form, you activate platforms and switches with an on-screen cursor that must be dragged around to the proper location to interact with the environment. Meanwhile, in undocked, a.k.a. handheld mode, you use touch controls, which do work better and are more natural. However, every time you cross over a button that you can spin, not only does the wheel you have to spin obscure the screen completely, but Captain Toad stops dead in his tracks. When you're trying to avoid enemies or other hazards, getting stopped cold can result in taking a hit or even losing a life mid-level.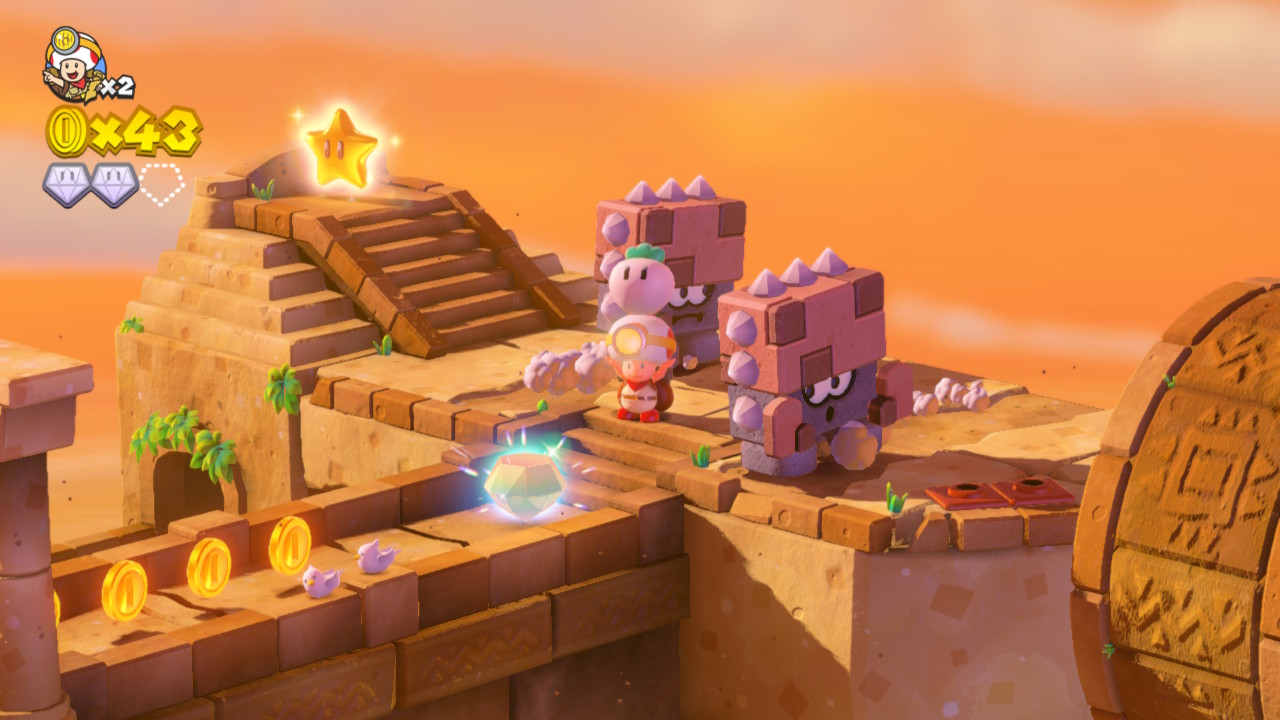 That said, the benefit of the Switch version of Treasure Tracker is that you have but one screen you need to focus on. It's not like the Wii U original where you had to occasionally divert your attention between the TV screen and the Wii U GamePad screen. I can hardly keep my attention on what I'm writing about sometimes, much less divert my… Ooh, this game has pretty visuals! You're so cute, Captain Toad! (Thank you for surviving my forced and lame "attention" joke.)
Another difference between the Wii U and Switch (and 3DS) versions of Captain Toad: Treasure Tracker is that the latter versions have Super Mario Odyssey-themed levels in them, taking place in New Donk City, Fossil Falls, Mount Volbono, and Tostarena. While there are only four of these, they are much better levels than the bonus levels included in the Wii U original, which were just copied and pasted, long, plodding levels from Super Mario 3D World retrofitted for Captain Toad. (Note: These 3D World levels are NOT included in the Switch game.) These are specially designed for the gameplay of Treasure Tracker, and while I would have loved to see more of these, what's here is enjoyable, despite these levels only taking 15 minutes or so to 100%.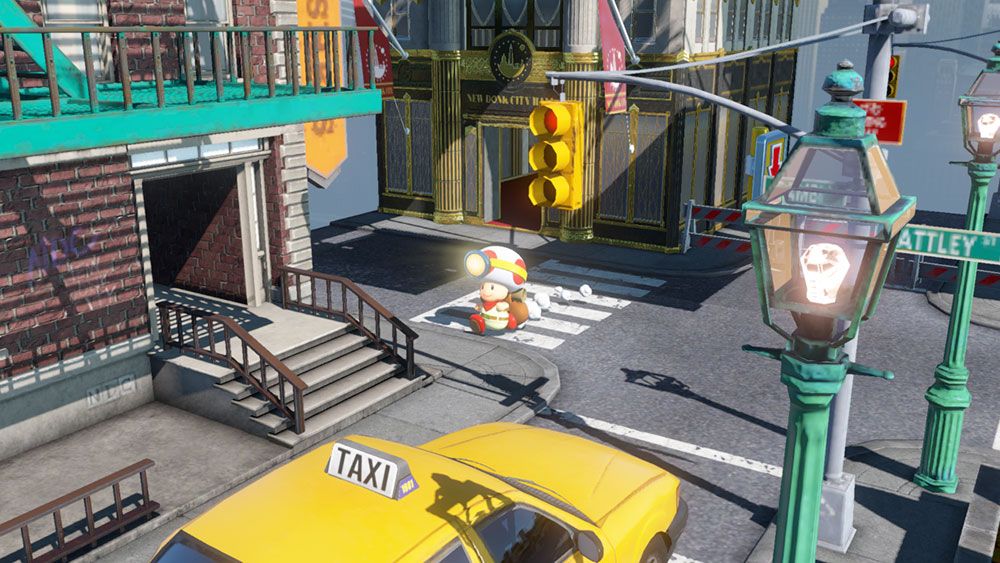 Are these new levels worth getting Captain Toad: Treasure Tracker on the Switch if you've already own the game on the Wii U? Well, no, unless you really want to play through the game again, and do so on a platform that is comfortable to enjoy the game on. However, if you've never played Treasure Tracker before, then it is a "must-own" on the Switch with its adorable characters, satisfying adventure-based exploration, relatively lengthy 10+ hours running time (don't be fooled by the first credits sequence), and rewarding gameplay.
News
LEGO DC Super-Villains unveils new SDCC trailer starring… YOU!
It's time for San Diego Comic Con once again, where fans mostly clamor over the latest news and information from weekend comic strips from such popular series as Cathy, Beetle Bailey, Hagar the Horrible, and fan-favorite Garfield. …What?! …I'm being told that that's not the kind of comics being heralded at SDCC. My mistake.
In actuality, SDCC is set to be as exciting as it always is, and the first tidbit of news the SwitchArcade Roundup has to share is a brand-new trailer for the upcoming LEGO DC Super-Villains. The big reveal here is that you can create your own custom character by selecting from an exhaustive number of LEGO parts, as well as being able to choose your own powers. Want to fly like Superman? Go ahead! Want to speed through the city like The Flash? You know you want to… You might be joining up with the bad guys, but you're going to be taking on even worse guys in LEGO DC Super-Villains, launching October 16th.
Enter the Gungeon's free expansion and sale are now live on the Nintendo eShop
The long-awaited completely free expansion for Enter the Gungeon, called Advanced Gungeons & Draguns, has launched today for owners of the original game. In addition to more features, this expansion includes hundreds of newly designed rooms, a plethora of new enemies and bosses, as well as a more challenging, "slow-reflexes-need-not-apply" Turbo Mode.
If you've yet to dive into Enter the Gungeon, then there's good news to share. It's as great a time as any to try the game out, as it's 50% off on the Nintendo eShop until July 26th. I've been slow on the uptake with Enter the Gungeon, so maybe this is somebody's way of telling me I should finally download this apparent twin-stick delight…
SNK Heroines: Tag Team Frenzy receives new Features trailer
The upcoming party fighter which launches on September 7 in North America and Europe, SNK Heroines: Tag Team Frenzy, is a woman-dominated fighter featuring femme fatales from SNK. Today, a new trailer has revealed itself, showing off many of the features included in the game, such as the 2 vs. 2 fighting system, simple button inputs (no half-circle D-Pad inputs here), various costumes, the ability to equip one of over 140 accessories to customize each character, online functionality for rooms up to 8 players, and finally–because SNK wanted to include something to hit me over the head with that I am obviously not the target audience for this game–a photo mode where you pose anime women and take snapshots of them. Whether SNK Heroines: Tag Team Frenzy ends up being a competent party fighter is up in the air, but one cannot say that SNK didn't pack the game with a lot of content from what's been shown so far.
Cool Stuff: Mario Kart 8 + Hot Wheels = A Hot Toy Line for Next Summer
Welcome to another new segment on the SwitchArcade Roundup. Unlike the Game of the Day, "Cool Stuff" will appear every now and then. It's all about cool Switch-related toys, accessories, and collectibles from games already released on the system or coming to the Switch in the near future.
Without further ado, let's dig in and feast our eyes on this goody revealed by Mattel, showing off their lineup of Mario Kart 8 Hot Wheels toys. While the Hot Wheels brand has done Mario-themed vehicles in the past (such as trucks, vans, and cars), it hasn't yet released actual Mario Kart toys of this variety. (Though Jakks Pacific's World of Nintendo line has similar toys.)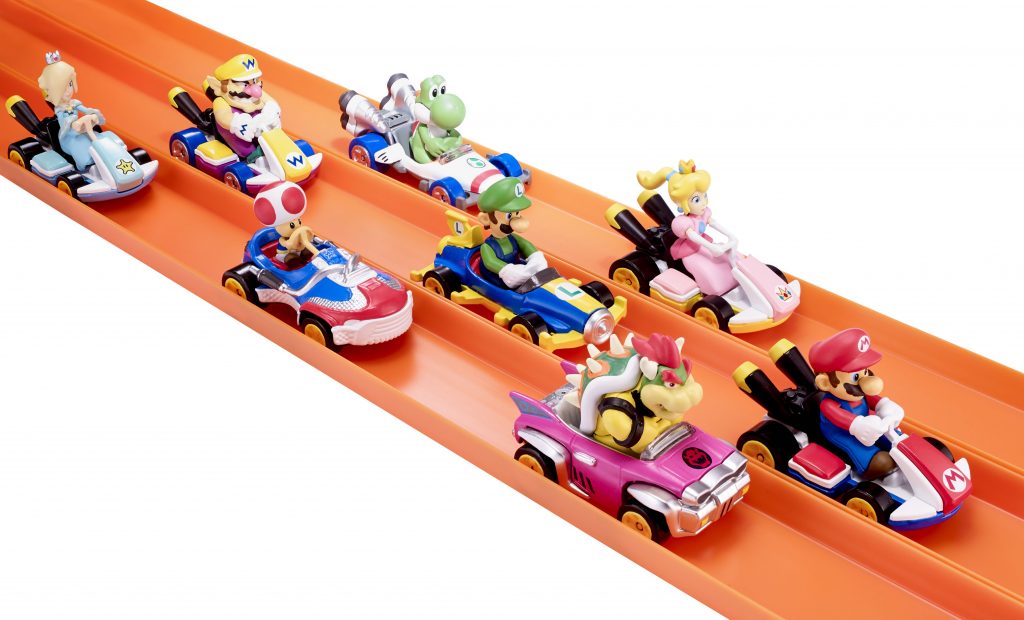 The lineup of Mario Kart 8 Hot Wheels toys feature Mario, Luigi, Peach, Yoshi, Toad, Rosalina, Wario, and Bowser. Each will be sold for a recommended MSRP of $4.99. You can gear up and purchase these for yourselves–I mean, your children–when they release June 2019.
New Releases
Pool Panic ($14.99)
Billed by the developers as "the world's least realistic pool simulator", Pool Panic launches on the Nintendo Switch today courtesy of Adult Swim Games. While the goal of sinking eight billiard balls is the same, the way you go about doing it is decidedly much different. After all, when you're playing a game of pool with your pals, you probably don't have to deal with the balls being animated and having a mind of their own… unless you're taking drugs that you shouldn't be taking. Packed with a 100+ level single-player campaign, multiplayer for up to four friends or family members to enjoy the game locally, and plenty of content, Pool Panic is the type of pool I really want to try out. Plus, unlike most pool halls, my clothes won't smell like smoke afterwards.
NoReload Heroes ($9.99)
In NoReload Heroes, four players can work together, whether online or off, through procedurally generated rooms, aiming, shooting and blasting at everything that moves. The titular lack of reloading means you can just hold down the fire button and go to town on any enemy that stands, walks, runs, or otherwise gets in your way. Promising a "five-second learning curve" and accessibility due to the game's simple controls and generous player reviving mechanic, NoReload Heroes offers jump-in, jump out co-op firefight frenzy fun for all ages.
Chicken Assassin: Reloaded ($7.99)
There are probably a lot of chickens in the world that think they're bad. You might even know some hanging around in the baddest parts of the farm, but none are as bad as Mean Mcallister of Akupara Games' Chicken Assassin: Reloaded. Take on gangs of enemies to help Mean Mcallister rescue his girlfriend, upgrade this radical chicken with new skills and fighting styles, unleash a wide and deadly assortment of weapons to show your foes the true meaning of pain, and–because as chickens are wont to do–dress up Mean in all sorts of accessories and clothing in order to increase his stats. From the spectacular art style on display to its massive sense of humor, Chicken Assassin: Reloaded looks like the type of game for "beat-em-up" buffs will find a lot of fun in…. that is, if they're chicken enough to play it!
Guts and Glory ($14.99)
Game shows are SO boring nowadays. I mean, would it kill Jeopardy to at least shock someone violently when they give an incorrect response, or have Family Feud suspend its families over a shark tank, lowering them down inch by inch for every time they DON'T give a "good answer"? Well, tinyBuild Games must share my feelings, as their latest game, Guts and Glory, spices the game show genre up. The goal is simple: reach the finish line. Sure, everything, and I DO mean everything, is doing its best to kill you (cars, rockets, landmines, lasers, etc.), but it makes for some good TV, right? Guts and Glory is determined to make you laugh, whether you win or lose. Also, to keep myself honest here, Jeopardy and Family Feud are awesome… even without the fear of pain or being mutilated by sharks.
Tanzia ($19.99)
Magic, monsters, and an open world single-player RPG… Those are the ingredients that go into Tanzia, a game by developer Arcanity. While the visuals are modest at best, Tanzia gives me sort of a nostalgic feeling with its appearance. I'm talking back to the glorious PlayStation 2 golden days where mid-budget games such as this reigned supreme as major commercial releases instead of being set aside mostly to indie developers. I also get a World of Warcraft impression from Tanzia, with its real-time combat and appearance. Man, now I'm determined to download this game! Look at what you did to yourself, Phil!
Other New Releases
Frost ($12.99)
Lost Phone Stories ($9.99)
Sausage Sports Club ($15.00)
Ghost 1.0 ($9.99)
Starship Avenger Operation: Take Back Earth ($4.99)
Pure / Electric Love "Everyone else!" – Ema Sakura – ($5.00)
Pure / Electric Love "Look at my eyes!" – Moe Yamauchi – ($5.00)
Arcade Archives: City Connection ($7.99)
ACA NEOGEO League Bowling ($7.99)
Sales
New Games on Sale
Enter the Gungeon ($7.49 from $14.99 until July 26)
Rogue Trooper Redux ($8.49 from $24.99 until July 26)
Super Rocket Shootout ($7.99 from $9.99 until July 26)
Yono and the Celestial Elephants ($11.99 from $14.99 until July 26)
Fear Effect: Sedina ($11.99 from $19.99 until August 1)
INVERSUS Deluxe ($11.24 from $14.99 until August 2)
Lost Sea ($7.99 from $9.99 until August 2)
Typoman ($9.09 from $12.99 until August 2)
Mom Hid My Game! ($3.49 from $4.99 until August 8)
Sales Ending Saturday, July 21st
LEGO CITY Undercover ($14.99 from $29.99 until July 21)
LEGO Marvel Super Heroes 2 ($29.99 from $59.99 until July 21)
LEGO NINJAGO Movie Video Game ($24.99 from $49.99 until July 21)
LEGO The Incredibles ($41.99 from $59.99 until July 21)
LEGO Worlds ($14.99 from $29.99 until July 21)
Warp Shift ($6.99 from $9.99 until July 21)
With that, we wrap up another edition of the SwitchArcade Roundup. Which new releases of the day interest you? Are you going to take advantage of any of the new sales on the eShop? Let me know down below, or tweet at us! Until tomorrow, keep your Joy-Cons charged and your Switches entertained with great games!