Call them slow or call them smart, Tencent know how to keep the Arena of Valor news flowing. Two weeks after E3 and players are still being surprised every other day with new skins, champions, Esports events and, most importantly, Nintendo Switch news. In our penultimate roundup of the month, we're talkin' 'bout all that (and more?).
The Arena of Valor Nintendo Switch Beta Kicks Off Next Week
We're starting with the most important piece of news to come out of this week; it's the beta release date for the Arena of Valor Nintendo Switch client!
On everyone's mind since last August, we're closing in on a full year since the game's Nintendo Switch reveal. With only a single beta released since then, it's finally time to take a second stab at the first MOBA title to hit Nintendo's increasingly popular hybrid console.
The Arena of Valor Nintendo Switch closed beta kicks off next week, on June 28th. Being a 'closed' beta means access is down to a stroke of luck, with codes being dished out randomly to those who've applied through this little questionnaire. This month's beta, which runs until July 12th, is the first time those outside Europe have been given the chance to play Tencent's powerhouse MOBA title on Nintendo's stellar machine. While anyone without a key will have to fill out the application form and hope for the best, those who were invited to the EU-only beta in February should be able to update the client they downloaded back then and jump straight in next week.
For participating in the test, players will nab a free skin for Krixi. The information doesn't give the skin a name, but promotional images specifically show her Lunar Fairy skin (of which you can see in action down below).
AWC Bootcamp Sees World Cup Competitors Duke It Out
As soon as the Valor Series final crowned our EU and NA representatives, the Arena of Valor Esports Twitter page gave us a glimpse of the AWC Bootcamp. The venue, set up Thailand, houses the very best players that competitive AoV has to offer, with its denizens fighting off together in what can only be descibed as sparring matches to fuel the fires of the main event – next month's Arena of Valor World Cup.
Matches are being streamed regularly through Twitch, giving those who may have only seen EU and NA teams face of against each other over the last few months a chance to see how they fare against teams of other locales. There's still a few champions Asian territories have over their EU/NA counterparts, meaning you'll likely run into some new faces should you tune in.
Match results for AWC Bootcamp group stage day 4. #AWCbootcamp pic.twitter.com/UKGUQFk6dJ

— Arena of Valor Esports (@AoVEsports) June 22, 2018
Football Fever Takes Over The Arena
Competitive online games can rarely let world event go unnoticed, and Arena of Valor is no different. Arriving shortly after Valhein's 'Goal Machine' skin, the 'Football Fever' event is an entirely new gamemode that likely won't stick around for long.
Said to arrive in the June Update (which is cutting it might close, yet again), the Football Fever event switches things up with unique skills tailored to help heroes kick a ball into the rival team's net. It's a 3v3 affair likely devised to celebrate the biggest event in the football calender whilst also low-key advertising the AoV World Cup by slapping the logo in the centre of the field.
The event also introduces a slew of new soccer-inspired skins for Max, Murad, Xeniel and Tulen.
Krixi Gets One Of The Game's Most Adorable (And Detailed) Skins Yet
If that free Lunar Fairy skin isn't good enough for you Krixi mains, take a look at her newest outfit. One of the freshest Summer Bash skins added thus far, Summer Bash Krixi takes things a step further by featuring a fully updated skin preview page. Rather than drowning the usual preview page in water like previously released Summer Bash skins, Summer Bash Krixi swaps the whole thing out for the ocean; complete with island and dancing dolphins.
Sadly, that's where the good news ends for this skin. As adorable as it is, it's likely one of the game's more expensive pick-ups, relying on the gatcha-fest that is the Lucky Draw. Worse yet, it's a Pendant Shop reward.
For the uninitiated, the Pendent Shop is a place were skins effectively go to die. A pendent is needed to unlock the skin, with the elusive items locked behind the RNG of the 'Lucky Draw'. A single spin of the Lucky Draw required a 'Magic Crystal', which can only be reliable obtained by spending Vouchers – AoV's premium currency. Each crystal you throw into the lucky draw theoretically increases your chance of obtaining a pendant, but players have reported using well over 100 of the things before finally getting one. At around $1 per crystal, you're looking at a very expensive ride if lady luck isn't on your side.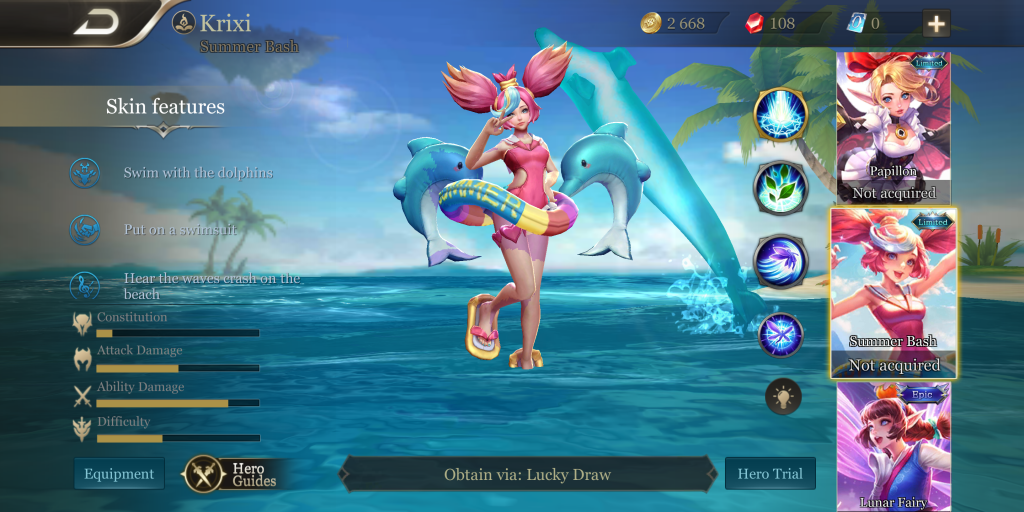 Butterfly Redesigned Cuts Up The Fanbase
Just like Alice and Jinnar before her, Butterfly is set to get a major rework.
Being one of the stand-out assassins of the game as a mascot you'll see flaunted on the download page, Butterfly's incoming redesign comes as a bit of a shock. Loved for her musketeer style and more masculine aesthetic, fans are diving on whether her new duds nice change of pace for the pro-swordsman, or simply the inevitable sexualization of a strong female character. There isn't much more to get into with this one, but the comments on her debut video paint a good picture.
Like it or not, expect the redesigned Butterfly to land with the June update.
Butterfly earned so much gold she was able to buy a new outfit. What do you think of her new rework? #AoV #ArenaofValor https://t.co/C7pTQOYOkN pic.twitter.com/pcEsdoZXd6

— Arena of Valor (@ArenaofValor) June 21, 2018