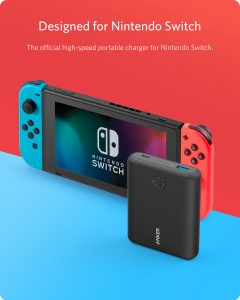 It's no secret that we're huge fans of Anker products around here, I'm actually currently charging the computer I'm writing this post on using a Anker PowerCore Speed 20000 PD battery pack which packs 20100mAh of juice along with full USB PD compatibility to charge things like my MacBook and Switch at full speed or an iPhone really fast by using a USB-C cable. The "problem" with this battery (in massive exaggerated air quotes) is that it's more capacity than most people would need, and because of that, is a little too large to ever live anywhere outside of your backpack. This morning Anker announced two new battery packs, both "calibrated for the Nintendo Switch" (which just seems like marketing, as the Switch uses the USB PD standard).
The first new battery pack is the Anker PowerCore 21000 PD which basically seems to be the same thing as my existing PowerCore Speed 20000 with whatever certification process Nintendo had them put the batteries through to have official Switch branding on them. This battery (similar to the one I have now) provides an additional fifteen hours of Switch playtime, multiple iPhone charges, and/or a complete recharge of a MacBook Pro. This new version of the battery has an MSRP of $89.99.
Exponentially more interesting to me is the upcoming Anker PowerCore 13400 PD which only weighs 10oz but still has enough capacity to add nine additional hours of Switch play time for $69.99. (Or charge your iPhone five times or your MacBook almost once.) This is the Goldilocks battery for me as it supports all the fastest modern USB PD charging standards while being small enough that you should be able to easily keep it in your pocket. Aside from being useful for extending the playtime of your Switch, it's really sort of wild how much faster your iPhone will charge off of a USB PD charger.
Both the PowerCore 21000 PD and the PowerCore 13400 PD are available for preorder over on the Anker site with a ship date beginning on July 10th. They should also be available at GameStop sometime next month as well. I'm definitely picking up the 13400.