Welcome to the SwitchArcade Roundup for April 9th, where we're covering the latest news, and the Nicalis mega-sale! There is one new release today, but the real highlight of the day is the solid collection of Nicalis titles that are on sale right now. There's some cool ports and originals to blow your money on, and then there are more games that will cause you to spend your money! Frankly, this column is just one giant excuse to spend money on more games than you could possibly need in your life. We are here for each other's financial ruin.
News
Horizon Chase Turbo announced for Switch
The awesome 16-bit racing game homage will see a Switch release. While you can already play this on mobile, the Switch version will come with some enhancements like split-screen multiplayer, and online competitive ghost mode. The game really does manage to nail the feel of 16-bit racing games (complete with a soundtrack by Top Gear game composer Barry Leitch) while having a modern feel to it. If you never played this on mobile, your penance is to buy this on Switch when it comes out.
New Shaq Fu footage from PAX East
Shaq Fu: A Legend Reborn is coming to Switch soon, and it was playable at PAX East. Here's 13 minutes of direct-feed footage, showing that this is looking like a decent little beat 'em up. Should be fun to play with a friend, and enjoy some of the voice work from The Big Aristotle.
Firewatch announced for Nintendo Switch
Campo Santo's wilderness adventure game will see a Switch release "soon" and they're promising "a couple surprises just for the Switch release." Some of the technical improvements coming to the Switch version will come to other versions of the game, so all players of the game have reason to be happy. I'm curious to see what the hype is over this game, especially with the indie talent behind it.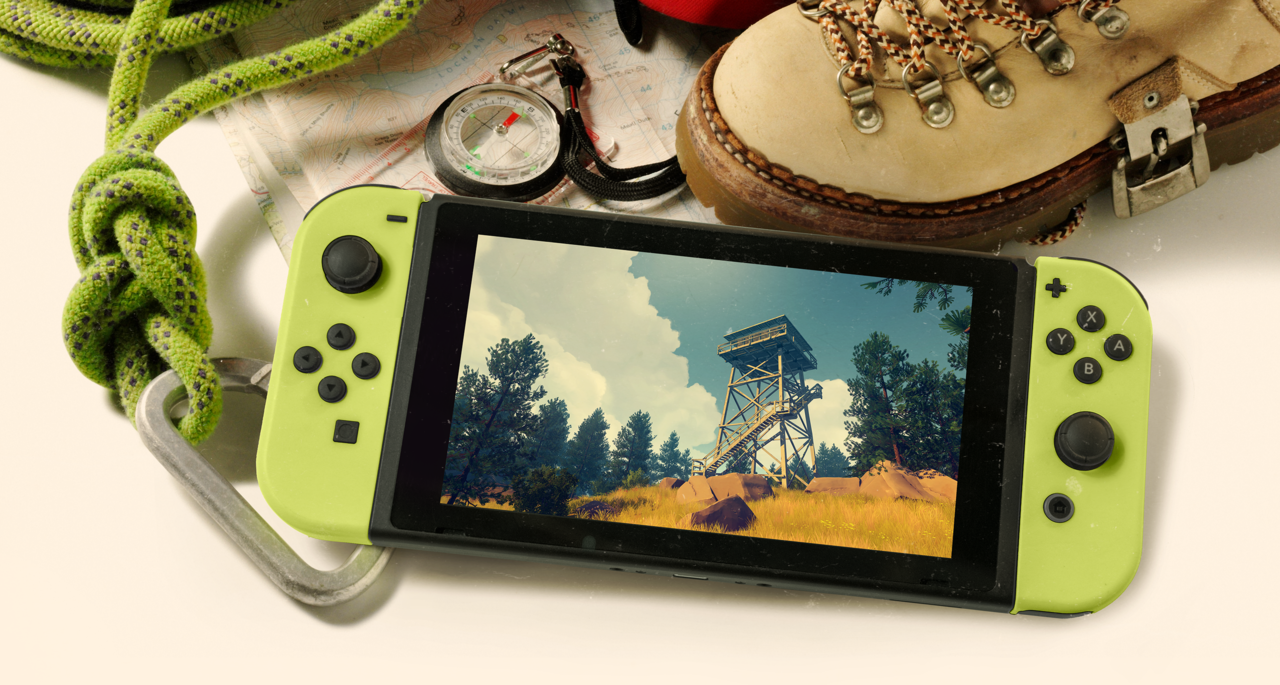 New Release: The Bunker ($12.49)
FMV games are back, and they're good now! The Bunker has you exploring a strange nuclear bunker and its dark secrets, and it stars Adam Brown from The Hobbit and Sarah Greene from Penny Dreadful, along with other actors. Wait, if John is the only one in the bunker…where does Sara come from? And what is really going on in this bunker? Hmm! You'll have to play it to find out.
Nicalis Mega-Sale
Nicalis is a publisher that sits at an interesting intersection of the gaming world: they publish some Japanese titles into western markets, like Cave Story. They provide physical releases and digital distribution for some indie titles such as Tiny Barbarian DX. And they've also become a partner of Edmund McMillen for some of his work, such as The End is Nigh and The Binding of Isaac. They're eclectic, to say the least. They likely have something of interest to you. The publisher is running a sale on pretty much everything in its Switch catalog, let's see what we've got!
The Binding of Isaac: Afterbirth+ ($31.99 from $39.99 until April 16th)
You likely know about The Binding of Isaac, since it's become one of the most popular roguelike-style games. If you don't, well, expect a lot of poop. You play as Isaac, dealing with some serious mommy issues, since she threw him into a series of dangerous dungeons…full of poop. If you don't like gross-out elements, this isn't the game for you. If you do, then you'll find yourself a remarkably deep roguelike-style game to enjoy!
So what's the difference between Rebirth and Afterbirth+? Well, Afterbirth added in new items, enemies, bosses, and endings, along with the Greed Mode. The Plus expansion adds more monsters, items, and characters, along with a bestiary. The PC version comes with enhanced mod support, though this isn't in the Switch version. Regardless, this is the ultimate version of the game…until a Turbo version comes out, I'm sure!
You can pick this one up as a physical copy, but being a great pick-up-and-play title, you might want to get the digital version instead…and if you can save a few bucks, why not?
Cave Story+ ($23.99 from $29.99 until April 16th)
Originally a freeware Metroidvania platformer from Studio Pixel, this game saw a ton of unofficial translations and ports (I played through the game on a PSP with custom firmware) over the years before Nicalis took charge of the title, and released enhanced versions of the game onto new platforms. The Switch is the latest platform to see this defining indie game.
The Switch version is perhaps the definitive version of the game, with both original and remastered graphics, local co-op multiplayer, multiple soundtracks, alternate modes, and more. It's challenging, but this is an exceptional game worth checking out at some point in your life.
The End is Nigh ($11.99 from $14.99 until April 16th)
Edmund McMillen helped make Super Meat Boy, and he brings his prowess in making really difficult games to The End is Nigh, a collaboration with Tyler Glaiel. You control Ash in single-screen levels, with over 600 that are interconnected, with plenty of secrets to find along the way. The world is coming to an end, and Ash must find a away to not just survive, but to make a friend, because he's quite lonely. McMillen is perhaps one of the generation's best game designers considering how well he has dominated the trial platformer and roguelike genres, and this is just further evidence.
VVVVVV ($7.99 from $9.99 until April 16th)
Terry Cavanagh's challenging game of gravity-flipping in an open world is also on Switch thanks to Nicalis! You control Captain Viridian, trying to navigate a strange dimension and rescue his companions by surviving difficult platforming challenges in a nonlinear world. You can't jump, only flip gravity, so you have to master this mechanic as it comes in context with other elements to survive. Incredibly rewarding and fun, this is another title that if you haven't played it at some point, this sale is a good excuse.
Knight Terrors ($2.00 from $2.99 until April 16th)
This is an auto-running action platformer where your knight runs automatically, and slashes through all manner of foul hell beast, such as flaming skulls, giant bats, and UFOs. For $2, seems hard to go wrong.
Tiny Barbarian DX ($23.99 from $29.99 until April 16th)
Nicalis provided ports and physical releases for this 2D platformer from StarQuail. This barbarian isn't just adept at slashing through enemies, he can also pull off some impressive platforming moves. The game's art and soundtrack are quite well done, and I like the small-character, detailed art style. There are four different episodes, and I'm pretty sure I've only played through the first one on PC, so this might be on my list to pick up for Switch. Or, I might just fire that Steam version back up. Take your pick, folks!
Ittle Dew 2+ ($23.99 from $29.99 until April 16th)
Nicalis sure loves games with + in the title, don't they? This is a Zelda-esque adventure, where protagonist Ittle winds up stranded on a mysterious island. Steal the pieces of a raft necessary to get off the island. If you see any Wind Fishes, don't wake them up. The good news here is that you can play through the game in nonlinear order, and can find multiple weapons with different upgrades to solve puzzles. The + version includes a new Dream World expansion, which is a brand new mode for the game.
Keep an eye out every weekday for more SwitchArcade Roundups! We want to hear your feedback on Nintendo Switch coverage on TouchArcade. Comment below or tweet us with your thoughts!