The next Hearthstone(Free) expansion, The Witchwood, finally has a release date and it's next week! The final few card reveals are trickling in and we will be tuning in with Lead Developer Ben Brode and Sean "Day[9]" Plott as they bring in the final 20 cards on April 9 on Hearthstone's twitch channel.
As the first expansion of 2018, the Witchwood signifies the retirement of the three sets from 2016. Cards from Whispers of the Old Gods, One Night in Karazhan and Mean Streets of Gadgetzan are all making their way towards the wild environment to make way for a new constructed play space. This also means that the Witchwood is going to be the longest running set of 2018 so if you are looking for cards that will be around for a while, grab some next week!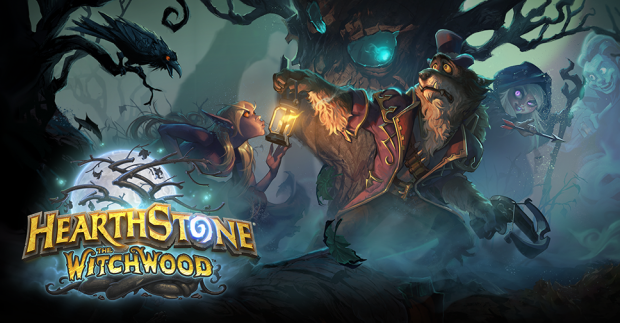 Even if you don't decide to buy any packs, you'll be getting 3 free packs and a random class legendary card just for logging in. If you want more for free and haven't been keeping up with Hearthstone, you should probably log in today and do some daily quests. Of course if you want to go whole hog, there is still time to pick up the $50 biggie sized stack of packs, which comes to a very discounted total of 70 packs.
For the lore-mongers out there, the Witchwood is a Gilnean haunted forest type of theme with some very spooky cards including some witches, frogs, cauldrons, and magical apples. We have a few highlights of the cards revealed so far. I was delighted to hear that the rogue-like solo adventure mode that debuted in Kobolds and Catacombs will be making a reappearance in a mode called Monster Hunt. There are a few twists this time around, including some brand new hero classes that are exclusive to this mode.
Be sure to catch that last big card reveal on Monday and in the mean time, stay glued to TA dear reader, and we'll keep bringing you the fresh Hearthstone news!