Dust: An Elysian Tail ($5.99) is a fantastic combat-heavy Metroidvania-style action adventure game that originally released on Xbox 360 during the summer of 2012 but has since made its way to pretty much every other platform, including a surprisingly great iOS port in October of 2015. Besides being a great game, Dust also made waves for being almost entirely the work of just a single developer, Dean Dodrill of studio Humble Hearts. Given its incredible art and animation and overall level of quality, that's almost impossible to believe, but it's true.
So what happens when you're a lone developer and your years-in-the-making passion project ends up garnering tons of attention and great reviews? Well, you want to make your next game, but now you've got the world's eyes on you, which can make things tough. Rather than go for something with painstaking hand-drawn artwork and animation and complex combat mechanics like Dust, Humble Hearts went in almost the opposite direction for their second game Never Stop Sneakin' ($2.99), which has made a surprise appearance on the App Store today.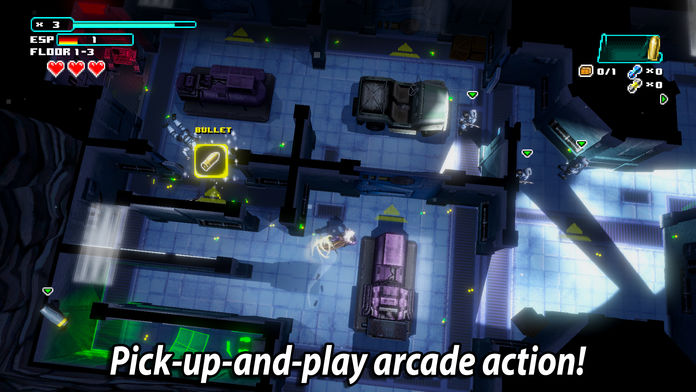 What I mean by going in the opposite direction is that Never Stop Sneakin' utilizes full 3D polygonal visuals, as opposed to the gorgeous 2D artwork of Dust. Also it's a heavily streamlined stealth game experience, rather than the beautiful but complex combat that Dust is known for. This is all pretty much on purpose, though. Never Stop Sneakin' is both an homage and parody to games like Metal Gear Solid, so when you notice that the character models in the game look ripped right from a PlayStation 1, don't freak out. That's intended. It also does not take itself seriously in the slightest, and presents an overly dramatic set of characters and story that would make Solid Snake himself cringe. Again, this is part of the fun.
Speaking of fun, Never Stop Sneakin' is pretty fun! It's billed as a stealth game but is almost more of a puzzle game, as most of the actions and decisions you'd normally be making in order to sneak past enemies is streamlined in this game. That's not really a bad thing, but it definitely leads to the game feeling repetitive after initially feeling so neat and fresh. With dynamically generated level layouts and a host of unlockable characters and items, there's plenty to keep you busy in Never Stop Sneakin' provided you continue enjoying the main gameplay loop.
Truth be told, Never Stop Sneakin' feels more at home as a mobile game than it does on the Nintendo Switch or Steam where it's previously been released. The pick-up-and-play nature of the game fits mobile perfectly, and the ability to play in either landscape or portrait makes it a killer one-handed phone game. It also includes MFi controller support if you want to play in a more traditional way. Personally I'm really digging Never Stop Sneakin' so far, and for roughly a quarter of the cost on other platforms it feels like a no-brainer for those looking for a funny take on the stealth game genre on their mobile device. For some more impressions, drop by the thread in our forums to see what other folks have to say about Never Stop Sneakin'.