After being mostly dormant for several years, it's sure been nice seeing developer Raptisoft getting active in the mobile space again. After releasing the excellent sequel Hoggy 2 (Free) in July of last year, Raptisoft went on to update two of the platform's best dual-stick shooters with iOS 11 support; Solomon's Keep (Free) in September and Solomon's Boneyard (Free) in October. And hey, while maybe not quite as high profile as their other games it's also quite commendable that Raptisoft updated their Mahjong Blitz (Free) with iOS 11 support last month, its first update since releasing in January of 2010! While we know Raptisoft is still working on a remastered version of Solomon's Keep which is destined for both mobile and desktop, they've also found some time to squeeze in another compatibility update for one of their classics, this time the incredible puzzle platformer Robot Wants Kitty (Free). Here's the original launch trailer from 7(!) years ago.
Originally starting as a free Flash game, Robot Wants Kitty arrived on iOS back in March of 2011 and had you playing as a robot who, well, wanted all the kitties! It's a Metroidvania-style puzzle platformer where in each level you'll need to collect "apps" which add new functionality to your robot and enable it to reach further parts of the level and ultimately collect all teh kittehs. We loved Robot Wants Kitty in our review from back then, with our only real complaint being that the game was a bit short overall with just 6 (admittedly pretty large and complex) levels. However, a level editor was also included in the game where you could create your very own levels from scratch, and not too long after the game's initial release a "Kitty Connect" system was added in which allowed players to share their created levels with the world. With a dedicated base of fans creating TONS of really interesting levels, a lack of content was no longer an issue with Robot Wants Kitty.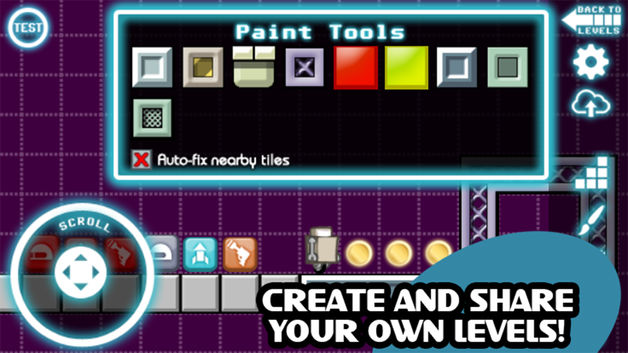 Besides iOS 11 compatibility this update also includes new tiles for level creation and expanded level sharing functionality. Unfortunately, this new build does not play nicely with the old build and so any created levels that are currently on your device will not function in the updated game, and so you're urged to hop into the game and upload them to Kitty Connect before applying the update if you're able to. Raptisoft is currently working on a way to archive all the created levels that are online so they're playable in the updated version of the game, but currently that's not possible. If you're especially attached to some of your created levels that you haven't uploaded online yet, then this might be a pretty big bummer, but overall I think I'm happier to see the game continue to live on even if it does mean it breaks some of the older content. If you weren't a previous player anyway or have been away from the game for some time, I very much suggest downloading Robot Wants Kitty for free and taking it for a spin as it's a really amazing puzzle platforming experience, and if you do be sure to drop by the forum thread to leave your thoughts about it.