I'll fully admit that I'm a total sucker for anything that vaguely follows the Metroidvania formula. Something deep inside of my genetic code just loves navigating a maze-like mixture of corridors and platforms with more areas becoming unlocked as I collect new skills, weapons, and abilities. Robot Wants Kitty [99¢] plays in to this perfectly, even integrating my love for cats. Based on the Flash game with the same name, Robot Wants Kitty has been fantastically translated to the touchscreen of iOS devices and plays just as well as recent platformers like League of Evil.
The basic premise of the game is that you're a robot, and you want to collect kitties, as the title suggests. Doing so involves picking up new "apps" for your robot, to program it to do additional things. For instance, at the start of the game you're not even capable of jumping. You've got to figure out how to get to the jump app, usually by falling, and avoiding enemies. Actually acquiring the kitty on each level will requiring your robot to be fairly decked out, both with abilities like powered up lasers, rocket boosters, and multi-colored key cards.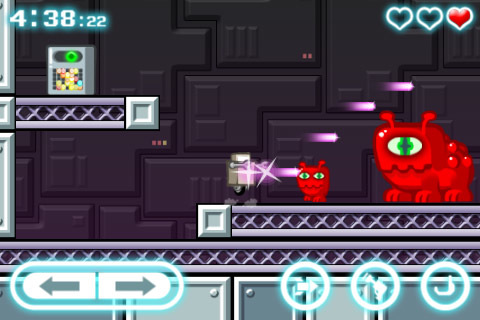 The way you acquire all of these abilities fits perfectly in to the Metroidvania formula, but how quickly you acquire them and how little fanfare there is makes it feel like the essence of what makes said formula work so well has been practically perfectly distilled. Six levels are included of increasing difficulty level, and while it starts out fairly easy and straight forward, the later levels can take over an hour to complete. There's even a level editor where you can create your own creations, although there isn't a way to share these yet.
I suppose you could look at the fact that there's only six levels as a negative point of the game, but then again, it's a dollar with a complete level editor. Forum members are really digging the game, and it's hard not to get behind a developer like Raptisoft who has historically been so good about updating their games.
If you like robots, cats, and/or Metroidvania style games, don't miss Robot Wants Kitty.