Yesterday we posted a big feature revealing a ton of details about Gameloft's upcoming multiplayer-focused first-person shooter Modern Combat Versus. In preparing that feature, Gameloft sent over a number of assets and information packages, one of which was a question and answer session with two members of the Modern Combat Versus development team. While this Q&A has definitely been run through the PR-friendly ringer, and we don't typically post PR stuff verbatim because it has a tendency to feel a little fake, we feel there's enough interesting information and insight in this Q&A to post it in full for our readers to take in. So without further ado here's the Q&A session with Charles Ayotte, the Head of Production for Gameloft Montreal, and Alexandre Charbonneau, the Creative Director of Modern Combat Versus, exactly as it was sent to us by Gameloft. Hopefully you find it interesting!
---
Based on the success of the Modern Combat franchise and the continued evolution of the FPS genre, can you explain your initial approach when you sat down to start designing MCVS?
Charles: "When we started this project we knew that in order to build on the latest trends and capitalize on innovation, we needed to be our own game not just another sequel. Taking into consideration everything we've learned since the original Modern Combat, this time around we set the goal of defining a "new era of FPS on mobile".
"That meant going well beyond a traditional military shooter, but still retaining the franchise's core values that players have come to know and love."
There have been rumors since October that Modern Combat Versus would focus only on multiplayer and not include a single-player story mode. Now that it's officially confirmed, can you explain a bit about that decision?
Charles: "Our data shows that multiplayer is really what keeps shooter fans coming back for more action each day. Rather than splitting the team, the resources, and the build size, we decided to commit 100% to delivering an exclusively multiplayer experience. This has allowed us to think outside the box, iterate on core mechanics, and produce something fresh and fun."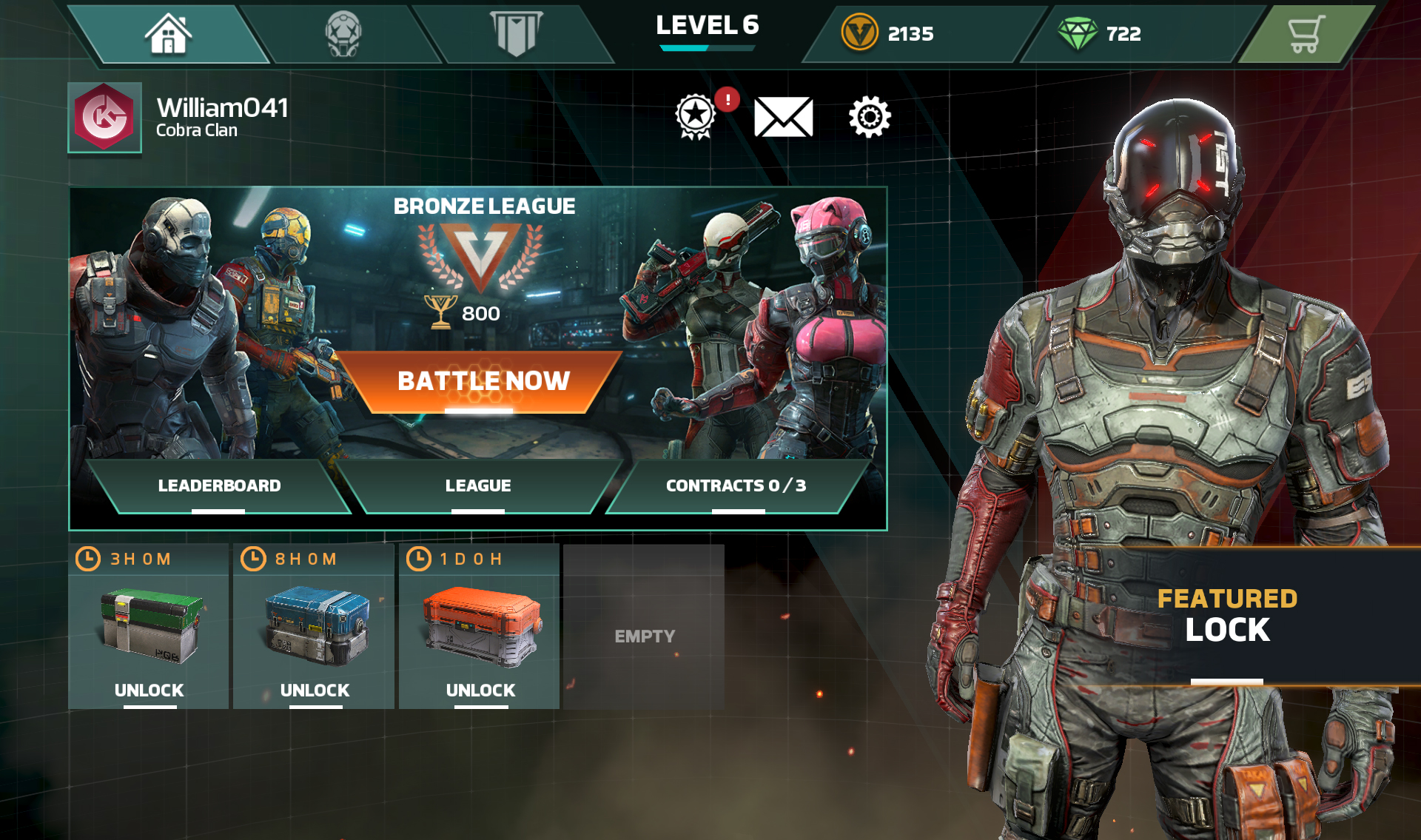 What steps have you taken to ensure that Modern Combat Versus continues to live up to the franchise's standards for top-notch graphics and visuals?
Charles: "The first step was to define our world and our characters. We've got a lot of talent on our team, including numerous industry veterans, and as a result we've achieved a very unique visual signature that takes AAA-quality on mobile to the next level.
"On the technical side, MCVS uses a brand new engine and a completely overhauled tech pipeline. We're utilizing physical-based rendering so the Agents, their weapons, and the environments all react dynamically to the lighting. We're able to push the bounds of the latest top-end devices while still maintaining a solid framerate."
Lately Gameloft has been soft-launching its games in select countries before releasing worldwide. How will this strategy benefit MCVS and what are your goals during the soft-launch?
Charles: "These days a soft launch is almost necessary to create a market-ready product. Modern Combat Versus will be rolling out to different countries in different waves as we continue to refine the game.
"Our goal is to be constantly gathering feedback, making tweaks, and improving the overall experience. We know it requires a lot of patience on behalf of our global fan base, but it's really important to us to have a solid game developed before we push it worldwide."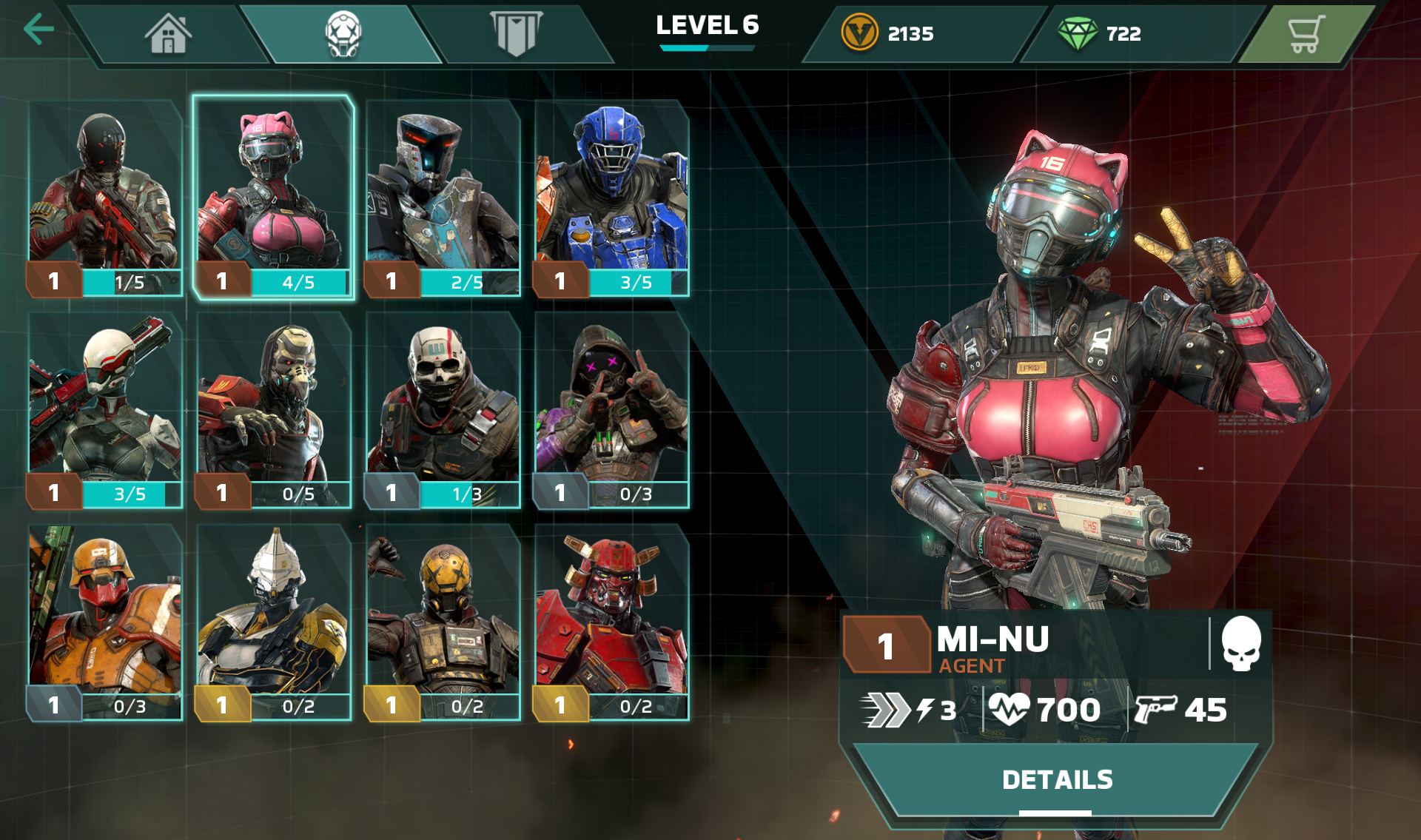 Gameloft entered the eSports scene last year by partnering with ESL for MC5 tournaments. Are there plans for MCVS to get involved with eSports too?
Alex: "eSports is definitely on our radar, but first we want to ensure we have a solid, balanced game. We'll get through the soft launch and global launch, and then look towards implementing a new layer of features for competitors and spectators. One feature we will be offering during soft launch is private custom matches for Clans."
With a total of 12 playable Agents for players to choose from in the soft launch, how did you ensure that MCVS retained balanced and fun gameplay?
Alex: "The four roles really help control the overarching balance. For example, Attackers are typically stronger against Defenders, but overall they may perform weaker against Assassins. It's very much a "rock-paper-scissors" setup.
"Through playtests with devs and with external participants, we then look at each Agent individually to ensure they are effective within their role and feel unique compared to others."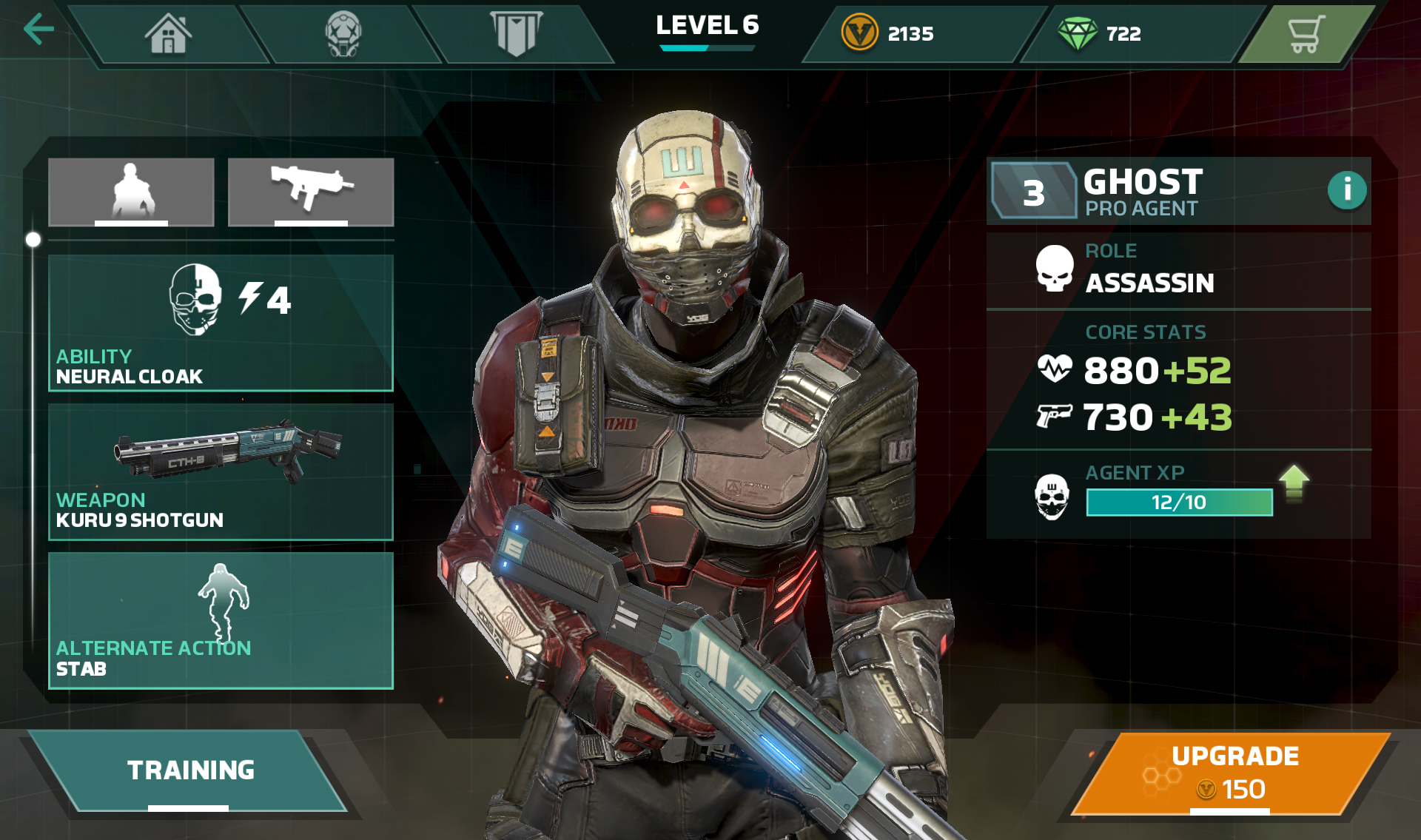 The controls in Modern Combat Versus may catch a lot of players off guard at first. What do you have to say to put their mind at ease?
Alex: "FPS controls have always been a challenge on mobile. A steep learning curve and complex interface can often deter potential users, which is something we absolutely wanted to avoid. We want gamers of any skill level to be able to pick-up and play the game with ease.
"Our playtests indicated that by moving beyond the mentality of "shoot first, kill first" there's more opportunities to focus on strategic, skill-based gameplay for all playstyles. And even though we're streamlining the controls and interface, MCVS still requires timing and precision to win battles.
"Plus for our more hardcore fans, we plan to provide an optional "shoot" button on the HUD and we also plan to support controllers in the future."
These days there's always a fine line between pure skill-based competition and the potential for pay- to-win aspects. How do you address this topic in MCVS?
Alex: "The thing that's great about the FPS genre is there will always be the element of natural skill, which can't be replaced or bought. In MCVS, we really focus on ensuring fair and competitive play at all times. For example, players who want to become more competitive over time can upgrade Agents' health and damage, but as they get promoted to higher leagues they'll be matched against players of similar skill, which provides a necessary and fundamental counterbalance."
MCVS seems to be focusing more on objective-based gameplay and a team-based experience. Is there still a place for players who just like to rack-up kills?
Alex: "Yes, of course. Traditional "slayers" are still an important role on any team and we don't have any intentions to make them irrelevant. All we're doing in MCVS is broadening the scope of things a little to allow other popular playstyles to share the spotlight too. In fact, getting kills will allow you to gain Core Charges faster, activate your ability more often, and contribute more to your team's success."