RollerCoaster Tycoon is as beloved a classic simulation series as any, but up until now it had yet to show its true classic root on iOS. After the ridiculousness of the freemium-filled RollerCoaster Tycoon 4 Mobile (Free), players eventually got a decent title in RollerCoaster Tycoon 3 ($4.99), which brought the core simulation gameplay to iOS. However, as we've mentioned in previously, RCT3 doesn't quite nail the look and feel that hardcore fans of the series were looking for. Enter RollerCoaster Tycoon Classic ($5.99), which combines the best of both RollerCoaster Tycoon and RollerCoaster Tycoon 2 in an amazing mobile package. Rest assured, RollerCoaster Tycoon Classic is the real deal and is a must-own for everyone that loves simulation titles.
Simulation titles encompass a wide variety of topics, but in my mind nothing is quite as enjoyable as the theme park simulator. Whether it's designing and building rollercoasters, constructing food courts and strategically setting the prices of items, or even just planning the maintenance duties of your staff, the genre feels highly approachable and fun. This feeling was excellently captured by the classic RollerCoaster Tycoon titles by offering a fairly complex simulation of a theme park with more than enough to keep players engaged in the operation of their park.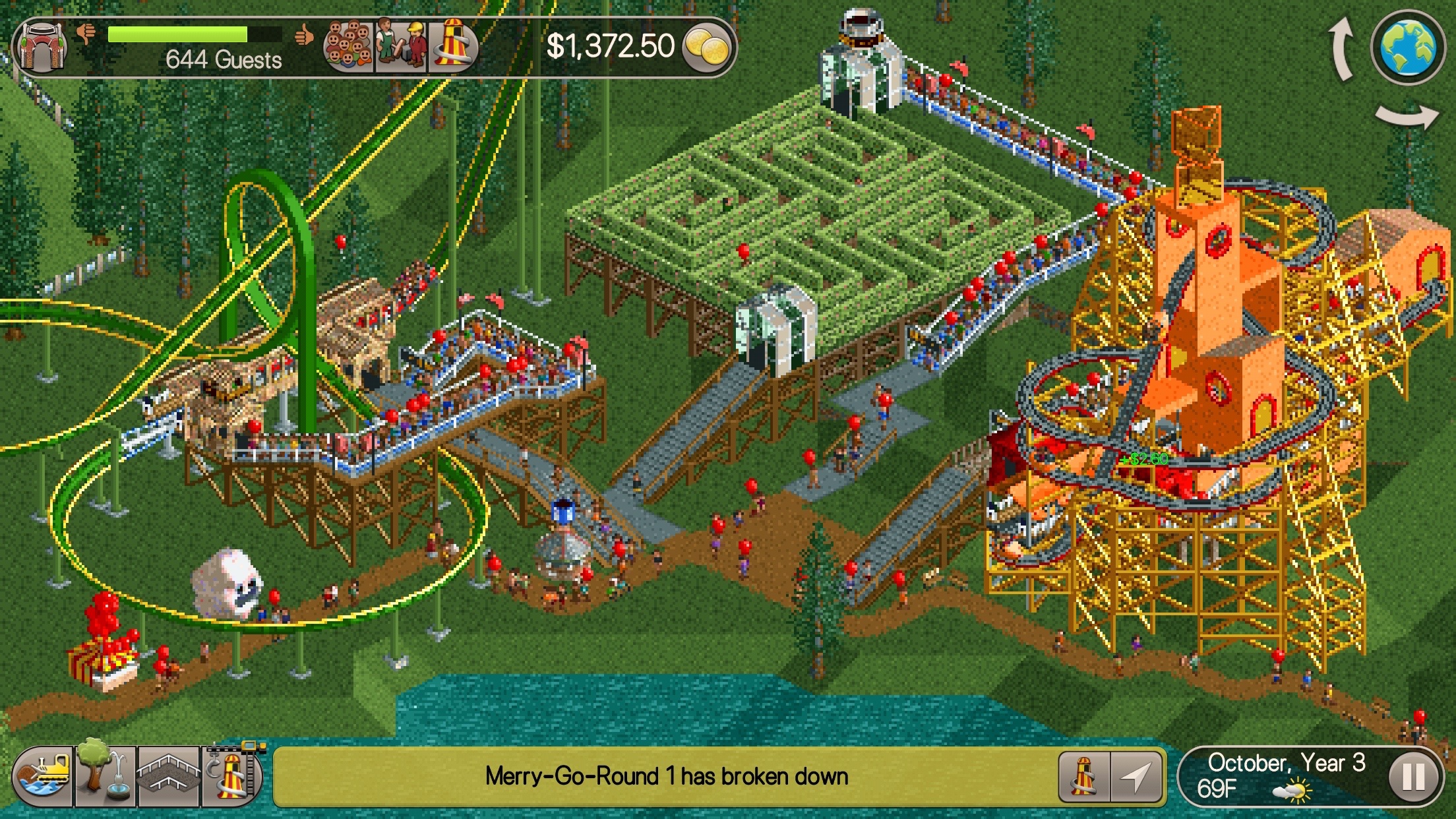 RollerCoaster Tycoon Classic is so amazing because it's basically a port of these two classic titles. The same highly enjoyable ride construction mode is there, along with a wealth of prefabricated designs for folks that want to just create something. There's also dozens of park scenarios to unlock and participate in which offer a wealth of environments and situations to play through. Once you're done with all the game has to offer, there are even more scenarios available for purchase via IAP and, when all else fails, a full on park and ride design mode can also be purchased so players can create their own dream scenarios (and share them as well). It is so incredibly easy to spend dozens of hours simply with the base game, and the option for additions makes RollerCoaster Tycoon Classic an amazing title for replayability.
One of the many reasons for the RollerCoaster Tycoon nostalgic love was with its visuals.  Highly detailed pixel representations and smooth animations made RollerCoaster Tycoon one of the nicest looking games within its visual medium. The resurgence of pixel visuals on iOS means that RollerCoaster Tycoon Classic feels right at home on the platform. Opinions may differ, of course, but I find the graphics of Classic to be far better than the likes of say RollerCoaster Tycoon 3. It's a throwback to a time where creativity was necessary to a higher degree to get a visual point across. It also meant that creating giant masterpiece rollercoasters had a lot more clout. Suffice to say, Classic looks amazing, runs as smooth as it can be, and works perfectly on both iPad and iPhone devices.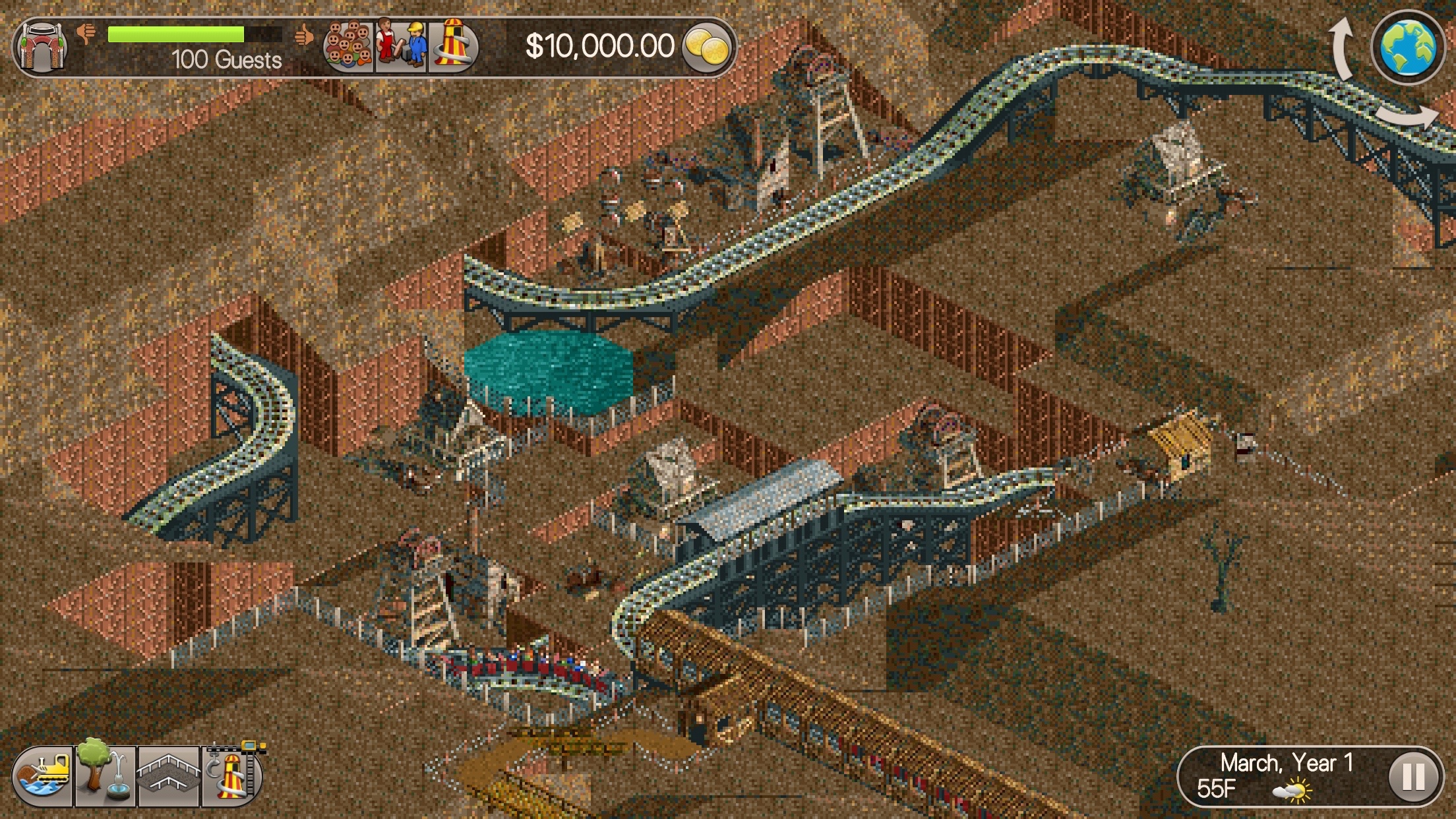 Whenever a complex PC game makes the jump to iOS, there's always a question as to whether the controls make a smooth transition as well. After many hours of play, I can say fairly definitively that I didn't encounter any significant issues with RollerCoaster Tycoon Classic. The game's visual buttons and hex grid are fairly easy to follow and tap on. While playing on an iPhone can feel a little cramped, there's more than enough zoom views available for folks looking to do tile specific decorations. If you play on an iPad, however, RollerCoaster Tycoon Classic is pretty much as good as it gets. In fact, my biggest complaint probably has to do with the lack of fluid zoom but it doesn't impact gameplay and can probably be attributed to the way zoom worked on the older titles.
As far as simulation games go, you can't get much better than RollerCoaster Tycoon Classic on iOS. Not only are there tons of scenarios to play and purchase, but within each game are a wealth of decisions that can significantly impact how you play out a scenario. In addition to basic decisions such as what types of rides to build, there's also the need to pay constant attention to the needs and opinions of your patrons and adjust accordingly. There's also the game's research system, which is what allows you to unlock new attractions and shops and can be tailored within a scenario depending on what you want to build. Temperature and weather even have the potential to play a significant factor and must be monitored as well. In the end though, there's nothing as exciting as building a new rollercoaster in your park, watching your attendees go crazy for it (hopefully) and making changes as necessary to give it the edge it needs to be a lynchpin in your park.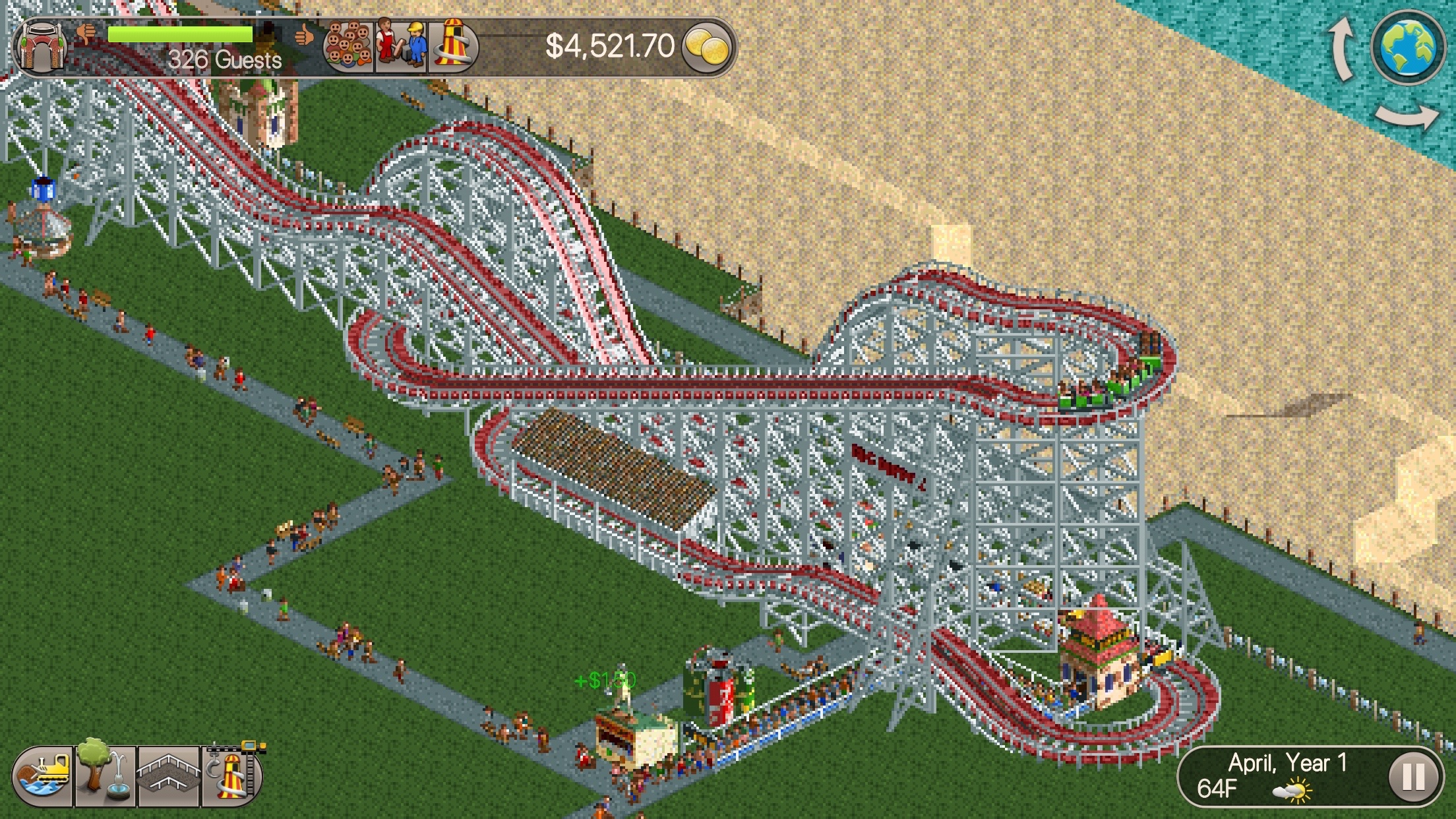 There's a reason why RollerCoaster Tycoon Classic made our list of Top 100 games of 2016 (as well as several of our personal lists). It's an excellent compilation of a classic simulation title with nothing lost in its transition to iOS. If you're a simulation fan there's really no reason not to pick this amazing game.