The idea behind the TouchArcade Game of the Week is that every Friday afternoon we post the one game that came out this week that we think is worth giving a special nod to. Now, before anyone goes over-thinking this, it doesn't necessarily mean our Game of the Week pick is the highest scoring game in a review, the game with the best graphics, or really any other quantifiable "best" thing. Instead, it's more just us picking out the single game out of the week's releases that we think is the most noteworthy, surprising, interesting, or really any other hard to describe quality that makes it worth having if you were just going to pick up one.
These picks might be controversial, and that's OK. If you disagree with what we've chosen, let's try to use the comments of these articles to have conversations about what game is your game of the week and why.
Without further ado…
RollerCoaster Tycoon Classic
Well, here we are with our almost final Game of the Week pick for the year of 2016. Actually, I'm not sure what's going to happen when iTunes unfreezes next week, so this might actually BE the last one of the year. Anyway, despite the freeze, there were actually a ton of new games released this week, and although we've already included it in our 100 Best Mobile Games of 2016 list, we thought the surprise arrival of RollerCoaster Tycoon Classic ($5.99) deserved an extra special nod.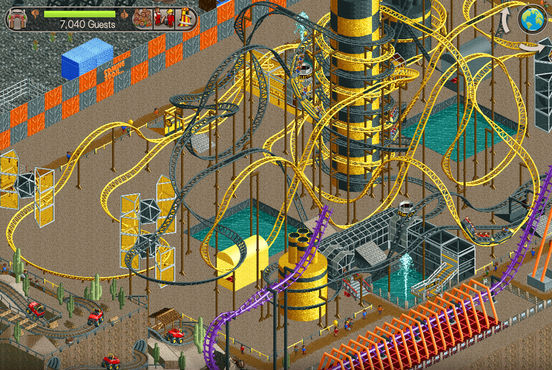 The RollerCoaster Tycoon franchise has had a rocky history on mobile. Back in April of 2014 RollerCoaster Tycoon 4 (Free) released and, well, let's just say it wasn't very well-received. It was a completely bastardized free to play version of the game, and although it seemed to be well done and was probably perfectly acceptable to the many people who enjoy the free to play style of games, it was a slap in the face to longtime fans of the series.
The following summer, the franchise was redeemed on mobile with the release of a fully premium port of RollerCoaster Tycoon 3 ($4.99), which didn't feature a single in-app purchase. It was a great port of a classic game, but it was also the first entry in the series to eschew the isometric view and fantastic pixel art of its 2D predecessors and be fully rendered in 3D. Not a bad thing, mind you, but definitely a personal preference sort of thing. Fans of the truly classic RollerCoaster Tycoon games were still left in the cold.
Then in March of this year, the creator of the RollerCoaster Tycoon series Chris Sawyer hinted that a version of RollerCoaster Tycoon 2 would be heading to mobile at some point. Awesome news! Except there was no further information on that port or official confirmation that it was actually coming, which was sad. Which made the surprise release of RollerCoaster Tycoon Classic this week all the more special. It's basically a mashup of the first two RollerCoaster Tycoon games, fully premium and with only the game's optional expansion packs available as in-app purchases.
Finally, there's pretty much something for every type of RollerCoaster Tycoon fan on mobile. The classic 2D games, the fancier 3D game, the free to play version, and even whatever the heck the recently soft-launched RollerCoaster Tycoon Touch ends up being. It's literally raining RollerCoaster Tycoon games on the App Store! But since a lot of people really adore the original games, I'm very happy to see the arrival of RollerCoaster Tycoon Classic this week, so kudos to anyone who had a hand in making this release possible.