Late last night (in my timezone, anyway) a curious update appeared for Sonic CD (Free) on iOS, the fantastic remastered version that originally released back in December of 2011. The update text was vague, and simply said "Sonic took a trip to the past and decided to change the game's code. That's right, Sonic CD is now FREE!" As someone who has been burned plenty of times in the past by a previously paid game going free, as I'm sure many others have, I was justifiably suspicious of this new update. And after Carter played guinea pig and downloaded the new update it confirmed my fears: Sonic CD was now free to download and ad-supported, with a $1.99 IAP to remove said ads. Normally that wouldn't be a big deal, except that the ads showed up even for previous owners who had already paid for Sonic CD. There are a few different ways to go about switching a paid app to free, but this was not one of them, and the 1.5 Star average rating of the otherwise phenomenal Sonic CD in the App Store showed that.
However, as we updated in our original story, it seemed that wasn't the intent of Sega, and according to them the previous owners of Sonic CD shouldn't have been seeing ads at all. To their credit, Sega acted quickly in this debacle and just a few moments ago pushed a new update out for Sonic CD which corrects this problem. I played guinea pig this time around and can confirm that, as a previous owner, I am not seeing ads while playing. There's also a Restore Purchases function in the options screen just to make sure you can get your premium version back should any other shenanigans take place.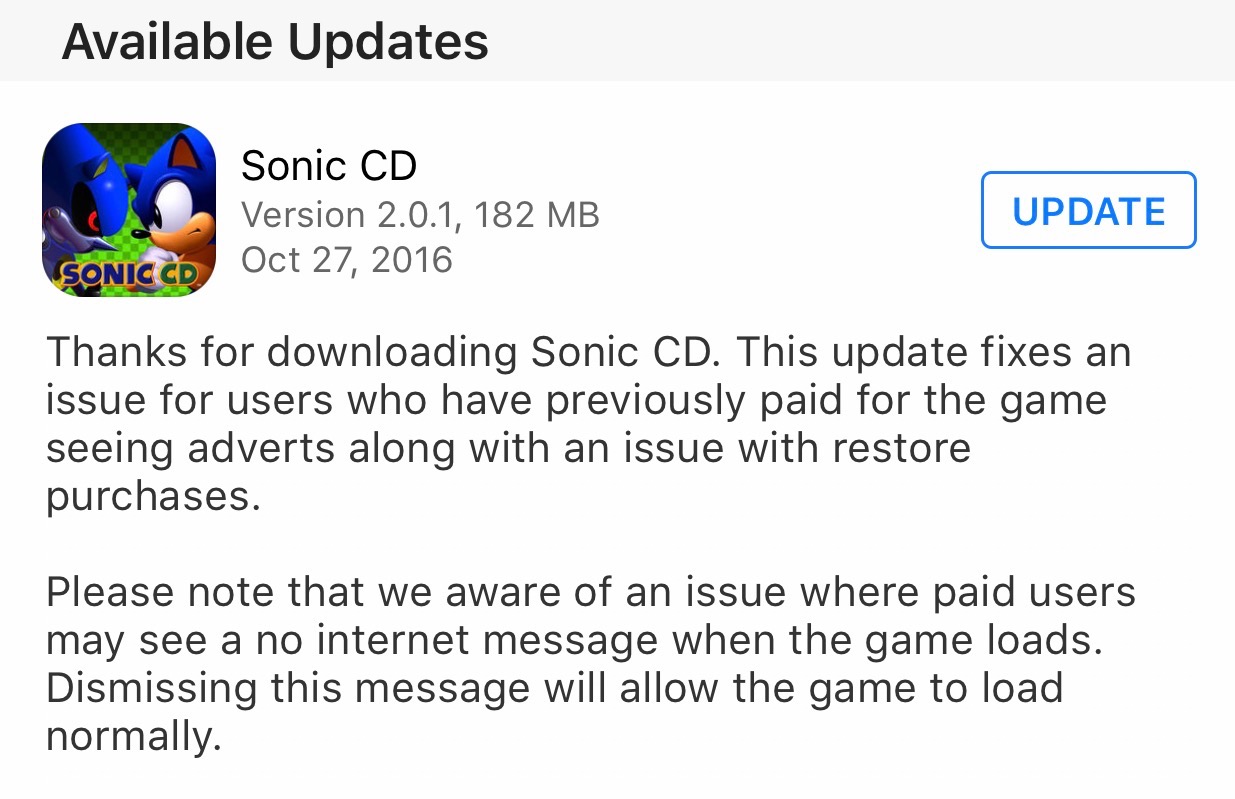 Now, I've seen quite a few people who updated Sonic CD that first time and, upon seeing that they had to pay $1.99 to remove ads, just did it anyway. I mean, it's two dollars, and if you love Sonic CD and wanted it to remain pristine, that's not a lot to ask even though it's pretty crappy on the part of Sega. Now that Sega has fixed the problem, though, I'm not sure what the recourse is for anybody who ponied up that extra two bucks. I'd imagine Apple will be willing to refund the money but we'll see. At any rate, I'm happy to see that my beloved Sonic CD is back to normal for previous paying customers, and seeing how this whole thing revolves around it being Apple's Free App of the Week, if you somehow haven't bought Sonic CD already in the past five years then now is your chance to finally check it out.