Developers Semidome have made a name for themselves on the App Store, through bringing some truly beautiful and immersive visual and audio experiences to a platform that is normally synonymous with short and succinct gaming sessions. Last Voyage ($4.99) caught the eye – and subsequently the imagination – of the masses who played it when the title launched in 2015, even if our review suggested the game elements were somewhat shallow. Semidome's next major release, Nightgate ($0.99), managed to improve on Last Voyage in nearly every way, and while it was a bargain at its original $3.99 price point, the game has today gone on a 48 hour sale to $1.99 for the first time, so if anyone missed it back in August, now is a fantastic chance to play one of the best iOS games of the summer.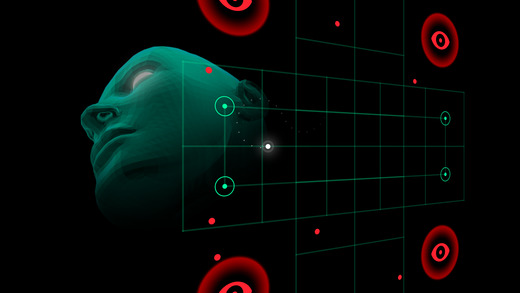 One of the key reasons why Nightgate was so memorable was that it managed to be an extremely entertaining game first and foremost, whilst still retaining the immersive audio and visual excellence that made Last Voyage so memorable. Even if Nightgate may seem strange and confusing from the static screenshots, seeing the game in motion goes a long way to illustrating both how the basic mechanics work, as well as how perfectly the soundtrack compliments what's going on. There is a basic premise – after a devastating war in the year 2398, intelligent computers are the last remnants of life on Earth, and you must step into the eponymous network and explore what remains – but the core gameplay involves navigating a dot around numerous different obstacles, in the vein of an open world cave-flyer. With a whole host of traps and environmental challenges, and over 40 minutes of original soundtrack (which can be downloaded from iTunes, as it really is that good), there certainly is a lot of content for the reduced $1.99 price of entry.
As the sale is only taking place for a limited time, I'd strongly recommend to try Nightgate out sooner rather than later, and be sure to share your impressions on our forum thread.