In our review of Machinarium ($5.99) back in 2011, we were stunned by its aesthetic beauty, but also the incredible narrative and puzzle design, describing it as "a treasure, judiciously and efficiently designed, with not a single pencil-drawn sprite out of place". At the time, Machinarium transcended virtually every point-and-click experience on the App Store, and Amanita Design's next iPhone release Botanicula ($4.99) took the elements that made the former title so memorable, and expanded these into an equally beautiful natural premise. Samorost 3 ($5.99), which has released today on the App Store for $4.99, continues this progression, and is arguably Amanita Design's biggest and most impressive game to date, as you traverse some incredibly detailed environments across nine unique and varied alien worlds.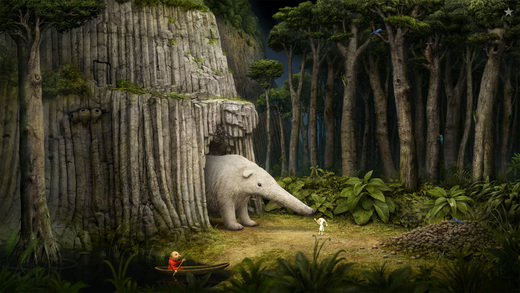 Samorost 3 continues the general concepts of the eponymous series, which debuted in 2003 on PC. While the trademark Amanita aesthetic is present, with a amalgamation of photographic and hand drawn visuals, Samorost 3 expands on its older siblings to provide some absolutely breathtaking locations with the same thought-provoking point-and-click puzzle gameplay. You star as a 'curious space gnome', and are tasked with travelling across the cosmos to find the origins of the magical flute that grants your character their powers. While inherently simple – areas are normally dominated by only a few points of interest amidst the lush backdrops – this attempt to avoid the noise of typical games in the genre leads to extremely immersive environments, with lots of secrets to discover, and a multitude of habitats to interact with. Subtlety is prominent in Samorost 3, and while not much of a challenge, this approach elevates it above similar games, and makes it an adventure that is unparalleled on the App Store.
It's hard trying to describe a game such as Samorost 3, as really only the screenshots and videos can do it justice. Considering its PC iteration is currently $19.99 on Steam, Samorost 3 on mobile is an absolute steal, and its universally positive reviews on other platforms only emphasise what a special experience it is. For anyone who greatly enjoyed Machinarium or Botanicula and wants more, or if you're just looking for an extremely immersive – and premium in every sense of the word – adventure title on iOS, Samorost 3 is not one to be missed. As ever, if you have experience of the PC alternative, or have given the iOS port a go, make sure to share your impressions on our forum thread.