Thumb Drift (Free) is a game that I initially downloaded on a whim, yet has become a mainstay on my iPhone despite my distaste for any racing game that doesn't involve blue shells and broken hearts. Through excellent controls and numerous incentives to keep trying to get further and further on each track, developers SMG managed to create a driving experience that is perfectly suited for mobile, and despite some of the patience pushing winding turns the game is even more difficult to put down. Support for Thumb Drift in previous months has been very welcome, and that pattern continues today with a new update bringing tracks, cars and much more to this iOS drifting extravaganza.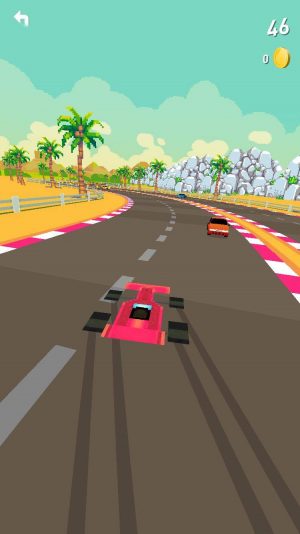 The biggest addition to Thumb Drift is undoubtedly the two new tracks, one of which is retro themed. Harking back to the good ol' days of Out Run and Daytona USA, the track looks stunning with its pixellated graphics, and also adds another element of difficulty (if this game needed to be any more challenging) in other cars driving around the track proving to be obstacles in your way. While this is not a radical change in gameplay, it will definitely prove to be another challenge to anyone who has mastered the art of drifting around corners at car-shattering speeds. Thankfully, this track is available seemingly from the start; a desert track that is unlockable after a distance of 50,000 will go a long way to satisfy anyone who has seen everything there is in Thumb Drift and wants something else to steer towards.
With nine new cars featuring famous internet stars such as Yogscast and RocketJump, new color schemes to customise your rides depending on how much you race with each vehicle and standard bug and performance fixes, Thumb Drift is as essential as ever on your iDevice. If you want to share any of the sweet rides you have unlocked let the developers know of your wishes for future updates for the title, be sure to drift into our forum thread.