One of the main reasons we were such big fans of the original Out There : Ω Edition ($4.99) by Mi Clos Studio was not purely because of the admittedly excellent survival gameplay aspects, but the atmospheric and agoraphobic feeling that being lost in space alone perpetuated. For anyone captivated by the lore of the series, Out There Chronicles ($1.99) appears to be the perfect evolution from the original, as through creating an interactive graphic novel that focuses on the writing and narrative as the main priority it will certainly satiate anyone looking for an expansion on the Out There universe.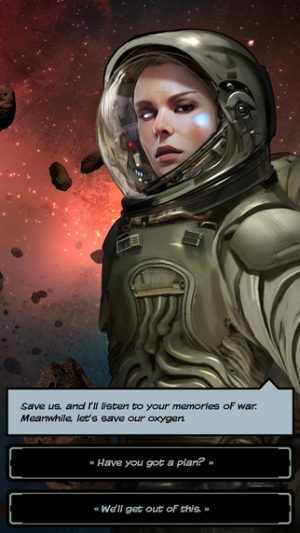 Rather than attempting to force a sequel out of the first game, Out There Chronicles is actually set several million years before Out There, and will therefore establish many of the concepts from the first game that may have not been fully explained. As it is written by author FibreTigre – who also took the reins for Out There's story – there will definitely be consistency between the two titles. Despite having less agency over the actions of your character owing to the gamebook style gameplay, Mi Clos Studio promise a 'complex dialogue system' that can lead to many different paths throughout the game, and also the ability to harness alien languages to be able to converse with them, finding out more about other cultures and advancing potential story options throughout the game.
With some stunning hand-drawn graphics that really bring the characters to life, similarly atmospheric music akin to the original title and the promise of 70 achievements, Out There Chronicles should be a compelling emotional experience for fans of the series, those who prefer an emphasis on narrative or any visual novel enthusiasts. If you're so inclined, and Out There Chronicles proves to be out of this world, leave your impressions (no spoilers!) on our forum thread.