As you should all now by know, tomorrow Hearthstone (Free) is switching from its current format to the Standard and Wild formats, and with that change comes a great departure. For the first time ever in Hearthstone history, we'll see an Adventure removed from the shop, and by this time tomorrow, Curse of Naxxramas, Hearthstone's first-ever Adventure, will be gone for a long, long time. While the cards that came with the Adventure will be craftable even after Naxx is no longer in the store, what will be lost is the experience of playing this single-player Adventure and trying to make it through the various wings unscathed.
So, if you want to be able to play through the Adventure after tomorrow, April 26th, make sure you buy at least the first Wing of the Adventure called Arachnid Quarter. Blizzard has stated that if you do have at least one Wing before the shift to Standard, you'll be able to play through the rest of the Adventure whenever you want to. If not, well, bye bye Naxx.
Why would you want to play Curse of Naxxramas? Well, as we talked about in our 5-star review when the Adventure came out back in 2014, playing through a fun Adventure in order to get the new cards was a much more entertaining way of enriching your collection compared to the standard expansion-style release where you have to buy pack after pack hoping to find the cards you're missing. The way this Adventure works is you buy each of the five Wings for $6.99 or 700 Gold (or buy the whole thing for $24.99), and then fight your way across each wing. Each wing has a number of Boss encounters, each with its own quirks and challenges. When you beat a boss or complete any of the four Class Challenges (Druid, Rogue, Mage, and Hunter), you get rewarded with various cards such as Loatheb, Kel'Thuzad, and many more. While all these cards won't be playable in Standard, they should still be force to be reckoned with in Wild.
The good thing with playing through Naxx in 2016 is that using a deck with the cards players currently have in their collection now makes the Adventure much less challenging than it was back when it came out. And since the Normal difficulty mode of the Adventure was relatively doable to begin with, using cards from more recent expansions and Adventures should make it a walk in the (creepy) park. The Heroic mode, though, is a whole different story since those encounters are notoriously difficult even with more recent cards. So, there will still be a challenge for those who enjoy it.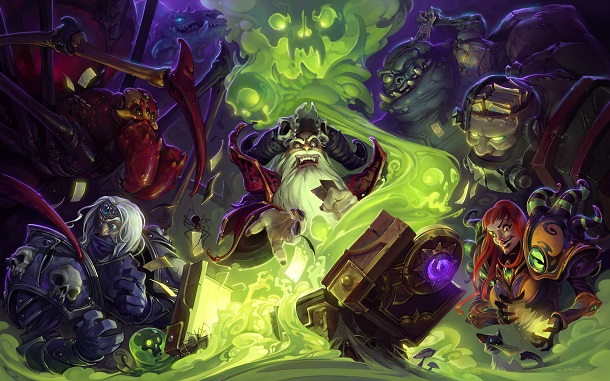 Lastly, if you've played World of Warcraft, there's an additional reason to get this Adventure while you still can. As we talked about in our review, Blizzard managed to interweave World of Warcraft lore into these encounters in a way that made the various Bosses doubly-entertaining for anyone who's played Blizzard's other famous game. So, if you needed an additional reason to buy the Adventure, there it is. And if you're having problems beating the Adventure, we've written guides for all Wings and Class Challenges to help you make it to those sweet cards.
Just remember, this is the last day you can pick Curse of Naxxramas up for a very long time. Blizzard has hinted it's considering bringing the Adventure back at some point in the future, but we heard nothing concrete and for all we know, the developers might decide it's not worth the trouble. There's also the possibility we get versions of Naxx boss fights in Tavern Brawls rather than the whole Adventure. So, here's your last chance to buy this Adventure (or at least its first Wing); if nothing else, it will let you pretend to be a veteran Hearthstone player in front of your friends who weren't playing Hearthstone when Naxx was around. Remember, bragging rights are a valid reason for doing many things in life.