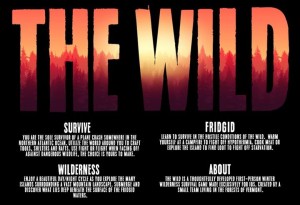 Well, I'm sure you didn't expect to read this story since I don't think I expected to write it. Have you heard of the "upcoming" survival game called The Wild? Most of our readers have judging by the forum thread that currently sits at almost 340 pages long. This survival game was for the longest time at the top of almost everyone's upcoming games list because of its very promising premise – a wilderness survival game based on exploration and discovery with day/night cycles and a vast mountain landscape. The game was steadily coming along, and then all of a sudden it went silent, as if the game crashed on a remote mountain with no way to communicate.
Everyone in the forums was very surprised to see such a prominent upcoming game suddenly go silent, and some couldn't shake the feeling that this disappearance act had something to do with the release of Radiation Island ($2.99), a survival game that did much of what The Wild was hoping to do and did it very well, too. I'll be honest; personally, I had given up on ever seeing The Wild.
However, maybe I was wrong to do so judging from a post on the game's Facebook page a few days ago. According to Danny from Toonuva Games, the project is NOT dead (emphasis his), and he's soon planning on updating Facebook and TouchArcade to unveil what he's working on. He states that iPhones and iPads have become so much more powerful (compared to when they started working on the game, I presume), which I suppose offer many more opportunities for a game like The Wild.
However, what was even more interesting is that The Wild will now be a third person rather than first person game and will feature more surreal art philosophy, both of which should make it quite different from Radiation Island. I hope this time we'll get to see this long-awaited game on our devices. Are you optimistic, or have you written the game off for good after such a long time? When we know more details about this new art and gameplay direction, we'll let you know.