We are officially in a Hearthstone (Free) limbo now, waiting patiently for Blizzard to announce the upcoming expansion and waiting to see the changes in format. Exciting times, for sure, but also a time when everyone's looking to the future rather than the present. The result of this is a relatively-limited amount of Hearthstone news outside a repetition of what we've already talked about last week. So, not the most exciting weekly roundup but still interesting things to talk about. We have some new reactions to the Standard/Wild changes from the developers, a possible date for when we'll hear more about the changes, information regarding how big the game has become, and more. And, of course, we have the meta report, but as you can guess, the meta is in a holding pattern at the moment with most of the players already considering what kinds of decks they'll be building once Standard hits.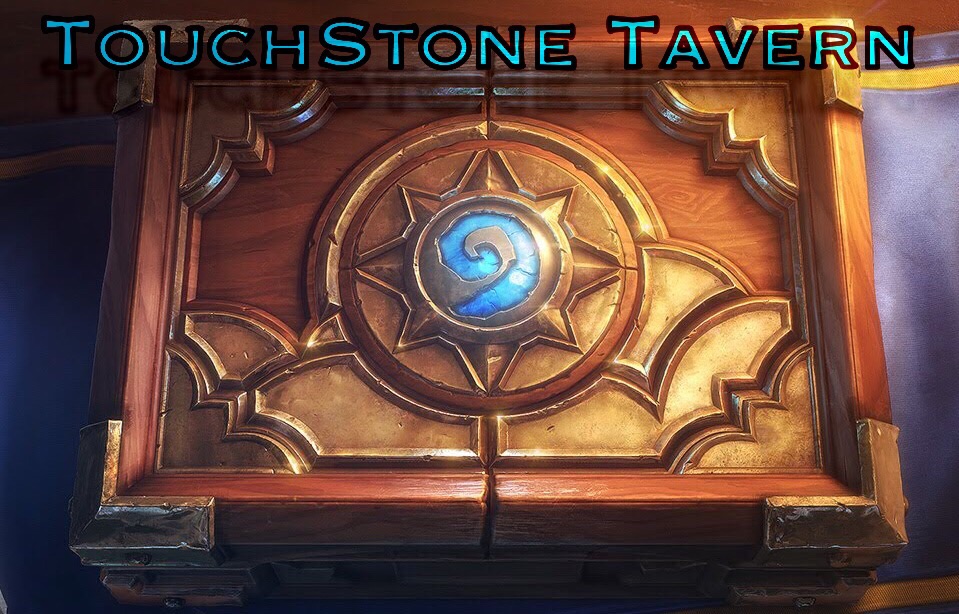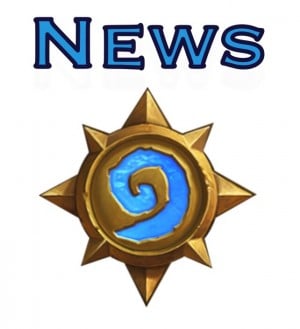 Designers Discuss Standard, Wild's Relevancy
Here are some numbers for you: according to the firm SuperData, Hearthstone makes $20 million a month, and according to Joorst van Dreunen, analyst at SuperData Research, the game has made over half a billion dollars since its launch in 2014, making up almost half of the card-game market. This VentureBeat story claims that the upcoming format changes could make the game even more profitable. Brode describes how they've been talking about making changes from even before they shipped the game because they knew the game would gradually become inaccessible to new players and wouldn't allow the team to shake up the metagame.
Brode and Woo also talk about the decision to retire the older Adventures, saying how it was a difficult decision but was mainly so new players wouldn't end up getting content that would dump them into Wild rather than Standard. Interesting interview overall with some relatively-new information on the developers' decisions.
10 Expert Ways to Build a Better Deck
With deckbuilding bound to become a more important part of the game, because of the various older archetypes becoming a thing of the past, this story offers ways to improve your deck-building skills. First is mastering the Arena, since it can help you make a lot of gold as well as trying various decks and combinations that you can then take to ladder. Paladin and Rogue work the best, while Mage is still good. The other tip to is to avoid disenchanting because cards you don't card about now might see a resurgence in popularity later on. Also, try and be unpredictable because switching out a couple of cards everyone uses for a couple that are more rarely seen can give you the competitive edge you need.
The next tip is to aim high since the higher you climb in ladder, the better the rewards, even if you'll have to play some of the "ugly" decks like Zoolock. Next is learning to adapt because while netdecking is an easy way to get a strong deck, those decks might perform great in tournaments but not necessarily around Rank 15 or 20. Next is focusing on your win condition, that one thing your deck needs to do to win. That way, every card is in the deck for a reason. Go here to check out the whole list in detail.
We Should Know More About the Format Changes March 9th
Blizzard has already told us it plans to start changing the game in Spring 2016, so it shouldn't come as a surprise that on March 9th, the company will show to select VIPs and media what's next for the game. We don't have any other details at this point, but I expect we'll hear more about the upcoming expansion around that time, so stay tuned.
Poker Star Daniel Negreanu Talks Hearthstone
Daniel Negreanu is very popular in the poker world and recently, he's playing plenty of Hearthstone, too. According to this ESPN interview, when he started playing the game, he got hooked immediately because of the depth of the strategy and how good the client is. He feels that RNG is part of the reason why the game is so successful since when non-RNG games, like chess, are dying. While he started playing Mage, he's now more of a tempo/midrange Shaman but has to play the more aggressive kind because in this meta, midrange Shaman doesn't have much luck. This is a very interesting interview, and I like how Negreanu talks about Hearthstone from a poker player's perspective. Check the interview here.
The Most Popular January of Decks
If you want to check out the best decks of the last month, you can go here. The most expensive deck continues to be Kolento's Dragon Priest, with Silence Combo Druid, Face Hunter, Mech Mage (LoE), Grim Patron Warrior, Murloc OTK (my personal favorite), and more rounding up the list. Check them out here for some quality netdecking.
Hearthstone Has More than 40 Million Registered Players
As we wrote about a few days ago, Blizzard's financial results revealed that Hearthstone has over 40 million registered players, which goes to show how big the game is at the moment and with no sign of slowing down either. Also, LoE sold 20% more than BRM in the first 6 weeks of each expansion's release, and at the end of Q4 2015, Hearthstone hit all-time franchise highs in multiple categories, including monthly active users. Not bad at all for what was originally a Blizzard side-project.
Ranked Player Spotlight – Fr0zen
Fr0zen hit #1 Legend in the Americas in January, and Blizzard gave us more information about the player to showcase his expertise. Fr0zen recently joined team Hearthlytics and hopes to become a much more familiar name this coming year. This 19-year old student from Michigan has been playing the game since late 2014. His first contact with the game was going 0-3 in Arena, but then decided to watch a lot of Trump and Kripp in an attempt to improve. After putting together a decent collection, he started playing ranked and managed to hit Legend in his first season. He prefers to play combo decks, so Mage is his class of choice. This month he played tempo Mage most of the season, switching to zoo decks and Malygos freeze mage towards the end of the season. Read the rest of the interview here.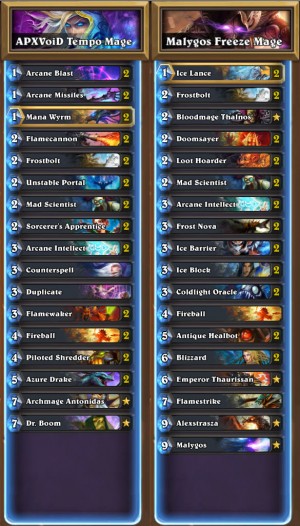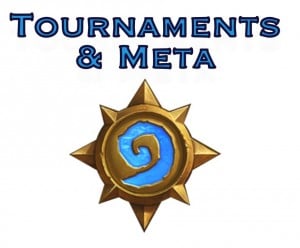 Red Bull Team Brawl Introduces a New Way to Play
This story gives an account of the Red Bull Team Brawl that took place last Saturday and talks about how it introduced a new format as well as demonstrating how Hearthstone looks as a team-based rather than a purely individual play. The "sealed deck" tournament used a specially designed pack-generating tool, giving each team 48 simulated packs to open. Frodan's idea of copying the Magic the Gathering team-sealed format ended up giving us a very fun tournament. Cloud9, Team Archon, and Team Liquid battled against each other, with such names as Reynad, Hafu, Trump, and Firebat among the players.
When it comes to classes, no team build a Warrior deck, which shows how weak the class is in an Arena-like format, Dog's Rogue deck ended up going 6-0, and Paladin and Priest did well too as did a Mech Mage deck. Go here to read more about the tournament, and check out this redbull.com article describing the way Tempo Storm won the Team Brawl.
Meta Report
The meta continues to be more midrange than anything else, with Midrange Druid and Secret Paladin still ruling the ladder and with Zoolock and Freeze Mage rounding up the Tier 1 decks. Oil Rogue, Malylock, and Maly Rogue have dropped to Tier 3, and in general there's a great disparity between Tier 1/2 and Tier 3 according to the Tempo Storm snapshot. Overall, everyone's waiting for the release of Standard, and since all decks are living on borrowed time, not many are bothering to fine-tune or change anything. With GvG and Naxx going away and with plenty of Classic and Basic cards getting nerfed, the future should look very different and, hopefully, very bright. But until then, get your Midrange Druid and Secret Paladin out to play.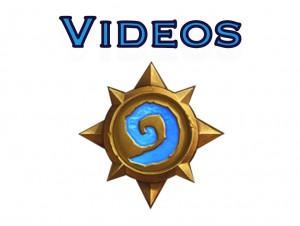 Arena Fail Compilation #10
Trump Talks Again About How Decks Will Change
Ridiculous Hearthstone Moments
Lucky Moments #19
Epic Plays #100
A Dragon and a Dream
Golden Monkey
Golden Monkey Mage
Funny and Lucky Moments #417
Reasons to Play Raven Idol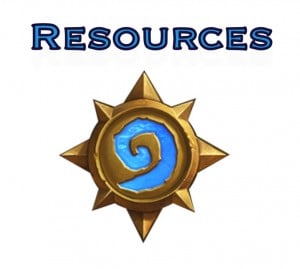 As always, we have some good resources on the site for you in case you are new to the game or simply want to sharpen up your game. There's never such a thing as too much help in Hearthstone, although with all the changes coming up, we might need to update everything.
Hearthstone Deck-building Guide