When Kim Kardashian: Hollywood came out on the App Store, many scoffed at the whole conept and saw it as a silly little thing. And then the game started making a zillion (slight exaggeration) dollars a month, and is still almost in the 100 top grossing games. So yeah, Glu Games definitely found a pot of gold at the end of that celebrity rainbow. Today, Katy Perry is officially following Kim's footsteps with the worldwide release of her own game, Katy Perry Pop (Free), and will hope to also sing her way to iOS riches. When you compare the two games, you'll see a very sharp distinction; in Katy Perry Pop, you actually have to use a talent to succeed, which isn't the case in the Kim Kardashian game.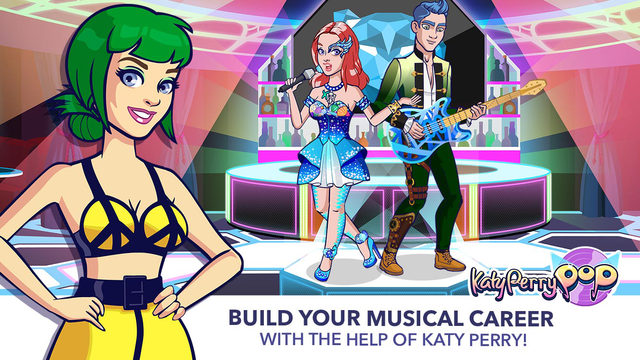 In KPP, you have to build your music career and develop your pop star persona. You'll even be able to develop and record your own music and music videos to rise to the top of the charts. Compare that to KKH where you "rule the red carpet" and "date and dump celebs." Which one you'll pick to play probably depends on your ambitions in life, I suppose. What's interesting is that KPP launches at a time when Glu's stock is plunging, dropping almost 12% in the last month.
This under-performance has investors apparently watching out for further worrying signals and trading with caution. I wonder if this is a sign that the celebrity game craze is drawing to a (relative) close, and I wonder what that might mean for KPP. Still, if you like Katy Perry's music or are simply looking for another light and colorful F2P game to kill some time, Katy Perry Pop might be just the thing for you.