The Gamevice for iPhone, rolling out to retail now, is a device that's both very functional, even showing some improvements on the earlier release of the model for the iPad Mini. It's a great controller, and its folding design makes it extremely portable. But it's held back in part by its high price, and by several functional trade-offs mandated by Apple requirements, not to mention the non-working Handoff functionality. It's a tough sell for the general consumer, but the Gamevice for iPhone is a solid controller if you're in for the $99.99 price, and you know exactly what you're getting.

As a controller, the Gamevice functions very well, much like the iPad model. The joysticks are small but have good resistance and accuracy for first-person shooters. The d-pad is great for platformers and fighting games alike. The buttons and triggers feel good to use, even despite the triggers' close proximity with each other. This really is just a smaller version of the iPad Mini model, which was a great controller to play with. It's just a great controller, period. And you get the same gameplay benefit of this being something that's a bit more in your face, though a gamepad with a clip could certainly do that as well for the iPhone.
One huge advantage of the iPhone Gamevice compared to the iPad Gamevice as far as portability goes is that the iPhone Gamevice can fold down into a smaller package. It's not pocketable, but it's something you can easily stick in a bag. This actually makes the iPhone Gamevice a much more desirable option for portability than every other MFi gamepad out there, which either take up a lot of space, or don't work with the iPhone with a clip like the original SteelSeries Stratus, which I sometimes kind of forget is just sitting in my messenger bag for whenever I want to play a game on my iPad. Maybe my concerns over the whole rubber connecting the two ends getting damaged on the iPad model is a joke since this is both folding and thinner, but it feels different to me because it's explicitly designed to do so. But this does mean that you can play this on the go and use your iPhone like a Playstation Vita in a pinch. You will need to remove any case you have on your iPhone to use it with the Gamevice, but this is reasonable.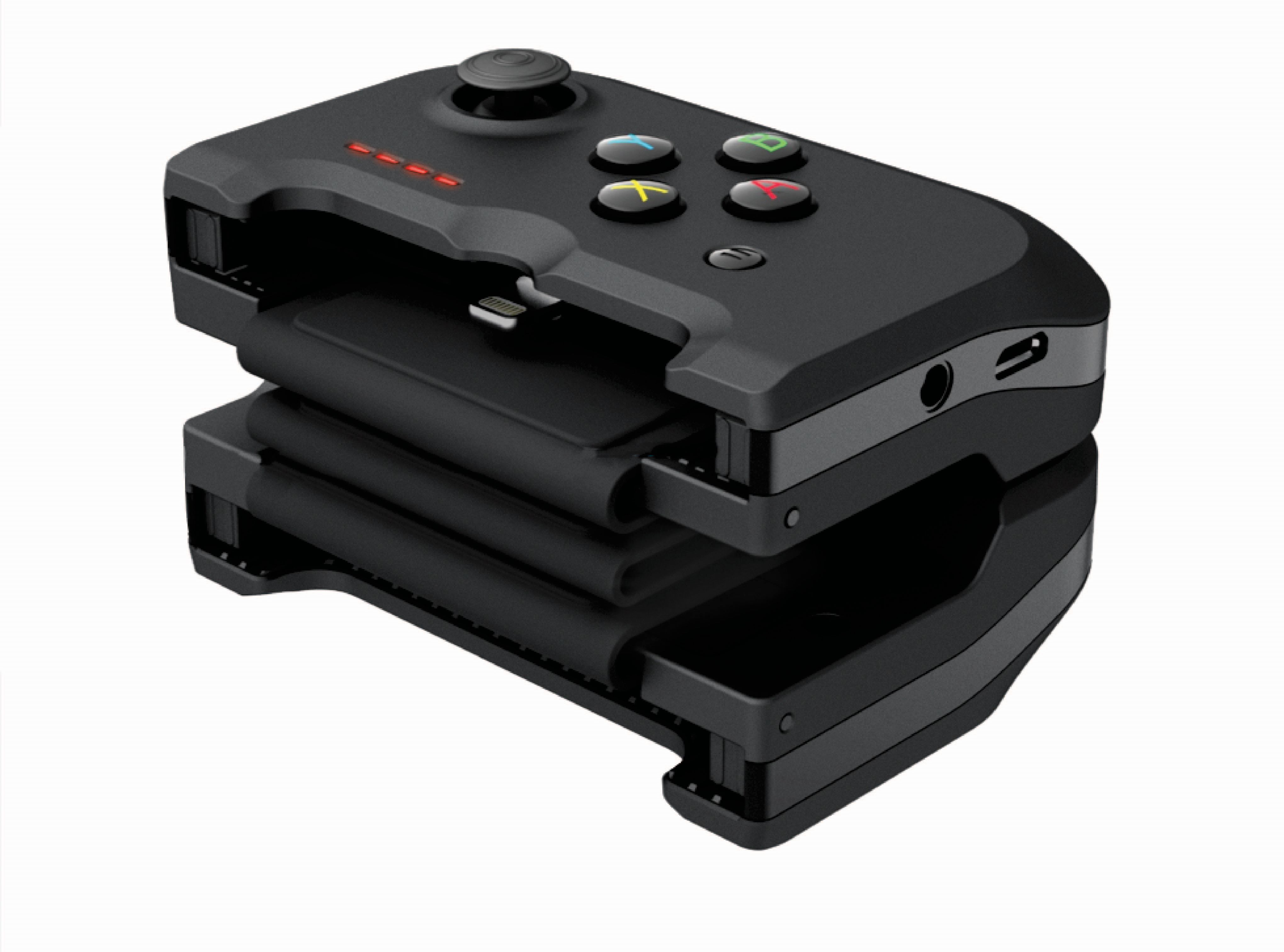 Plus, the adjustment between the regular and Plus iPhone sizes makes this really handy. Perhaps the size difference between the iPad Mini and iPad Air would make the design on the iPhone one unreasonable, but still, it makes you think "was there really no way to make this compatible between each model?" The problem isn't necessarily that people have both sizes of iPad, but that if you want to switch between them, your $100 controller shouldn't suddenly become garbage, especially when a budget Chinese manufacturer has a universal tablet design, and it feels like they're the football player who came up with the fumble and is standing in the end zone saying "I've got the ball, I scored!" while the refs are looking in the dogpile for who has the ball. While perhaps there will be issue with the iPhone 7 models if they differ in size, at least if you decide at some point to upgrade from your 6 Plus to just the 6s, your Gamevice won't be toast. Hooray for multi-functional designs!
Speaking of multi-functionality, it'd be really nice if Apple could make Handoff from an iPhone to an iPad work for controllers. I don't even know if it's supposed to exist, but it never worked properly in iOS 8, and I've only gotten to pop up a couple of times in iOS 9. If it worked properly, I could probably recommend the Gamevice as the end-all controller solution since you could use it with everything, but count on Apple to mess a promising feature up.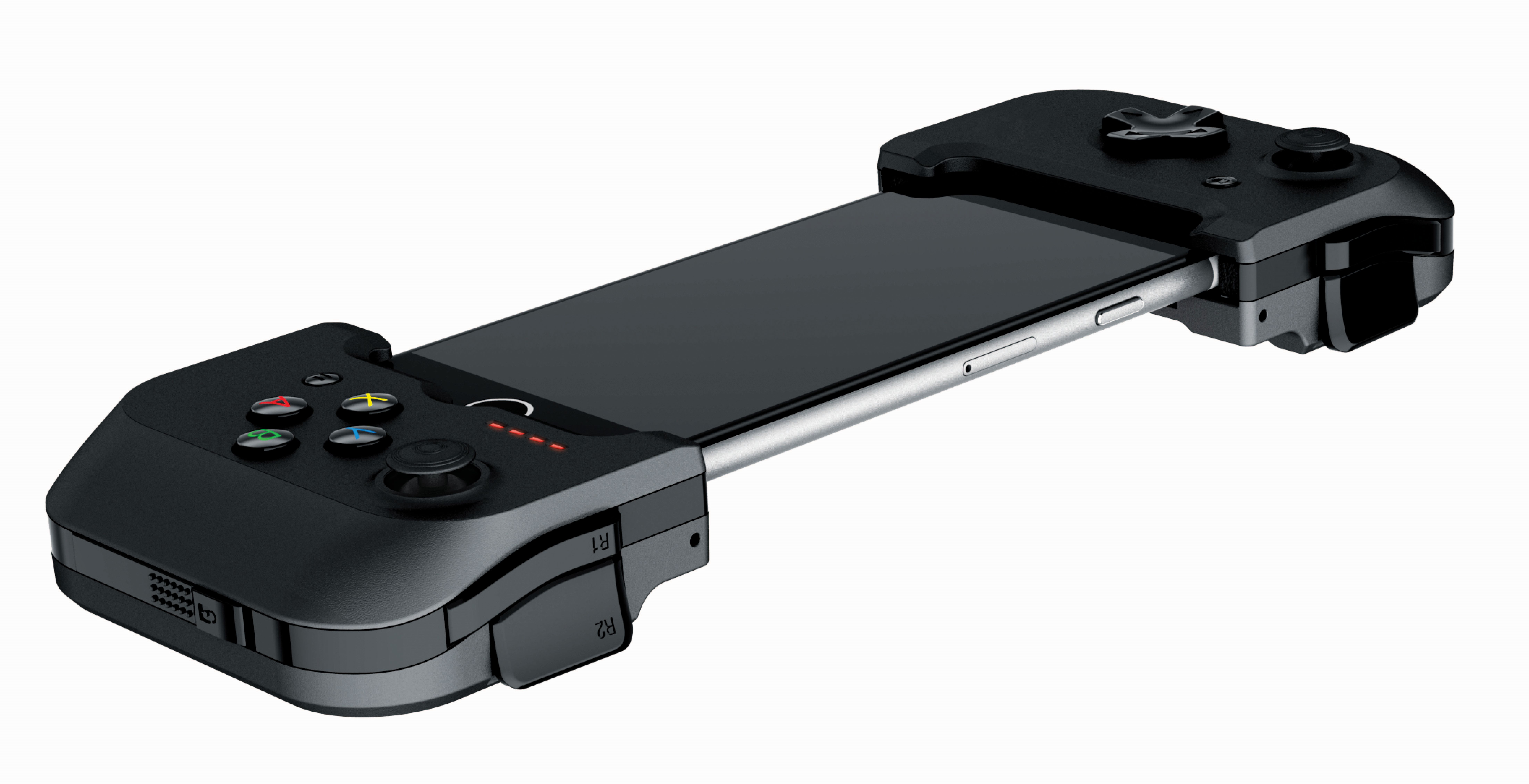 Why this thing is designed with a battery in it instead of just running off of the Lightning port is kind of odd, as you can charge it via the micro-USB port without the iPhone plugged in to it, though it will also charge the iPhone if you plug a micro-USB cable with the iPhone plugged in. Sadly, this doesn't have a female Lightning port like the new SteelSeries Nimbus does. And speaking of questionable Ap[le decisions, why Apple decided not to let more manufacturers use Lightning for their accessories is bizarre, and most people aren't obsessed with having extra cables sitting around like I am, so it's possible your Gamevice could die at some point! Also, while there is a battery life display on the Gamevice, it'd be nice to know exact percentages through the Gamevice Live (Free) app, though that's not available.
One thing that maybe only I care about is that because this uses Lightning, it's using its own integrated digital-to-analog converter for the headphone jack, as opposed to the device headphone output. On the iPad, this makes sense because of placement of Lightning and iPhone jacks as opposed to just using a physical headphone jack. Perhaps this existing solution is better, but the quality of the sound you get from the Gamevice is inferior to the iPhone 6 Plus' sound you get otherwise. I noticed this when playing Sonic 2 (Free) – the familiar jingle of the ring had some noticeable distortion on it. Again, I'm probably the only one who cares, but it kinda stinks that you're getting that tradeoff.

I have to say that the Gamevice for iPhone is a better buy than the Gamevice for iPad Mini. You get all the same great functionality, but you get so many drawbacks, and at a greater price than the go-to recommendations of the SteelSeries Nimbus or the Mad Catz CTRLi (which I recommend over the Nimbus just because of the iPhone clip), that while this is more of a recommendation than the Gamevice for iPad Mini (or the iPad Air model whenever that comes out ), it's still something I can only recommend if you know you want it. But the actual controller performance, and the portability will make it something you'll be glad to have if you like controller games on your iPhone.