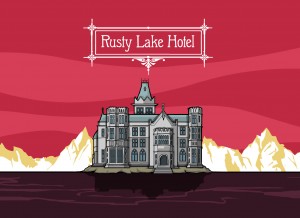 What do you get when you cross Wind in the Willows with Twin Peaks? My best guess is you get the upcoming Rusty Lake Hotel, a mysterious point and click game full of anthropomorphized animals and a chilling, uncanny feel that I personally loved.
As you can see from the trailer, the developer, Rusty Lake (developers of the intriguing Cube Escape (Free) games), really knows how to evoke a sense of weirdness and horror, and the art is definitely both weird and lovely. I really can't say enough about how good this trailer is, provided you enjoy the weirdness of shows like Twin Peaks or any of the works of directors like David Lynch. This puzzle game takes place in a total of 6 rooms full of unique brain teasers which help tell the story of 5 dinners at the Rusty Lake Hotel, a surreal place where apparently anything can happen.
Each room has its own theme song and each dinner is, well, worth dying for. Now, while the atmosphere is spot on and the feel of it fantastic, I do hope the puzzles don't feel like an afterthought rather than a part of the story. I've had disappointments in the past with games that hit the art direction nail on the head only to give me bland puzzles to go along with it. Hopefully, Rusty Lake Hotel will manage to marry the sense of dread and wonder with its puzzle elements. Either way, I'll be giving this one a try when it comes out next week. It will cost $1.99, and will hopefully be a spooky treat.