I don't know WHAT is going on, but there are a bazillion new iOS games out right now. Is there a holiday I'm not aware of? I know it's National Chicken Wing Day, and as epic as that is, this still seems like an absurd amount of games for a Thursday release. But hey, whatever! I'm not complaining about too many new games to play. There's several high-profile games I'm excited to get my hands on, but there's plenty of stuff that I've never even heard of before that look really cool too. It's one of the best things about mobile gaming. So take a close look at the huge list below and let us know what games are on your shopping list.
---
Battle Golf
iTunes Description
The first rule of Battle Golf is that you do not talk about Battle Golf
The Second rule of Battle Golf is please share Battle Golf on Twitter

Play Golf against the clock or against a friend, head shots are encouraged.
Forum Thread: Battle Golf (by Colin Lane)
---
Bird Drops: Birdies Revenge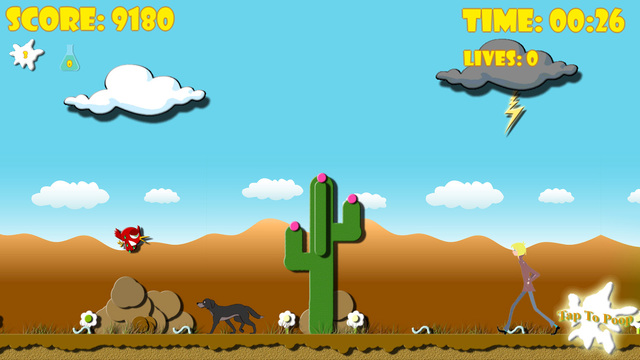 iTunes Description
Challenge yourself with something new and fresh with Bird Drops: Birdies Revenge!

Fly Birdie as far as you can and exact your revenge on the human race and mans best friend for the destruction of his beautiful home.
Help your little red bird, Birdie take back his beautiful candy like land and crush the evil humans.

Laugh and have fun with the kids and family listening to funny sounds and music as you release your revenge on the enemy in this highly addictive game.
Forum Thread: Bird Drops: Birdies Revenge (By Brice Caris)
---
Calisteo
iTunes Description
Explore fantastic fantasy worlds where you will have to master your skills as a match-3 expert to guide your character through a maze of puzzles of to unlock the key to overcome the dangers that lie ahead!

Calisteo is new kind of match-3 game that pits your matching your skills against increasingly difficult levels combined with the puzzle solving prowess needed to overcome the perils that block your path. Use your cunning and quick reflexes to unlock the doors and enter fantastic new worlds.
Forum Thread: Calisteo (by Virgo Play)
---
Champion of the Gods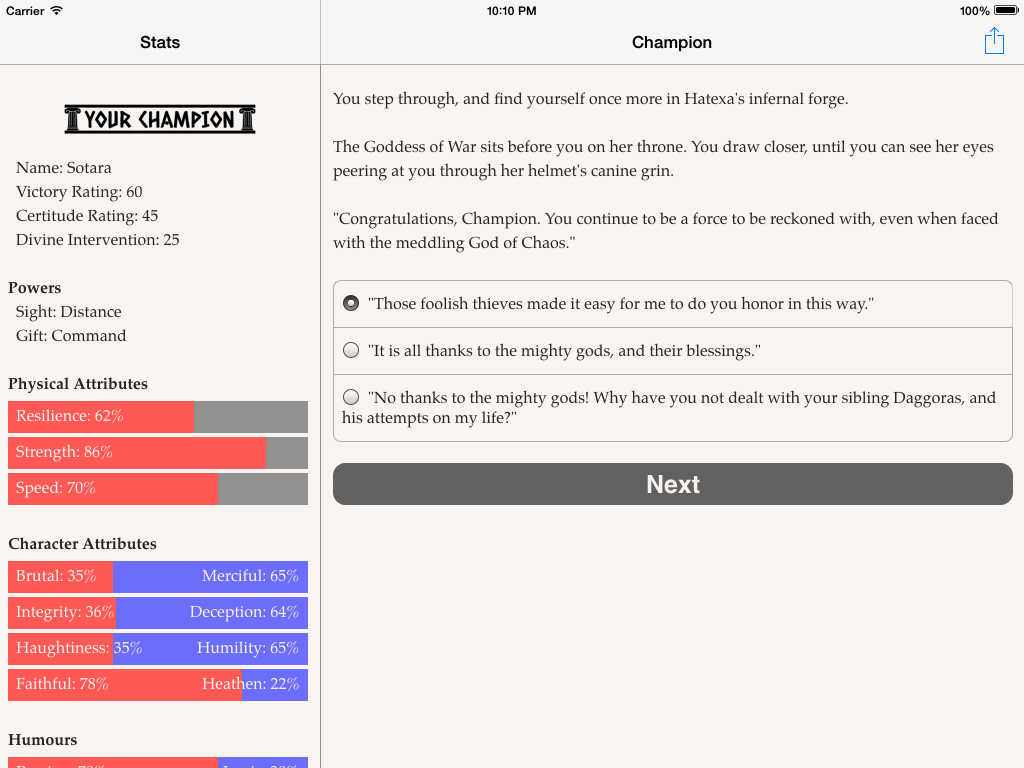 iTunes Description
In the battle to save your people, will you defy the gods? In an ancient world where myth is reality and fate is relentless, your destiny will lead you to secrets no mortal should ever know.

"Champion of the Gods" is a thrilling 217,000-word interactive novel by Jonathan Valuckas, where your choices control the story. It's entirely text-based–without graphics or sound effects–and fueled by the vast, unstoppable power of your imagination.
Forum Thread: Champion of the Gods (by Choice of Games LLC)
---
Circle Race
iTunes Description
Circle race fever has been sweeping throughout the Toy world!

Toys have started an extreme dieting and running!
Help toys to overcome the temptation of delicious food!

If you help toys to revolve and run, you can get various toys!
Challenge the world record with toys which can participate in mini Olympics!
Forum Thread: Circle Race (by Magnetic Stormz)
---
Comic Battle
iTunes Description
Become an intergalactic arena champion by winning fast-paced player versus player, turn based battles. Assemble and train your team of unique and beautifully drawn fighters from all across the known Universe. Learn your fighters how to control the Void Energy, train them to manipulate nature elements around them or create a powerful mind controlling oracle. If you chose so, you can always rely on powerful guns and rifles. But every adept trainer knows that pure force and strength is not enough to become a legend. Use cunning tactics and teamwork to win every battle.
Forum Thread: Comic Battle (by Bit Forest)
---
Cube Jump
iTunes Description
Help your cube travel through space.

Jump on moving platforms and avoid falling!

Collect little cubes and unlock new characters.
Forum Thread: Cube Jump (by Ketchapp)
---
Cube Worm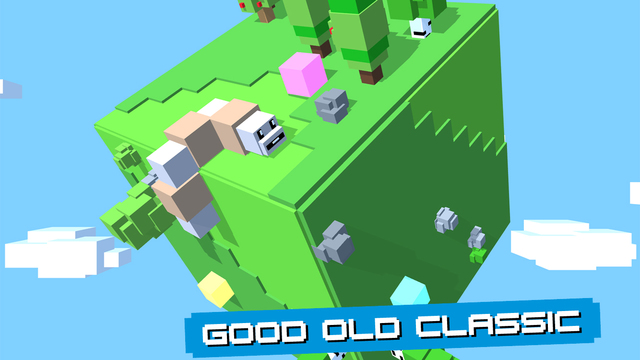 iTunes Description
Meet Cube Worm – the classic snake game experience with a twist of a cube.

You thought feeding your worm and avoiding obstacles was hard enough? Try that on a cube that is constantly spinning and can take your worm out of sight.

Was it hard to realize whether to turn left or right? Try that with your head down!

Cube Worm will test your patience and space orientation to the max.
Forum Thread: Cube Worm (by Craneballs s.r.o.)
---
.Decluster Zero: Bullet Nocturne Lite
iTunes Description
*The full version will be released on August 4th.

— .Decluster is a Guide for Your Bullet-Hell Dream Tonight —

Various designed levels and epic boss battles
Enormous enemies and overwhelming bullet patterns
Cool soundtrack and hot gameplay

Real Shmup with Neo-Retro Graphics!
Forum Thread: .Decluster Zero: Bullet Nocturne Lite (by MASAYUKI ITO)
---
Defense of Greece TD
iTunes Description
A amazing tower defense game.
Colorful graphics, exciting story, captivating gameplay!
Excellent combination of the ancient Greece era, steam powered engines and mechanized robots will keep you interested.
Build powerful tools, plan defense strategy, level up from rookie to general!
Grand battles with swarms of units on every level.
Many tactics and varying levels of difficulty.
Available upgrades and improvements for weapons and artillery.
Forum Thread: Defense Of Greece TD (by Sergey Gritsay)
---
Domino Drop
iTunes Description
Domino Drop is a delightful new puzzle game with dominos and gravity!
Learn how to play it in a minute, master it day by day.
Your mind will be challenged.
Your soul will be calmed.
Forum Thread: Domino Drop (by Vitalii Zlotskii)
---
DragonDrop – 3D Endless Flyer
iTunes Description
Fly your way to fortune with Roger the Dragon and his friends!

Game Features
– Three different level environments each with their own gameplay challenges!
– Colorful 3D graphics!
– Nine different characters to collect!
– Unleash powerful magic like the Coin Magnet and Force Field!
– Beat your friends high scores on the leaderboards!
– Unlock achievements with epic feats!
Forum Thread: DragonDrop – 3D Endless Flyer (by PerpetualFunMachine)
---
Drone GP
iTunes Description
Be a pioneer of the future of racing with DroneGP 15 !
Experience the first multi copter racing simulator and grow as a pilot of this completely new genre, mastering the controls and challenges that drone racing brings.

As in car or motorcycle racing sims, you'll have to be precise and concentrated to complete a lap successfully, learn to master curve lines and know your vehicle behaviour in every situation.
But unlike car or motorcycle racing sims, you'll have an additional dimension to exploit and keep under control, making for a unique and totally new experience.
Forum Thread: DroneGP – Drone racing sim available – FREE
---
Emperor's Dice
iTunes Description
Roll the dice and Rule the world! The War of 3 Kingdoms continues now on the Board!

Real Time PvP Board Game with Heroes of 3 Kingdoms! Roll the dice and expand your province!

Heroes of 3 Kingdoms! They battle with dices instead!
Forum Thread: Emperor's Dice (by Pango)
---
Energy Barrier
iTunes Description
Stretch the barrier to defend your resources against enemies. Watch out! If the barrier is too long you will lose!
How long can you survive?
Forum Thread: Energy Barrier – new game (by Woodensword Games)
---
Fingertip Tennis
iTunes Description
Fingertip Tennis IS NOT the most realistic tennis simulator. It is NOT the most precise. It doesn't pay ATP licenses so it doesn't feature famous tennis players (but it almost does). Fingertip Tennis is not the ultimate tennis game but IT IS one hundred times funnier and more original than any other out there.

What do you play your mobile and tablet with? With fingers, don't you? Then we want your fingers to feel like at home in the best tennis courts around the world. Let your fingers play in London, New York, Paris and other exciting tournaments in clay, grass and hardcourts. Let your fingers play with Rafinger Nadal, Dafing Ferrer, Fingerena Williams and other (almost) stars. We told you we haven't got licenses so these fingers only seem famous.

Do you want even more fun? Play also with some crazy special characters: Old Finger, Angry Finger, Band Aid or even Chewbacca.
Forum Thread: Fingertip Tennis (by DevilishGames)
---
Ghost Catcher
iTunes Description
IT'S GHOST CATCHING TIME!!!

Tap the screen to lay traps & catch ghosts. How many can u catch within the time limit?
Forum Thread: Ghost Catcher! (by Andrew Baxter)
---
GrandChase M
iTunes Description
Grand Chase M! The best tactical RPG of 2015!

Join the Grand Chase, a team of elite troops hand-picked from the kingdoms of Kanaban and Serdin to defeat KazeAaze!
Activate special skills by filling up the Vitality Gauge!
Collect special skills and trigger a fatal attack! The Chase is on!
Forum Thread: GrandChase M (By Actoz Soft)
---
Hanger World
iTunes Description
After more than 100 million plays – Hanger is back! Swing your ragdoll through dangerous levels filled with razor sharp blades, lethal lasers, hungry monsters and all sorts of limb cutting obstacles! The question is: Can you make it to the finish line without losing too many body parts?

Watch your limbs fly all over the place! Enjoy the incredible realistic ragdoll physics and rope swinging mechanics with smooth and responsive controls that's miles ahead of all other rope swinging games out there. Swinging never felt this good!
Forum Thread: Hanger World (by A Small Game)
---
Heroes and Titans: 3D Battle Arena
iTunes Description
Join the ULTIMATE battle for domination in the world of Heroes and Titans. PLAY FOR FREE in the most addicting and interactive mobile RPG game! Collect and upgrade your heroes, play against or team up with other players all over the world, and defeat the mighty Titans and their minions!
Forum Thread: Heroes and Titans: 3D Battle Arena (By Gosu Group)
---
Infektor
iTunes Description
Infektor is a fast-paced arcade game, that will push your evading skills to the limit!
Survive as long as possible in the Survival mode, or spread infection in Infect mode before antibodies get you.
Choose between three different microbes to try different gameplay styles, and become the best performing bacteria that ever evolved.
Why are you reading this? Just give it a try!
Forum Thread: Infektor (By Piotr Bula)
---
Jump! Chump! Revenge
iTunes Description
Jump and his buddy Chump are back, and they're looking for revenge! Tap each corner of the screen to kill bad guys as they come at you from multiple directions, and kill as many as you can!!
Forum Thread: Jump! Chump! Revenge (By Scraping the Barrel)
---
Jumping Cube
iTunes Description
A greedy hamster was found stealing food in the refrigerator by a cat. He was stuffed into a tiny lemon jam jar and rolled down into the sewer. Help him get out of the endless sewer!

HOW TO PLAY:
-Tap to jump, tap twice to do double-jump!
-Tilt the device to move.
-Avoid the dangers.
Forum Thread: Jumping Cube (by ZHIPENG WANG)
---
Mechanosaur Hijacks the Moon
iTunes Description
Mechanosaur Hijacks the Moon is a funny challenging score-chasing one-touch endless game! Easy to learn, hard to master!

For millenniums, the dinosaurs fought the evil Asteroidians across the galaxy. As they thought them defeated, the Asteroidians came back and pulverized a dinosaurs colony located on a remote planet, Earth!

The mighty Mechanosaur has to slip in his super-dino costume, jump in his time machine and reverse the situation!
Forum Thread: Mechanosaur Hijacks the Moon (by XperimentalZ Games)
---
Mind The Arrow: Match The Dots
iTunes Description
Can you train your brain to Mind The Arrow? Mind-bending fun awaits in this perplexing puzzle game with a twist. You've got 30 seconds to match the dots, but don't get too comfortable! As the arrow's orientation changes, the complexity increases. Match the dots to stay ahead of the clock!
Mind The Arrow and match the dots, or you'll soon be out of time!
Forum Thread: Mind The Arrow: Match The Dots (by Thumbspire Inc.)
---
Night Vigilante
iTunes Description
Night Vigilante is a dark 3D graphic adventure resembling mainstream comic book stories where you will be able to customize your own character and guard Dockton City to protect the innocent and find the truth about your past.

Your customized vigilante will evolve and become more powerful when defeating enemies and super villains that will try to change your views, make you insane, create chaos or just get you killed.

In order to fight crime, a good strategy is needed and a full knowledge of your enemy. It's time you take justice under your own hands and clean Dockton City!
Forum Thread: Night Vigilante (By Kedoo)
---
Nosferatu 2 – Run from the Sun
iTunes Description
The popular endless runner with over 5 million downloads featuring Nosferatu, the friendly vampire, is moving on to the next round.

The Garlians have returned and want to enslave humanity again. Help Nosferatu and his friends against the evil aliens while using numerous pets and mounts. There are plenty of free bonuses for completed missions.

Race with your friends in the league and show that you're the best and fastest vampire.
Forum Thread: Nosferatu 2 – Run from the Sun (by Morphicon)
---
Operation Dracula
iTunes Description
Operation Dracula is a rip roaring bullet hell shooter that will scramble your brain and your fingers!
Its an over the top arcade shoot-em-up inspired by the classic shmups.
This all wouldn't be complete without the awesome 80's style 16 bit pixel art and fantastic Japanese style soundtrack.
Forum Thread: OPERATION DRACULA (by Crescent Moon Games)
---
PixelBoom!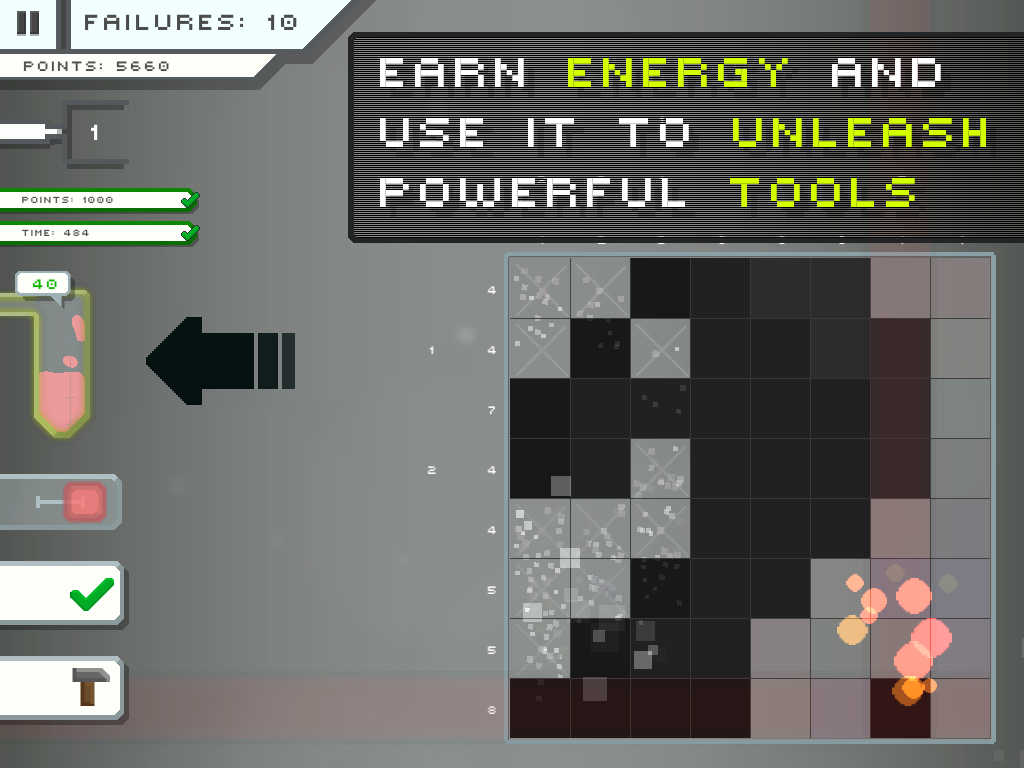 iTunes Description
PixelBoom! is a new kind of picross- or nonogram-puzzle game, with over 60 levels in 4 degrees of difficulty. The game features two kind of level types: One is time based and the other one has a limited number of permitted false attempts. No matter what, if you fail, the level will go "Boom", so you have to act smart. The objective of each level is to uncover an image in a grid of squares, which in PixelBoom! are called "pixels". There are pixels contributing to the final image and pixels, which must be transparent. It is your goal to deduce which are the contributing and which are the transparent ones. Digits, which are attached to the grid, will tell you the number of consecutive contributing pixels in each row and in each column. Combining these numbers is the key to solving the level.
Forum Thread: PixelBoom! (by Patrick Foerster)
---
Race The Sun
iTunes Description
You are a solar craft. The sun is your death timer. Hurtle towards the sunset at breakneck speed in a futile race against time. Delay the inevitable by catching energy boosts which reverse the setting sun – if only for a moment.

Race The Sun is inspired by arcade games of the past with a focus on highscores, short game sessions, and pure fun mingled with a nerve-wracking tension. The rules are simple: don't crash, stay in the light, and don't slow down!
Forum Thread: Race The Sun (by Flippfly, LLC)
---
Red Game Without a Great Name
iTunes Description
The mechanical bird is flying through an unfriendly, Steampunk world. Help it avoid obstacles and deadly traps using its teleportation ability while picking up power-ups. Grab as many gears as you can to fully clear the level.

The mechanical bird is a messenger carrying a secret message through a dangerous land in a Steampunk world that is very unfriendly to its inhabitants. Help him get through 60 levels full of deadly traps. Be wary of barbed wire, spikes, and moving objects, like windmill blades.

The bird is flying by itself. You need to teleport in order to avoid obstacles and get to the end of each level. Touch the bird with your finger, swipe to the place you want to teleport it to, and release.
Forum Thread: Red Game Without A Great Name (by iFun4all)
---
Scrappy Cat
iTunes Description
Scrappy Cat is a one-tap platformer where you jump, claw and slide through levels of increasing difficulty.

– Tap anywhere to jump, claw and slide.
– Play again quickly.
– 18 levels.
– No time limit per level. Take your time.
– Save and share your progress on Game Center.
– Replenish lives by completing a level or by watching video ads.

Scrappy cat is made with love by Totebo, a small independent game studio.
Forum Thread: Scrappy Cat (by Totebo)
---
Shibuya Grandmaster
iTunes Description
Can you become a Grandmaster? Featuring a stunningly simple and award-winning mechanic, Shibuya Grandmaster is a fast-paced arcade game of depth and old-school challenge that will have you honing your skills for years.

It's simple to learn, but you'll be tested as your brain adapts to a whole new way of thinking and your fingers try to keep up. Don't give up! As you learn to effortlessly plan ahead, form combos, and dig yourself out of tight spots, the feeling of being in the zone is unlike anything else.
Forum Thread: Shibuya Grandmaster (by Nevercenter Ltd. Co.)
---
Skill Wave
iTunes Description
Explore an abstract world with dynamic landscapes and sharp obstacles! Avoid obstacles and collect power ups in this new endless action game. How far can you get?

How to Play:

Tap anywhere on the screen to move the ball left or right. Collect the power ups and avoid the obstacles!
Forum Thread: Skill Wave (by Appsolute Games LLC)
---
Smashables
iTunes Description
Match and smash bricks before they reach the top to beat the high score in this fast paced endless classic.

Discover new bricks, do wipeouts and unleash secret combos while you survive exciting near miss moments, recover from mistakes and smash bricks away.

Let's smash!
Forum Thread: Smashables – Match and Smash Endless Gameplay
---
Suit Suit Go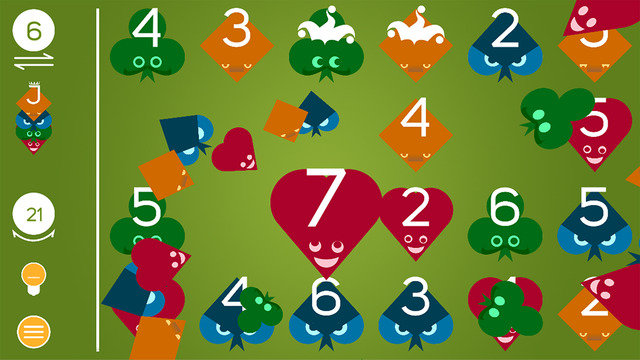 iTunes Description
Suit Suit Go is an original card/puzzle game from the creators of Fold and Twitchy Thrones!

Upgrade your cards until you have four of the target rank! Play the campaign to discover new and strange cards and save the kids from the Mad King! Unlock the survival mode and try to make it for as long as you can!
Forum Thread: Suit Suit Go – Card/Puzzle Game
---
Warhammer: Arcane Magic
iTunes Description
Engage in epic battles and tactical gameplay that challenge both novice and veteran in Warhammer: Arcane Magic, a turn-based digital board game set in Warhammer Fantasy Battles.

Assume the roles of famous Warhammer wizards — including Teclis, Balthasar Gelt, and Wurrzag. Use spell cards to fight legendary monsters (such as Harpies, Cygors, and Exalted Bloodthirsters) or mystically have them fight by your side! Win battles to progress through a deep single-player campaign, acquire spells, and take on even more menacing foes. It will take more than courage and strength to defeat enemies conjured by a storm of magic. How far will your skills take you in the search for Arcane Magic?
Forum Thread: Warhammer: Arcane Magic (by Turbo Tape Games AS)
---
World of Warriors: Quest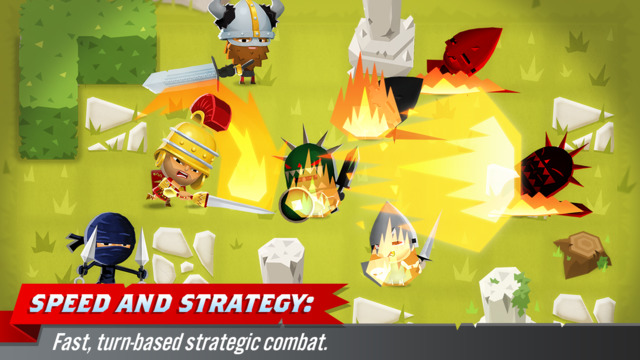 iTunes Description
Vikings, Romans, Ninjas! Let battle commence in this epic RPG quest across the mysterious Wildlands.

Discover lost stories from the amazing World of Warriors as you attempt to save this war-torn realm from destruction.
Forum Thread: World of Warriors: Quest (by Mind Candy Ltd)
---
You Against Me
iTunes Description
A simple game… You. Me. Claim, steal, lock, score, win!

You Against Me is a turn-based card game where players take turns trying to lock as many squares as they can by claiming and stealing numbers on the game board. It's easy to learn and quick to play. The more you play, the more strategy you develop and the harder it is to put down.
Forum Thread: You Against Me (by Easy 8 Software)
---
42 Orbs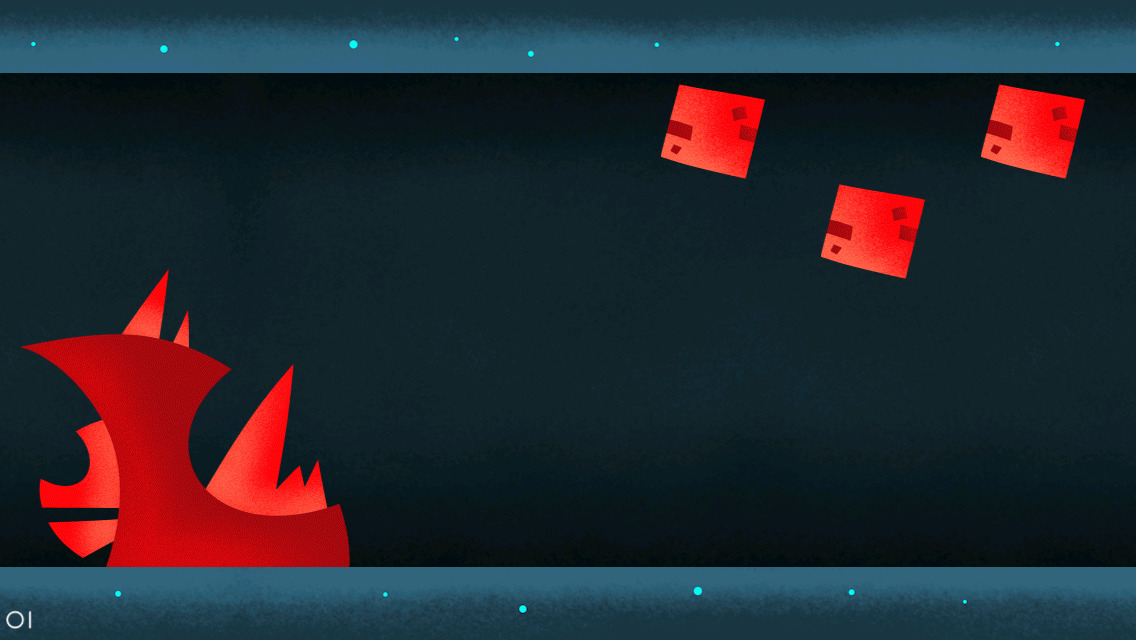 iTunes Description
42 Orbs have wandered out of the light, it's up to you to guide them back.
Tap to launch the Orb.
Avoid all obstacles.
Save all 42 Orbs.
Smash as little as possible.
Forum Thread: 42 Orbs (by TwoDoor Games)