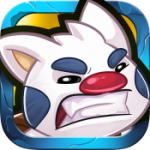 With Jared out of town this week, I decided to tap Carter "3.5 Stars" Dotson to join instead. Cranky Carter, the source of The Carter Crater, and I discuss some surprisingly random stuff with Mike Meade before being joined by Prettygreat's Phil Larsen later in the podcast to talk about where he sees the future of the App Store headed for indies with so many stories coming out about how little money is often made by developers. There isn't any substantial game discussion this week as due to scheduling we recorded this on Tuesday, which was before the new games even came out. To make up for it, we'll do an extra-rad podcast next week, I promise. My other idea for this week's episode was to read an hour worth of Five Nights at Freddy's fanfiction. I'm not sure if this is better or worse.
Don't forget to shoot us emails with any questions, feedback, or anything else relevant or irrelevant to [email protected]. We read 'em all, and love decoding messages written entirely in emoji. As always, you can listen to us with the links below… And if you like what you hear, please subscribe and/or drop us a review in iTunes. Much appreciated!
iTunes Link: The TouchArcade Show
Stitcher: The TouchArcade Show via Stitcher Radio for Podcasts
RSS Feed: The TouchArcade Show
Direct Link: TouchArcadeShow-214.mp3, 61.3MB
---
This week's episode of The TouchArcade Show is sponsored by…

Beast Bound, Free - Check your pants. Turn out those pockets, what'dya got? Half a bandaid, an iPhone full of nothin', and ZERO money?
What're you crying about? That's PERFECT! An iPhone and zero money is exactly what you need to play BEAST BOUND, the new mobile RPG by JB Gaming. Dive into a world teeming with belligerent beasties and at least one arrogant floating cat and leave your sad, sad existence behind! Beast Bound will take you back to a time when RPGs were more about simple fun and whimsy and less about androgynous school boys waggling their sassy hairdos at monsters.
Did I mention that Beast Bound is a universal app? 'Cause it totally is.
Now, check your pants again, is that a little Beast Bound I see in there? It better be.