Ben "Yahtzee" Croshaw, Australian national treasure and host of the weekly game review show "Zero Punctuation!" over at The Escapist, is a man of many talents. In his free time, when he isn't taking part in the running of video game themed cocktail bars or doing manly combat with the horrifying fauna of Australia, he's an amateur game developer. You can find many of his creations over the years on his site, but now, with the help of Addicting Games and Defy Media, his very first mobile game, Hatfall ($1.99), is available for download. In it, you help the man himself get his hat back. Over and over again. While also dodging refrigerators, anvils, and trying to discern which devilishly handsome plain white avatar is yours.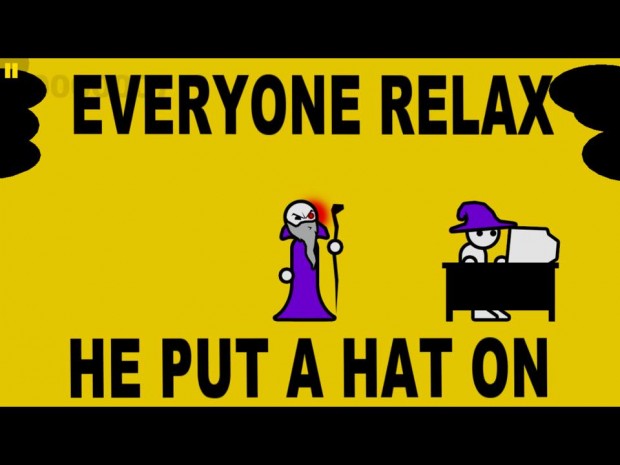 With a very dry wit and an extremely… let's say 'colorful' imagination, many have come to love Yahtzee's signature style of cynical, swear spitting misanthropy and exceedingly odd insults and comparisons. And that's definitely the main draw of this game. It's hysterical. Gameplay wise, it's perfectly serviceable, but the stars of the show are the 'WTF just happened?" moments, and they are a-plenty. Core gameplay has you running side to side, placing Yahtzee under the correct shadow to catch his falling hat. This gets harder as more people are added and different objects fall. It gets harder still when you catch the wizard's hat, which spawns a stupidly difficult room. If you succeed at this room, you usually get a huge bonus later down the line. You can also spend the hats that you acquire on new characters to run around the room with you.
There are other game modes as well, and I'm not even 100% on how you activate them. Some are maybe tied to the random gifts you acquire, but I'm not sure of the logic yet. Some gifts seemed to not do much at all. The other game modes are something special though. Have you ever wanted to play a hat dating simulator? Well I hope you can prepare yourself mentally for that. You can play a free browser version here. Also, enjoy the trailer! I just hope you're ready for the game to give you pertinent criticisms of your skill level, such as the quaint 'Your parents are ashamed' or the very apt 'Look at this stupid pillock!' Try not to look as dead inside as this guy, at least.