The trend you see lately in mobile gaming is for developers to often try smaller projects. They're less risk, and can still pay off big, especially if you get something that gets a fraction of the downloads of a Crossy Road (Free). Big games are a risk. Big free-to-play games are a massive risk: if you don't have the resources of a studio backed by investors, you may struggle to even be in the same ballpark as the studios below King and Supercell. So, it seems initially like it's a major folly for Fabulapps to try and compete with the big kahunas of free-to-play with their upcoming game Korrigans: Kingdom Wars, currently in soft launch. But they think they just might have what it takes.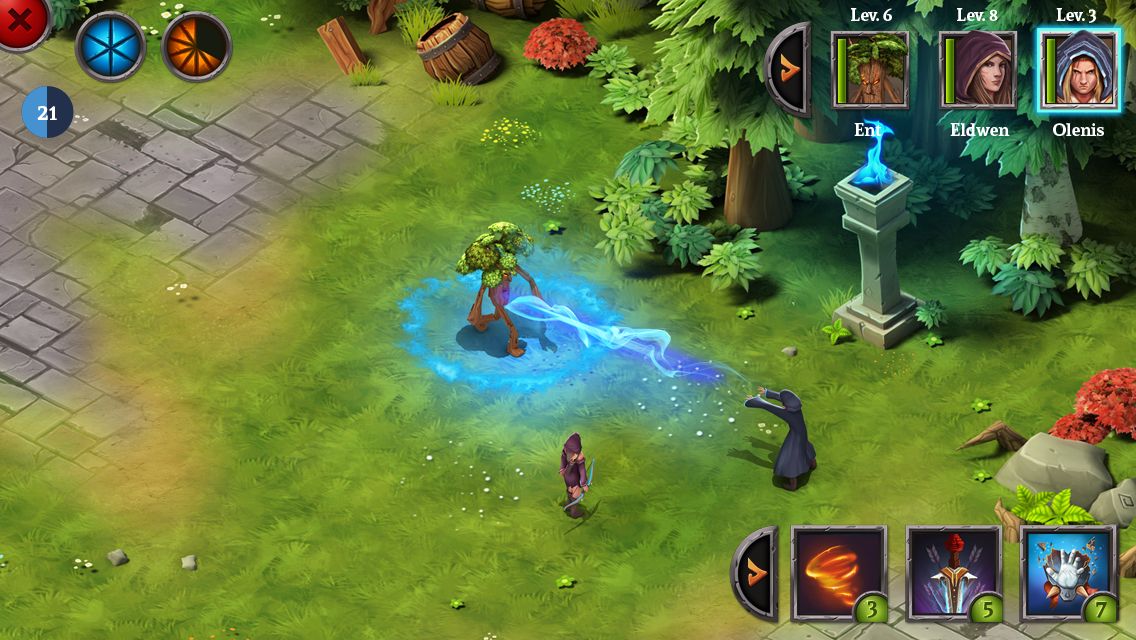 Fabulapps is composed of just two primary people. Thomas Pagot of the studio says "It's almost exclusively the two of us, we just use "contractors" for some translation work, or voice over work." They've been doing this for over 5 years now, and in fact, Pagot has never met his partner, Gildas Quiniou: "We are both working from home and living about 400 miles away from each other. We have never met each other in real life yet!" They take on a multitude of roles, but Gildas handles all the coding while Pagot is the primary artist.
While Fabulapps has been making free-to-play games for a while, primarily their Heroic Legends (Free) game released in 2011, they realize they made some mistakes along the way. Pagot says " It took us about a year to complete [Heroic Legends] because of all the items we had to integrate, social features, etc. We released it worldwide with no prior soft-launch (We would never do that today though)." With Korrigans, he says "Honestly I never thought we would spend so much time on it, we started it with a 6-8 month development time in mind. It has now been two years."
So, what is Korrigans? At first glance it looks like Clash of Clans (Free), but Pagot says that they tried to mix things up. "Our approach is a little bit different than the CoC clones. I won't lie, the game is still a city-building game with time required to construct building, train troops, etc, but we definitely wanted to add our own touch to the genre (gameplay and monetization). About the gameplay, we added real-time turn based battles where up to 3 players can battle against a boss in an arena. We wanted to add real-time battles where players could see each other actions and make smart decisions."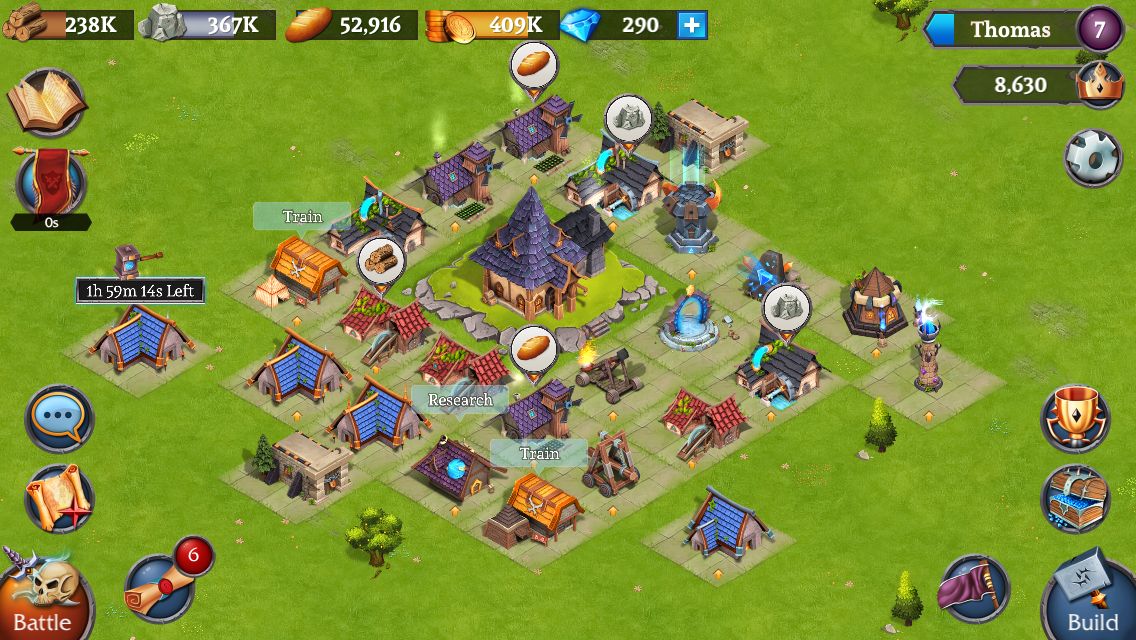 The big way that they want to appeal to players is by minimizing pay-to-win aspects as much as possible. Pagot says "We wanted to make a fair game. We decided we didn't want to sell resources directly, players would have to earn them the hard way. You can't refill your vaults either. Paying players can only increase their production rate by 25% for a few days, but can't buy their way to the top. It might be a risky strategy for us but we are sick of games where a new player can spend thousands and beat a regular player that is playing since several months in just a few hours. We are confident that players are more willing to invest time and money in a game that is fair to everyone."
In fact, negative experiences with Heroic Legends motivated the studio to try and negate as much 'pay-to-win' as possible. "We had (and still have) pay-to-win issues with Heroic Legends. In the game, you have to do tasks or attacks in order to earn experience. The energy system is a good way to stop players from progressing too fast, but of course we were selling energy refills. We had some players spending hundreds, (if not thousands for some) just to be the first on the leaderboard and reach the max level. Heroic Legends was also a surprise for us, we didn't expect people could spend so much to rise quickly in the charts, making other less-paying players a bit disappointed and less ready to spend money on it. For each "big-whale", how many smaller players have left the game ? Well, we are pretty sure all the smaller players who left would have globally pay much more than big-whales."
How are they adapting this to their new game? "We learnt a lot from Heroic Legends, for instance there is a top level you can't go higher. That lowered the interest for a top level player to keep fighting, and they stopped buying [in-app purchases]. In Korrigans you need to keep coming for [battles] otherwise you will lose power and your position in the leaderboard. With Korrigans, we are definitely betting on really small purchases, and not on the whales."
We often hear about games going into soft-launch, but what does a developer learn from these limited releases? Pagot says "The feedback has been pretty positive and players have been really invested in helping us make the game better. Still, we noted many things that had to be changed before releasing worldwide. For example, our most interesting feature in my opinion are the online battles. At first (and in the actual version), you have to go to the map, find an arena with a level you have a chance to beat and then enter it. We found out that the path to do a battle was way too long, that's why we are now reworking on this part by integrating a campaign mode plus an auto-matchmaking system that players can start right from the menu on their village. Players have also been asking for more interaction with the clans, that's why we are going to integrate wars and more for the clans, to make them more social."
One challenge, especially for a small indie studio, has been getting players to populate the game while still testing among a limited userbase. "The main problem remains in soft-launch: getting players when you don't have the budget for marketing. A soft launch is only valuable when you can get interesting stats and feedback from a large number of players, well this is not an easy task for independent developers! We heard stories of studios spending a lot just in soft launch to get solid stats and make improvements, but we are not in that case. We tried some FB ads with no success. Our only remaining solution was to use the players we already had in hand with our other games. "
"What we did was display a small popup to a specific group of players in our game Heroic Legends, asking if they wanted to try our upcoming game. Since HL is an online game we can target players based on their location, so we just targeted Canada/NZ/Australia players. Of course some features rely on having enough people play the game. A soft launch as we made it here didn't bring enough players for these feature to be as enjoyable as they can be (tournaments, coop arenas etc), so people are asking for more players to come, of course. Overall the reception has been pretty positive and we are confident the next update will be well-received."
With all the Clash of Clans clones that are out there, it's hard for any one game to stand out. I asked Pagot why people should check out Korrigans when it goes worldwide. "The game is probably the most fair game out there, if you want to compete with real players and not credit cards, it's the game you want to play. Many werewolfs, ents and more to destroy with your friends in strategic real-time battles! Plus we are committed to listen to player's feedback and make the addition or changes needed, that's the advantage of being an independent developer."
Definitely, the benefit of being an indie studio that has to answer all the emails yourself is that you are right there with the feedback of your game. And perhaps, if they can get the downloads, they could make a game that wouldn't require spending thousands to be a top player. Such is the benefit of being a two-person studio: a failure for a large company is a glorious success for a couple of self-employed programmers who don't even have actual offices. Keep an eye out for Korrigans later this year.