Welcome to another week and another huge batch of new iOS games. This has turned out to be a surprisingly great week, especially if you're into that whole "roguelike" thing that's so hot right now. Desktop Dungeons has been a huge hit on PC and now, despite rendering its name nonsensical, it has arrived on the iPad. Then there's Sproggiwood, another desktop roguelike that's been quite popular and should make a great fit on the iOS platform. Plus it's just so darn adorable it makes me want to jump into a vat of acid. Finally, there's The Deep, and endless roguelike that does the whole "Game Boy visuals" thing quite well. Of course there's also tons of other stuff for all types of gaming tastes, so check out the list below and let us know which games you'll be picking up.
---
Battle of Gods: Ascension
iTunes Description
Fight tactical battles against the forces of Hades! In Battle of Gods: Ascension you play Hercules and other heroes in a turn-based strategy set in the Greek Mythology. Defeat dark creatures like centaurs and minotaurs and confront Hades himself!

Summon Divine Cards and embrace the power of the Gods! Survive the most you can and stop the armies of the Lord of the Underworld. Test your limits! To survive further in the game will require you to think strategically and plan the best positioning of your heroes, smart use of Divine Cards and much more!

Fight through forests, deserts and the Reign of the Dead!
Forum Thread: Battle of Gods: Ascension (by Studios of Magic)
---
Bit Bit Love
iTunes Description
In the world of the Bits where all is order and calculations, two small beings revolt facing the system that directs them. Save R0D and A5CA from security guards who want to annihilate them and break their love!

Outsmart the traps set by the system mastering the powers at your disposal! Check the passage of the Bits activating barriers and anticipating movements at each turn! Security guards must not reach R0D and A5CA!
Forum Thread: Bit Bit Love (by 82 Storks & Blue Pill Games)
---
The Branch
iTunes Description
Stay on the branch as long as you can!

Tap the screen to rotate the world and keep Mike safe.

Get higher scores and collect gems to unlock new characters.
Forum Thread: The Branch (by Ketchapp)
---
BreachTD
iTunes Description
Breach TD is the action-packed team-based multiplayer-defense game where you fight to survive against a horde of the meanest void-monsters you've ever faced. Choose your team of powerful guardians and create your ideal defense squadron to safeguard your realm. Upgrade your guardians into heroic warriors to hold off the void's increasingly stronger beasts. Send mercenaries to overwhelm your opponent, adding to the wave of enemies they must face or use them as extra defense on your own lane. Use the massive power of Battle Cards to shift the tide of war: summon war machines, cast blazing meteors, send healing drones, boost your guardians with the power of lighting, and much more.
Forum Thread: BreachTD (by Space Rhino Games)
---
Cartoon Survivor
iTunes Description
Cartoon Survivor is an adventure runner, set in a beautiful vibrant 3D world where you run, jump and glide through death defying obstacle courses full of feisty creatures and hazardous environments. You must help Doo Doo get to the finish line before time runs out!

Cartoon Survivor is the producer's last chance for a TV mega hit and ratings are at rock bottom. Following the demise of his last 'hero' the producer is currently reviewing applications for cartoons bravest idiot to star in the show. As the (only) successful applicant, Doo Doo must survive cartoons ultimate test; completing a number of death defying runs through hostile prehistoric environments before the dynamite strapped to his back explodes!

It's Doo Doo's last chance at hitting the big time and your big opportunity to help him survive Cartoon Survivor.
Forum Thread: Cartoon Survivor (by Spunge Games)
---
Championship Dead End
iTunes Description
Bob is running from lift to right in the screen. Jump is only one action what you can do. The double jump is one more tap with when you already jump to mid-air. If Bob hit against the splinter or touch the monster, the game will be over.(hit against the wall without splinter or hit against the ground is fine.)

Using jump to pass through the block and monster, arrive the right side in the screen, the stage will be clear and Bob will go to the next stage. When you clear the all 50 stages, you will see the end of the game.
Forum Thread: Championship DEAD END (by PUMO)
---
Cosmic Badger
iTunes Description
Cosmic Badger is a mobile platform game following the quest of a lone badger to save his planet using the majestic art of teleportation. A meteor is going to collide with the Badger Kingdom and must be destroyed before it's too late.

Cosmic Badger has travelled across the galaxy to track down the celestial bomb, and now he must navigate his way back home in order to destroy the meteor. Help our hero traverse dangerous worlds and avoid blowing up by teleporting past obstacles and terrain. Swipe the screen to place portals where the swipe starts and ends.

Set over 21 different levels of increasing difficulty across 7 unique stages, reach the end of each level and collect all 100 coins to achieve the high score and save the badgers from disaster. The fate of the Badger Kingdom is in your hands!
Forum Thread: Cosmic Badger (by James Reilly)
---
Creep Shock
iTunes Description
This game may be too hard for you. Download right now to find out.

How to Play

> Tap to jump the creep
> Time jumps to just right
> Avoid falling into the void
> Most importantly…. BEAT all your friends!
Forum Thread: Creep Shock (by iCustomized)
---
The Deep
iTunes Description
Delve into the deep in this retro rogue-like! Swipe to move your diver around and keep away from the enemies as you try to find out what lies in the dark at the bottom of the ocean.

An endless ocean of monsters to battle! Epic boss monsters that will puzzle and more than likely … beat you! Beware of negative status effects and grab every bubble you can!
Forum Thread: The Deep (by Daniel Gallagher)
---
Desktop Dungeons
iTunes Description
Desktop Dungeons, the award-winning unique puzzle roguelike makes its debut on iOS! Fight your way through randomly generated dungeons, collect spells, items, and loot to defeat the dungeon boss and earn gold to upgrade your Kingdom. Unlock new classes to play as, useful items to discover, capricious gods to worship, and enemies to fight. All in service of the almighty bottom line and saving your Kingdom from peril.

Desktop Dungeons packs all the challenge and reward of a dungeon crawling roguelike game into bite sized chunks of puzzle goodness. Take an Elf Warlord through the Venture Cave, defeat Aequitas the Warlock and sell his beard to your Taxidermist to afford an upgrade to your Blacksmith. Or, spend time in the game's extensive puzzles trying to understand exactly what worshipping Taurog is all about.
Forum Thread: Desktop Dungeons (by QCF Design)
---
Go Ballistic
iTunes Description
It is said that no one has ever destroyed more than 500 enemies during an attack. Will you be the first one?

An alien enemy has just launched a massive attack on Earth targeting major cities and landmarks around the world. You are the commander of Earths ballistic missile defensive units.

Your mission is to go ballistic destroying the black and white enemy using state of the art ballistic missiles.
Forum Thread: Go Ballistic (by NORMAN ROZENTAL)
---
Gun Fu: Stickman 2
iTunes Description
It's back! The classic action game returns bigger and badder than ever!

Blast away endless hordes of enemies in the fastest game on the App Store. Put your reflexes to the test, unlock weapons and equipment and climb the leaderboards for global domination!
Forum Thread: Gun Fu: Stickman 2 (by Dobsoft Studios)
---
In Churning Seas
iTunes Description
In Churning Seas is an atmospheric, physics-based puzzler in which you pile up and balance uneven, procedurally generated shapes over the strong bedrock of some long-forgotten primordial sea.

Cleverly using some shapes as levers, others as counterweights, and strategically spending sparse special-effect tokens, your goal is to build the soundest structure and climb as high as possible before the ever-rising sea catches up on you.

Hostile seas are no joke, but determination will lead players to unlocking secret perks which will permanently add new gameplay elements, thus enriching the experience and helping postpone one's inevitable demise.
Forum Thread: In Churning Seas (by Rodolphe Gonzales)
---
Jenny LeClue – Playable Teaser
iTunes Description
The Journal of Professor Zazer is a mini adventure, set in the mysterious world of Jenny LeClue – Detectivù. Join brilliant young detective Jenny LeClue and discover the secrets within!

This is a completely free Playable Teaser – A taste of the atmosphere of Jenny LeClue.

Jenny LeClue, Episode One will feature a fully voiced cast of characters, platforming, and many secrets to explore and uncover in Arthurton. We hope you enjoy the Playable Teaser!
Forum Thread: Jenny LeClue – Playable Teaser (by Mografi)
---
Lava Fever
iTunes Description
A volcano dropping, fireball dodging, soul sacrificing ride that puts your reflexes to the test.

– a nerve-racking descent into the heart of the volcano
– move fast and dodge fireballs, but stay clear of the sharp walls
– unlock new volcanoes and pickups
– can you handle the endless volcano?
– a unique art style that pulls you into the action
– control the game by using the tilt-sensor
– randomly generated levels give you endless replayability
– No obnoxious push notifications or F2P mechanics
Forum Thread: Lava Fever – 2D arcade game inside the volcano (by Jeroen Janssen)
---
One More Dash
iTunes Description
Dash. Collect. Die. Repeat. A deceptively simple game about timing. From the makers of One More Line

Simple and intense gameplay
Slick design with dozens of unlock-able colour themes and avatars
Love the game but hate ads? Single IAP to remove ads. That's it!
Mission system to keep you coming back, over 300 missions to complete.
Forum Thread: One More Dash (by SMG Studio)
---
Pits of Death
iTunes Description
Pits of Death is a dungeon adventure for iOS and Apple Watch. Explore a network of underground chambers on your quest to slay the dragon. But watch out for the pits!

Pits of Death features graphics inspired by electronic handheld games of the 80s, and gameplay that tests your logic and your nerve. Good luck!
Forum Thread: Pits of Death (by Rebisoft)
---
Rigibi
iTunes Description
Mix colors in the right order to get the correct shade. Use HEX-codes to overcome difficulties. It's not an easy puzzle!

– A minimalist game where you get to put your thinking cap on
– Puzzles can be solved both intuitively and mathematically
– HEX-codes for designers and programmers
– Free keys for each 10 solved levels
– 99 handmade RGB levels
Forum Thread: RIGIBI – really hard puzzle about RGB color mixing!
---
Roll'd
iTunes Description
The endless runner with a twist and we do mean that quite literally… Enter the world of Roll'd where rolling comes in at a new degree.

Try and best you record with each game but remember about the twist, for you do not control the hero…
…you control the track. Keep it steady and beat your record with every new game. The higher your score the faster you levelup and unlock the next level.

Run through the varying settings all specifically stylised with references and inspirations ranging from the CGA era, through 8-16bit NES/SNES to the golden ages of the Amiga and more. But at the same time they are all up to date with modern lighting effects, dynamic weather and some other cool visual treats.
Forum Thread: Roll'd (By Michal Neugarten)
---
Sproggiwood
iTunes Description
Bring civilization to Sproggiwood, a story-driven, turn-based roguelike set in a humorous world inspired by Finnish mythology. Grow your civilization and plunder procedural dungeons with six unique classes. Outsmart mischievous monsters who work together in unexpected ways. No two dungeon dives are alike.

Sproggiwood distills the roguelike genre down to its core fun ingredients: inspired character classes, loads of interesting loot, and procedurally populated dungeons with monsters and traps that combine to produce totally unique tactical challenges. In Sproggiwood, adventure sessions are compact and chock-full of interesting choices for you to make. Each dungeon dive follows the heroic rise of one adventurer from your civilization. Journey through teeming forests, haunted swamps, teetering cliffs, and glacial mazes to uncover your civilization's whole story.
Forum Thread: Sproggiwood (by Freehold Games)
---
Storm Zone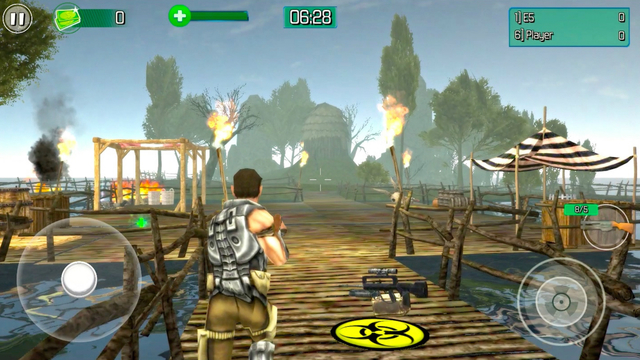 iTunes Description
Plunge into the deep abyss of the world of storm zone to experience arcade gaming with breath taking views and striking attention to detail. Equipped with an arsenal of hi-tech weapons, prepare to be teleported to another dimension of reality.

Storm zone will take you to the next helm of competitive gaming. As you walk through the walls looking for the opponent who is doomed, storm zone lets you strategize and execute the well-known first person arcade platform.

Your endeavors are recorded for you to marvel at your skills! Add a video note after an exceptional feat with a live commentary. Share the video on your friend's wall and see if they can match your skills. After all what is gaming without a bit of competition.
Forum Thread: Storm Zone (by Dream Bits Studios)
---
SubaraCity
iTunes Description
City Making Puzzle Game

When you touch the connected block, the block will collect in one place.
And the collected block will become more bigger buildings.
Develop your city bigger and bigger.

Make a "SubaraCity".
Forum Thread: SubaraCity (by Ryuji Kuwaki)
---
Toysburg: The Monumental Adventure
iTunes Description
There's a new maker in Toysburg; someone who possesses the arcane artistry of mystical manufacture that allows Toys to be made. That's you I'm talking about; surprised? Me too, I nearly sheared my moustache off.

I'm Mr. Mustard. I have been a maker in Toysburg since I was but a wee scruffamuffin like you. Don't know what a scruffamuffin is? Use your imagination and be creative, because in Toysburg you'll be
Forum Thread: Toysburg: The Monumental Adventure – (By Angry Mob Games)
---
Up You Go
iTunes Description
It's all in the title!
Forum Thread: Up You Go (by Bulkypix)
---
Word Morph
iTunes Description
Word Morph! is a new endless word puzzle game, heartily crafted for casual gamers who like fast-paced, high-score games and of course, have a love for words.

Try this simple yet challenging game, where you'll have to transform words by replacing one letter at a time, trying to stay alive and keeping the time bar up by morphing words. There are variety of word sizes to challenge your nerves and a bunch of boosters to help yourself from the mind blocks that lead to vocabulary failures.
Forum Thread: Word Morph (by Nimble Minds LLC)
---
Zombiebucket
iTunes Description
It's Raining Dead! ZOMBIEBUCKET is a fast-paced, pixel-art Arcade Match-3 Zombie Slasher. It's fun, entertaining and educational. It makes you smart and attractive. And, last but not least, it's probably the only video game out there about Zombies in a Bucket. Literally. Why pop jelly beans or watermelons when you can pop Zombies? You won't need the real world any more.
Forum Thread: Zombiebucket (by ONE MORE LEVEL)
---
Zoo Landing!
iTunes Description
Everyone climb!

Help your favorite animals escape the city zoo. Guards are all over the city, there's only one place to go: the skyscraper. Not all neighbors love animals. Some will help them with food pickups and jumpers. Others will throw everything in hand at them.

Just tap the screen to dodge falling objects. Evade bricks, cars, trucks and even UFOs!

The only way to go is UP! How far can you go?
Forum Thread: Zoo Landing! (by Tiny Bytes)
---
1942 Pacific Front Premium
iTunes Description
1942. World War 2. You and your troops are on duty near the Pacific – and there can only be one winner…
The battle continues after "1941 Frozen Front" – and this time, it's all about naval warfare! Join the navy and fight to win the battle of your life! Own the battlefield and send your soldiers to the frontline. Military combat at its best!
Choose the right tactics and use your commando to defeat the enemy! Lead the U.S. Army on their campaign or command the Japanese forces on their mission! Take out enemy alliances with infantry, artillery, tanks, warplanes, battleships and submarines and earn your stripes as an ingenious commander at the PACIFIC FRONT!
Forum Thread: 1942 Pacific Front Premium (by HandyGames)
---
8-bit Waterslide
iTunes Description
Ever wanted to torture a small, helpless computer game character? Well now you can in the world's first INFINITE SLIDER! Take control of a screaming coward, TIPLER as he hurtles along this awesome pixel death slide. But before his gruesome demise… Why not set him on fire? Kick him in the nuts? shove fruit up his butt or shower him in acid? It's pure, wholesome fun for the whole family!

Still not convinced you need this game?

–Double fart jumps–

Yep, that's right! This game isn't just genre bustingly original, it's also super highbrow and intellectual. 8-BIT WATERSLIDE is the debut game of animation duo tea&cheese in collaboration with indie-game behemoth, Nicoll Hunt, creator of FIST OF AWESOME.
Forum Thread: 8-BIT WATERSLIDE (By Ancient Games DS)