Hello everyone, and welcome to the week! It's time once again for our look back at the noteworthy updates of the last seven days. No two ways about it, I've got a bad case of the Mondays. Don't worry, friends. For me, that just means listing a bunch of cool updates! Of course, you can keep an eye out for updates yourself using AppShopper Social (Free), the watchlist in the TouchArcade App (Free), or by participating in the TouchArcade forums, but this weekly summary is here to fill in the things you might have missed. Let's dig in!
FIST OF AWESOME, Free The weird and fun Fist Of Awesome got an update that added some extra visual effects to the game. This update also addresses compatibility issues with the iPhone 6 family and iOS 8, along with a bevy of other bug fixes. It also claims the jokes are funnier, but I'll leave that up to you fine people to investigate and come to a consensus on.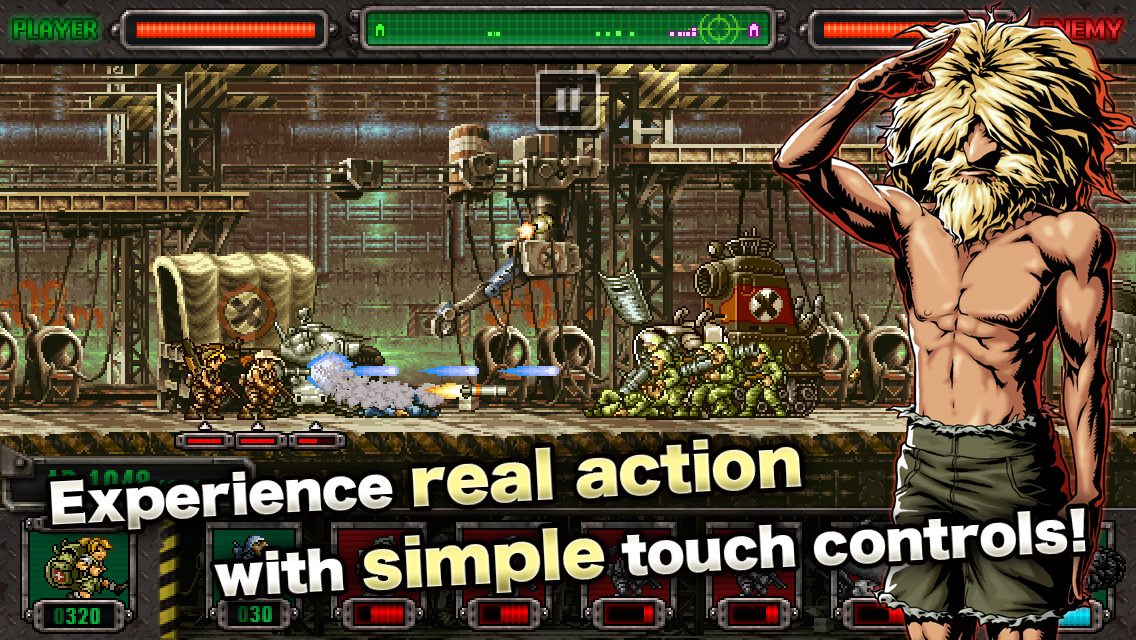 METAL SLUG DEFENSE, Free The King Of Fighters invasion continues with the addition of Sie Kensou and Chin Gentsai from SNK's popular fighting series. There's also a new Stone Turtle unit that certainly looks like it would displace a great deal of water when submerged. As usual, there are new areas and new special missions to keep the gravy train rolling.
Yu-Gi-Oh! Duel Generation, Free Once fought with swords or pistols, modern duels are now carried out by spiky-haired kids who yell out the name of a card as they slap it on the table. If that's your jam, let me give you some good news about Duel Generation. They've fixed a ton of bugs, overhauled the ranking system, and made a few tweaks to speed up the game. They also added notifications for game or friend invites, which seems like it should have been in there from the start.
Active Soccer 2, $1.99 Lots of additions in this update to Active Soccer 2. The game now supports multiple career slots, has better switching controls, and can now deal more intelligently with suspensions and injuries. There are several other changes and improvements as well, so check it out if you're interested.
Lost Echo, $3.99 This is more of a technical update than anything, but I'm sure owners of Lost Echo won't mind. The iPhone 6 Plus was having some display issues, and that's been fixed. 64-bit support wasn't what it needed to be, and hey, that was fixed, too. The game now supports Metal, which while not something I would call a 'fix', is certainly quite welcome.
Candy Crush Soda Saga, Free Yikes, Candy Crush Soda Saga has 15 more levels, bringing the total up to 330. Here I am still stuck on level 185. Well, if you're doing better than I am, you'll surely enjoy the jungle theme of the new levels, along with the new Special Candy Cannon.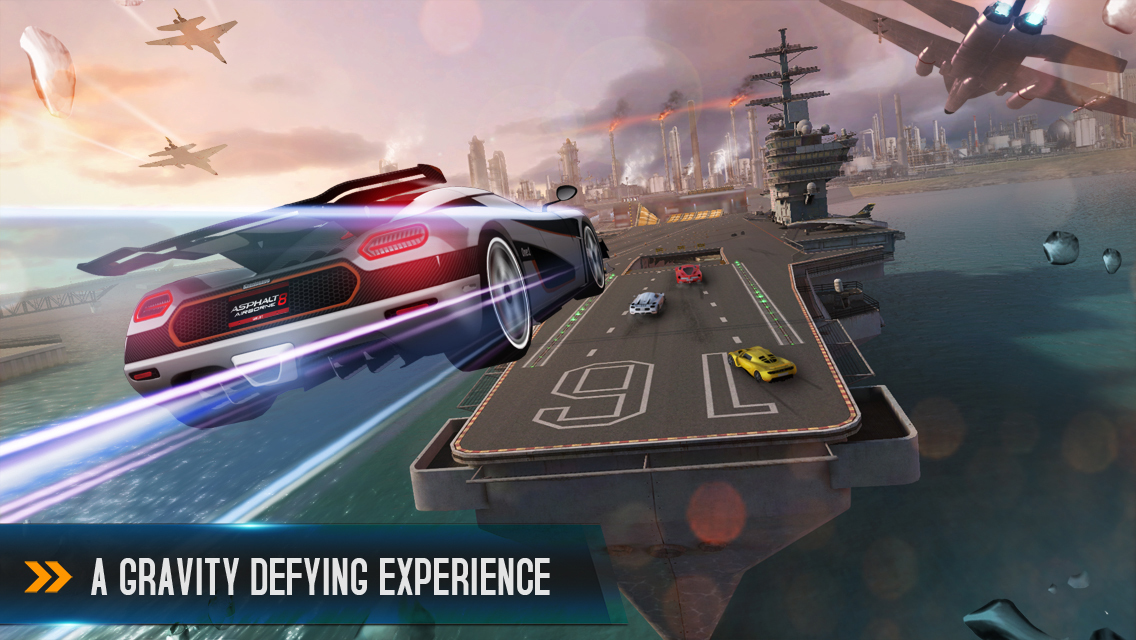 Asphalt 8: Airborne, Free This update brings 300 new decals to the game for customization purposes. The Enzo Ferrari has also been added to the garage. I mean, more customization is always a good thing, but it's kind of hard to drum up enthusiasm for more car stickers. That might just be me, though. If you agree, well, you can at least enjoy the improvements made to the game's cloud saving feature, right?
Farm Heroes Saga, Free I could make another joke about how these animals don't belong on a farm or what-have-you, but instead I'll just make a reference to that joke and tell you that Farm Heroes Saga has 15 more levels, with three more animals to collect. This update is supposed to have an Italy theme, I guess. There are gondolas, doves, and… catfish? That last one is probably a reference to the 280-pound catfish someone caught in Italy a couple of months back.
Pocket Mine 2, Free Can you dig it? Ha, The Warriors was such a good movie. I should watch it again soon. Anyway, Pocket Mine 2 has a new island named Asgard Island. I guess you dig into the ground and it says thee nay or something like that. There are also new events where you can earn some valuable in-game cash. Add in compatibility improvements and bug fixes and you've got a pretty nice update.
The Ensign, $1.99 The Ensign is unapologetic about being the ridiculously hard follow-up to a game that was already pretty tough. How unapologetic? The new update addresses complaints about the difficulty of the sniper enemies by making them even tougher to handle. There are also some minor tweaks to the aesthetics that you may or may not notice. Your visual cortex will surely appreciate them even if you don't!
Run Sackboy! Run!, Free Sony's iOS games aren't the worst things around, but it's safe to say the highlights of most of them come from how they connect with the related console games. The new update to the tragically uninspired spin-off of the amazingly creative LittleBigPlanet adds some new stickers that unlock costumes in LittleBigPlanet 3. They've also slightly improved the visuals and fixed a bunch of bugs.
Skyward, Free I wonder what Escher would think if you told him that more than 40 years after his death, he would inspire a mini-boom in games for tiny pocket computer phones? He would probably think you were crazy and ask you to stop standing on his wall, I'd think. Anyway, Skyward is Ketchapp's game that looks like that other popular Escher-inspired iPhone game but actually plays pretty differently. The new update adds a new Dark Hardcore mode to dig into, along with some new achievements. They've also cut back on the ads and added a $0.99 IAP to remove them, if that's your fancy.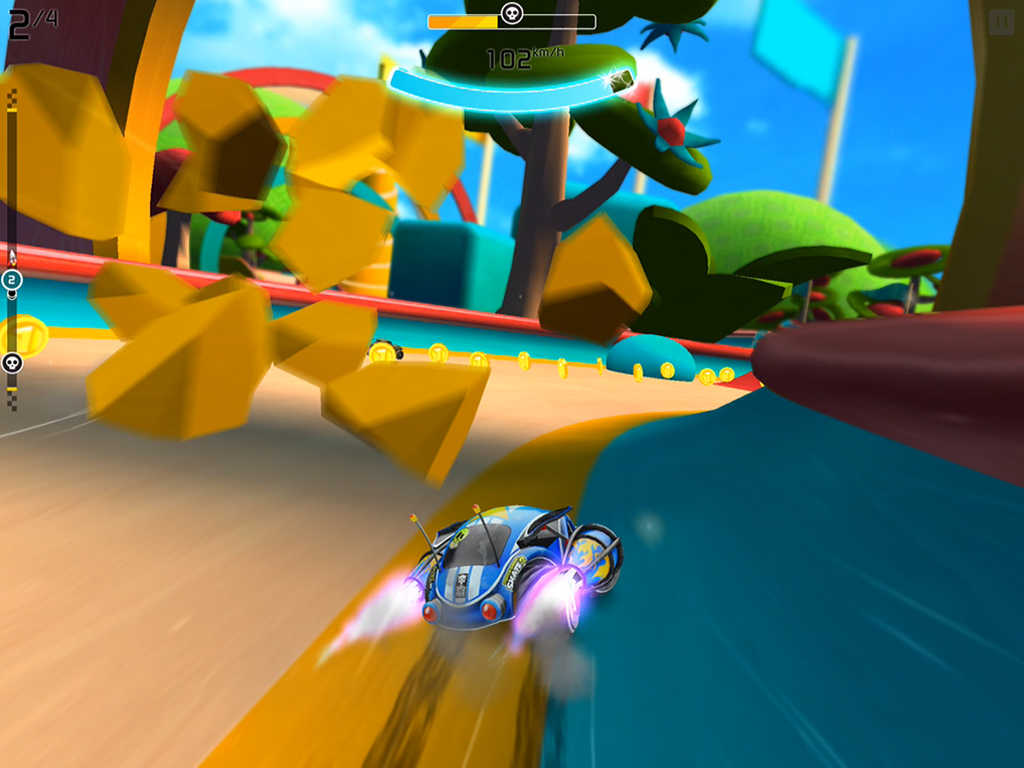 Rocket Cars, Free Rocket Cars is one of those games that's just a lot of goofy fun to play around with. If you've enjoyed the game so far, you'll be happy to hear that the newest version has 10 more levels to play around with. Excellent!
Dungeon Crawlers, $2.99 Somehow, this seems to be the controversial update of the week. So, Dungeon Crawlers has a new version out that supports Metal, and some people are wondering why this update to the older version didn't include that support. The developer says they didn't want to leave behind players with older devices, so they included all of the new content in this update, but made the graphical improvements exclusive to the other app. Anyway, this version has eight new challenge maps, an arena mode, better camera positioning, and a less buggy save system. There are also improvements to the game's UI.
Jetpack Joyride, Free Jetpack Joyride now supports cloud saving through Halfbrick Profile. This allows you to play across multiple devices and even compete against heathens using non-Apple hardware. As a bonus for signing up for a Halfbrick Profile, you'll unlock the new Cloud Nine vehicle skin for Mr. Cuddles. The downsides are that Game Center support is out and there are a few more ads than before for other Halfbrick games.
Siralim (RPG / Roguelike), Free Hey, what do you know? It's Siralim, practically the unofficial mascot of Update Mondays. With this update, we've somehow miraculously caught up with the Android version, though I don't expect that to last. As usual, it's a huge list of changes, but the highlights include some new items, further improvements to the graphics, and some balance adjustments to drop rates. If you were running into crashes with certain abilities before, you should find this new build to be much more stable.
Alto's Adventure, $4.99 This gorgeous endless skiing game now supports more languages than ever, and gets a bevy of bug fixes in the latest update. Generally speaking, if you were finding certain things you did going unnoticed by the game, you should find it more responsive now. There have also been a number of tweaks to the user interface, along with the addition of a few tips for using the wingsuit.
Elune Saga, Free The Saga continues. The Elune Saga, anyway. For this month only, the game is offering what is described as a great login bonus, which I guess puts the other months into perspective. There are new quests, a new shop, and revamps to the Monster Alert system. Fans of the Arena mode can look forward to the new Multiplier System.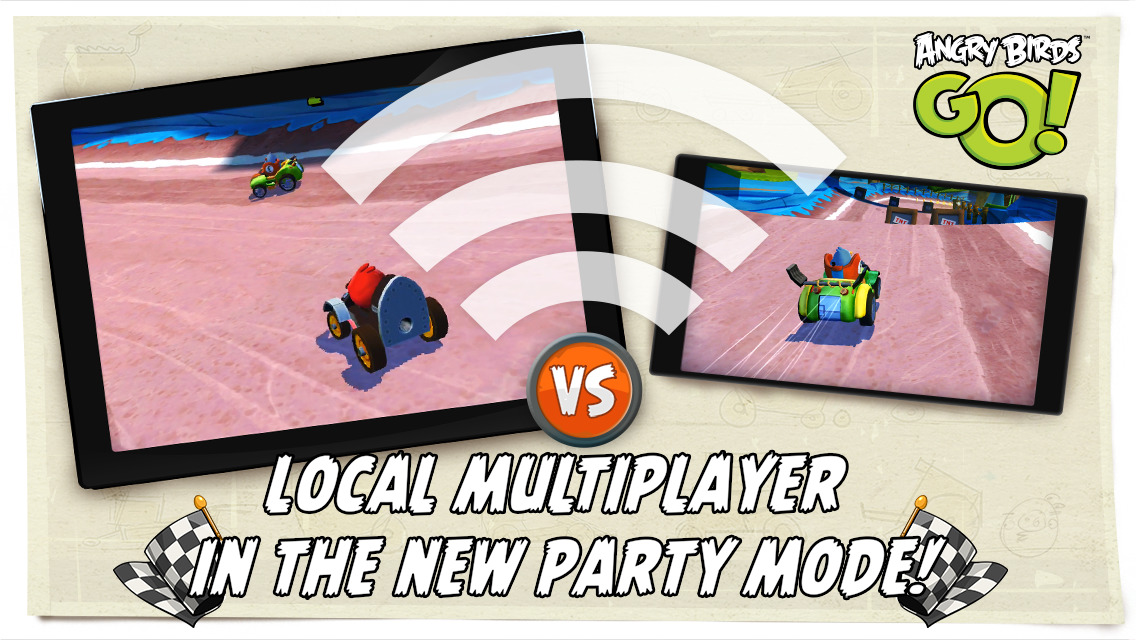 Angry Birds Go!, Free After winding people up last week, Angry Birds Go! is relaxing with a glass of bubbly and a new local multiplayer mode. The new Party Mode should be a big hit, since games like this are always more fun when you can reach over and push your opponent out the window if they're winning. I am joking. Update Mondays does not advocate violence in the name of winning at kart racing. Exception granted for Super Mario Kart on the SNES, as that was serious business.
DEAD TRIGGER 2: Zombie Games, Free An Easter update that completely missed Easter, this new version of Dead Trigger 2 adds an Easter Carnage event to the game. There are Easter gifts and decorations, a new tournament tour on the Great Wall, and some performance improvements. They've also made the current discounts on IAP permanent, something I'm sure the game's many regular players appreciate.
Prison Life RPG, $3.99 Prison Life RPG was a big hit in the TouchArcade forums when it released several weeks ago. If you're looking for something with a bit of a different theme than the usual, this one probably has you covered. The new update brings a new prisoner, more quests, and the addition of a new system for snitches and pets. There are also a bunch of bug fixes and improved animation speeds.
Dungeons of Chaos, $1.99 Dungeons Of Chaos is one of those games that I enjoyed a fair bit in spite of how rough it was in places. Games like this often go on to become polished gems through careful care and updates, so I'm glad to see the developer still working hard on this. The latest version allows you to set the start positions of your party members when you enter battle, fixes a bunch of bugs, and adjusts the proficiency system to make it a little easier to understand.
Dungeon Hero RPG, Free In my review of Dungeon Hero RPG, I mentioned how it was fun while there were things to unlock, but a little dull after that. Well, the new update to the game adds a few more things to play with in the form of three new heroes, three new pets, and 14 new monsters. You can also buy new skins for the dungeon if you're getting tired of the same old gray.
King of Thieves, Free King Of Thieves got a very pleasant update that rebalances the game in favor of the player. You no longer need to use a lockpick every time you want to play a dungeon in single player again, as once they're unlocked, they'll stay that way. You can also keep your shield up while attacking other players now, and there are no more unbeatable dungeons, among a few other fixes.
That about wraps it up for last week's significant updates. I'm sure I've missed some, though, so please feel free to comment below and let everyone know if you think something should be mentioned. As usual, major updates will likely get their own news stories throughout this week, and I'll be back next Monday to summarize and fill in the blanks. Have a great week!