Breath of Light ($1.99) is a meditative, zen like puzzle game that is beautiful, distinctive and fun to play. It's not a prototypical puzzler; it's a relaxing and unique experience which is currently rated the best new puzzle game in 92 countries by apple. The game centers around manipulating a captivating particle flow of light to pass life-force from one white lotus flower to the others by moving stones, filters, mirrors and other objects in a futuristic zen garden. The graphics are intensely beautiful, the sound track is immersive, alluring and transient. Most importantly the puzzles are challenging, surprisingly relaxing and enjoyable to solve.
Amazingly around 15 minutes into the game I didn't realize I'd spent so long playing, it's so easy to get lost within. Breath of Light is designed to be meditative; the more you rush, the less quickly you tend to go. There is a feeling of perfection in the design. Overall it's a lot like a Japanese rock garden made out of the leftovers of the 2001: A Space Odyssey monolith.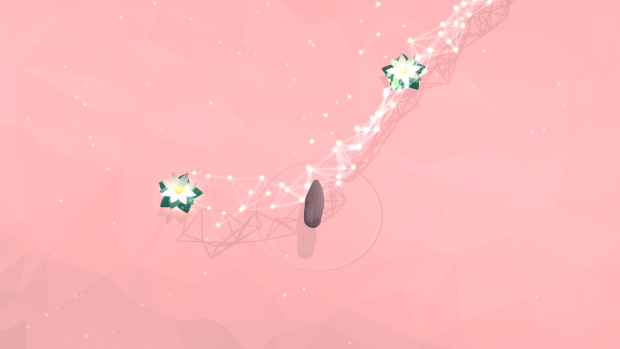 The game handles a few things quite differently to other puzzle games. All the levels are unlocked when you jump in, so you can jump ahead at any time to try out some harder challenges. The game also has no clocks or scores just gorgeous music, flowing puzzles and a slightly surreal atmosphere that's designed to take you out of the everyday.
We seen plenty of particle flow puzzles before, most centered around water like the block busters Sprinkle and Where's My Water. This one is a bit different, the graphics have a 3D feel to them and the particle flow is gentle and malleable. The flow can be split, moved mid flow, and the tools they have provided in the sandbox are definitely worth exploring.
Game play feels like you are dropping stones into a river to divert the flow, while raking the sand. The early tools include simple stones that coax the direction slightly. As you progress you find that different lotus flowers require slightly adjusted energy that has to pass through colored filters first. My front-runner for the best tools are the heavy stones, they act almost like orbiting planets sucking the flow around them with their gravity. Your not thinking in straight lines with this one, everything centers around bending and coaxing the flow of light around and through objects.
As you get deeper into the game the puzzles slowly increase in complexity. You are introduced to splitters that direct the flow in multiple directions, and ribbons you can draw out from base towers to create directional walls. One of the game highlights is a level that creates a flowing heart, and other solutions that require you to use objects more than once in slightly different ways.
How could it be improved? I understand what Many Monkeys, the developers were trying to do this with this game. The game feels like an experiment in creating a relaxing puzzle game. Although that provides a point of difference and does lessen the stress in game, having all the levels already unlocked takes away the elated feeling when you complete a level and unlock a new one, common to just about all puzzle games. Skipping ahead is too easy, and I found myself doing this regularly to experience some new game concepts further down the line. No scores or Gamecenter also leaves you feeling that there isn't much point to replay any levels, there is no gauge as to how you did, no stars to earn or rewards to gain other than checking off the level circles as complete.
The reason the game is so open is most likely because they wanted the experience to be more like relaxing while reading a book; you can skip ahead if you want to, people know they are taking it out of context, but if you do want to jump ahead it's fine. It also leaves things a bit mysterious so people can uncover the game on their own terms. However in an future update I've heard there may be the addition of some subtle rings in earlier levels to help guide people through the basics.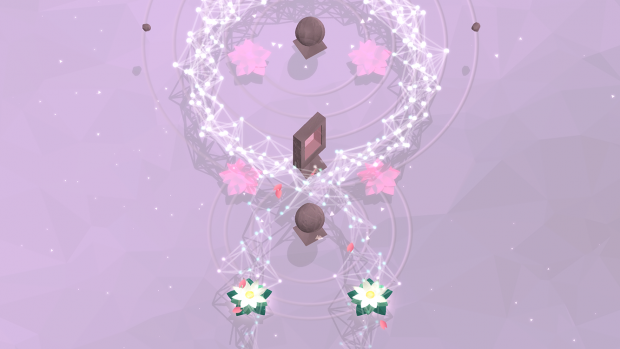 My only other suggestion would be to add a few more tools to the sandbox, the ones on offer are amazingly unique but they are introduced infrequently. With open levels I think that keeping the user engaged and playing in order is crucial. Adding in some more tools, like a few additional color filters, or perhaps some different shaped stones would have made the game even more engaging.
The game is a great achievement. It reportedly took the developers Many Monkeys 24 months to complete, 9 of which just to build the particle engine and get the flow to interact and move in just the right way. The particles feel like a life force, invoking the concept of flowing strands of DNA which suits the game really well.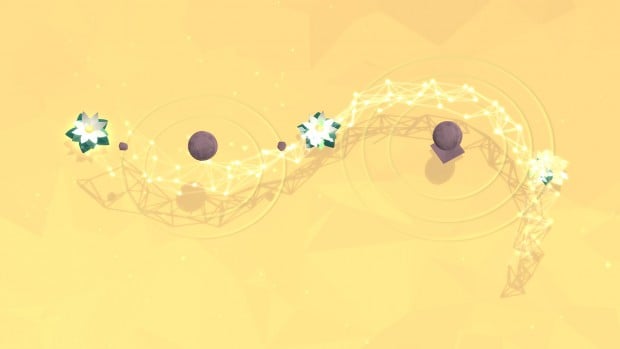 Many Monkeys have 1 more season to add, with many more levels hopefully coming soon in an update. The next step after that will be a sort of sequel. Their aim will be to create an alternate version of the game set in a 3D space like environment where you will need to manipulate flows that go up and down in 3D space as well. It's an ambitious idea and it will be interesting to see how they do it.
I have to say I enjoyed Breath of Light, both for the uniqueness of the game play and the quality of the graphics and soundtrack. The game is about evoking feelings and emotions, it's quite mesmerizing to play. Matt Ditton the founder of Many Monkeys started his career as an artist, and you can feel the considered creative influence behind every choice made in the game. It's not just unique, Breath of Light is pushing boundaries in terms of what a game can or should be and is definitely worth a look.
Breath of Light ($1.99)