Ladies and gentlemen, boys and girls, children of all ages, welcome to another big week of new iOS games. There's a few games tonight that I've been patiently waiting for, like Stormblades and SwapQuest, and then there's something like the new Mikengreg game TouchTone which looks totally unique and is something I totally knew nothing about. I love that about iOS. As always check out the full list of new games below and let us know what games you'll be picking up in the comment section at the end.
---
Adventures of Poco Eco: Lost Sounds
iTunes Description
A relaxing exploratory game in a mind-blowing audio-visual world. Get involved in this special tale, choose quick adventures if you want to rush through, or take your time and explore a world of sound & design.

Discover a new world where there's a lot to see and even more to hear. Help Poco Eco, the curious explorer complete his mission. Your goal is to help Poco and his tribe find their Sounds that they've lost by solving the mini puzzles and completing all twelve 3D animated levels. By downloading the game you also get free access to Iamyank's new LP.
Forum Thread: Adventures of Poco Eco – Lost Sounds (by Possible Games)
---
Ambush! – Tower Offense
iTunes Description
Ever wondered what it's like to invade in a Tower Defense game? Join Ambush and overthrow other players' defenses! Keep the good old Defense as well to succeed in one of the best new games of the year!

For many years, Warlords of a mighty clan protected their land, building bases to defend territories and crushing enemies beyond count. But a Wise Man said: the time for Great Invasions has come! Build a Citadel, ambush the neighboring tribes! Send forth your armies and crush their defenses!

No other free games offer you the same ability to challenge other players in a unique mixture of well-known Tower Defense and BRAND NEW Tower Offense game modes! Command and conquer a realm of your own in one of the most addicting games on the market!
Forum Thread: Ambush! – Tower Offense (by Zillion Whales)
---
Chain Link Pro 2
iTunes Description
A fun fast paced matching game with a mix of strategy and quick reflexes. Create crazy long chains of similar shapes while dodging and scoring without crashing into obstacles. The long awaited sequel to our Apple featured game, Chain Link Pro.

Easy to learn – glide one finger across the screen to link shapes together and navigate the chain into the center vortex to score. Creating longer chains score higher points but also increase the risk of fatal collisions with non-matching shapes.
Forum Thread: Chain Link Pro 2 – new twist to the match-three genre
---
Chromaticon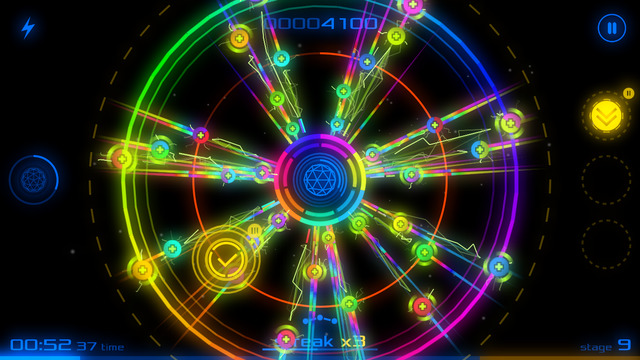 iTunes Description
Chromaticon is a challenging, fast-paced color matching game that will test your perception and reflexes. Enjoy this immensely fun and excitingly novel experience!

• Unique game mechanics that mixes frantic motion-based action with tactical elements.
• Evolving gameplay provides you with new thrills and challenges.
• Distinctive, refined visual style with day and night themes for optimal experience.
• Rewarding achievements system linked with upgrades that help you progress in the game.
• Original soundtrack that complements on-screen action and visuals.
• Leaderboards that enable you to compete with your friends or the entire world!
Forum Thread: Chromaticon (by Rlyeh Industry)
---
Civil War: 1863 Gold
iTunes Description
Civil War: 1863 Gold contains all the campaigns and downloadable content from the original game with no in-app purchases.

Relive iconic battles of the American Civil War. Take command of both the Union and Confederate forces in this exciting turn-based strategy game from the developers behind the international top-selling Tank Battle: 1944 and Ancient Battle: Rome.

New features for version 2.0 include combat analysis, strategic movement, map zoom and combat improvements.
Forum Thread: Civil War: 1863 Gold (by HexWar Games)
---
Cosmic Explorer: Redshift
iTunes Description
Cosmic Explorer is a space adventure game in the vain of Oregon Trail.

In the game you get to choose your Captain and Crew. Then embark on one of twelve missions. The game then challenges you to make difficult decision on your quest to complete your mission and survive the harshness of space.
Forum Thread: Cosmic Explorer: Redshift (by Ernesto Hernandez)
---
Defend the Dam
iTunes Description
Defend The Dam is an action packed lane defense game with a new spin! Equip your Dam with an awesome arsenal of weapons. Rotate your weapons strategically to adapt to the oncoming enemy horde! Upgrade and unlock new weapons, explore unique levels across multiple zones, and battle epic bosses.
Forum Thread: Defend The Dam (by Dragon Army)
---
Dice Town Mobile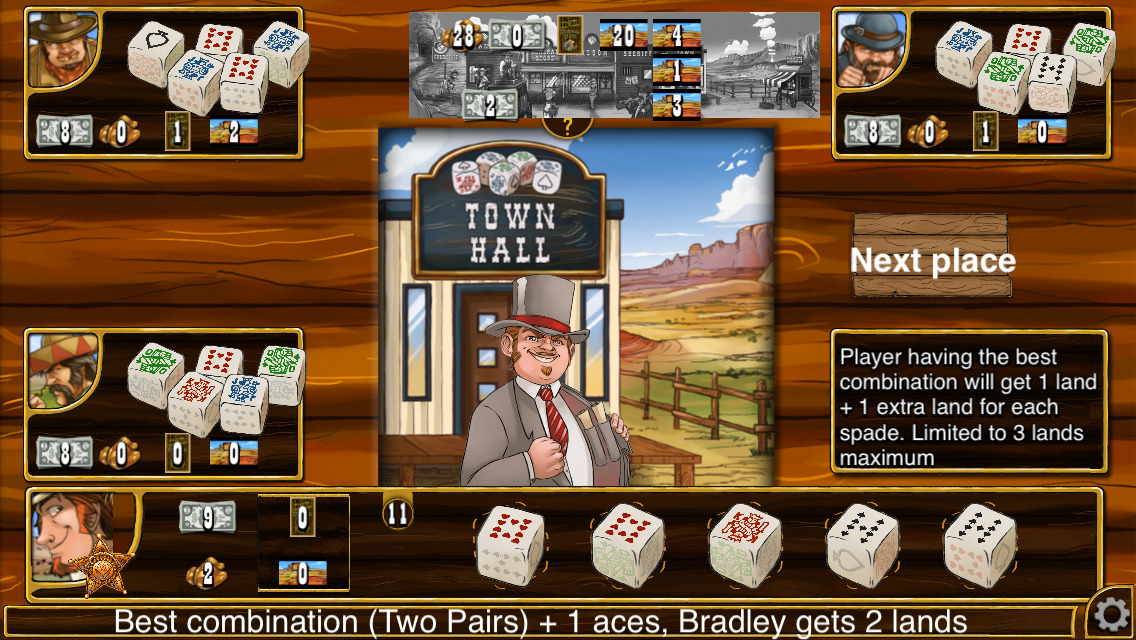 iTunes Description
Dice Town Mobile is the poker game of dice and land grabs, where your roll determines your luck, not the other way around. Roll the poker dice and build the hand that gets you what you want. Rob the bank, mine for gold, or settle the land, but be smart, because only the best rolls can win, and there's always someone willing to steal your hard-won rewards right out from under you. If your hand isn't what you hoped it would be, you can always pay to try again – as long as you can afford it, that is.

Dice Town Mobile is a solo game that will entertain you against one to 4 AI players and wrap up in less than an hour. Spend your money to make the best hand you can, because in this town, luck may decide the winner, but the best players make their own luck.
Forum Thread: Dice Town Mobile (by Matagot)
---
Dungeon Highway Adventures
iTunes Description
If you didn't get your fill of your own gory, pixelated demise the first time around, Dungeon Highway Adventures brings you more chances to explode in a shower of blocky goo. With new levels, obstacles, enemies, and artwork, coupled with an all new item system, you can die like it's the first time all over again. Hopefully you'll take out some of the dungeon creatures along the way.
Forum Thread: Dungeon Highway Adventures (by Substantial)
---
Four Letters
iTunes Description
Game—Play—Word—Free These are the words of FOUR LETTERS.

Read—Make—Find—Easy We give you four letters, and you make a word as quickly as you can.

More—Time—Fast—Best Keep making words to increase your score. The challenge increases the longer you last.

Cool—Glee—Love—Grin Once time runs out, have another go! FOUR LETTERS is the endless word puzzle that you'll play for E-V-E-R!
Forum Thread: Four Letters (by Prodigy Design)
---
Goblin Quest: Escape!
iTunes Description
Goblin Quest: Escape! is an award-winning action-packed dungeon crawler, action-rpg and reverse tower defense hybrid from BotBite Industries.
• As a weak goblin you can't attack your enemies but you can outrun or outsmart them.
• Collect Gold to buy items.
• Get all the Gems to buy clothes that give you permanent buffs.
• Upgrade your items and clothes for better stats that help your survival.
Forum Thread: Goblin Quest: Escape! (by Daniel Kalmar)
---
Heartbeats – A Graphic Puzzle
iTunes Description
"When no one was watching, he would indulge in puzzles so challenging and unforgiving that they would make him forget the world outside – and the war that consumed the galaxy.

And so, all he left behind for the universe to remember him by was a series of puzzles that portrayed the events that had moved and made him. This game was his story and his legacy.

He called it Heartbeats."
Forum Thread: Heartbeats – A sci-fi puzzle of a dying man
---
Hell Gate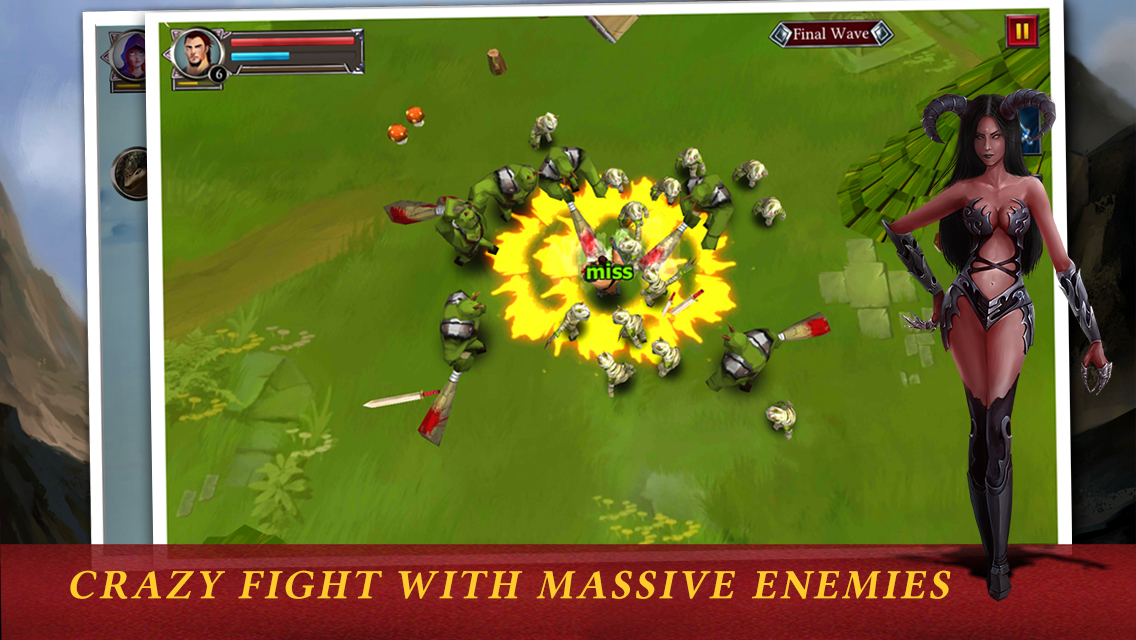 iTunes Description
The most action/RPG game with Simple & Easy to pick up gameplay.

Kos was an angel but his heart was full of greed and selfishness. After being revealed his conspiracy to overthrow the Council of Angels, Kos has been exiled to earth by the Council. But Kos never repent. His hatred has turned him to a devil. He wanted to summon Doomer, the monster was imprisoned in hell 10000 years ago…and opened the gates of hell.
Forum Thread: Hell Gate (by Phong Mai)
---
Kingdom Tales 2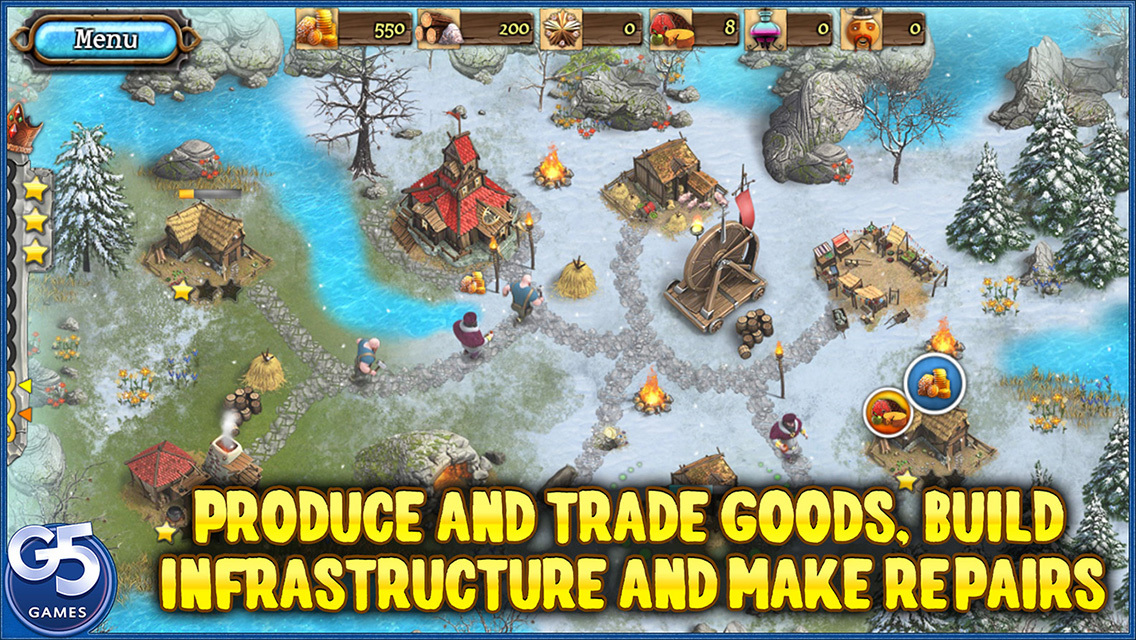 iTunes Description
Help young Finn reunite with his beloved Princess Dahla in this exciting time management adventure! The only daughter of the fair King Arnor, Dahla was known throughout the land – the rising sun was no match for her beauty, nor were all the druids a match for her cleverness. Noble lords from many kingdoms begged the king for his daughter's hand, but no one was good enough for her as her heart already belonged to a skilled blacksmith named Finn.

When their secret love was revealed, the king became enraged and proclaimed that only the man who proved himself most worthy in the expansion of the kingdom would earn Dahla's hand. Join Finn's quest to make the best contribution to the expansion of King Arnor's great kingdom with the help of the king's builders and architects! Explore, gather, produce, trade, build, repair and keep the people happy in this noble mission. But watch out – the greedy Count Ohli and his spies never sleep!
Forum Thread: Kingdom Tales 2 (by G5 Entertainment)
---
KromacelliK
iTunes Description
Explore the infinitesimal in the strange & fascinating Kromacellik.

Ride thoughout the KromaceliK organism, an original 8-bit world overran by all kinds of microbes and cells.

Link to others cells and lead them to the right exit. Beware of the viruses and mines which abound around the levels. To fight them, use the cells you transport as weapons and project them over your enemies.
Forum Thread: KromacelliK (by Bulkypix)
---
Magenta Arcade
iTunes Description
MAGENTA ARCADE is a finger-based top-down shooter brought to you by Long Hat House. Become a god! Your finger is a weapon, but also your greatest weakness. Know when to touch the screen to attack or retract to defend yourself!

The cycle of wishes is a sacred ritual for the people! It is where you give out wishes for them. During many cycles peace reigned in your lands, but everything changed when Ivo Magenta made his last wish. Now, disaster emerges, and you have to sleep until the next cycle. When you wake up, everything depends on you! Use your finger to shoot him and his minions down, the world's order is now in your hands! Literally!
Forum Thread: Magenta Arcade (by Lucas Mattos)
---
Mr Jump
iTunes Description
Meet Mr Jump, your new hero! Help him jump his way through the ingenious and tricky levels we have created for you!

Mr Jump will seriously challenge your skills and reflexes!
Forum Thread: Mr Jump (by 1Button)
---
Overpaint
iTunes Description
Overpaint is all about colour in motion. The goal is simple: drag-and-drop the squares over the matching circles to clear them. To make new colours just overlap the 3 squares. Seems easy, right?

You have all the time yet each move counts…
Observe the colourful moving patterns and sharpen your skills. Join the colour fun!
Forum Thread: Overpaint (By Landka)
---
Run White Mouse Run
iTunes Description
Run White Mouse Run,
Try As You Might,
Over The Steps That Comes Falling Down,
Your Fate Can Only Be Food Of Mine.

and also… hats for cat.
Forum Thread: Run White Mouse Run (by unexpect3rd)
---
Ryan North's To Be Or Not To Be
iTunes Description
William Shakespeare's Hamlet has finally been restored to its original second-person non-linear branching narrative format. I know! What took so long, am I right? Now it's up to YOU to decide what happens next. Play as Hamlet and revenge your father's death. Play as Ophelia and make scientific discoveries. Play as King Hamlet, Sr. and die on the first page!

Discover sweet art as you play from some of the greatest and most attractive artists of Our Time, including Kate Beaton (Hark! A Vagrant), Anthony Clark (Nedroid), Mike Krahulik (Penny Arcade), Matthew Inman (The Oatmeal), Ethan Nicolle (Axe Cop), Andrew Hussie (MS Paint Adventures), Zach Weiner (Saturday Morning Breakfast Cereal) and WAY more!
Forum Thread: Ryan North's To Be Or Not To Be (by Tin Man Games)
---
Sature
iTunes Description
Sature is a game inspired by the experience of being a painter. Drawing from the process of mixing colors on a palette, Sature offers an engrossing turn-based strategy game. Each turn, players place colored tiles on the board. These tiles mix with neighboring colors to create new tactical situations and opportunities for inventive play. The result is a chess-like dance where players rely on their wits to outmaneuver their opponent. When the board is complete and a game is finished, a unique palette emerges from the way the colors have mixed as they were played on the board.
Forum Thread: Sature (by Ian Sundstrom)
---
Sky Streaker
iTunes Description
Dodge clothes, grab coins, and outrun Gumball and Darwin as you climb sky high!

NO PANTS, NO PROBLEM! Richard Watterson is determined to break the world record… for not wearing pants! Keep Richard one step ahead of the Gumball, or your hot streak is over!

BLING BLING! Dress up Richard with awesome accessories! Each item unlocks a new power, like Alan the Balloon, giant coins, new levels, and mega score multipliers.

CRAZY EASY TO PLAY Tap to switch sides and keep Richard climbing. Learn the game in seconds, play for hours!
Forum Thread: Sky Streaker (by Cartoon Network)
---
Snow Roll
iTunes Description
Guide little penguin on his roll through snowy woods, tap to change direction and avoid obstacles, collect coins to unlock new balls and roll as far as you can.
Forum Thread: Snow Roll (by Happymagenta)
---
Squarple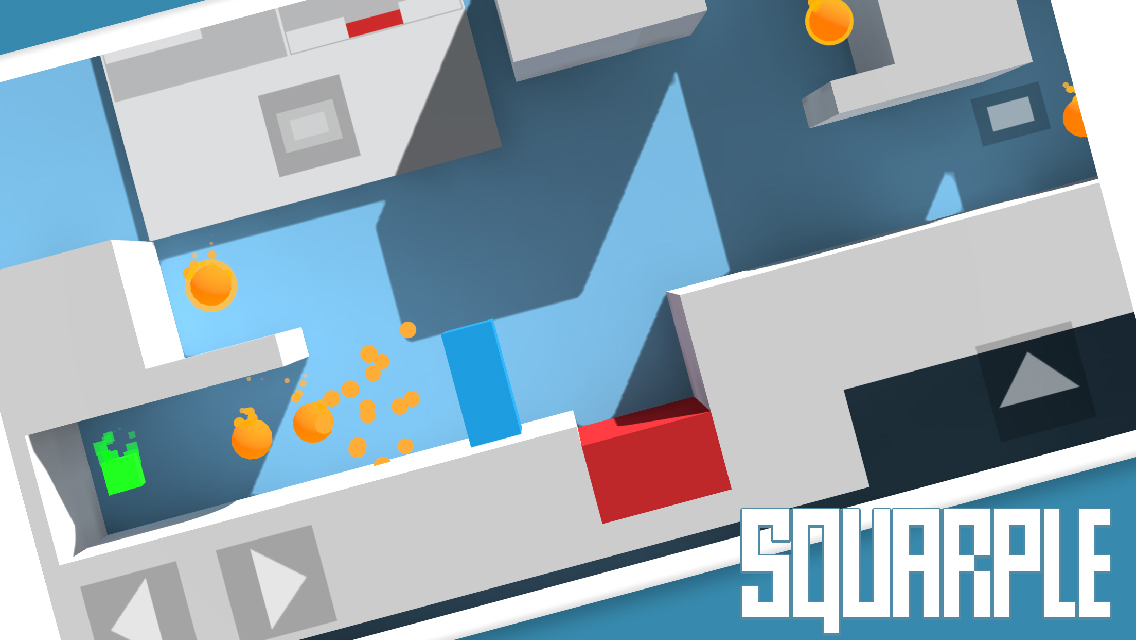 iTunes Description
Squarple!
[] Pure, classic platforming fun
[] Beautiful, minimalistic art style
[] Use power-ups to complete challenges!
[] Customize your Squarple by unlocking new skins
[] Challenging
Forum Thread: Squarple (by Michal Kuk)
---
Stan Lee's Hero Command
iTunes Description
Welcome to Stan Lee's Hero Command, starring Stan Lee himself as the leader of Hero Command. Prepare yourself for an action packed thrill ride as Stan dispatches missions to his pantheon of heroes in a fight to save the world! Discover and become new playable heroes across exciting scenarios, with new content released regularly. Enjoy an all-new world of humor, action and suspense.

Play as Captain Steamhammer, a steel working strongman with a steam-powered suit; Seer, a kid genius and powerful psychic; and the Twins, a high flying trapeze team. Villains include Lord Hibiculus, leader of the Dark Gnome aliens from Gnomulon, and Sand Witch, an ancient mummy awakened by a curse. Frenetic button mashing and exciting super powers make Stan Lee's Hero Command a must play epic adventure!
Forum Thread: Stan Lee's Hero Command (by F84 Games)
---
Stormblades
iTunes Description
Answer the call of the sword! For centuries, young Warriors have sought the secrets of the ruins in a quest to prove their worth. Journey on a Warrior's rite of passage and fight the legendary Keepers. Test your might in the ruins to upgrade your weapon and release its arcane powers.

Demonstrate true skill by dodging the Keepers' attacks and spells while inflicting your own furious retribution. Land powerful counter-attacks and shatter your enemies' armor to subdue them. Awaken the ruins' ancient altars and empower your sword with Essence to take your place among the legends. Claim the Relics of your fallen foes as a token of your conquest.
Forum Thread: Stormblades (by Kiloo)
---
SwapQuest
iTunes Description
SwapQuest is a captivating new mix of easy-to-learn puzzle mechanics and old-school RPG elements.

The kingdom of Aventana is under attack by a demon cloud known as the Horde. Many legends tell of its destructive power and how it devoures everything in reach. Will you become the hero Aventana needs? Can you find the magical sword that is said to be powerful enough to defeat the Horde? Play as Prince Wilbert or Princess Wilma and go on a journey through the land to become stronger, wiser and braver as you fight cursed monsters, find invaluable treasures and discover the secrets of Aventana.
Forum Thread: SwapQuest (by Constantin Graf)
---
Swi-Pet Episodes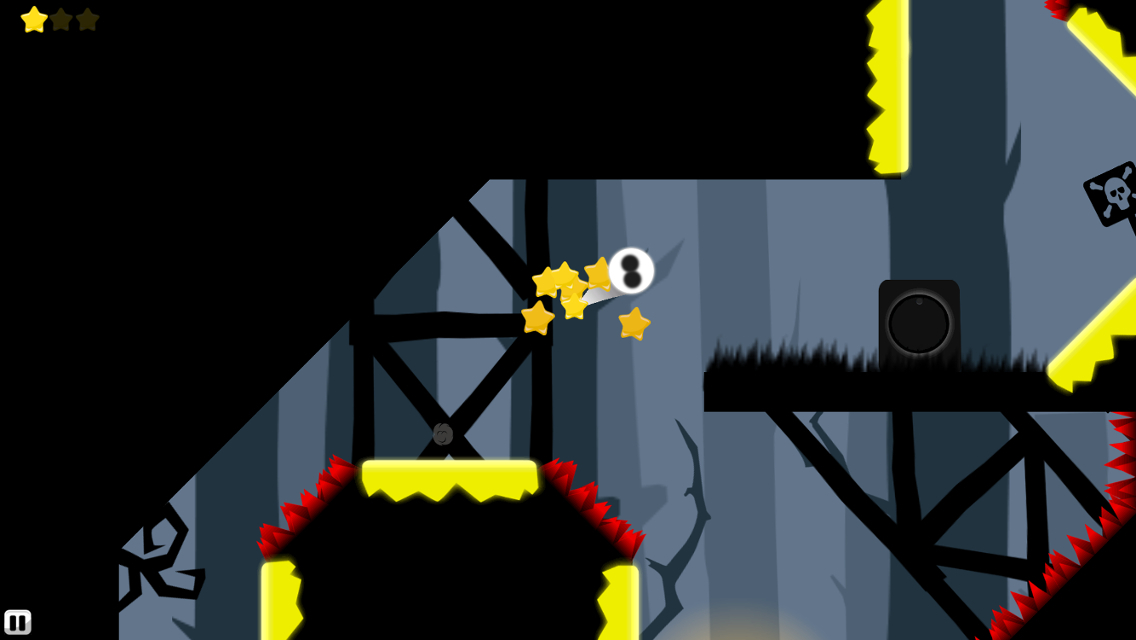 iTunes Description
Welcome to episodes of little creature called Swi-Pet.

It's a 2D platformer designed from ground up for mobile devices.
Swipe to jump, collect stars and reach end of each level in one piece!

Will you take part in this star collecting journey?
Forum Thread: Swi-Pet Episodes (By Marek Stromsky)
---
TouchTone
iTunes Description
If you solve something, say something. In today's world, it's all on the line. Answer the call.

Join your fellow citizens to decrypt suspicious messages and help make our nation safer and stronger! For every puzzle you solve, for every dangerous message you bring to our attention, you make your family and your country that much safer.

Solve high-level decryption algorithms through a puzzle-like interface, then uncover potential plots and unmask suspicious individuals. Reach into their past to follow their movements and uncover their motives, track their associations and evaluate the threat.

The guilty have nowhere to run. The innocent have nothing to hide.
Forum Thread: TouchTone (by Mikengreg)
---
Vengeance of Helius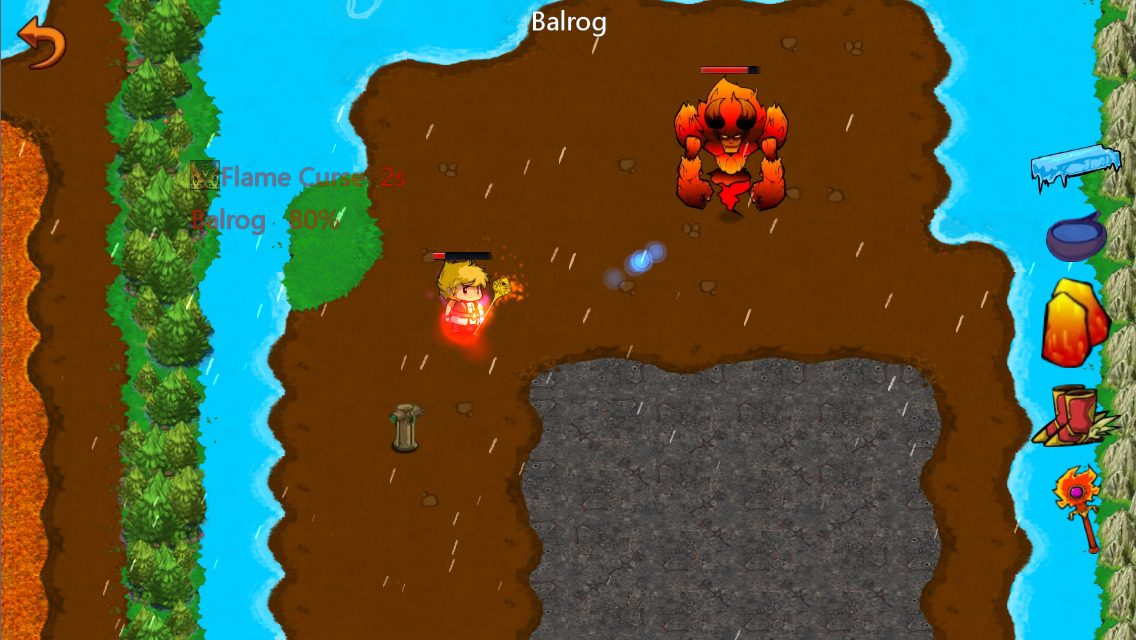 iTunes Description
Long time ago, there was nothing but emptiness… Until Titan came… Titan created the world with his immense power…

Then Titan called together some people, and granted them with both superpowers and territories. And they became our gods. But the gods were not satisfied with their own territory, they fought with each other endlessly.. Helius turned to be evil. He set a device deep under the earth that would destroy the entire world in the future.

And now, the doomsday is coming…
Forum Thread: Vengeance of Helius (by Xiang Chenhan)
---
1942 Pacific Front
iTunes Description
1942. World War 2. You and your troops are on duty near the Pacific – and there can only be one winner… The battle continues after "1941 Frozen Front" – and this time, it's all about naval warfare! Join the navy and fight to win the battle of your life! Own the battlefield and send your soldiers to the frontline. Military combat at its best!

Choose the right tactics and use your commando to defeat the enemy! Lead the U.S. Army on their campaign or command the Japanese forces on their mission! Take out enemy alliances with infantry, artillery, tanks, warplanes, battleships and submarines and earn your stripes as an ingenious commander at the PACIFIC FRONT!
Forum Thread: 1942 Pacific Front (by HandyGames)