A few weeks back, our crack Japan-based reporter Shaun Musgrave wrote about a new update for the iOS version of the original Final Fantasy ($7.99). It was the first update to the game in more than two years. While the game didn't receive true widescreen support, it did get some lovely border art to fill in the dreaded "black bars" when playing the game on any of the widescreen iPhone devices. Similarly, the previous iPhone-only version of the game became Universal, though its scaling was a bit weird on iPad devices. Strangely, some of the long-standing bugs in the game didn't get fixed with that update at all, but at least it was nice to see Square Enix paying some kind of attention to one of their oldest iOS games.
Anyway, the bummer at the time was that the update for Final Fantasy was only available through the Japan-exclusive Final Fantasy Portal app, which is basically a one-stop shop that houses all the various iOS Final Fantasy ports. We don't have that here in the US, but today Square Enix finally did roll out the update to the standalone Final Fantasy app for folks outside of Japan.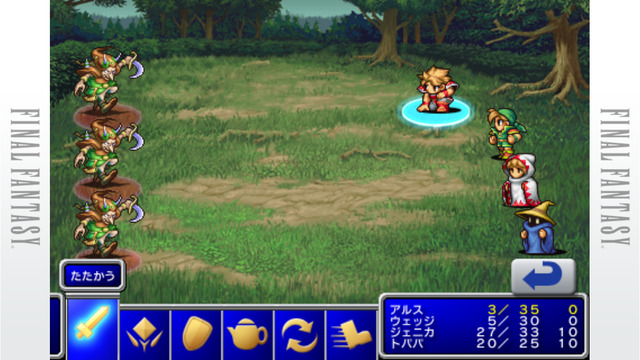 Again, this update does leave a lot to be desired, but at least Square Enix is actively updating the game and perhaps there's a chance they'll continue to update it fixing bugs and working on new features. Or, maybe this is it, who knows. It's definitely better than nothing, and now I'm hoping that we'll see a similar type of update for Final Fantasy 2 ($7.99) someday.