If you've listened to TouchArcade's new RPG Reload Podcast, you might have heard me talking about Final Fantasy: Record Keeper, a free-to-play social RPG from DeNA and Square Enix that launched late last year in Japan. Regular readers know that I play a lot of social RPGs, but very few of them actually stay on my phone for any length of time. For all of Square Enix's attempts at the popular genre, up until now none of them had quite the right mix of ingredients to really pull me in. Final Fantasy: Record Keeper finally broke that pattern. I've been playing it steadily for the last few months, and I can't see myself putting it down anytime soon. It hits all the right notes for Final Fantasy fans, and even quite a few of my less mobile-inclined friends have been quite happy with it. The only issue has been the fact that the game is only available in Japanese from the Japanese App Store.
That looks to change this spring, as DeNA and Square Enix announced this morning that Final Fantasy: Record Keeper will soon be leaving the shores of Japan for an English release. Apparently, if you pre-register at the official Final Fantasy: Record Keeper site, you'll get some special characters, including Final Fantasy 10's Tidus, when the game launches. If you're interested in the game, you might want to do that. Tidus is actually pretty good in this game, and you don't have to hear him laugh or speak at all. You can check out the official trailer, which tugs ever-so-gently on your nostalgia for the franchise while also showing off some action from the game itself.
The game has a similar structure to other social RPGs in that you basically fight through increasingly difficult sets of battles to earn rewards and power up your characters. The pull here is that the battles are set around the various Final Fantasy games, telling their stories in glorious 2D pixel art. The battles use the familiar Active Time Battle system from the main series, with each character in your party able to fight, defend, or use one of their special attacks when their meter fills up. Enemy weaknesses and strengths match their counterparts in the original games, helping the game feel more authentic. It's actually a lot of fun if you enjoy the popular Final Fantasy battle system.
The usual trappings of the sub-genre are here, such as stamina meters, online check-ins, and random lottery items that consume premium currency. That said, the game is really generous about the things most players will care about. The random pulls in Record Keeper are not, as you might expect, the franchise characters. Instead, you'll get a piece of equipment for each pull. The characters can be earned in a few different ways. As you play through the missions, you'll often be given a character from that game. So, for example, after a few Final Fantasy 7 battles, you'll be given Cloud, no strings attached. You can also get a couple of characters by completing certain tutorial quests. The main way the characters have been distributed so far, however, is in the special events that run regularly. Similar to the Challenges in Injustice (Free) or WWE Immortals (Free), you have to fight a series of battles, with a named character as the prize. As an example, right now in the Japanese version you can unlock Tifa from Final Fantasy 7.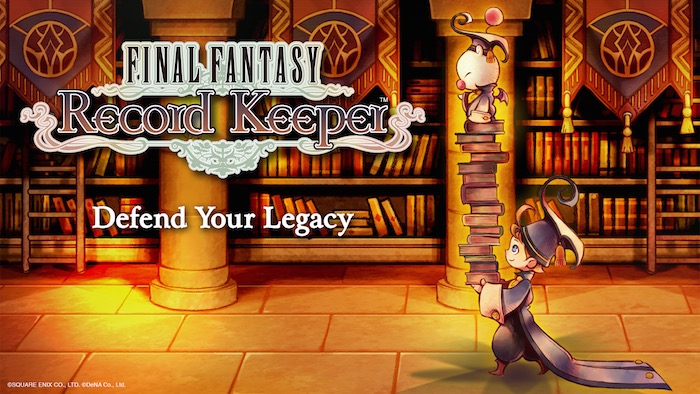 Basically, it's a really fun and surprisingly fair free-to-play social RPG. Yes, it's more something you play to fill in breaks in your day rather than sitting down for long sessions, but it works very well in that capacity. Plus, you get to see all that nice pixel art that was presumably originally intended for Final Fantasy: All The Bravest (Free), all without paying a cent. Final Fantasy: Record Keeper's announcement didn't give an exact date as to when we can expect the game, but the mention of spring means it can't be too far off. We'll bring you more information as soon as we get our hands on it.