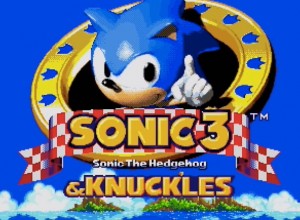 In October of last year, Christian Whitehead and Simon Thomley, the duo responsible for the incredible remastered ports of Sonic 1 (Free), Sonic 2 (Free) and Sonic CD (Free), posted a proof-of-concept video for a remastered version of the only game left to be remastered out of that quartet of original Sonic games: Sonic The Hedgehog 3 aka Sonic 3 & Knuckles. Although nothing had been commissioned by Sega, the developer duo's passion led them to begin work on a Sonic 3 remaster, and they had posted the proof-of-concept video in hopes of getting Sega's attention and getting them to greenlight the project. The three previous remastered Sonic games are absolute masterpieces, and were top-sellers. It's tragic to think that one of the old Sonics might be left off the table.
However, Sega is currently going through some difficult times, and as of yet they haven't shown any interest in greenlighting the Sonic 3 remaster. Whitehead and Thomley did their part in releasing the prototype video, but ultimately it's a decision Sega has to make. Now, Sonic fans are hoping to get the ball rolling again with the Sonic 3 Remastered website and a Change.org petition that calls for Sega to sign on Whitehead and Thomley to complete and release the remastered version of Sonic 3. To be honest, I almost always laugh off these types of online petitions, as many times they're for something incredibly silly and don't ever actually force any change to happen. The Sonic 3 campaign though feels very well thought out and serious. For instance, check out this video aimed at the CEO of Sega, it's a much higher-quality effort than you'd normally see.
In addition to the video, the Sonic 3 Remastered website has a page where you can actually download a letter to send to Sega Networks directly, and it's even written in Japanese. The hope is that a letter written in Japanese sent from fans overseas will show Sega just how passionate they are about having this project completed. If physically mailing a letter to another country seems a bit much, you could always just sign the Change.org petition, which as of this writing has about 260 supporters after going live just a few days ago.
So is any of this going to matter? Is a Sonic 3 remaster just a crazy pipe dream? I honestly have no idea. I can tell you that personally I want this more than anything, and I know there's a good amount of fans who feel the same. Seeing as how Sega has given the cold shoulder to this project so far, it definitely feels like a long shot. As you may be aware, the current crop of remastered Sonic games on iOS have a few issues on the latest iPhone hardware and/or iOS 8. Updates with fixes for these issues has been ready for at least the past 3 months, but Sega has yet to release them. It could simply be that it's taking a long time to get through QA, especially in light of the downsizing, but it's still not exactly a good sign.
On the other hand, part of Sega's recent downsizing was to focus on "smartphone and PC online gaming." It's possible that the company is very interested in a remastered Sonic 3, but the time just hasn't been right yet. All the current Sonic remasters have been top-sellers and critically acclaimed, in a time when "Sonic", "top-seller" and "critically acclaimed" are rarely uttered in the same sentence. Not only that, but both Sonic 1 and Sonic 2 already existed in crappy form on iOS, and the remastered versions were delivered as free updates to both games. A great gesture of goodwill by Sega, but not the best money-making plan. However, Sonic 3 has yet to be released on mobile, so if they do go forward with a remaster it'll basically be like a license to print money. Here's the proof-of-concept video again in case you haven't seen it yet.
Whatever the case may be, I hope that someday, somehow I have a remastred version of Sonic 3 on my iPhone right alongside Sonic 1, 2 and CD. Nothing would make me happier. I don't know if this latest push by fans will bear any fruit, but if you want to get involved visit the Sonic 3 Remastered website, sign up for the Change.org petition, and share your desires for a remastered Sonic 3 on social media directed to @Sega and using the hashtag #Sonic3Remastered.