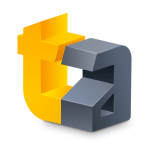 This has been an incredible year for iOS gaming. 2014 brought us viral hits like Flappy Bird, the entire phenomenon surrounding Flappy-like games, MFi controllers of all sorts, and more solid iOS games than we can even believe. iPads got thinner, iPhones got bigger. iOS 8 improved a bunch of tiny annoyances of iOS 7, added neat new features like Metal, and we're already seeing a few awesome games on the App Store utilizing these new technologies. This year, 138,546 games were released, and of those, we reviewed 515. Distilling that down to one is a nearly impossible job, but in the weeks preceding our year-end coverage one game kept popping up as a clear stand out for everyone.
TouchArcade Game of the Year
Wayward Souls, $7.99 [Review] [Forum Thread] – Rocketcat Games has a fantastic track record for releasing great iOS games. Hook Champ (Free) served as the groundwork for both Super QuickHook (Free) and Hook Worlds (Free). Similarly, Mage Gauntlet (Free) was a great tease of what was to ultimately come of Wayward Souls ($7.99). If you've been following TouchArcade for the last few years, you're likely incredibly familiar with all these titles, for everyone else, if there's just one iOS game you play this year, it should be Wayward Souls.
Like Shaun who reviewed it, I'm not sure whether it's more appropriate to describe it as an action RPG with elements of roguelikes, or a roguelike with elements of an action RPG. All the important roguelike elements are there like permadeath, randomly generated dungeon layouts, and increasingly difficult floors to explore. Similar to roguelikes, a lot of the game can hinge on luck in regards to which monsters you come across, what loot you get, and how direct of a path you're able to take to that particular floor's exit.
Combat is all realtime, and feels just like playing whatever favorite 16-bit era action RPG you most fondly remember. Additionally, multiple classes allow for incredibly varied play styles which all manage to feel distinctly different. The coins you earn in game are persistent between runs, and are used to buy upgrades for each of your character classes. This provides an overarching feeling of progression, even if you're losing everything else when you die. It's really clever game design, and when paired with the ridiculous amount of totally cosmetic equippable hats you can find, "Just one more run…" is all too easy to say after each death.
Wayward Souls has been updated several times since release, both adding new features and increasing its price with each update. It's an interesting way of pricing a game, as the price you pay is representative of the value you're getting at the time of purchase. For instance, it's a little more expensive now than it was at launch, but you're also getting a game with new dungeons, bosses, and game modes.
Wayward Souls is a universal app that plays beautifully regardless of whether you're playing with native touch controls or with an MFi controller. You can import or export your game saves, and if you're into achievements, there's a bunch of those too. The music and sound design is great, the pixel art is sharp, and I really can't think of a game I enjoyed playing more this year than Wayward Souls.
Runner Up
Monument Valley, $3.99 [Review] [IAP Expansion Content Review] [Forum Thread] – Following the release of Whale Trail (Free), ustwo went silent while the rest of us waited to see what they'd unveil next. With the talent behind the studio, it wasn't hard to get really excited as soon as the earliest screenshots of Monument Valley ($3.99) started getting revealed. It is not at all hyperbole to call the game a piece of art, as you could take a screenshot of any part of the game and it'd make for amazing wallpaper of whatever device you're playing it on.
Set in a world filled with impossible architectural artwork reminiscent of the works of M.C. Escher, you must guide Princess Ida through all sorts of brain-bending obstacles. Monument Valley is a game that could only work on touchscreen devices, as so much of solving each level and opening paths for Princess Ida to walk on involves rotating, sliding, and otherwise interacting with the level itself. Be sure to play with the sound on, as the game is both an audio and visual treat.
Monument Valley is challenging, but it's easy enough for even the most casual of gamers to get through without much frustration. It's a rather short game, but we feel we vastly prefer games that are short, powerful, and meaningful to games that drag on forever which potentially lead to you not completing them at all. It won't take you much more than a few hours to get to the end of Monument Valley, and you might even beat it in one sitting. The Forgotten Shores expansion was released not long ago which for (as of this writing) $1.99 doubles the content included in the game, as is a highly recommended purchase if you even vaguely found yourself enjoying Monument Valley.
Honorable Mention
Hearthstone, Free [Review] [IAP Expansion Content Review] [Forum Thread] – Like many collectible card games, Hearthstone is a game that you can learn to play in an afternoon, with a depth (both in regards to gameplay and community) that can totally absorb your life if you're not careful. Currently playable on the PC, Mac, iPad, and Android tablets, Hearthstone started as a tiny side project inside of Blizzard and has since turned into a massive worldwide phenomenon complete with a shockingly large eSports component of professional Hearthstone players and streamers.
The initially meager cardpool has been expanded through the release of The Curse of Naxxramas single player adventure and more recently the release of Goblins vs Gnomes which is sold through individual card packs much closer to what you would expect out of a new collectable card game set. Along with new cards and mechanics comes a shift in the metagame, making Hearthstone a constantly evolving game that changes from day to day.
We're incredibly excited to see the iPhone Hearthstone client released next year, as if you think the game has hit critical mass already, just wait until every person with an iPhone is capable of playing.