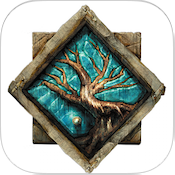 If you're thinking that's a ridiculous headline, then yes, you are correct. We're just having a little fun with what we think is a pretty ridiculous situation. To back things up a bit first, in early September developer Beamdog announced that they would be bringing an enhanced edition of the classic RPG Icewind Dale, which was released on PC and Mac back in 2000, to mobile devices. However, while the Android version launched last week and is currently available as planned, the iOS version ended up getting held up in Apple approval and has yet to launch.
Then this past Saturday a tweet from Beamdog spelled out the bad news that Icewind Dale: Enhanced Edition had been rejected by Apple, and they'd be looking to resubmit that coming Monday. The reason for that rejection? "Objectionable content" in the intro video from the Hearts of Winter expansion that comes included in Icewind Dale: Enhanced Edition. Specifically, the rejection was due to the partial nudity of an elderly woman in the very beginning of the CGI intro, according to Beamdog's Trent Oster. You can watch that intro video embedded below and decide for yourself how "objectionable" it is. The content in question starts at about the 14 second mark.
Apple has been accused of being prude-ish in the past, and personally, I believe that's the case here as well. There is obviously nothing sexualized about the *almost* nudity scene above, and in fact you'll get more nudity than that flipping through any number of National Geographic magazines. Anyway, silly rejection issues aside, the good news is that Icewind Dale: Enhanced Edition moved quickly through the resubmission process, and again according to Beamdog's Twitter feed the game has moved to the "Ready for Sale" status. That tweet was a few hours ago though, and so far Icewind Dale: EE hasn't quite shown up in the iOS App Store yet. But it should be soon, so we'll either update this post or post again once it's officially out.
As we've noted previously, this enhanced release brings the full original Icewind Dale adventure as well as the Heart of Winter and Trials of the Luremaster expansion pack content. Similar to Beamdog's enhanced versions of the Baldur's Gate games, this release also includes some new stuff like "new kits and character classes, dozens of new items and spells, and restored quest material cut from the original game" according to Beamdog. If you liked Icewind Dale back in the day, then you'll no doubt want to jump all over the Enhanced Edition once it's finally available, provided you can deal with the "objectionable content" seen above.