Today is Halloween, and as is usual with holidays or seasonal events, there's no shortage of iOS games that have updated with special content to commemorate the occasion. There are far too many Halloween updates to list them all individually, and even Apple themselves have reserved a special Halloween section in the App Store to highlight many of them. Be sure to check that out, but for this particular feature I've focused on three Halloween updates to games that are personal favorites of mine, and might otherwise have flown under the radar. Check 'em out, and if there are any other Halloween updates that have caught your eye be sure to shout them out in the comment section. Have a safe and happy Halloween!
---
Trials Frontier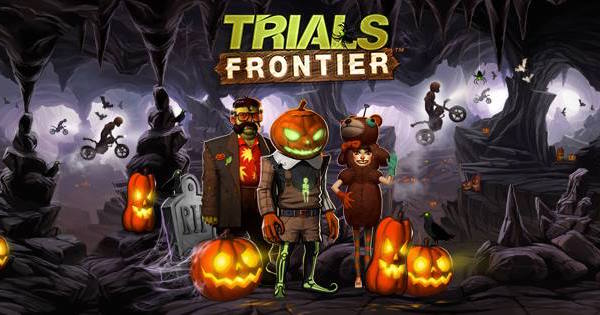 Ubisoft and RedLynx launched Trials Frontier in April of this year, and it's received a ton of update love in the months since then. This latest is Halloween themed, obviously, and features a "Wrath of the Pumpkin King" quest line. There will be plenty of pumpkin smashing, and rewards in the form of Halloween bike skins. There's some freemium shenanigans that you have to deal with in Trials Frontier, which is annoying, but this is far and away the best trials game available on mobile, and with all the update love it gets there's always something new to do.
---
Lion Pig
Lions are the King of the jungle, and pigs produce the food of the Gods: bacon. Put them together and you get… Lion Pig. This quirky platformer launched only a couple of weeks ago, but developer Selosoft has already cranked out an update with new content in the form of new levels, a Halloween costume for Lion Pig, and all sorts of Halloween decorations. It also introduced an alternate control method making the game much more enjoyable to play for me personally, so if Lion Pig snuck by you when it launched be sure to check out the updated version.
---
Jack B. Nimble
Jack B. Nimble launched just over a month ago, and looked to bring a nice twist to the auto-running formula. There's a nice simplicity to the game that reminds me of Canabalt, but developer Sean Noonan has interjected an interesting candle-whipping mechanic, inspired by the Castlevania series, into all the running and jumping that fits in perfectly with the gameplay and ties into the scoring mechanic. It all comes together into a wonderful little package, made even better with the latest update that adds a brand new level, a Halloween color palette, a Jack O. Lantern playable character, and more. This is one game that will only get better over time.