The release of Gameloft's highly-anticipated first-person shooter Modern Combat 5: Blackout is nearly upon us (it's coming out July 24th in case you haven't heard), and so far we've seen a great deal of the single-player portion in our hands-on video from May, but we have yet to really get a sense of the multiplayer portion, which is arguably the meat and potatoes of the game. This past week, Gameloft held an event at their San Francisco office that gave game media types like myself a chance to get a taste of the multiplayer in Modern Combat 5. In short: it was a total blast.
As Gameloft had previously announced, Modern Combat 5 will have all the typical multiplayer modes, like free for all, team deathmatch and capture the flag, but they're also introducing Squads into the game and that was the focus of our hands-on time. You can have up to 20 members in a Squad, and essentially it acts like an in-game friends list. Whether you're playing the single-player campaign or one of the other multiplayer modes on your own, you can always hit the Squad button at the top of the screen and see what other members of your Squad are online at that time.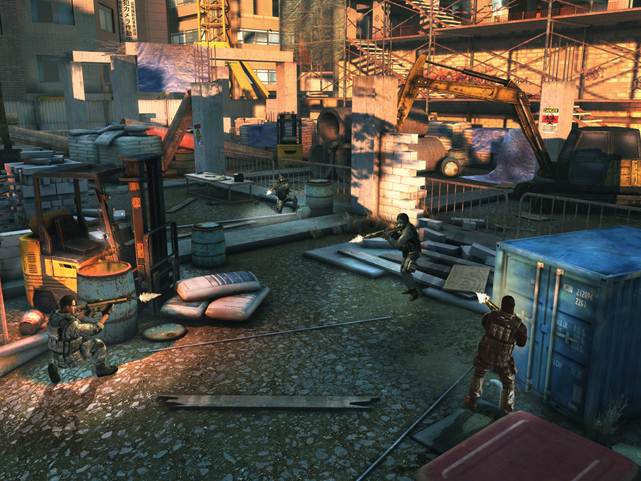 If you see other people in your Squad are online, you can simply initiate a Squad Battle and it will group up to six of you into a team deathmatch against another Squad. Your Squad has a persistent rating based on your performance, and there are special leaderboards and time-limited events that you can partake in with your Squad. There's also a dedicated chat just for your Squad, which works even outside of the actual multiplayer matches. So you can coordinate strategies with your Squad mates prior to a match, leave a message for someone who might not be online at that particular time, or just shoot the breeze.
Unfortunately, only one other journalist showed up for Gameloft's multiplayer event, so we weren't able to get the maximum 6v6 Squad Battles going, and instead had to settle for 3v3. Even with a lack of people, it was still loads of fun, but I can only imagine how awesome it will be with full 12 person matches. The following video is nearly an hour of direct capture footage taken from seven different Squad Battles.
The footage was captured from Gameloft Community Manager Ryan's iPhone, and if you notice that he is dying a lot, that's because myself and Jeff Scott held it down like bosses. In Ryan's defense, since he was the one capturing, he made an effort to change up classes often and try different tactics to get some well-rounded footage, so he was likely slightly off his game a bit. We demolished him anyway, though. This video is definitely long, and if you make it through the whole thing you're a trooper. In the video you'll see three of the different multiplayer maps (Construction Site, Rooftops and Streets), some of the different loadout options and weapon customizations, and the various kill streak bonuses, among other things. Check it out.
I spent nearly three hours at Gameloft playing Modern Combat 5 multiplayer, and I easily could have spent three more. It's just ridiculously fun. I'm really impressed with how the Squad functionality has been implemented into the game. I've always enjoyed Modern Combat games for the single-player stuff, and kind of just dabbled in the multiplayer. But having your Squad at your fingertips from pretty much anywhere in the game, being able to see who is online and chatting, and trying to improve your Squad rank and move up the leaderboards are just the type of things that will get me addicted to the multiplayer in Modern Combat 5. I'm not sure if that's a good thing or a bad thing, as I don't really have enough free time as it is, but I'm really excited for Modern Combat 5 to release either way. That release is just around the corner, next week in fact, so look for plenty more on Modern Combat 5: Blackout as that day finally approaches.