Ok, last week's insane number of new releases was overwhelming, so it's actually nice to see this week's list of new games down to a more manageable size. The headliner tonight is definitely the worldwide release of Monster Hunter Freedom Unite, and we'll have a review up for it in just a bit. Also, there were a couple of high profile early releases like Civilization Revolution 2 which launched last night and has been quite well-received so far. Then there's David O'Reilly's strange but interesting mountain simulator MTN which showed up the night before last. Still, they've been included in the list below just in case you missed 'em.
---
A Life Worth Dying For
iTunes Description
Trigger video flashbacks in this sentimental new puzzle game.

You're about to die. Your goal is to remember a sequence of cues. If you can recall them correctly, you will trigger short video flashbacks. These intimate moments add up to form an abstract impression of my life, reaching further back in time as you advance.

This is a new kind of memory game. It's an interactive self-portrait made from my own personal home videos. All of these video clips are emotionally authentic. Follow me on this trip down memory lane! Challenge your own memory! Ask yourself: what is worth living for? But also, what's worth dying for?
Forum Thread: A Life Worth Dying For (by Mutlu Isik)
---
Balloon Bird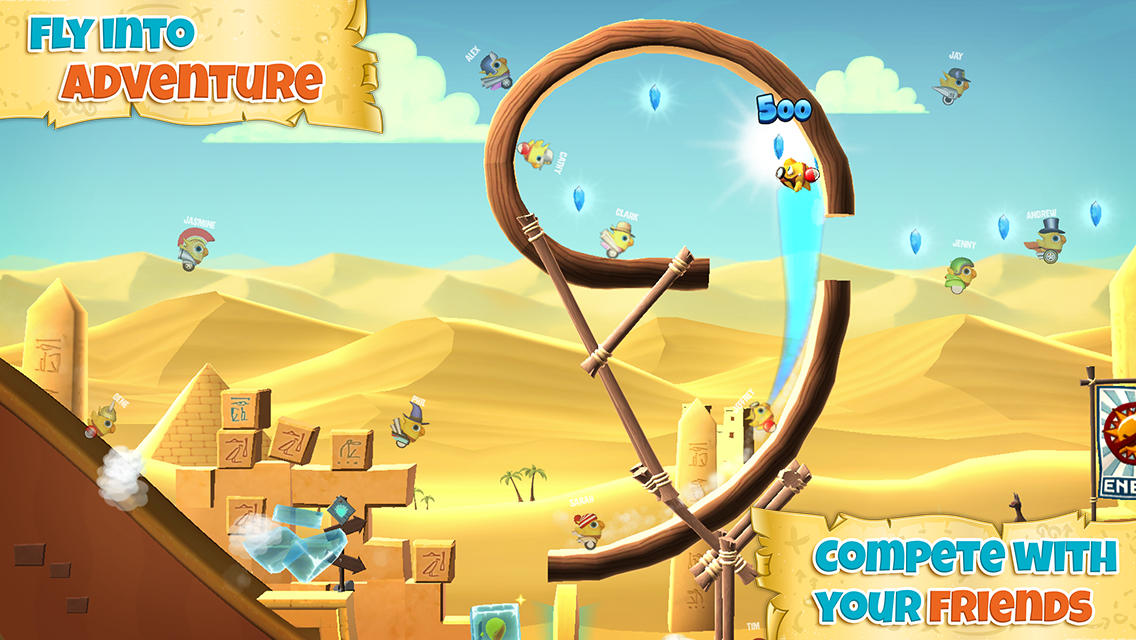 iTunes Description
Balloon Bird is an action-adventure game where you race and fly in vibrant and challenging levels around the globe. Race with your friends to discover the quickest routes while collecting Ice Gems to stop General Red Eye's evil scheme for total world domination. His B.A.D.D. zeppelins are already approaching – be a hero, begin the adventure NOW!
Forum Thread: Balloon Bird (by Playforia)
---
Barrel Blunder
iTunes Description
Jump into the world of Barrel Blunder!
Take a dive and hope you hit the goal!

Use the springboards to get the divers into the barrel.
How many in a row can you fit in?

Position those springboards, push that power meter, and hope your aim was correct!
Forum Thread: Barrel Blunder (by Riku Tamminen)
---
The Bearded Hero
iTunes Description
Follow the Bearded Hero on a clay-made adventure where it is not unlikely to encounter sunbathing starfish, pipe-smoking mountains and sea monsters with bracelets.

Help him through 7 challenging and mind-bending worlds to collect the magic rings in order to defeat the evil evilings (and a not-so-credible storyteller).
Forum Thread: The Bearded Hero (by Bulkypix)
---
Bike Monkeys: Race For Bananas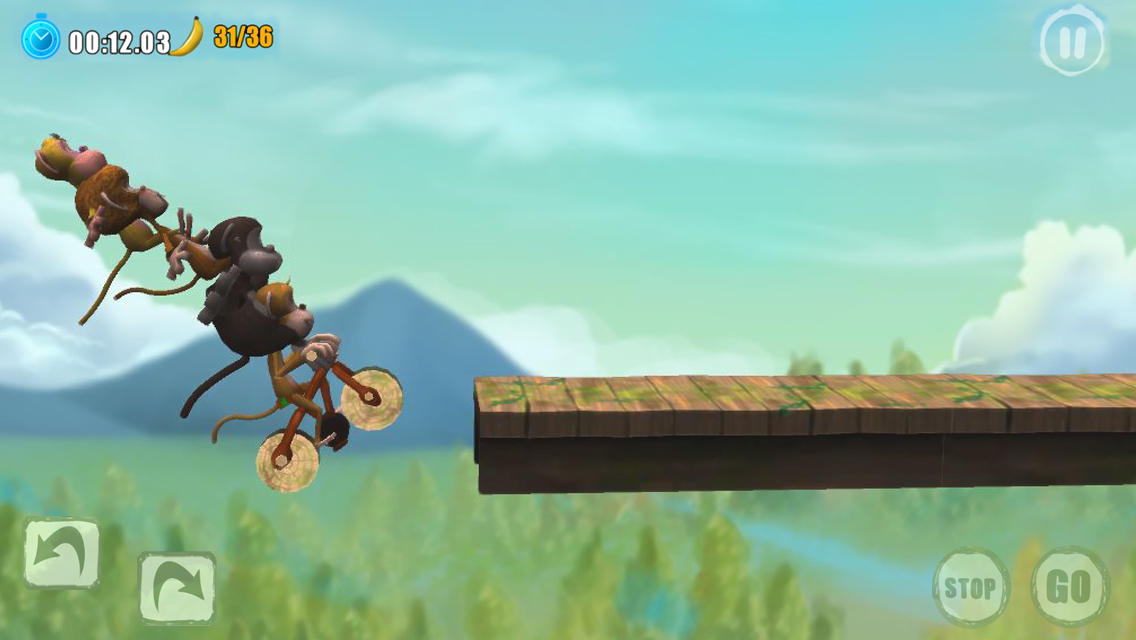 iTunes Description
*** Bike Monkeys: Race for Bananas ***
Our monkeys love bananas and will do anything to get them. They have stolen a bicycle and are riding around collecting bananas to feed their hungry tummies. Help the hungry monkeys collect bananas. Control the speed and balance of their bicycle as they race along the trail collecting bananas.
Forum Thread: Bike Monkeys : Race For Bananas (Captive Games)
---
Buzz Killem
iTunes Description
THEY CAME IN PEACE. THEY'LL LEAVE IN PIECES.

Brought to you by the creators of the hit game Bill Killem! Buzz Killem is the story of a retired War Veteran called back into action after an Alien welcoming party greets Earth. And he is the father of famed action star Bill Killem.

Embark on missions of explosive proportions as you save America for the wrath of alien invaders! Visit usually peaceful and pleasant tourist spots like the Statue of Liberty and Grand Central Station and defend them from utter obliteration!
Forum Thread: Buzz Killem (by Everplay)
---
Cally's Caves 2
iTunes Description
Embarking on a universe-shattering quest, can you save your parents from the clutches of Dr. Herbert?
Brave the depths of the caves, and try to reach the hollow halls of Herbert's lair. Fight enemy hordes from quasi-evil to mega-evil. Finally, defeat Herbert for good!

Use 16 unique weapons against 20 enemy types and 6 diabolical bosses. Upgrade Cally's attributes and grow more powerful using new RPG mechanics.
Level up each weapon separately and watch them transform into massive instruments of destruction!
Venture through 104 tricky levels but don't forget to make sure you buy lots of upgrades for Cally from the store.
Forum Thread: Cally's Caves 2 (by Jordan Pearson)
---
Cargo King
iTunes Description
Cargo King is a relaxing physics-based balance game of quick decision and royal precision. Stack your cargo boxes as high as you can to build a splendidly balanced and elegant tower, worthy of its skillful master. Bring your reflexes to perfection, reach greater heights and get your well-earned rewards.
Forum Thread: Cargo King (by Happymagenta)
---
Civilization Revolution 2
iTunes Description
The sequel to one of the most successful strategy games on mobile is here! Sid Meier's Civilization Revolution 2 challenges players to build a glorious empire that will stand the test of time. This is the first game in the Civilization catalog to be developed and available exclusively for mobile devices. Civilization Revolution 2 offers mobile strategy fans a brand new 3D presentation and more tactical depth than ever before! Find out if you have what it takes to rule the world!
Forum Thread: Civilization Revolution 2 – (by 2K)
---
Dino Bunker Defense
iTunes Description
There is this abandoned island, formerly used for military trainig.
We had the idea to send a team there to study how well they can survive in the wild.
Well we lost contact to them…
Now we need you to put things straigt and rescue them.
Forum Thread: Dino Bunker Defense – (by ElectricSeed)
---
Disney Bola Soccer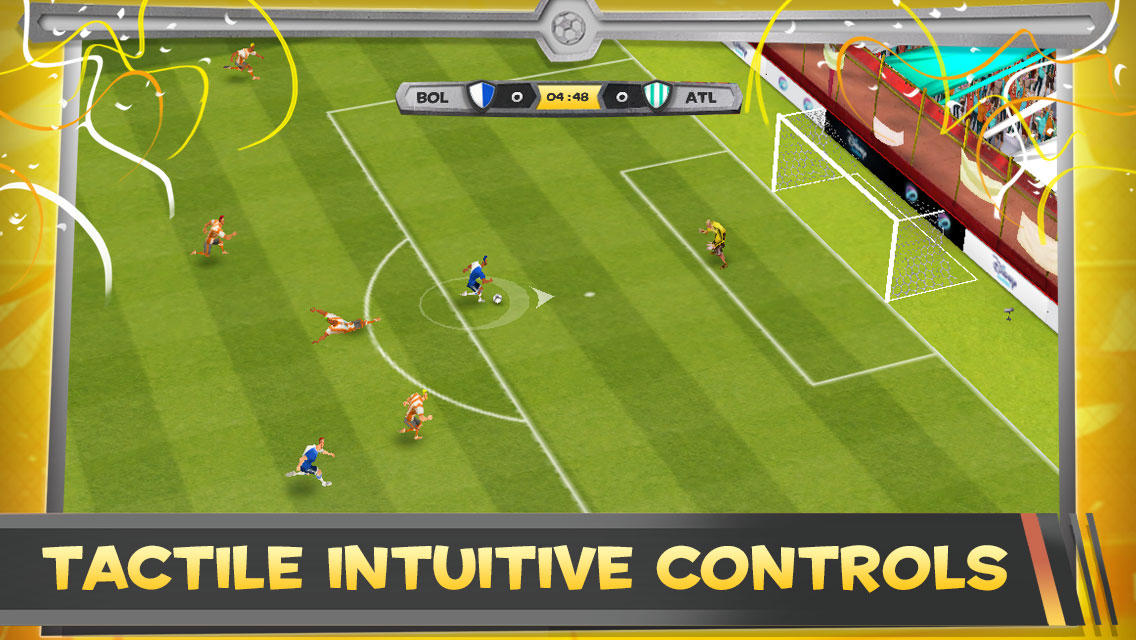 iTunes Description
Do you have what it takes to WIN? Play solo or against your friends in this ultimate soccer adrenalin rush and prove that you're the champ!
LEAD YOUR DREAM TEAM from the slum to win the global championship.
CHALLENGE YOUR FRIENDS and rivals from every country.
IMPROVE PLAYER PERFORMANCE with different skills – defense, speed, tactics, intelligence and attacks to become a true Bola Champ.
Forum Thread: Disney Bola Soccer (by Disney)
---
Haste
iTunes Description
Haste is a fast-paced word game pitting you against friends and players from around the world in real-time.

Connect letters in any direction with the swipe of a finger to form words and earn points. Be quick though, each game only lasts 90 seconds!
Forum Thread: Haste, a word game played against live opponents
---
Hooligans: The Bravest
iTunes Description
In a distant land where soccer is a way of life, a military goverment decided to ban the sport… Artik Games proudly presents the first Battle Arena Soccer Action-Packed Game!

Control different Heroes, use drinks to recruit units, capture shelters, defeat enemies and destroy their base while defending yours! You will lead "The Bravest Hooligans", choose a Hero, stand your ground and unleash the wrath upon your enemies through a variety of stunning cities using special attacks and powers.
Forum Thread: Hooligans "The Bravest" (by Artik Games)
---
Hyper Tap
iTunes Description
Dodge the Neo Barriers!
Focus and lightning reflexes required! The struggle is real. This awesome "twitch" reflex game will have you gripping your seat. Dodge the on-coming Neo Barriers with increasing speed, forcing you to react at the last microsecond.
How fast can you go? How high can you get your score? Tap now and find out!
Forum Thread: Hyper Tap – iDeam Interactive
---
Kawaii Killer
iTunes Description
Tabemasu Games proudly presents Kawaii Killer, the unforeseen reunion of Hello Kitty and Mortal Kombat. The goal is simple: you are Davy, a young trapper walking in the woods. You'll meet a whole bunch of cute animals that you'll have to kill restlessly.

But beware! Each animal is special! If the fox needs only a simple tap to be killed, you'll have to perform a slice to kill a rabbit, while the frog needs to be torn apart using two fingers!
Forum Thread: Kawaii Killer (by Tabemasu Games)
---
Ledoliel
iTunes Description
Ledoliel is a companion/dating toy for iOS, involving strange procedural creatures and their bizarre customs, where you must try and figure out what topics they might want to discuss, gift they might want to receive and places they may like to be touched – based on their cryptic attributes.
Forum Thread: Ledoliel (by David Mondou-Labbe)
---
Magick
iTunes Description
Magick is a platform game designed for iPad.
It means you don't have to use any virtual joystick.

You have to help Oz to escape.
The story is divided into 5 chapters.
Each chapter is composed with 12 levels.
Each last chapter level is a boss level.
So you have to complete 60 levels.
Forum Thread: Magick (by Ludonkey)
---
Monster Hunter Freedom Unite
iTunes Description
The world's most exciting hunting action game, Monster Hunter Freedom Unite, is now available for iOS! Whether you're a rookie or veteran hunter, intuitive touch controls will help you tackle the biggest, baddest monsters out there. Let the hunt begin!

There are so many ways to progress through Monster Hunter Freedom Unite for iOS. With a multitude of quests to complete, you can choose to tackle something new, or go back and replay a quest you've already cleared with new weapons and tactics. How you play the game is really up to you!

You'll embark on quests with numerous objectives, from gathering items to slaying monsters. If you're successful, you'll reap the spoils, which you can use to create and enhance weapons and armor. Once you've buffed up your character, you'll be ready to take on even bigger quests!
Forum Thread: Monster Hunter Freedom Unite (by Capcom)
---
MTN
iTunes Description
MOUNTAIN
~you are mountain – you are god~

Ambient procedural mountain game, as seen on The Verge, LA Times, Polygon, Mashable, Kotaku & RockPaperShotgun.
Forum Thread: MTN – (by David O'Reilly)
---
Orbitum
iTunes Description
Orbitum is a hypnotic rhythm-based reflex game of light and darkness. The rules are simple: switch the orbits, survive against all odds and keep calm. A tap is all it takes to get through. But you'll discover less is more when your dexterity starts to be put to the test. Starting of fairly simple and gradually building up into something quite fiendish, the game will keep your grey matter ticking over in unison with the stimulating techno sounds. Appearing out of nowhere and vanishing in darkness, the round-dancing shapes will make your head swim, hands sweat and teeth clench. But as you get the rhythm you will see that there's nothing more satisfying than the feeling of genuine achievement after you've nailed another hellish level.
Forum Thread: Orbitum (by Happymagenta)
---
Rolling Terror
iTunes Description
On a distant junk planet, a robot's will to survive is tested. How far will it run to escape The Grinder? Collect lumens to light up the world as you travel in your mine cart across makeshift tracks, avoiding obstacles, saws, pits, and machinery in this moody runner.
Forum Thread: Rolling Terror (by Gigotron)
---
Soccer Showdown 2015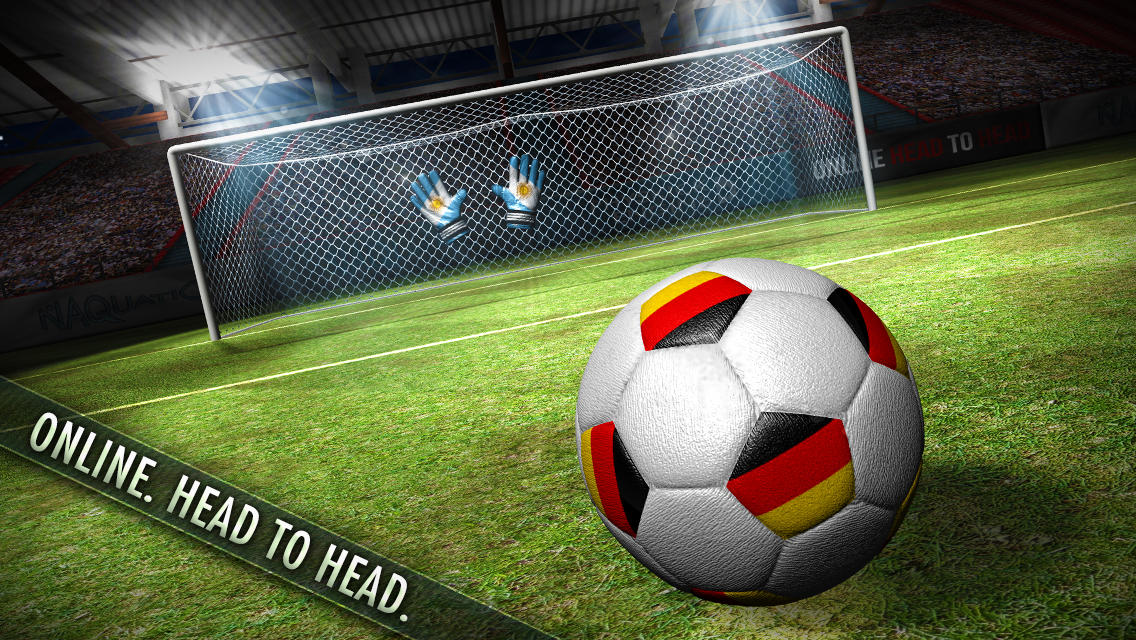 iTunes Description
Join the action and represent your nation in a global online free-for-all!

Soccer Showdown's genre-revolutionizing PhysKick™ engine gives you perfect control over every kick. This isn't your average "flick-the-ball" soccer game. Soccer Showdown is entirely physics based; your finger IS your foot.

Choose your favorite nation and challenge your friends, your enemies, or anyone in the world in weekly online international tournaments. Every win counts towards your team's total!

With one swipe you command the ball's power, spin, arc, trajectory, and lateral curve.
Forum Thread: Soccer Showdown 2015 (by Naquatic)
---
Super Chicken Crossing
iTunes Description
Why did the chicken cross the road?
It doesn't matter because they never make it.

Guide your chicken across an endless highway of lanes in this one touch, casual time devouring challenge!
Forum Thread: Super Chicken Crossing (by Cocky Culture)
---
Sword & Penguin
iTunes Description
The polar bears have invaded the penguin kingdom and egg-napped your younglings! Use your wits and agility to become the legendary hero. Solve hundreds of quirky puzzles. Defeat the mighty bear army and its bosses!

Sword & Penguin features a level editor for showcasing your own creations & ability to solve them.

Supports touch, swipe and MFI controller input.
Forum Thread: Sword and Penguin – Action/Puzzle Game
---
Tank Titans HD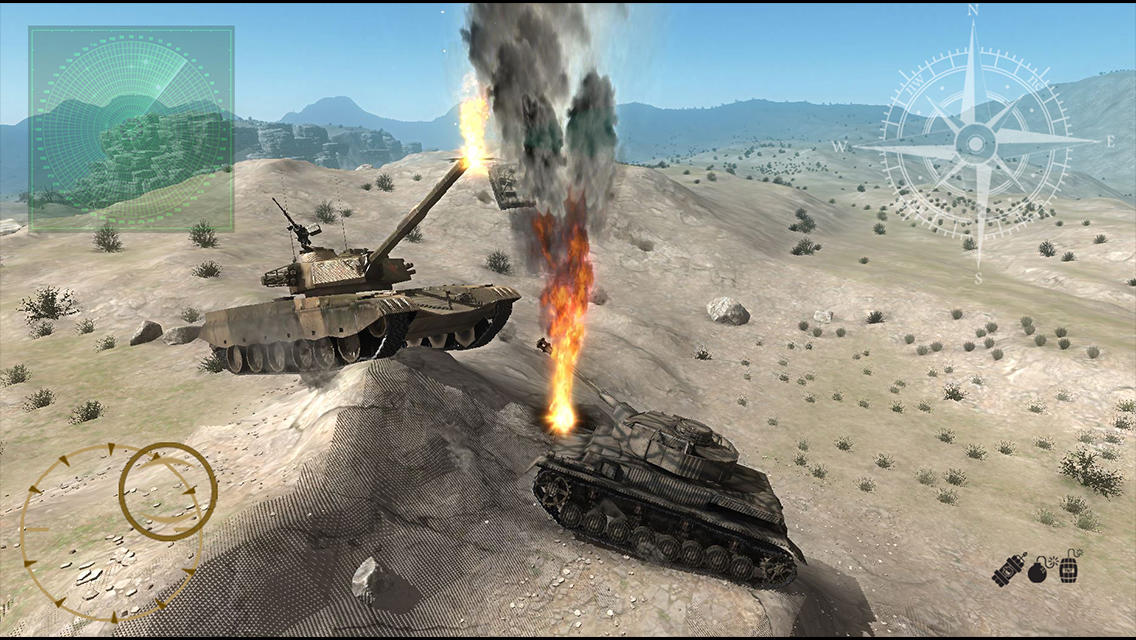 iTunes Description
Tank Titans is here – engage in the most realistic tank battle gameplay you've ever seen. Select your tank and fight off waves of enemies with superior firepower and smart tactical movement.
To make it all even better – you don't need an active internet connection to play. A game with an old-school flavor that will allow you to feel the excitement of the battle first hand!
Forum Thread: Tank Titans HD – (by Reece Campbell)
---
Watercolors
iTunes Description
Mix red, yellow and blue to paint your way through hundreds of challenging levels. Fill the glowing circles with the indicated color to complete each puzzle. Just wait and see what happens when you combine all three colors, it might BLOW your mind!

Keep your mind sharp and have fun playing with colors. Experience the almost magical feeling of dragging and combining colors!

Levels start simple and they progress until your mind is really put to test. And you'll have to discover interesting strategies for completing each puzzle.
Forum Thread: Watercolors puzzle game is out!
---
Zombie Puzzle Panic
iTunes Description
WARNING: Highly Addictive Zombie Match 3 Game!

Explore a post-apocalyptic world full of zombies in a bid for survival in this challenging and addicting puzzle adventure. Will you survive?
Forum Thread: Zombie Puzzle Panic (by Noodlecake)