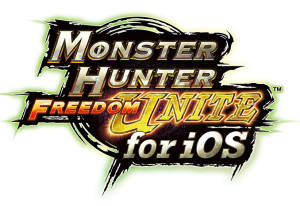 About a month ago, Capcom surprised everyone when they released an iOS version of their hit 2008 PSP title Monster Hunter Portable 2nd G in the Japanese App Store. Known as Monster Hunter Freedom Unite outside of Japan, the iOS version contained everything from the PSP release, including a few enhancements like improved graphics, controller support, and most exciting of all online multiplayer.
What wasn't really clear is if the iOS version of the game would see release outside of Japan. The PSP original was localized and released worldwide, and people in our forums found files containing the English language version of the title screen buried within the Japanese app along with many other clues that hinted that the rest of the world would eventually be getting the iOS version of the game.
Today, Capcom confirmed that Monster Hunter Freedom Unite is indeed heading to App Stores worldwide, and they've released a new trailer showcasing some of the new features of the iOS version.
Capcom did not offer a release date for Monster Hunter Freedom Unite on iOS, but they did say the game will be on display and playable at E3 next week, along with several of their other upcoming titles for various platforms. I'd imagine those of us who don't reside in Japan won't have to wait too long to get our hands on it, so we'll definitely give you a heads up when we find out more about when it's coming.