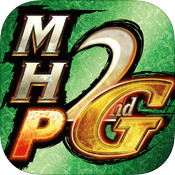 In something of a surprise release, Capcom released a port of their mega-hit PSP title Monster Hunter Portable 2nd G, or as it's known to English gamers, Monster Hunter Freedom Unite on the Japanese App Store today.  While this isn't the first Monster Hunter game to hit iOS, it is the first one to retain the gameplay of the famous main series. On top of that, it's been enhanced from the original PSP version, with improved graphics, the target lock-on feature found in later installments, and Game Center support.
The iOS version also includes support for MFi controllers and, most importantly, online play. The real fun in Monster Hunter comes from playing with friends, after all.  The price of the game on the Japanese App Store is 1,600 yen, or about $13. There are no IAPs, so this looks to be the complete package.
If you're unfamiliar with Monster Hunter, it's basically an action game with some light RPG elements. Up to four players can work together to hunt deadly monsters and make sweet gear from their carcasses. Its unique focus on teamwork and methodical action gameplay have made the series a massive hit in Japan, with new installments selling millions in that country alone.
Whether English gamers can look forward to playing this in their native language is as yet unknown. However, this particular game has been released in English before, so the odds are at least a little better than usual. We'll be keeping a careful eye on this one and let you know if anything comes up. Meanwhile, drop by the forum thread for some discussion or if you're in Japan grab the game via the link below.
Japanese App Store Link: MONSTER HUNTER PORTABLE 2nd G for iOS, ¥1,600 (Universal)