The idea behind the TouchArcade Game of the Week is that every Friday afternoon we post the one game that came out this week that we think is worth giving a special nod to. Now, before anyone goes over-thinking this, it doesn't necessarily mean our Game of the Week pick is the highest scoring game in a review, the game with the best graphics, or really any other quantifiable "best" thing. Instead, it's more just us picking out the single game out of the week's releases that we think is the most noteworthy, surprising, interesting, or really any other hard to describe quality that makes it worth having if you were just going to pick up one.
These picks might be controversial, and that's OK. If you disagree with what we've chosen, let's try to use the comments of these articles to have conversations about what game is your game of the week and why.
Without further ado…
KeroBlaster
I feel like I say this every week, but it was a hard decision coming up with our Game of the Week pick this week. There was a ton of great games released, including an excellent match-3 RPG in Darkin that feels like the second coming of Dungeon Raid, another great dual-stick shooter from RadianGames in JoyJoy, an even a didn't-know-I-wanted-it-but-now-I'm-in-love-with-it table tennis game called Table Tennis Touch. Truly an eclectic week, but it was Studio Pixel's latest effort KeroBlaster ($5.99) which has really captured all of our attention more than any other game.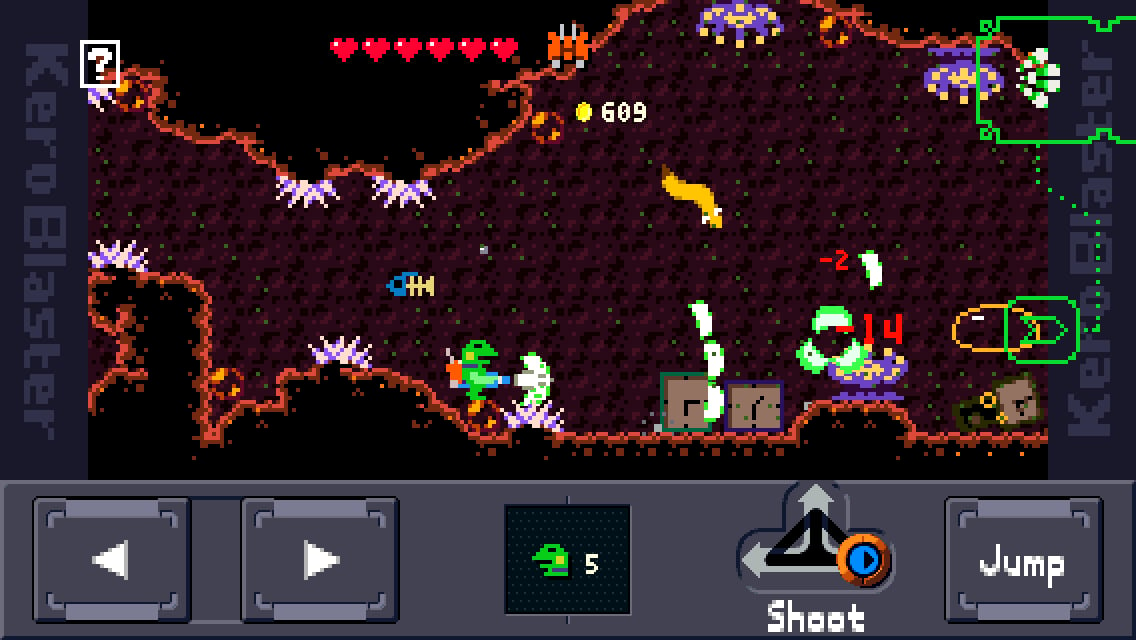 KeroBlaster is the follow-up to Studio Pixel's highly regarded indie hit Cave Story, and on first blush it might not look like much. Another retro-style platformer to throw on top of the pile, right? Except that KeroBlaster is something special, and does two major things that I think put it head and shoulders above anything else similar on the App Store. First, it's impeccably designed, and features levels that are both tests of platforming dexterity as well as loaded with shoot 'em up action. The levels are of decent size and feature challenging boss fights, but are broken up into sections with checkpoints so as to be mobile friendly. Overall it's a rather short game, but a New Game+ option as well as just general replayability mean it'll be fun to play through over and over again.
The other big standout in KeroBlaster is its control scheme. Virtual controls in platformers have been done incredibly well on iOS already, but here they're especially unique. The standard left/right movement and jumping is responsive and unobtrusive, but the way you handle firing your weapon is unlike anything I've seen on mobile before. It's actually an auto-fire that you can toggle on and off in three different directions: left, right and straight up. It sounds super awkward to explain, but in practice it works really, really well. Rather than fumbling with taking your thumb off a jump button and onto a fire button over and over, you can simply concentrate on the jumping and movement and toggle the firing on when needed. It's such a smart system that I hope other action platformers take a cue from KeroBlaster in the future.
KeroBlaster really is a special little game. I love it so much I even forgive some of its shortcomings, like the fact that it's not truly widescreen on iPhones and that it doesn't have native iPad support (though it looks and plays perfectly fine in pixel doubled mode). Also, at five dollars, it's on the high end of what most consider spending for an iOS platformer. It's worth it though, and those concerns all washed away once I really dug into KeroBlaster. We easily awarded it five stars in our review and players in our forums have been loving it since it launched this past weekend. If you have a soft spot for action platformers of yore, and want something that feels like a love letter to the classics, KeroBlaster should be in your iOS game collection.