Welcome to another Wednesday night and another huge batch of new iOS games. There's tons of stuff in the list below, with a good mix of genres. Platformers? Rhythm games? Baseball? Games where you ride a wrecking ball like Miley Cyrus? All those and more await you. As usual, Eli streamed many of these games earlier today, so check out the archive video if you missed it live, and be sure to pop into the forum threads linked below each game in this list to see what the community at large is saying.
---
Adventure To Fate: A Quest To The Core
iTunes Description
Adventure To Fate : A Quest To The Core – is an JRPG style game with a medieval fantasy setting.

– The Story Behind A Quest To The Core –
Strange tidings have come to light in recent days, dark tales come from deep within the kingdom of Cardell. Early tales of bodiless voices and whispers reached the kings ears. Voices heard by many throughout the kingdom during the darkest of nights. Voices calling out, calling out and drawing them in…
Forum Thread: Adventure To Fate : A Quest To The Core JRPG – (by TouchMint)
---
Aliens Drive Me Crazy
iTunes Description
The few Alien Spaceships have crept into earth's orbit with no warning.
The loss of global satellite communications puts the world in danger.
Survivors must fight using guerrilla tactics…

Take control of your car and blast your way through the city to reach an alien's base!
Defeat invaders and terryfying Bosses to get access to powerful weapons, cars and power-ups!
Forum Thread: Aliens Drive Me Crazy – (By Cezary Rajkowski)
---
Back to the Moon – Space Adventure
iTunes Description
Join Edward on his extraordinary travels through space, all the way to the end of the universe and back. By fighting the force of gravity, escaping flying asteroids and avoiding colossal collisions with planets you will guide Edward to his final destination and allow him to fulfill his lifelong dream – to travel to the moon.

With the tip of your finger you will take control of Edward and lead him through space. Ascend by simply touching the top of the screen and the bottom to descend. Although a simple concept, a travel through space takes concentration and persistence. Beware not to let the planets' gravity take control leading Edward to his destruction.
Forum Thread: Back to the Moon – Space Adventure – (by Lucas SOUCHET)
---
Baseball Riot (Soft launch)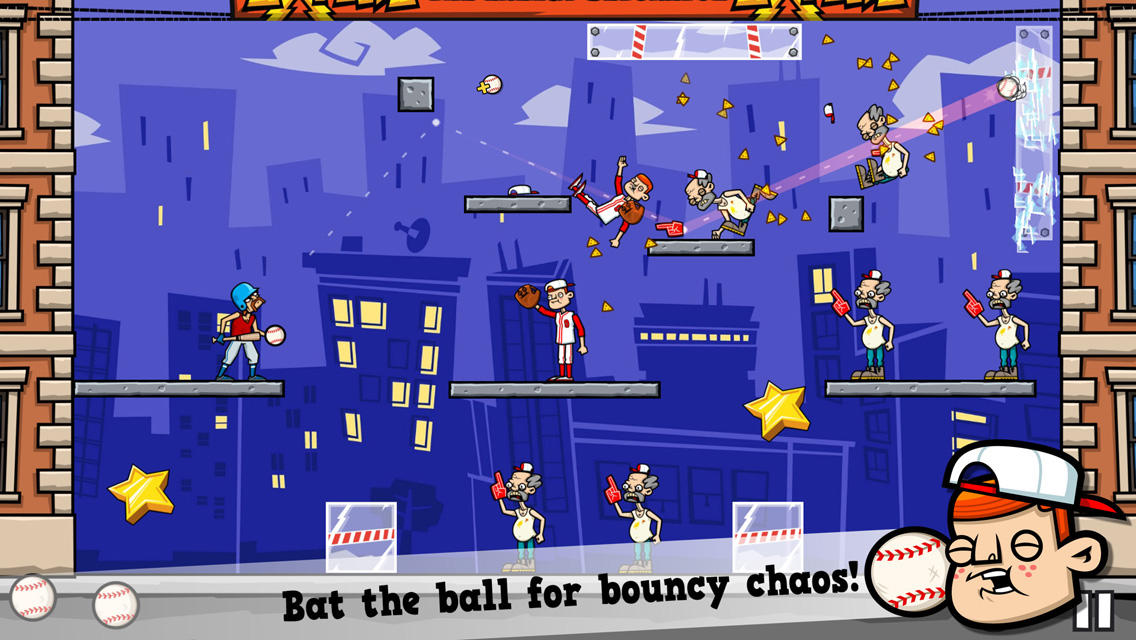 iTunes Description
Start a baseball riot! Help Gabe Carpaccio take vengeance on the unholy alliance of his former team and a corrupt energy drink manufacturer Explodz Inc.!

Smash furious hits, knock out obnoxious fans, biased umpires, leery catchers and more Explodz crazed villains in more than 100 levels and save the day!
Forum Thread: Baseball Riot (by 10tons)
---
CastleStorm – Free to Siege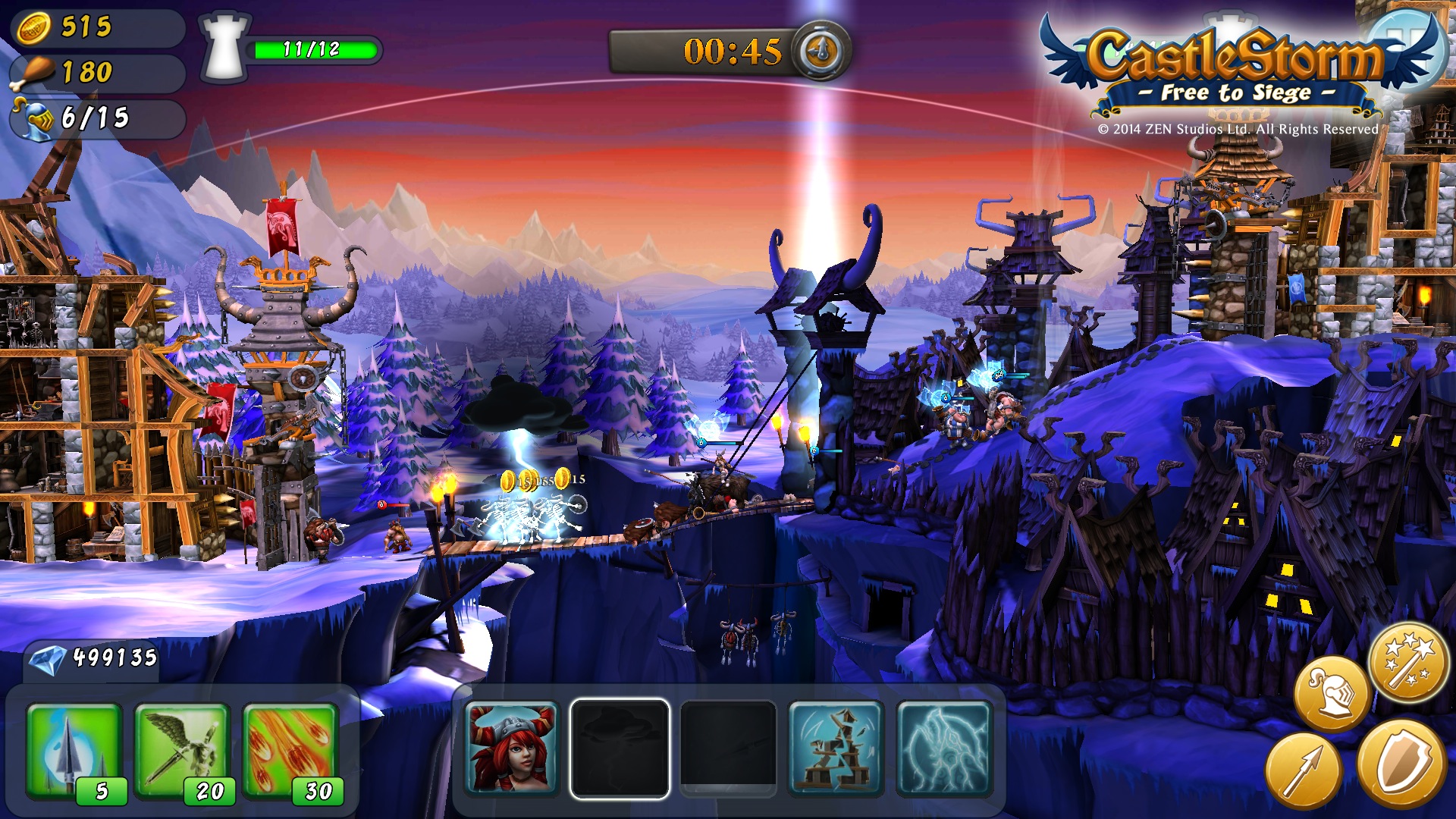 iTunes Description
Welcome to the world of CastleStorm – Free to Siege, a super genre mashup of 2D physics destruction mashed with castle defense brawler!
Forum Thread: CastleStorm – Free to Siege (by ZEN Studios Ltd.)
---
Crystal Reign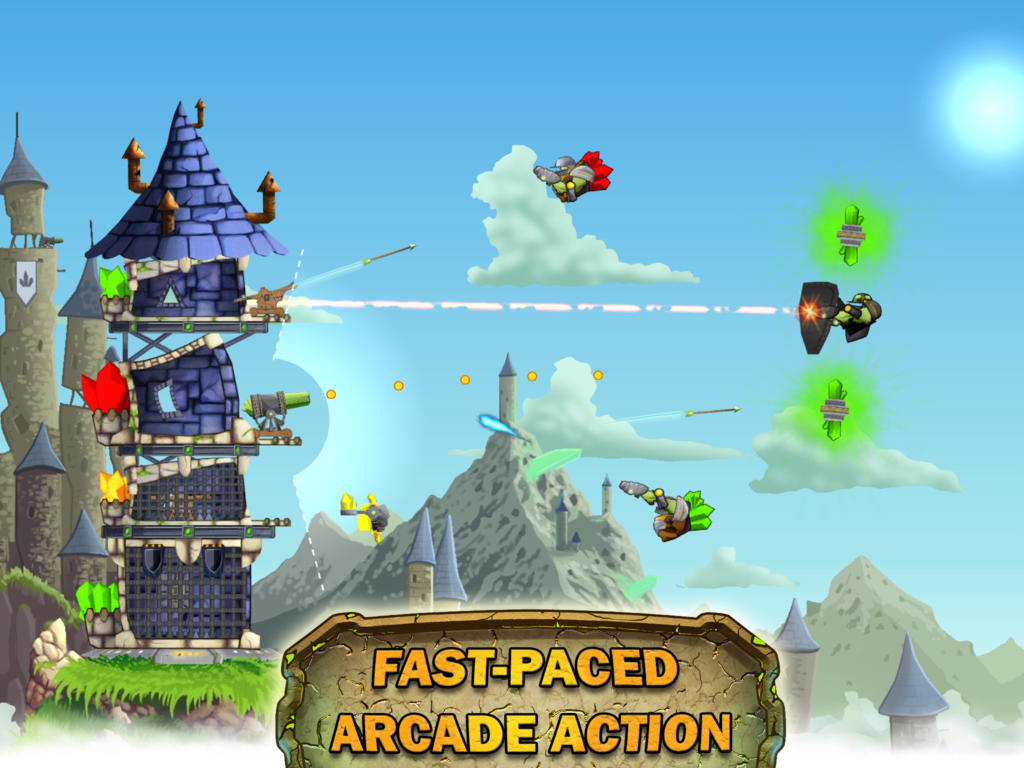 iTunes Description
AN ARMY OF DEADLY ROBOTS APPROACHES!

Prepare for the onslaught by building a tower filled with a variety of magical technology capable of reducing that army to shrapnel.

TAKE AIM WITH YOUR CONSIDERABLE ARSENAL AND USE IT TO SHOOT DOWN THE APPROACHING ROBOTS

Crystal Reign combines physics-based shooting with fast-paced arcade gameplay in which you must fend off the armada of magically powered robots.
Forum Thread: Crystal Reign (by Hunted Cows Studios)
---
Dark Lands
iTunes Description
Run through enemies and dangerous traps! Dark Lands is an epic battle runner action game. Develop your hero to survive this infinity battle and run as long as possible!

Dark Lands is an addictive mix of an infinity runner fantasy horror game with a dynamic combat system. Take your hero on an epic journey of defeating evil forces who corrupted the land.

Beat enemies like goblins, orcs, skeletons and monstrous trolls and ogres! Fight unique bosses like the fierce Currusor or the deadly Minotaurus!
Forum Thread: Dark Lands – (by Bulkypix)
---
Devil Shard
iTunes Description
Devil Shards is a retro style match-3 RPG. You play as a hero who needs to stop a war caused by the emperor. During the journey you will discover more than the truth and face a great evil.
Forum Thread: Devil Shard (by Game Stew)
---
dEXTRIS
iTunes Description
AVOID THE SPIKES!

Like hard games? Dodge spikes at super speed using a cool new "magnetic" control scheme. Scrape along the sides, hover through the middle, or squeeze by at the last millisecond by splitting in two!

dEXTRIS is pure high speed twitch gaming.
Forum Thread: dEXTRIS – (by Chaotic Box)
---
Doug dug
iTunes Description
Doug is a Dwarf. Doug loves digging. Well, actually he doesn't: what he likes is to find buried treasure. Anyway, one day Doug decided to gather as much treasure from as deep under the earth as he could go. So Doug dug. And he dug. And he fought monsters and avoided massive avalanches of falling rock. And then he dug some more. And he picked up lots of bling.

Now it's your turn. Help Doug dig deep down under the earth in the quest for shimmering jewels and precious gold. Go farther and deeper than any of your friends. Find more gold than anyone in the world. Oh but watch out for colossal cave-ins. No they're really colossal—you won't believe it. And creepy monsters. And bottomless pits. Ah, don't worry it's just a game.
Forum Thread: Doug dug. (By The Electric Toy Company)
---
Frederic – Evil Strikes Back
iTunes Description
The sequel to one of the best music game of 2012 by Best Apps Ever Awards: Frederic – Resurrection of Music.

Defeat famous opponents in musical duels. Immense yourself in fantastic story of Frederic's endeavors. Catch all the Easter Eggs (not literal Easter Eggs but as hidden gags, jokes and references) and subtle parodies hidden in the background. Practice your skills until perfection and become the Master of the Piano.

The world of music is once again threatened. The art of soulful music, the kind that touches your heart, is in grave danger of disappearance. The evil forces that you fought so bravely are back! And they are even more powerful and desperate. Once again you'll need to step into Frederic Chopin's shoes and face opponents that have only one agenda – to enslave the musical world, mass produce soulless artists with their same-sounding radio hits, and reap enormous profits, hindering any creativity in the process.
Forum Thread: Frederic – Evil Strikes Back – (by Forever Entertainment S.A.)
---
Furious Stars
iTunes Description
The furious Star Gods have vowed to incur mayhem and destruction on the city!
Can you assemble a powerful army to save your citizens from the Star Gods and their minions?
Forum Thread: Furious Stars – (By Kestrel Moon Studios Pte Ltd)
---
Gunship X
iTunes Description
Take control of an AC-130 Gunship to defend humanity from invading hordes. Push back the intruders and give the humans a chance to be airlifted to safety.

For the people on the ground you are all that stands in the way of certain destruction. Use the overwhelming power of a 40mm Bofors cannon to subdue the countless waves of attackers before you. When the gibs really hit the fan, switch to the awe inspiring 105mm Howitzer, then take the fight in close with a 25mm Gatling gun.

With upgrades your plane will become a weapon of tremendous capabilities. You will have the power to sweep this mysterious enemy aside. But be careful. You might not be the only one with a long reach.
Forum Thread: Gunship X – (by Hidden Elephant)
---
Kiwanuka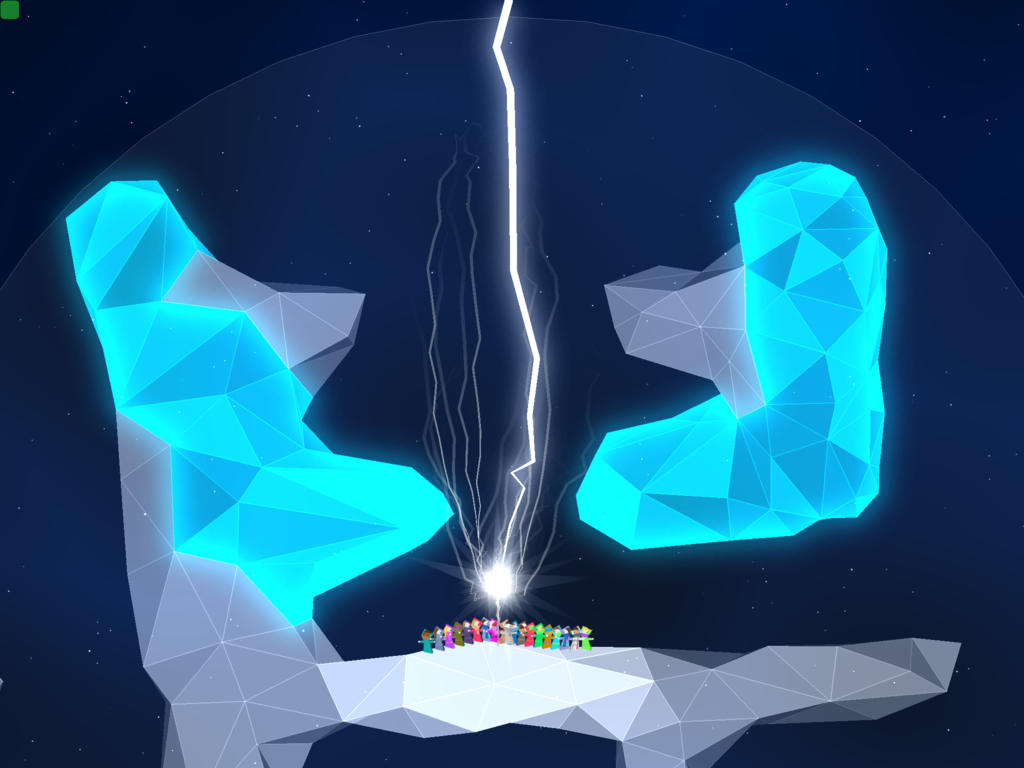 iTunes Description
Kiwanuka! Only you can save us all! Guide the lost citizens to freedom. Discover forgotten dreams. Use the magical staff to tower and climb. Good luck on your journey!
Forum Thread: Kiwanuka by CMA Megacorp
---
Last Inua – An Arctic Adventure
iTunes Description
LAST INUA is an award winning platform adventure game featuring an Inuit father and his son on their epic quest for survival against the elements. Father Ataataq has to guard his son Hiko, a gifted boy with supernatural abilities. Their world, the mythical North, is under attack by an ancient demon: Tonrar. Tonrar seeks to dominate the North and to do this he needs to destroy Hiko. But Tonrar is alone, Ataataq and Hiko have each other.
Forum Thread: Last Inua – An Arctic Adventure – (by Creative Mobile Games)
---
Lumena
iTunes Description
Lumena is a no-nonsense rhythm game with an original electronic soundtrack from Modbom.

Playing Lumena is EASY. Fling the colored disc toward a matching colored light. Succeeding at Lumena is… NOT EASY. You've been warned.
Forum Thread: Lumena – (by Elevate Entertainment)
---
MLB Perfect Inning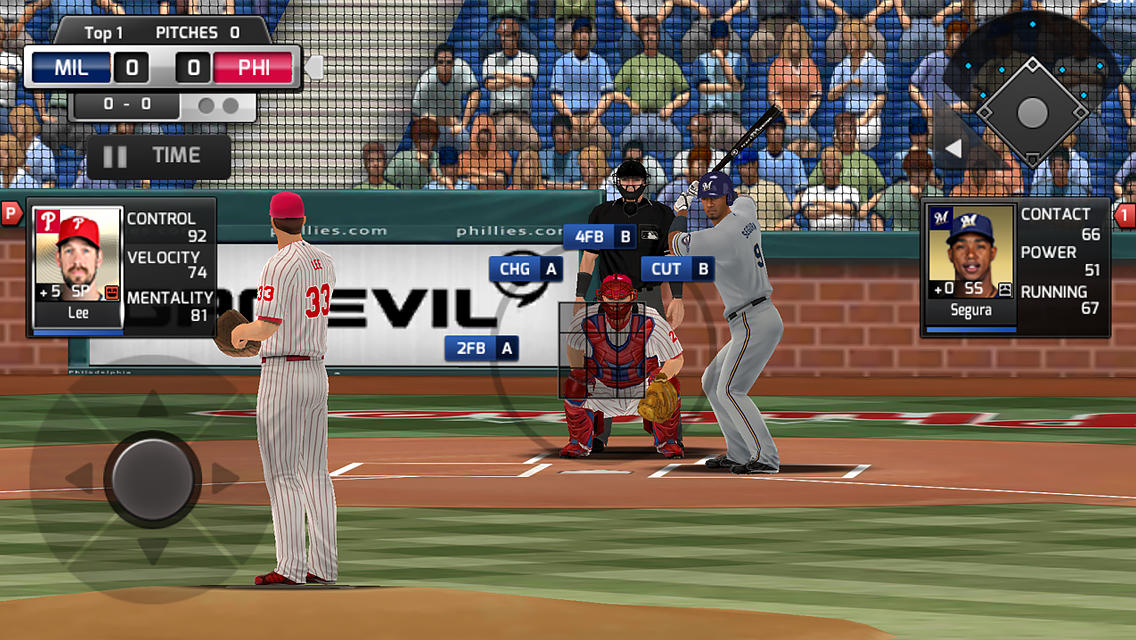 iTunes Description
Hit off the baseball season with MLB Perfect Inning!

Perfect Inning brings the heat with Major League Baseball.
Experience a baseball game with amazing gameplay, exclusively for the mobile market.
Forum Thread: MLB Perfect Inning – (by GAMEVIL USA, Inc.)
---
Record Run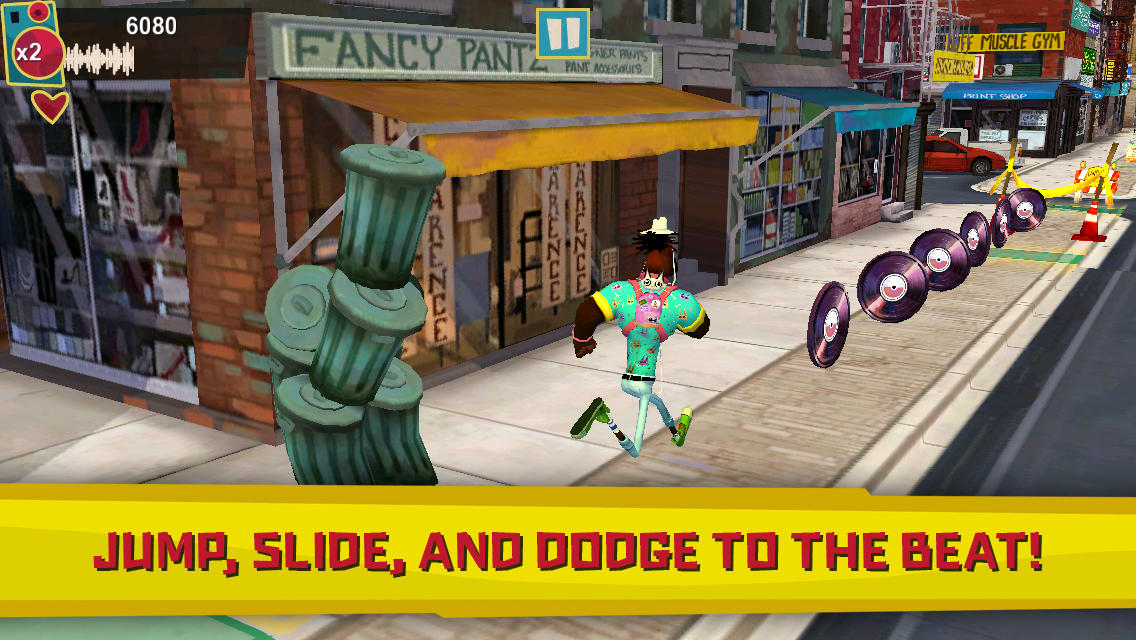 iTunes Description
From the makers of ROCK BAND and DANCE CENTRAL…This is RECORD RUN!

Record Run puts you in the middle of your music, chasing records and dodging obstacles to the beat in a crazy musical world. With gameplay levels created from songs you load into the game, this is a whole new way to run!

Choose your runner from a fun cast of characters and jump, duck and dodge through the city on your way to high-scores! Collect records as you run to get awesome upgrades and unlocks!
Forum Thread: Record Run – (by Harmonix)
---
Retro Running Bros.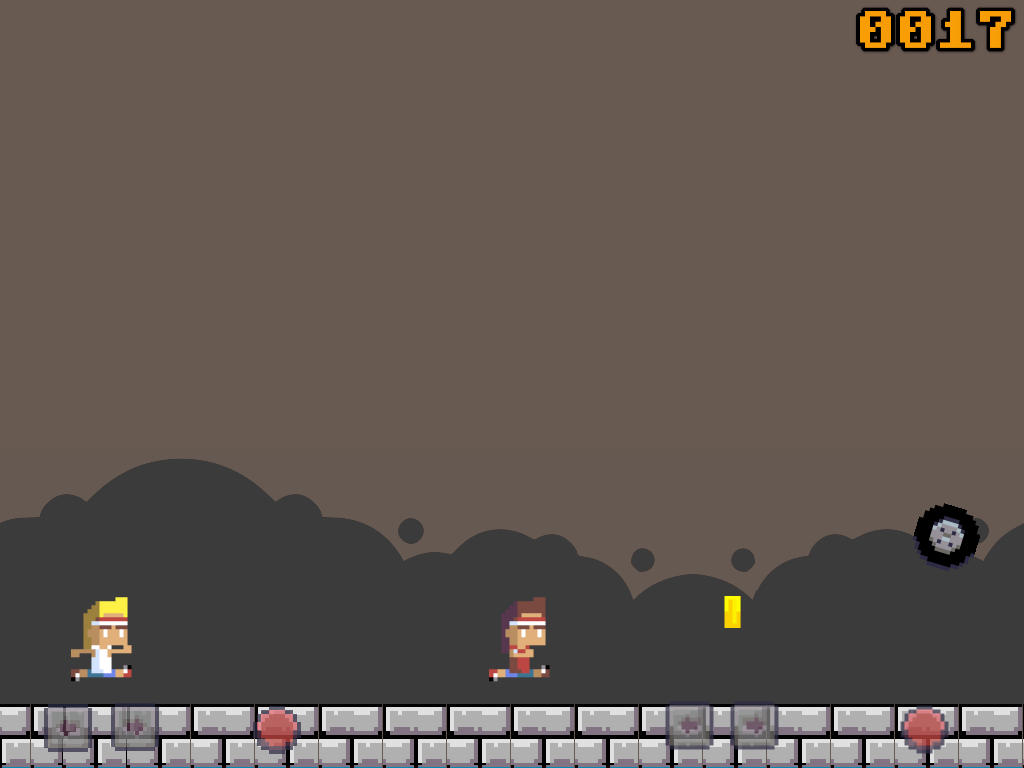 iTunes Description
2 Retro Running Bros, 1 Ipad, No Problem! Retro Running Bros offers a one player mode and a unique two player mode where two players play on the same iPad and work cooperatively, one player dies, the game ends.

Retro Running Bros-Run, Jump and Collect your way to fame. No Bro Mode allows one player to compete against the world to see who the best Retro Running Bro is. Bro Mode allows two players to sit side by side and compete against the rest of the world to see who the best Retro Running Bros are. In Bro Mode when one player fails, the game ends, this mode is a true test of cooperation. Grab a Bro and Let's Go!
Forum Thread: Retro Running Bros. (by Paul Lind)
---
The Spatials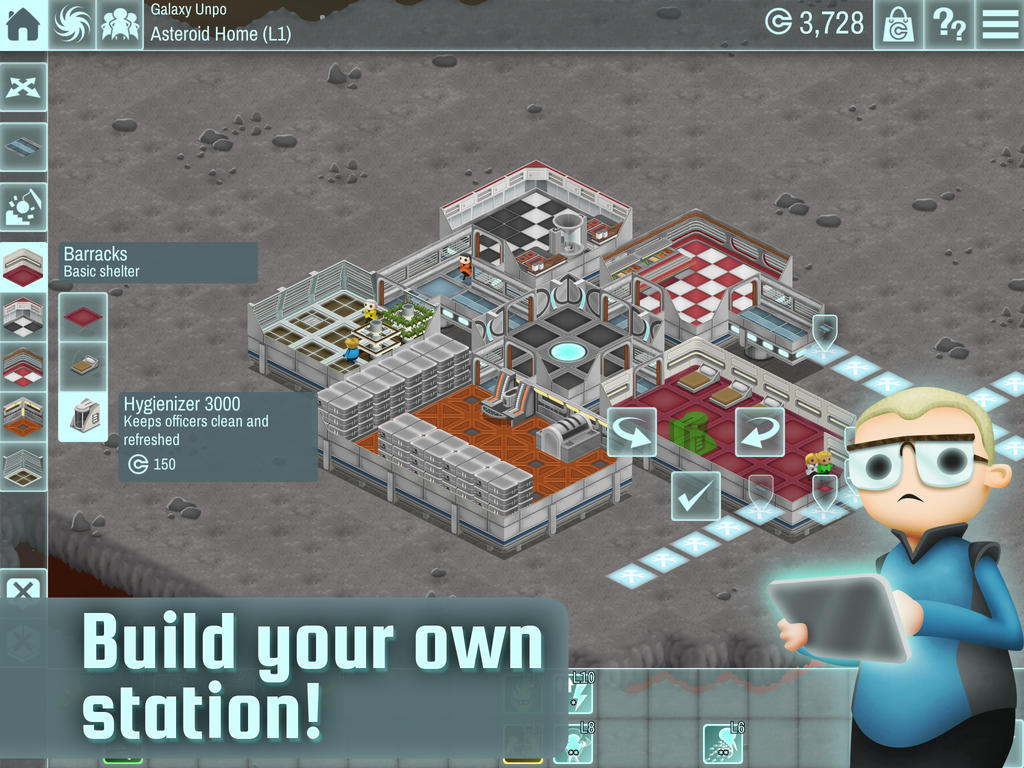 iTunes Description
It's the year 5781 and you have been chosen to build and lead a space station in a wild corner of the galaxy! Design its rooms and corridors to make your staff feel at home. Explore a galaxy with 30 star systems and more than a hundred planets. Complete missions for the Human Federation and discover new allies and… enemies! Fight for survival with a unique real time combat system. Collect loot and equip your officers with the most advanced technology in the galaxy.
Forum Thread: The Spatials (by Carlos Carrasco)
---
Swipecart
iTunes Description
Swipecart is the sport of extreme mine cart racing!

-Use your finger to guide your cart to the exit of each track while avoiding obstacles and collecting gems
-Compete with others around the world for the fastest times in the Global Swipecart League
-Gain fans and gold to purchase and collect sets of cosmetic gear for your avatar
-Race across 3 mountains with their own environments and hazards
-Create your own tracks and upload/share them with the world

Please cart responsibly.
Forum Thread: Swipecart – (by Mike Hendry)
---
Warhammer 40,000: Carnage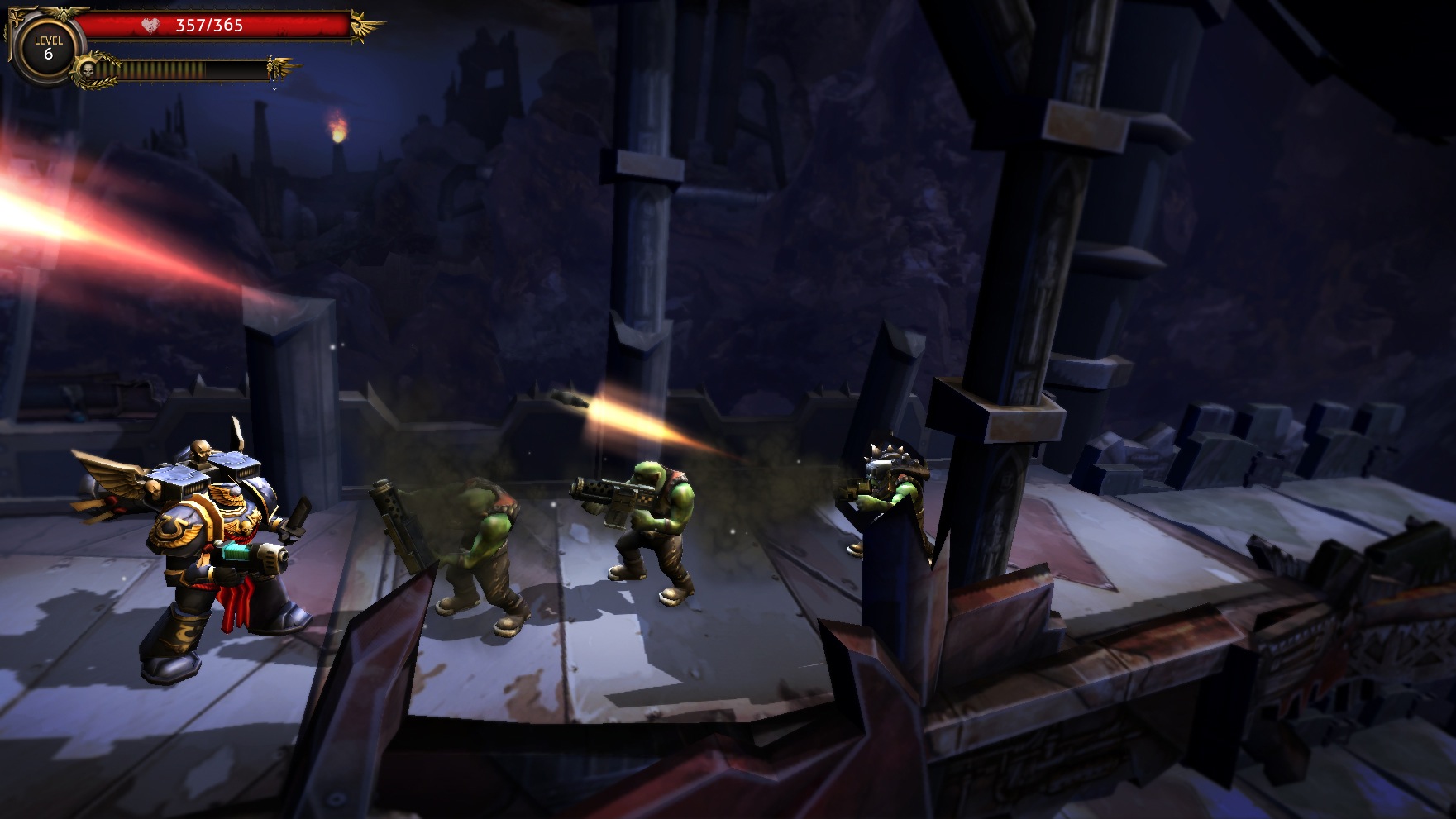 iTunes Description
Jump into instant chaotic destruction as a legendary Space Marine. Pick your weapons and do untold damage as you run and gun through screaming hordes of ruthless enemies in this fast-moving action Side-Scroller.

Based in the iconic Warhammer 40,000 universe it's time to grab your weapons and go! Armed with a Boltgun in one hand and Chainsword in the other, fight foul Orks and save the rage-filled planet Mithra.

Uncover the mystery of what's happening on the planet before the population succumbs to insanity, and ultimately, violent death.

Warhammer 40,000: Carnage is a kick-ass action game built for anyone who gets extreme satisfaction from destroying hordes of Orks.
Forum Thread: Warhammer 40,000: Carnage – (by Roadhouse Games Ltd.)
---
Word Slog
iTunes Description
Word Slog is a free to play word game themed around the misery and monotony of everyday life. Drag yourself through the glorious tedium of getting up, getting ready and going to work, progressing through each stage by finding words in a grid.
Forum Thread: Word Slog (by Graeme Blenkinsopp)
---
WreckMan: Rise of a Hero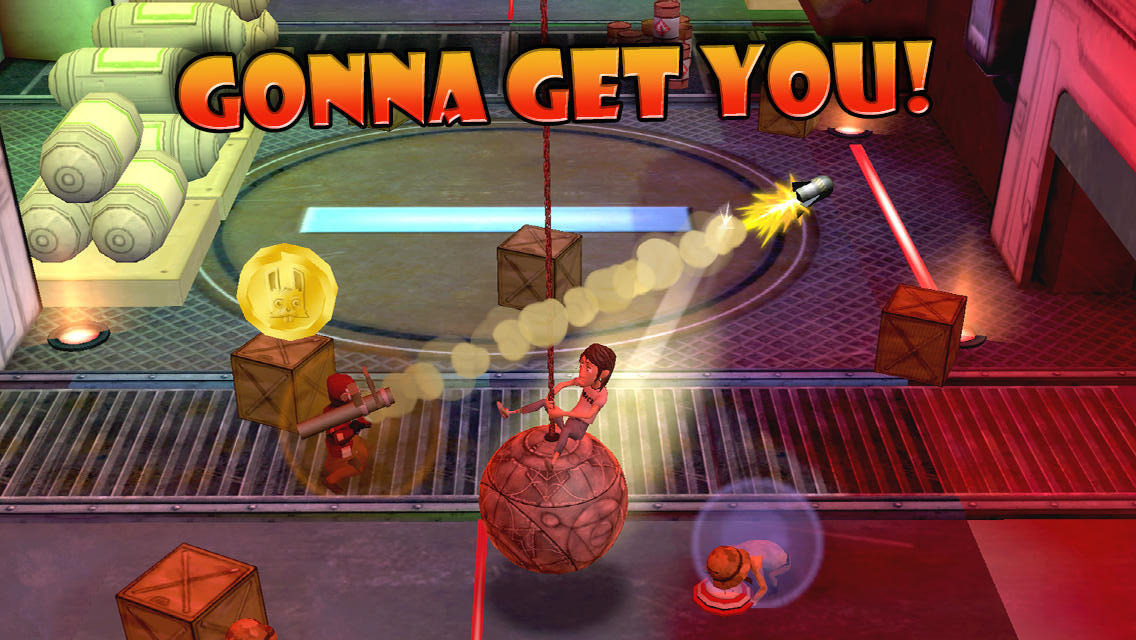 iTunes Description
10 reasons why you will be absolutely blown away by WreckMan: Rise of a Hero!!!

1) This game has a huge wrecking ball, that you will ride as the hero, destroying a ton of stuff along your way!
2) Did you like Miley Cyrus Wrecking Ball video? Now you can re-enact it with an ugly dude! 😀
3) Your side-kick is a powerful warrior, summoned to live his life as a rabbit. His name is Armin, and he dislikes carrots.
4) I Play Apps says: "The title brings a fresh breeze in the AppStore and convinced us with its fun gameplay."
5) You will be laughing your tail off at the crazy story about the two unlikely heroes on their journey
6) There is a ton of levels, keeping you glued to your phone / tablet for a long time!
7) Massive fights with huge bosses and epic enemies
8) Tongue in cheek rocking sound track. #to-diefor
9) Tons of levels and challenging game modes
10) Power-ups, customisable character, amazing 3D graphics
Forum Thread: WreckMan: Rise of a hero – (by Playground Publishing B.V.)
---
Zombie Road Trip Trials
iTunes Description
Drive, climb hills, shoot and flip your way through the zombie wasteland in the most extreme trials game ever! In Zombie Road Trip Trials you can challenge your friends or complete extreme physic based missions with over 40 hours of gameplay and endless amounts of fun.
Forum Thread: Zombie Road Trip Trials – (by Noodlecake Studios Inc)
---
2-bit Cowboy
iTunes Description
2-bit Cowboy is a Western action platformer game, styled after classics of the Gameboy era.

There's a new sheriff in this 2-bit town: you! And you've got a lot of work to do. Tackle challenges, earn rewards, track down bad guys, and find hidden loot. Play as a cowboy or cowgirl, then customize your look with hats, bandanas, masks, and more. Explore huge levels. Gamble at casinos and drink at saloons. Ride a horse, tame a wild bull, and traverse underground mines in a minecart. Become a legend of the old West.
Forum Thread: 2-bit Cowboy – (by Crescent Moon Games)