SleepNinja Games is teaming up with Cartoon Network to publish Monsters Ate My Birthday Cake, an upcoming "environmental puzzle" game for PC, Mac, and iOS in the vein of The Legend of Zelda: A Link to the Past.
Monsters Ate My Birthday Cake takes place on Gogapoe Island, where the Boogin King has been stealing and eating innocent people's birthday cakes. The premise may be a little schmaltzy, but it's got a clean, pop-art look and seems to rely on a few tried-and-true gameplay ideas. Playing as Nico, you'll meet helpful monsters and use their abilities to solve puzzles, fight off Boogins, and explore Gogapoe's various dungeons. It's cute, vibrant stuff, and Disasterpeace (Shoot Many Robots, Bit.Trip Run!, Fez) is doing the music.
Incidentally, SleepNinja managed to raise just north of $26,000 for Monsters in a Kickstarter campaign last year. Justin Baldwin, SleepNinja Games' creative director, reassured Kickstarter backers in an e-mail to Joystiq, however. "Cartoon Network have been great to work with and have definitely kept our backers in mind," he writes. "Our publishing deal with them will not affect our backer's rewards; everyone will still be getting what was promised, and the game they were promised."
"[Cartoon Network] know that we have a vision and have allowed us total creative control, cheering us on along the way," reads the most recent Kickstarter update. The new publishing deal will also give SleepNinja access to Cartoon Network's localization teams, allowing them to release Monsters in several different languages.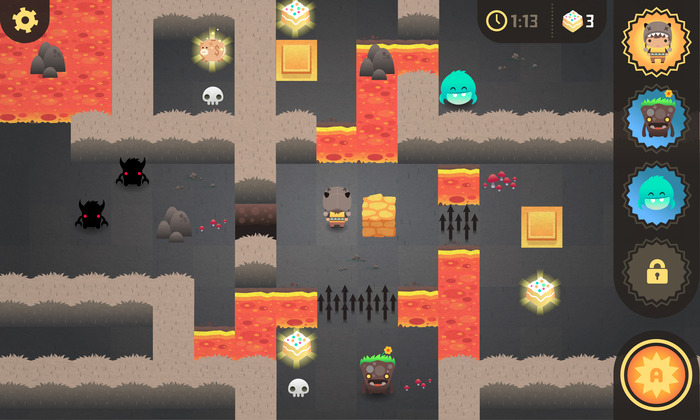 Cartoon Network's games division has been active on iOS — with everything from shooters starring Regular Show characters to Adventure Time-branded collectible card games — but Monsters Ate My Birthday Cake seems like its first push as a traditional publisher. A Cartoon Network representative also told Joystiq that the company has at least 10 different mobile games in the works.
Pricing and release details aren't available yet, but Kickstarter backers got Monsters Ate My Birthday Cake on iOS for $5. Whether that holds for an eventual App Store release remains to be seen.